Getting Teenagers Ready For Back To School
Well, the summer holidays are nearly over aren't they folks? Where did they go? They seem to be over so quickly don't they? My 17 year old son will be starting his last year at school next week, for his final year of A Levels, and regardless of what he might think, he still needs some help from his Mum to get organised.
It's a big year, as his exam results next year will decide where he goes to university and which course he ends up doing. He would love to study at Cambridge and learn about Computer Science, so his sights are set pretty high. It's so important he gets of on the right for for back to school this time round.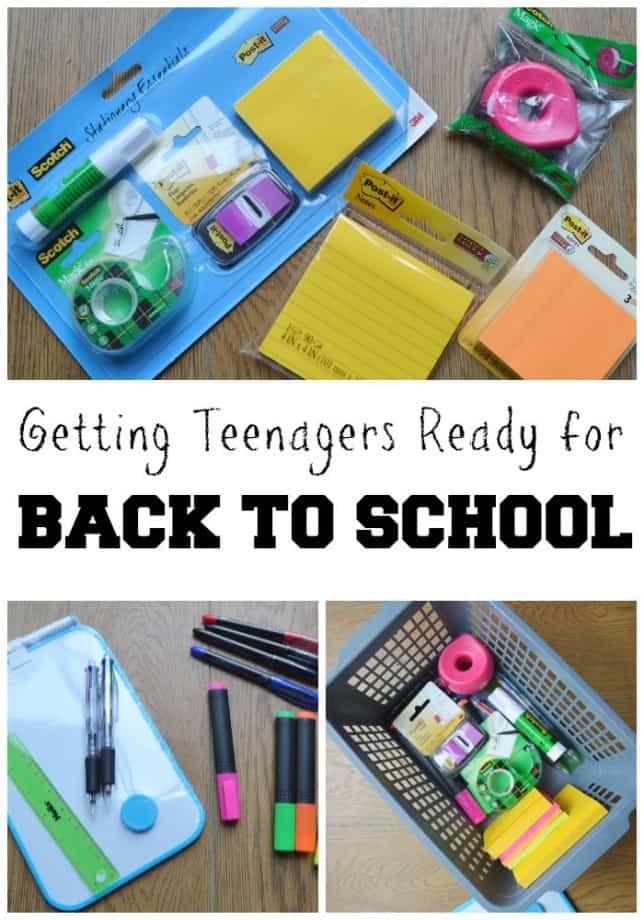 He might be 17, and does understand what needs to be done to do well at school and in his exams but some guidance from his mum, a few organisational tips and some help setting boundaries are all going to help getting him where he needs to be.
I have never been a parent to stand over him and enforce homework being done, as I strongly believe he needs to take responsibility for his own actions, but it is still very much my job to offer support. I don't think that part of parenting ever ends.
Simple Stationary Organiser
When you look at stationary organisers on Pinterest there are loads of options for making fancy pen pots and gorgeous homework stations. If you are crafty and have girls, these are really helpful. For a teenage boy, they don't go down quite so well!
He really needs something to keep all his homework essentials in one place, that's going to make getting his work done really easy. He's short on space, so I've picked a small basket that will easily fit on a shelf out of the way when not in use.
I've packed it with helpful stationary items that will help keep him on top of his school work without having to take things out of his bag. I figure this will stop him forgetting to put the back in his back when it's time to get ready for school in the morning. It will save him a bit of time too.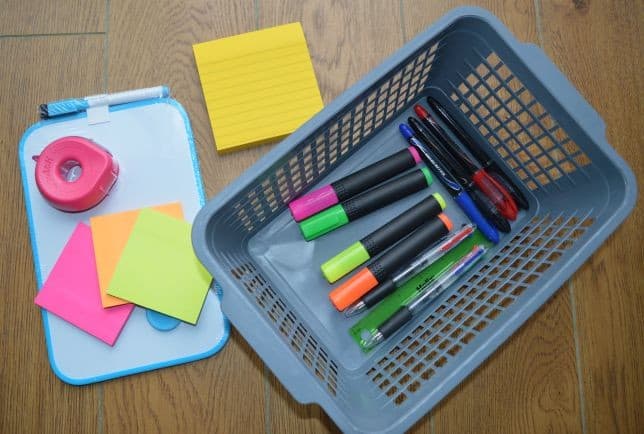 At this stage in his school career it's really about note taking, keeping organised and completing assignments on time.
It makes providing stationary supplies a bit simpler too. I've put a good supply of writing pens, in a variety of colours in is homework station, some highlighters, a wipe clean white board for to-do lists and post it notes for reminders.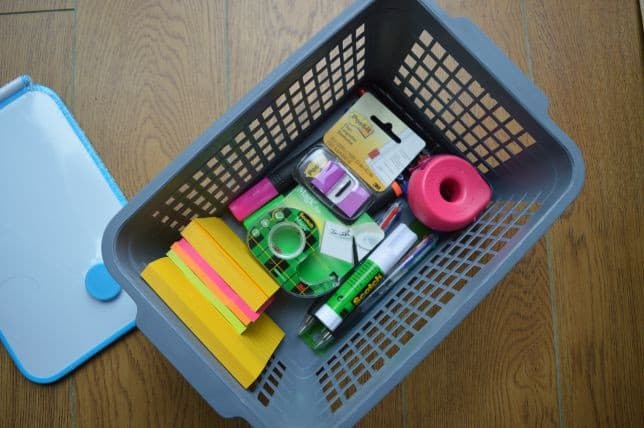 Teenage boys can also waste time looking for things they need, so a supply of Index flags, Scotch Magic Tape and glue will always bee in his homework station too.
He won't need to put anything in his pencil case either, as that has been stocked up as well.
Monitoring Computer Games
One thing my teenage son does too much of is play online computer games. It's the one thing he does to excess. I guess it could be worse, it could be drinking or worse? But when something is done to excess, the impact can be similar.
My son uses his personal computer for school work and online computer games, so restricting access to it is a difficult challenge. I'm always concerned about their safety online, I did find a list of the best VPNs for online gaming which I found really useful. If he played on a separate games console, I think our lives would be a little easier.
From September, some time controls are going to be in place as he has chores to get done in the house on a regular basis. His online gaming will be monitored, and I want to encourage him to moderate his own usage. I know that nowadays online gaming is big for his generation and gamers have been able to expand on their skills and techniques whilst playing online, however, during school times it is important he focuses on work so he can support his education. Gaming can be a great way for kids to relax (depending on the game) but right now school is essential.
However, I don't condemn online gaming. It can be an essential part of a child's learning. One such online game option could be Colonist, a tactic-based game where players can build settlements and win cards by walking through the road. Kids can grasp cognitive skills through the game, like creating strategies, problem-solving, improving coordination, etc. Hence, the primary lesson I try to teach my son is; to focus on education and still find time for recreational activities.
Here are the things we are going to be discussing online gaming before he goes back to school. As parents, we also need to consider safe online gaming strategies to keep our children safe from any bad thing/person that happens to be online.
Only playing online games after homework and school notes are organised.
Using timers to manage his own online gaming activity.
Online gaming needs to reduce to 1 hour per day on week days.
Online gaming needs to reduce to 2 hours per day on weekends
If he is unable to work to these boundaries himself, timer controls will be installed on his internet access as a consequence. I hope it doesn't come to that, and I really want to give him the opportunity to manage his own gaming time first.
Using A Diary And Organiser
My teenage son has not always used his school organiser effectively, and as a result has been late with homework assignments. Here's what we've done to get him in the habit to use it more effectively and get tasks done on time. It's advice we are going to be reminding him of before school starts, and getting organised will help him have the mental capacity to focus on his school work.
Always have the diary on the desk to make a note of work given and deadlines set.
Use different colours for different subjects.
Make a note of all out of school activities in the diary too, like work and social events.
Look at the diary regularly to see what needs to be done.
Schedule when assignments are going to be done.
He has always kept a copy of his timetable in his diary and on display on a notice board too. He also uses his smart phone and watch to keep track of important events and deadlines.
He really has no excuse for being on top of his work this year.
Getting Into A Good Routine
It's really important to get into a good routine from the start of school, not just around homework but all aspects of daily life.
My son knows what chores need to be completely each day, and this tend to happen first thing in the morning so he can get them out of the way. He also needs time to get ready and have a good breakfast. I'm going to set him the challenge of not doing any homework before school, as this means he's probably forgotten something!
At this stage of his school career he has regular free periods that can be utilised to get work done and make school notes. He will not be using them to come home and play Counter Strike!
He works regular shifts at the local superstore and see's his girlfriend regularly. He will also be playing basketball on Friday nights too. Making regular slots for all these things will also help with his school work. Making sure everything is done, will help him enjoy his free time too.
Bedtime is pretty much a set time every night, as much as you can enforce this on a 17 year old. Computers and lights go off at 10pm every night. We will be chatting about phone use after 10pm, as this is something he needs to monitor.
It can be a real challenge as they get older encouraging them to take responsibility for their studies, and knowing when firmer boundaries need to be set. On the whole my teenager has grown into some excellent habits over the years, but there is still improvement to be made in preparation for going to university. I guess this is the last year where I can really make a difference. With me luck!
If you missed my Back To College Style post, you can catch up with it here.
We were provided with the Scotch and Post-It Note stationary supplies to be included in this post.