Welcome back to Thinking Thin Thursday.  I'm pleased to report that my eating is still under control and weight loss is going well.  How are you doing?  I figure if your reading this post weight loss is something you are interested in, so I hope your journey is going in the right direction.
If you've been following the series, you'll have realised I don't really buy into the idea of dieting.  I've tried a few over the years, and the weight I have managed to lose I've put straight back back on again when I've gone back to my old habits.  There isn't a quick fix to getting eating under control and losing weight, and the only real strategy is to work towards a long term lifestyle change.  That is what Thinking Thin is about.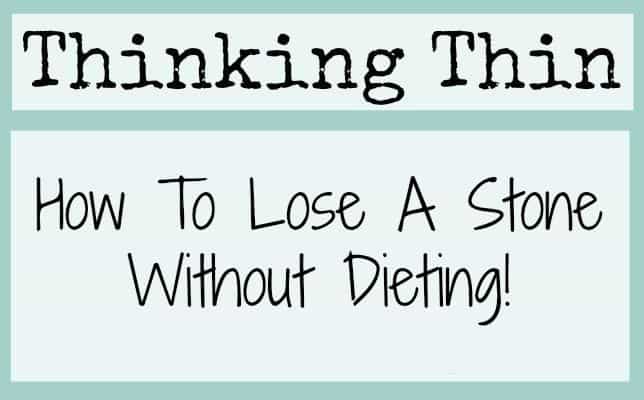 This week I thought I'd share with you all the lifestyle changes that I've made to get to this point.  All of these little steps have set me on a journey to long term weight loss and healthy eating, and if you incorporate them into your life too, you will definitely see a change.  If you haven't already, pop over and read my post about the Compound Effect to understand how small changes can benefit your weight loss journey.
Things To Do To Help You Lose A Stone
Give up drinking caffeine.  This has made a real difference my food cravings for sugar and chocolate.  It was surprising how much difference it made to my over eating.  Instead of having coffee daily, I have it as a treat every now and again and I appreciate it a lot more.  If you drink a lot of caffeine, I promise it will make a difference to your weight loss journey.
Start drinking water infused with lemon.  Plenty of water really helps when you want to lose weight.  Adding lemon to it makes it perfect for detoxing and also adds pectin to the water.  This has helped me feel fuller for longer.
Reduce the amount of bread you eat.   I allow myself 2 slices of wholemeal bread from a 400gram loaf per day.  I've found that if I eat white bread now that I really feel uncomfortable in my digestive system.  Eating lots of bread can really pile on the pounds.
Start eating dark chocolate.  I realised that there were going to be times when only chocolate will do.  To keep my eating under control I've started having small pieces of dark chocolate instead.  I tried some raw chocolate this week, that didn't contain any sugar or dairy, and that really hit the spot.  Dark chocolate, because of it's high cocoa content, is far more satisfying than mink chocolate and knocks those chocolate cravings on the head without sparking a sugar hit at the same time.
Cook more.   Cooking food from scratch and avoiding processed food with lots of hidden fats and sugars makes such a difference.  It's a really good lifestyle habit to get into, for you and the whole family.
Eat Lean Meats And Fish.  While I'm getting my weight under control, I have reduced the amount of fat in my diet.  I remove all visible fat from any meat I eat, and try to eat lean varieties where I can.  I will eat bacon, but I cut of the rind before cooking.
Eat More Veggies (and fruit too!). One of the challenges I face changing my eating habits is that I don't like fruit.  I wish I did as it would make life a lot easier.  Instead of worrying about it though, I've been increasing the amounts of vegetables I eat.  They are fab as they are full of nutrients, low in fat and really good for you.  I add vegetables to omelettes and love this brunch recipe too.  They make meals really filling and satisfying.  If you can make sure your diet is nutrient rich, you are much less likely to have binges and cravings.
Get a good night's sleep.  Being tired can have a huge impact on what we eat.  Any Mum who's recently had a baby will probably vouch for that.  I know many a new parent that has spent the early days fuelled by cake and coffee to get through the day.  Making sure the body is fully recharged with a good night's sleep will also help you beat binges and cravings.
These have been the the relatively small lifestyle changes I've made over the last few month's that have helped my weight loss progress.  Just making a small change a little bit at a time has really helped.
These ideas feel like second nature to me now, and it doesn't feel like any effort at all. I do have some more changes to make but I'm still really happy with my progress so far.  Losing a stone really wasn't that difficult at all, but was a really big milestone.  I would even highly recommend checking out DietProbe.com for a wide range of diet plans that are very simple to fit into your busy day to day routine. Now onto the next stone, as I've still got that holiday to think about!
Are these changes you think you could make in your life to help you lose weight?