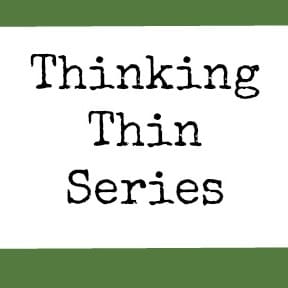 Welcome back to another week of Thinking Thin Thursday.  This week I'm dealing with over eating, which I think holds a lot of us back from being the weight we want to be.
I really hope your finding my weekly updates helpful and inspiring.  I loved all the comments I received last week, and it's great to know that readers are being inspired by my journey.
Sharing it with you all is really keeping me on track to, so thanks so much for reading my posts.  I think everyone's weight loss journey is different and personal to them but hopefully I have hit on a few things in this series that resonate with you too.
I'm so pleased to report, that despite a minor hiccup with a bar of snickers and a brief interlude with a few malteasers that I'm nearly at the stone mark.  I'm really happy with my success so far, it feels at just the right pace and I'm certainly not starving myself in order to loose a few pounds.
My main focus has been to reduce fat, sugar, bread and unnecessary snacking.  There has been no skipping meals or faddy diet plans, just a focus on healthy eating.  I don't want to feel like I'm on a diet, as this feels restricting and negative from the start.
My main goal is to regain control of the way I eat.  We are all born with the ability to regulate our food and calorie intake but somewhere along the line some of us lose this.  My experience is that I ignore the signals my body is giving me in favour of satisfying my emotional cravings.
My stomach regular tells me, 'you have eaten enough now, Zena', but I hate leaving food on my plate and will carry on and eat those last few mouthfuls even though I don't need them.  Is this something that sounds familiar with you?  It's the comfort I get from feeling overly full, that keeps me eating.
This definitely isn't an easy one to fix, and I think it's going to take a few strategies if I'm honest.  The portion sizes I serve are notoriously big.  My husband complains regularly that I give him too much food, but then he's the first one in the chocolate stash late at night.  He's still drinking phenomenal amounts of caffeine and energy drinks, which I'm convinced is at the root of his snacking.  He polished of 2 pieces of cake last night, and I'm very pleased to say I wasn't even tempted to join him.
Seeing as the issue for me is leaving things on the plate, trying to reduce the amount that's there seems like a great place to start.  Portion sizes have definitely reduced.  For example, I used a smaller cup to measure the rice for dinner last night which helped reduce portion size and waste.  It needs to be smaller still though, especially when it's just the 2 of us eating.  I will find the right cup!
I also need to be more mindful at meal times, focusing on the process of eating and responding to my body's signals.  We always eat at the table, so there is no TV to distract me.  The environment we create around mealtimes is perfect for mindful eating, I just need to create more positive habits.
Prior to each meal, I am going to remind myself not to over eat.  This technique helps me be more mindful in lots of situations.  Hopefully, then when my stomach says, 'that's enough' I'll be ready to part with my fork.  There needs to be a huge congratulations when I manage it to.  When I've succeeded a few times, I will have the memories and new habits to make it easier going forward.
It's going to take practise, as old habits die hard, but I'm convinced dealing with over eating will be one of the most successful strategies in my weight loss mission.  I'd love to know if you struggle with over eating, and if you have any tips for success?