Hello everyone and welcome back to another week of my weight loss series 'Thinking Thin'.  Thanks so much for putting up with my ramblings last week and all your kind comments.  I can't begin to tell you how much it helped to get all that off my chest.  I must learn not to let things whir round in my head and share them either on my blog or with a friendly ear.  It brings a whole new perspective to things don't you think?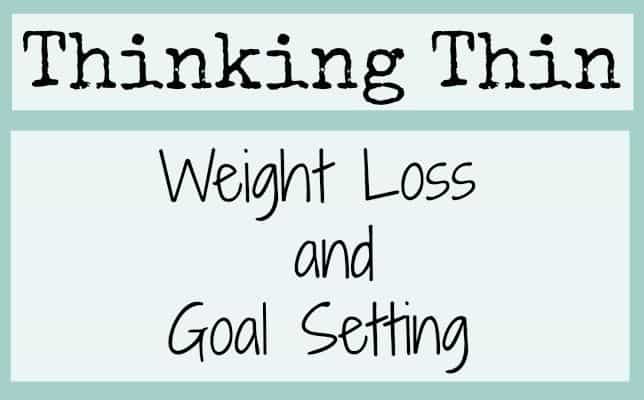 Just the process of writing down the issues I felt stuck with helped me release so much, and I'm sure that's partly why I've felt completely back on track this week.
I'm also really pleased to report that since the start of this weight loss journey I've now lost a stone.  Woohoo! I'm so doing the happy dance right now.  I've got one more stone to go before I'm back to where I was before I fell of the wagon but things are really moving in the right direction.
I feel like mentally I've made more progress than I have before, so I'm hoping this weight loss journey will be far more sustainable long term.  One day I've got to nail this thing for good, right?  I'm fed up of this yo yo weight loss, weight gain situation I've got myself into.
Setting Goals For Weight Loss
This week I've been really thinking about my weight loss goals, and how they can help me.  I finally realised I'd let things slip out of control again when I went to BritMums Live in June.  When I saw myself in the full length mirror at the hotel I was staying in I knew enough was enough.  I said to myself 'I do not want to look like this, this time next year'.  It was at that point I started to work towards getting my comfort eating under control again.
Now, it's dawned on me that BritMums Live is a long way off, and that some shorter term goals might help me stay on track.  I don't want to use the number of pounds lost as a target, as I think as long as I'm losing I'm going in the right direction.  I don't want to feel disappointed if I don't lose 10lbs by X date for example, that could be a recipe for disaster.
Weight Loss Goals That Will Work For Me
Instead I'm going to focus on events or occasions in my life that are important to me.  It is when I'm on holiday, or during a family Christmas or attending an event that I become the most self conscious about my weight.
I don't want to continue feeling this way about myself at every holiday or when I'm looking back at the Christmas photos.  I'm always left feeling not very good about myself, and I know this can be a trigger to comfort eating.
We have just booked a holiday to Pineda De Mar in Costa Brava for October.  I want to continue losing weight until I go on holiday.  There is nothing worse than being over weight in a warmer climate, don't you agree?  My fingers swell up, I feel hot and sweaty and it's just not a pleasant experience all round.  But I love going on holiday, and I want to be free of all these negative uncomfortable feelings so I can just enjoy our family time.
I don't think I'll be a waif come October, but I want to feel like I'm on top of this weight loss thing and more comfortable in the heat at least.  I'm finding it really helpful to bring my focus back to an earlier date.  Weight loss milestones are really important to keep us all on the right track.
Just focusing on next June is a dangerous thing to do.  It feels like such a long time away, that I could slip into thinking 'that cake doesn't matter today, as I can start again tomorrow'.  That has been a slippery slope for me in the past, and before I know it I've eaten cake everyday for 2 months.  That's not going to help me reach my ultimate goal of significant sustainable weight loss by next Summer.
The next goal I think will be Christmas.  It would be lovely to feel more confident in the Christmas photos and enjoy looking back at pictures of myself.  I know I find it really hard to look at photos of myself when I'm over weight, and I guess that's pretty common.
A pattern seems to be forming here already.  It seems sensible to break my journey down into 2 month milestones, and if that collides with an event as well that will be an extra incentive to stay on track.  We usually go on holiday to Nerja in early March, so that can be another milestone to aim for.
Holidays Are A Huge Incentive For Weight Loss
I've shared with you before how using how you feel in a situation can make a huge difference to the way you eat.  If you always feel yucky after eating fish & chips, when you fancy them, think about that feeling you will get when you've finished.  It will soon put you off going near those fish and chips in the first place.
Thinking about how I feel  when I'm on holiday, is another great tool for me to use when I'm feeling like eating unhealthy foods.  I'm fed up of not enjoying myself because of my weight.  I want to be able to chase my children round the beach or play ball games with them with out feeling out of breath and unfit.  I want to have fun with them!
I feel that if I focus on my holiday in Costa Brava in October, I might just speed my weight loss up a little and I'm less likely to hit bumps in the road along the way.  If I had to put it in terms of my size, I think I'd like to go down another dress size, so that I've got an excuse to do some clothes shopping as well.  Those would be happy days for me!
I'd love to hear how you set goals for your weight loss journey, and how you keep yourself motivated.  Let me know in the comments or share this post with your followers if you think it would be helpful to them.