I hate to say it but I think summer is almost done.  The days are getting shorter and the weather is getting wetter and colder by the minute.   The reality for us parents though is that the kids still need entertaining and getting out of the house, before everyone goes up the wall.  As we go rushing into autumn at full pelt I've started to think about what we'd like to see at the theatre over the next few months to fill the gap of outdoor play.
It's nice to have some activities to look forward to with the family, and last September we started visiting the Djanogly Theatre at Nottingham's Lakeside near the University of Nottingham on a regular basis.  We saw some amazing productions like Emily Brown And The Thing and Whatever The Weather and it didn't cost us an arm and a leg either!

This autumn-winter Lakeside Arts have got another great line up of children's and family theatre and here's what will be heading to see over the coming months.
Children get to meet all their favourite beasties and explore what's living in the grass all around them in this fun production from Second Hand Dance Productions in association with Unicorn Theatre.
Using lights, performance and puppets they will inspire all families to get mucky  and enjoy the world around them.  Suitable for children aged 4 and upwards.
HubBub – A Musical Adventure Saturday 17 October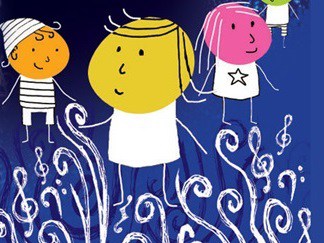 We'll be heading to Lakeside to join this new magical musical journey as 5 friends follow the trail of the mysterious blue beetle in the quest for a lost voice. With original live music performed by musicians from the celebrated Aurora Orchestra, this enchanting new show is set to be a big hit.
Little Angel Theatre bring Michael Rosen's thrilling family adventure to life with puppets and a charming performance involving lots of squidgy mug, dark forests and mysterious caves.
What are they going to find?  I know my daughter is going to be captivated by this show already! I have a sneaky suspicion this is going to be my favourite performance too.
We'll be fresh back from our holiday in Spain and in need of a much needed lift from our holiday blues and this looks like just the thing to do it.  Based on a story from Mediterranean Mythology, TPO will take us on a magical journey of music, light and dance.
We will find out what happens when a sea nymph drops a pearl into the sea, and a sailor is charged with finding it.  I can't wait to see how his adventure unfolds.
And last but by no means least we are off to see Neverland in December.  This Christmas performance, made by a local production team is set to be truly enchanting.

We will be looking forward to meeting our favourite characters from J.M.Barries classic novel in this new adaptation in the intimate setting of Djangolgy Theatre.  Going to Nottingham Lakeside for the theatre is set to become a family Christmas tradition in our house!
To find out what else is showing this theatre season, visit Nottingham Lakeside Arts Children's and Families page.