Right guys, today it's time for a bit of a confession.  Things here have got out of control.  It happens every now and then, but this time things are serious.  They are worse than they ever have been, and it really is time to start reigning things back in.  This post has been a long time coming, but for the last few months, I have been suffering with that curse of human nature called denial.  It has to be my worst enemy by far, well that and sugar.  Sugar really is the bane of my life, and I wish that me and it's refined form had never crossed paths.
Why Have I Gained Weight? 
There's also the take aways that have risen out of control, because my motivation to cook a healthy family meal is at an all time low.  So many things have slipped out of balance and it's time to try and get things back on an even keel before my weight and my health suffer beyond the point of no return.
Something that really has become a thing of the past is taking regular exercise and my body is starting to creak as a result.  I could blame my age, but it isn't that.  If I was healthy, I wouldn't have the same niggles that I'm experiencing now, like a knee that complains about the weight it is supporting or a discomfort in my left ribs due to incredibly bad posture.
Check out my vlog where I get into the nitty gritty of my weight loss denial:
Working from Home & Weight Gain
My body is saying, 'do something before it is too late you silly woman', and I know it is.  More activity is needed in my day, especially when I don't have the children.  That is my window of opportunity to increase my fitness levels, and I desperately need to get these habits in place before the cold weather sets in and it's even harder to get myself motivated.
Working from home has very much been a blessing and a curse for me, and I know it has contributed to my recent weight gain.  I have a slightly compulsive personality, and that means that I get wrapped up in things and lose sight of other priorities in my life, and self care is definitely an area that suffers.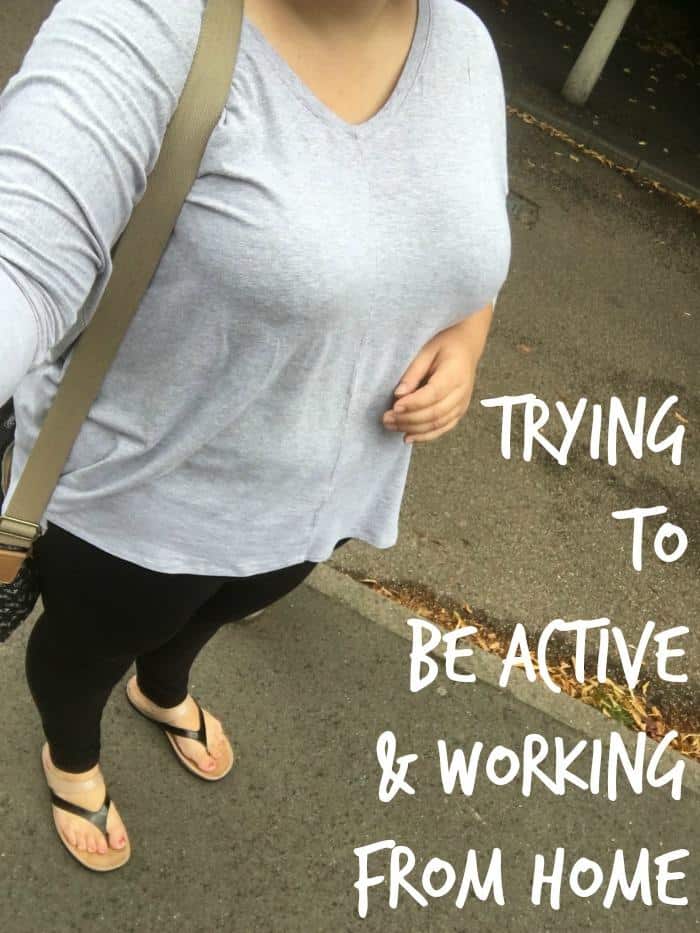 Being More Active & Weight Loss
In a bid to get myself active again, I've been doing a little shopping so that I am ready to go for a walk or go to an exercise class during the day.  I need to turn working from home into an advantage, and seeing as I've only got myself to please I can wear some comfortable jogging bottoms with a t-shirt so that getting some exercise really can just be slipped into my day.  It's about starting with a walk every lunchtime, and joining the exercise class in the hall that's just 2 minutes from my house.  I really don't have any excuse to start getting active.
I have been giving so much to working on my blog, that instead of enjoying it, it's been draining me.  My energy levels are at an all time low because of the poor diet, the lack exercise and the amount of screen time I have.  I've been making small changes over the last couple of weeks to try and get things back in order, and I can feel the benefits already.  I feel much happier, just from taking a few walks during the working day and cutting down on the about of take away food we have been eating.  There's still along way to go, and who knows if this time I'll crack it, but I cannot give up trying to lose weight and be healthier, for both me and my families sake.
Collaborative post