The weight loss journey so far is going great.  I've lost a total of 2 stone in less than 2 months.  My baby weight has gone and then some, so I'm really chuffed.  I've also seen real consistent changes in my behaviour towards food because of Thinking Thin, so I really hope it's helping you too.
I leave food on my plate that isn't healthy.  This was completely unheard of.  My food mantra used to be, 'waste not want not', but it was causing me to dramatically over eat and gain weight.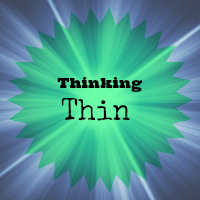 I say 'No' to treats and goodies that aren't healthy, AND it's become easy and effortless!   I don't feel like I'm missing out at all.  We still have take away, but I don't eat the entire free bag of prawn crackers that comes with the Chinese before getting to the main course.
Instead of a relationship that is based around rewarding myself with food, I am rewarding myself by taking care of myself.  This sift in mind set is massive and probably the biggest reason for my success to date.  I used to start in the morning thinking today is the day I'll start to lose weight, and by dinner I'd completely forgotten that thought and would eat a variety of things that just were not good for me.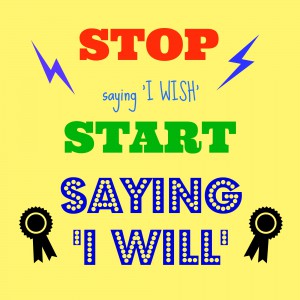 All of these changes are to be celebrated, but, and there is a but, there is one thing I've not tackled and that is exercise.  I have reached a point where my weight loss is starting to plateau and my body needs to move more.  I WILL start moving more!
Now, life for me for a long time has been fairly sedentary due to the pelvic girdle pain I suffered in pregnancy and the rest that is required after baby arrives.  Walking was laboured for a number of weeks after little Pudding arrived and breastfeeding requires you to sit for a significant portion of the day.  Add to this that I haven't done any structured exercise since I was 12 weeks pregnant with Princess, over 3 years ago and it's safe to say I'm well and truly out of the habit!  Some change IS required.
Knowing where I am at I'm not going to think of it as exercise for the time being, I'm going to concentrate on bring more movement into each day.  Each day, I'll plan for the next what I'm going to do to be active, even if it's just a walk with Pudding in the pram.  Princess is now at home 2 days a week, so being active with her is essential for the sake of an easy life and bedtime!
Today, Pudding and I have been for a walk.  Tomorrow, Princess has gymnastics which requires Mummy to follow her round wearing Pudding in her sling.  I've found some You Tube Channels that have some great exercise routines, and I'm going to START doing those too!  No more 'wishing' I did more, I am going to do more!
Do you exercise regularly?  How do you fit it in with a busy family life?