I personally believe that finding the right diet product or plan is the key to loosing weight successfully.  There are lots of weight loss products out there and it can quickly feel very overwhelming when you are looking to start a diet.  It's important to choose a weight loss plan that is going to fit with your lifestyle and that you will enjoy.  When you are thinking about 'what is a good diet for me to follow' these are the 2 questions you really need to have in the front of your mind.
If a diet plan didn't work for you, please do not get hung up on the idea that you failed, as I suspect that wasn't really the case.  It is more likely that the weight loss program just wasn't right for you and you can use what you learned about dieting and your own preferences to find a diet that suits you better.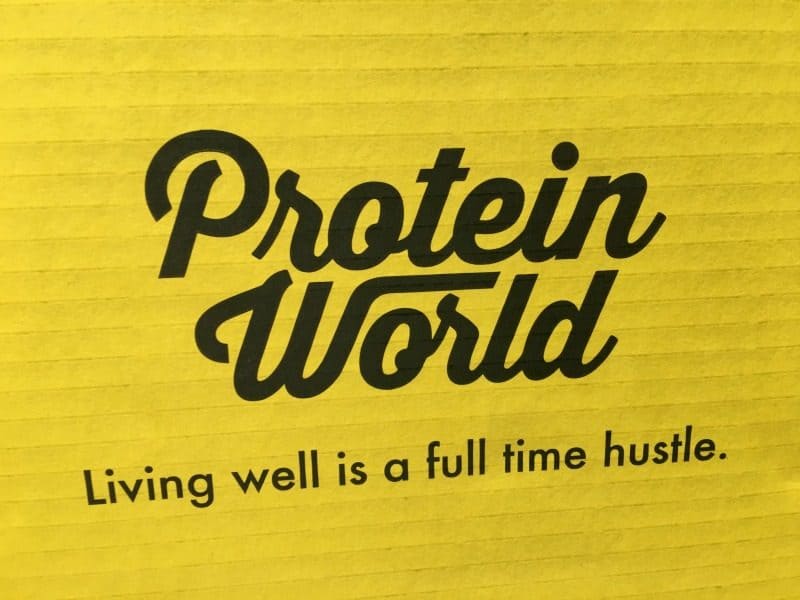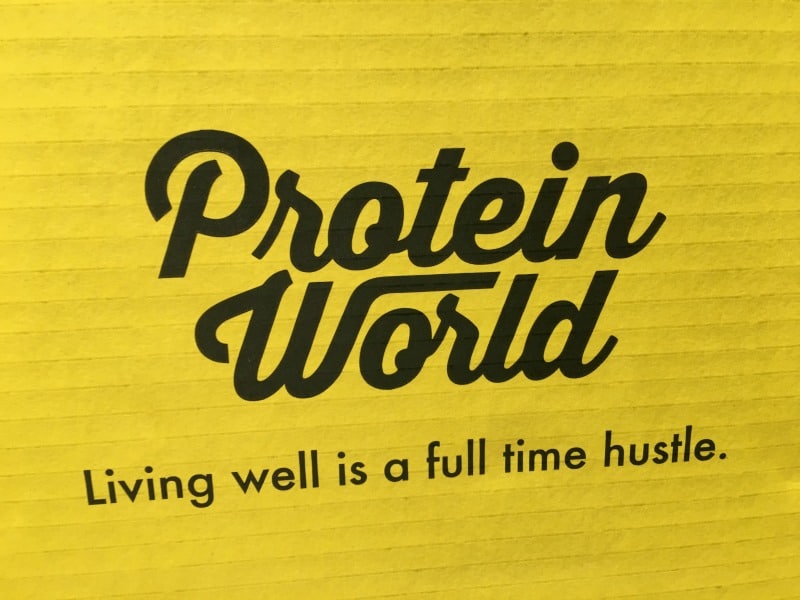 Recently I was asked to take a look at the 4 Week Slender Plan from Protein World and before I agreed to sign up I did a little bit of research.  The Slender Plan has certainly been making an impression on the celebrity scene with people like Khloe Kardashian and TOWIE stars, Ferne McCann and Lauren Pope singing it's praises but there's also a number of real life stories on Protein World's website that are worth a look.
How Does The Slender Plan Work?
The Slender Plan is a high protein, low calorie easy to follow weight loss plan that is delivered to your door with everything you need to supercharge your weight loss and fitness goals.
You follow the suggested eating plan and add a 30 minute exercise plan to your weekly routine 5 days a week.
Eating Plan
Breakfast – Slender Porridge
Snack – Slender Snack
Lunch – Slender Shake
Snack – Slender Snack
Dinner – Healthy Meal
The diet products in the Slender Plan contain a number of weight loss boosting ingredients to help you while following the program.
The Slender Porridge is high in protein, chia and flaxseed which are known to help you feel full for longer. We also know that porridge is a great way of keeping energy levels up after breakfast.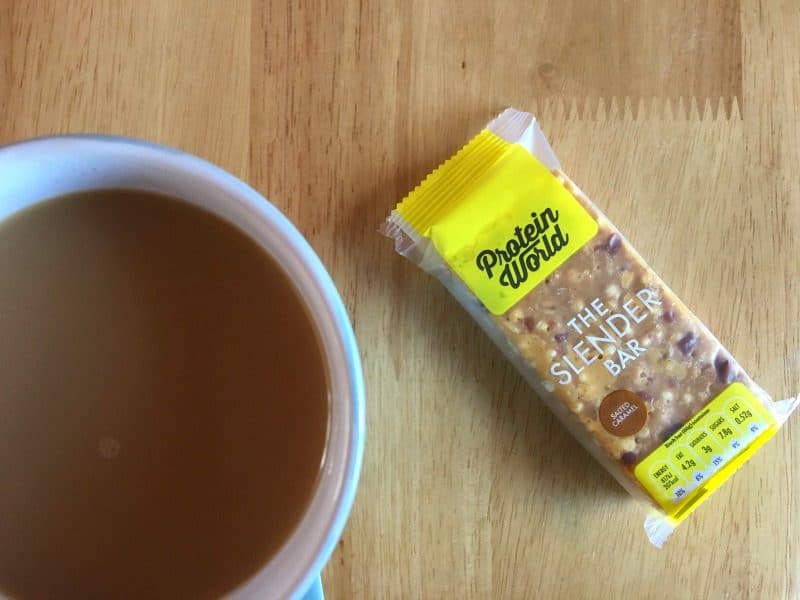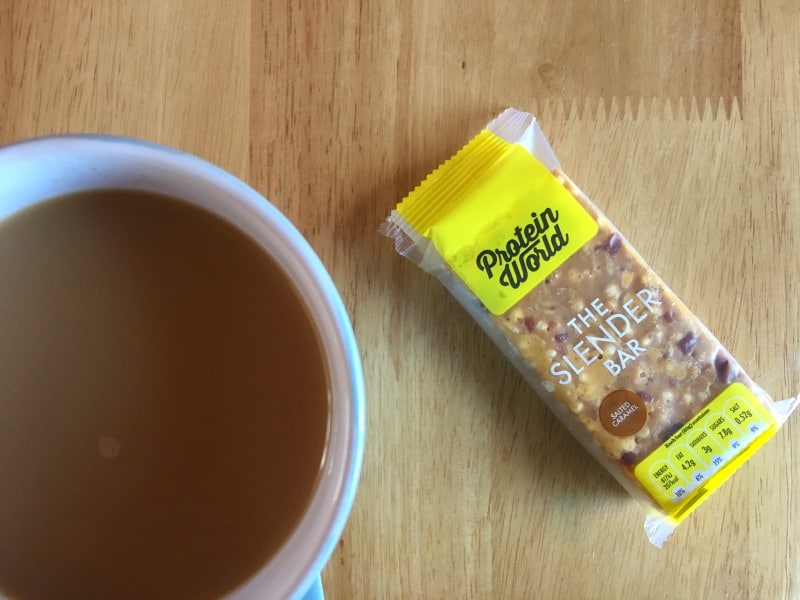 The Slender Bars are a great snack and are packed with 25 vitamins & minerals as well as being high in protein. They are the perfect mid morning treat with a cup of Slender Tea with contain lots of weight loss boosting ingredients like green tea, yerba mate and peppermint.
The Slender Plan also comes with booster tablets to help target your weight loss and contain ingredients like guarana extract, green tea extract, yerba mate powder,  anhydrous caffeine and cayenne powder to name but a few.
How Much Does The Slender Plan Cost?
There are 3 Slender Plan diet boxes available to suit your weight loss needs and budget.
4 Week Simple Plan £98.99 (currently on sale with 30% discount for £68.99)
4 Week Your Plan £126.99 (currently on sale with 30% discount for £88.99)
4 Week Core Plan £113.99 (currently on sale with 30% discount for £79.99)
The 4 Week Your Plan is the most flexible and contains more choice of weight loss products so I'd definitely recommend considering it.  It contains:
2 Slender Blend Weight Loss Shake (choice of flavours)
2 Slender Porridge (choice of flavours)
20 Slender Bars (choice of 4 flavours)
2 Weight Loss boosting capsules (choice of products available)
5 Slender Blend sachets
Slender Blend Tea (28 bags)
Protein World Shaker cup
30 Day Challenge book including recipes and workouts
The Slender Plan is really easy to purchase online and it takes just a few minutes to make buy your box  following the easy steps.
Pin for later

What Did I Think Of The Slender Plan?
Thinking about my own busy lifestyle and how hard it can be for Mum's to lose weight I really felt the Slender Plan was a great option.  Everything I needed to get started arrived on my doorstep shortly after placing the order and I really liked the easy to follow eating plan.  The structure Slender Plan provides fitted easily into my daily routine.
I enjoyed most of the products that came with the Slender Plan too, with the vanilla Slender Porridge being my favourite start to the day.  I also love the salted caramel Slender Snack and looked forward to my morning tea break with it.
I also love that you can eat a healthy evening meal as a part of the plan, as I strongly believe real food should feature in any weight loss routine for long term success.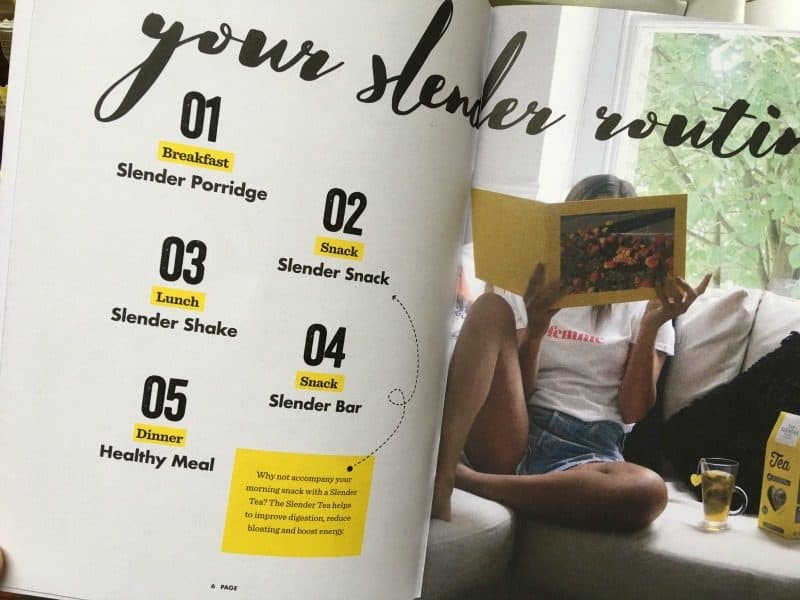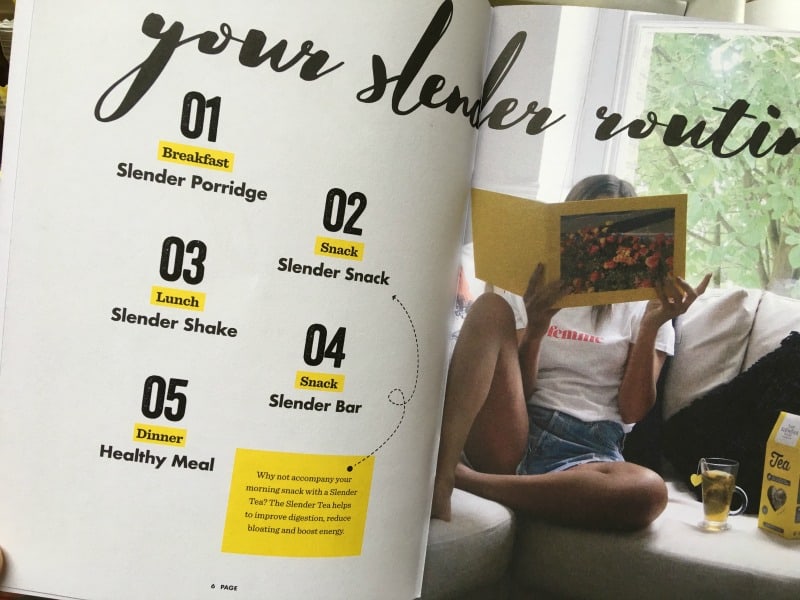 I would love to see Protein World add a soup to the Slender Plan as even though the products are low in sugar they are quite sweet and I would like the option to have a savoury lunch on some days.  I probably wouldn't order the chocolate flavoured Slender Porridge again either as the flavour just didn't work for me.
During the first week I managed to lose 3 lbs which I was really happy with and I have seen weight loss of between 1 and 3 lbs since so as a weight management program I've certainly seen a healthy level of success during the trail. I also feel the price is incredibly competitive given other weight loss products that are on the market, especially if you buy your Slender Plan now with the 30% discount.
The exercise programs are easy to follow and you don't need any additional equipment or a huge amount of space.  They did feel hard at first, but they are slowly becoming easier.  I think these will continue to feature in my fitness routine as they fit my work from home lifestyle really well.
Slender Plan Giveaway
Would you like to try the 4 Week Slender Plan for yourself?  Well I've got some great news.  Protein World are offering Zena's Suitcase readers the chance to win their very own 4 week weight loss program  simply by completing the rafflecopter below.  Competition ends 31.3.18.  Other T&C's apply.
Feeling lucky?  Check out my other giveaways here.
Know someone who would enjoy this post?  Please do share it with your friends and followers, as it would literally make my day.  
For the latest blog posts, offers and giveaways don't forget to subscribe to Zena's Suitcase.  You can also follow the latest updates on Twitter, Facebook, Instagram and Pinterest.
We were provided with the 4 week Slender Plan in exchange for this review but all thoughts and opinions are our own.