This week we are packing Zena's Suitcase and we are off on a bit of a road trip.  The GCSE's results are out on Thursday, and Friday Teen, Princess and little Pudding are taking to the road for a trip to South-West Scotland to visit Granny.
We haven't really been able to take a holiday yet this summer with the baby arriving, but I have really itchy feet now and a change of scenery is required.  As the date for our trip draws closer, I have started to feel a little over whelmed about travelling with a toddler and a 3 month old baby, especially when we have over 250 miles to cover.
On a normal day this trip would take us about 5 hours at most, but with such small children it's going to be more like 8.  That in itself is a little daunting.  I'm starting to feel like I need a little control over the situation and there is nothing like making a summer holiday packing list to make you feel more prepared!  There is stuff we are going to need access to for the journey and the stuff we are taking.  I'm so glad we've got a big car now.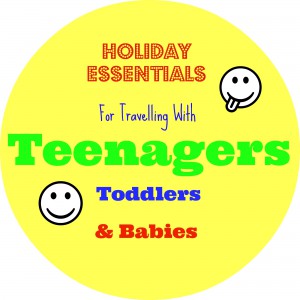 Toddler Travel Bag
Favourite Doll
Books
Drawing
Nappies/Wipes/Bags
Change of Clothes
Drink
Snacks
Toddler Holiday List
Raincoat and Wellies (It is SW Scotland)
Clothes/PJ's
Shoes
Nappies/Pull Up Pants
Wipes
Craft Activities (In Case Of Rain)
Beach Bag (You never know!)
Cutlery
Toothbrush and Paste
Favourite Bed Toys and Books
Pushchair and Rain Cover
Baby Travel Bag
Nappies/Wipes/Bags
Change of Clothes
Muslin Cloth
Baby Holiday List
Travel cot
Pram and Rain Cover
Clothes/Sleepsuits/Babygros
Sleeping Bag/Sheets
Nappies/Wipes
Toys
Baby Monitor
Baby Sling
Muslins
Teen/Mum Travel Bag
Drinks
Snacks
Phones
Teen Holiday List
Waterproof Coat and Shoes/Boots
Clothes
Phone/Charger
Toiletries/toothbrush
Mum's Holiday List
Clothes/PJ's
Waterproof Coat and Shoes/Boots
Camera!
Phone/Tablet/Chargers (reluctantly leaving the laptop behind in the name of travelling light)
Notebook/pen
Toiletries/Toothbrush
Suncream (you never know!)
Now that does feel a whole heap better now I've got that down in a post.  It feels like a lot, but then kids need a lot don't they.  I'm going to be a little bit organised and order an online delivery to be sent to our destination to save on the nappies and wipes going all that way with us, but that does depend on my friend Asda having those particular items 'available' for delivery!  They haven't been great recently.
Have I missed anything? Is there anything you absolutely must take on your holidays when travelling with your children?  How do you cope with travelling long distances?