A holiday can be many different things.  It can be exploring somewhere new, like our recent visits to Liverpool and York or our up and coming holiday to Costa Brava.
A holiday can be about living in the lap of luxury in a 5* hotel or being waited on hand and foot aboard a luxury cruise ship.  It can be lazy days by the pool or active adventures while enjoying the local scenery.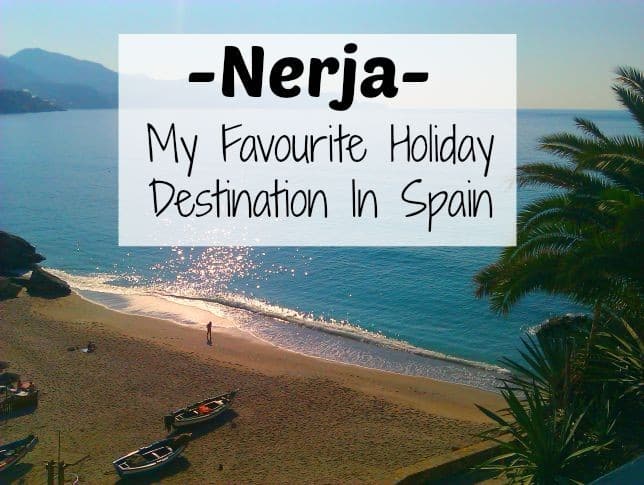 Sometimes a holiday can be about something familiar, a favourite beach, a specialty dish or places you know and love.
Nerja, Costa Del Sol is my favourite place.  I have been on holiday in Nerja regularly since my son was 3 years old.  I know my way around, so there's no figuring out the best places to go in just 7 days.  I feel completely safe there.  I've spent many holiday there with just my son when I was a lone parent, and would happily recommend it to other single parents.
I'm desperate to go back and sit on my favourite beach with my girls now that they are a little bit older.  Travelling seems more accessible now we have left the baby days behind us.    Now that the 1 year old is walking, I can be safe in the knowledge that she won't eat quite as much sand.
I've been searching Love Holidays website for a good time to go for a short break, and I'm just trying to nail down some holiday dates down with Daddy at the moment.  Here's just some of the reasons I love Nerja so much.
Nerja Has Beautiful Beaches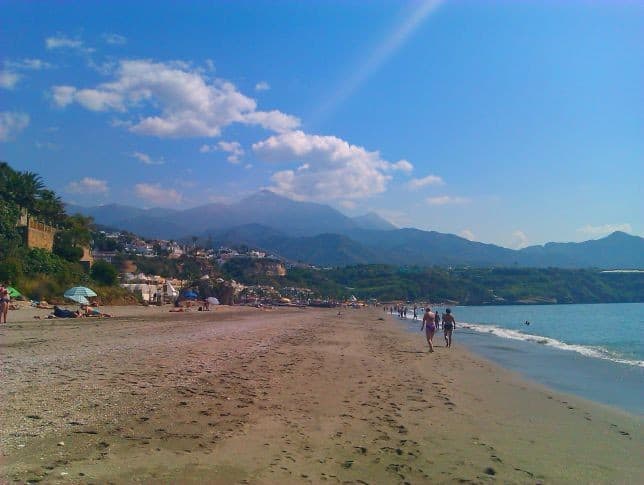 Nerja has over 9 kilometres of beaches, but my favourite by far is Burriana beach to the south of the town.  It's very popular with tourists and locals, and can get very busy during high season.
It has a lovely selection of beach side restaurants, that serve fresh fish and paella.  I can wholeheartedly recommend a trip to Ayo's towards the end of the beach for some of the best lamb and paella you'll try or pop down to Bar Bacoa for a gambas pil pil like no other.
Nerja Tapas
One of my favourite things to do in Nerja is go on a tapas run.  You can eat and drink your way round this town without too much effort.  There are so many places to enjoy this very traditional way of eating in Spain, and if you chose the right spot, your tapa will be complimentary with your drink.  Sometimes you have to make sure you sit at the bar, so it's worth checking.
My personal recommendations would be to start at El Nino restaurant on the way into town.  Have the meatballs, they are particularly nice, and pretty satisfying too with a glass of red wine.
You have to stop at El Pulguilla for the freshest tapa on the planet.  You pick your tapa from the counter, and they cook if for you and bring it to your table.  I can recommend the prawns along side a glass of spanish beer if your asking.
Nearby is La Taberna.  This is a restaurant as well as tapas bar.  Sit at the bar if you wish to just have the tapas with a drink.  There's always a good selection of meat, fish and traditional tapa to choose from.
Last but by no means least, Bar Redonda is an absolute must.  It has a round bar, filled with a selection of drinks and tapas.  You might find yourself circling it a few times before you finally decide what to have, but what ever you chose you will not be disappointed.
Things To Do In Nerja
Visiting Nerja, is very much about visiting traditional Spain, which is why I love it so much.  It was once a small fishing village but in recent years has under gone much development.  It's roots are still very much apparent.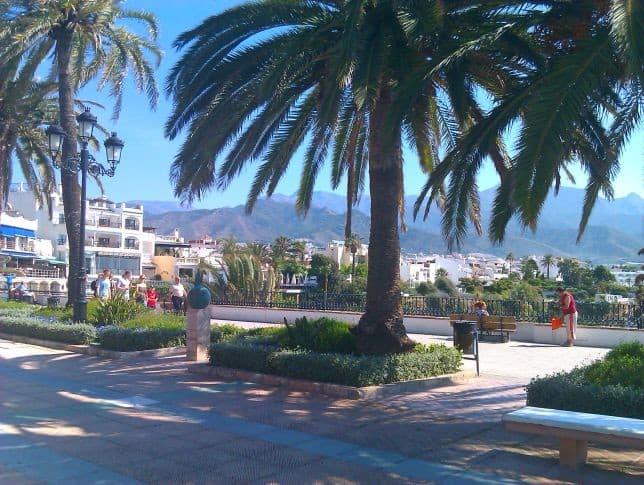 It's not spoilt though by water parks and busy attractions.  It's very much about a relaxing Spanish holiday, where you meander the streets for shopping and places to eat and relax by the beach in the day.
It does have a very famous attraction though called Cueva De Nerja which I think everyone should see at least once in their lifetime.  The Nerja caves are utterly breath taking and are home to some of the biggest stalagmites and stalactites in the world.  You will be utterly stunned by how beautiful they are.
A stroll along the Balcon De Europa with some delicious Spanish ice cream is also a must for some stunning views across the Mediterranean.  Nerja also has good access to Granada if you fancy a day trip or hiring a car.  Park at the Alhambra palace for a visit the take the tourist bus for a nail biting ride through the narrow city streets.
Nerja also has a thriving market on a Tuesday and Saturday, which sells lots of local produce.  Don't forget to visit Frigliana also, the village just up into the hills above Nerja.  The make their own sweet wine, which is divine.
Why Do We Go Back To Nerja So Much
Travel time to Nerja is without a doubt a factor.  The flights are around 2 1/12 hours, and transfers from Malaga to Nerja take about 50 minutes.  It's certainly manageable for a family holiday destination.
Nerja is one of those places also where the faces stay the same.  The waiters in the restaurants have worked there for years, and even though they might not recognise us, we enjoy the familiarity of seeing there friendly faces.  It gives you that coming home feeling.
It's also the kind of place I can see me spending my old age.  There is a large ex-pat community in Nerja, which makes it even more appealing.  When you work on the internet the possibilty of working from anywhere in the world does dawn on you.  Nerja is easily somewhere I could while away the winter months while photographing it's beautiful scenery and writing about it's charming culture.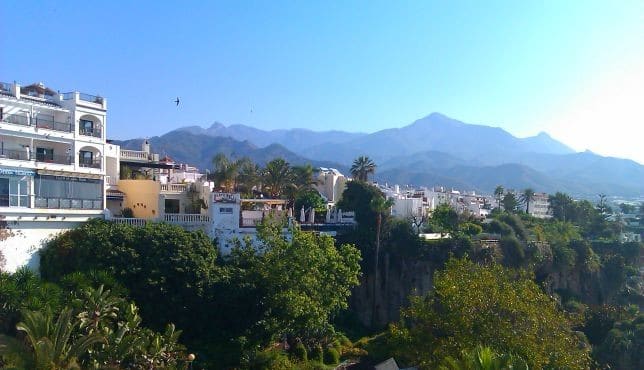 Have you visited Nerja before?  Where is your favourite holiday destination?