I was very excited about arriving in Berlin.  Not only were the next 24 hours going to be a lot of fun, but the hotel also looked like it was going to be pretty amazing too.  I was going to be staying at the 25Hours Hotel Bikini Berlin, and it already looked like one of those hotels that I wouldn't want to leave.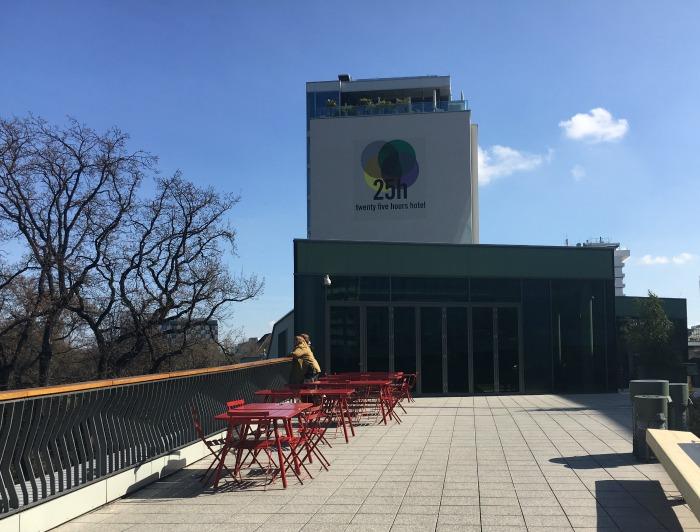 25Hours Hotel Bikini Berlin Review
First Impressions
As I arrived, guests of the Hotel Bikini Berlin were enjoying a beer in the sunshine and I have to admit I was a little jealous. Unfortunately time wasn't on my side, and after a friendly and quick check-in at 25hours Berlin I was taken to my room in a very digitally psychedelic lift.
I followed the concierge into possibly one of the coolest hotel corridors I've ever seen.  Neon lights lit up the gangway and displayed the numbers over the doors, in this artistically industrial space.  I couldn't possibly imagine what the 25Hours Bikini hotel room was going to be like, but one thing is for certain, my curiosity was peaked.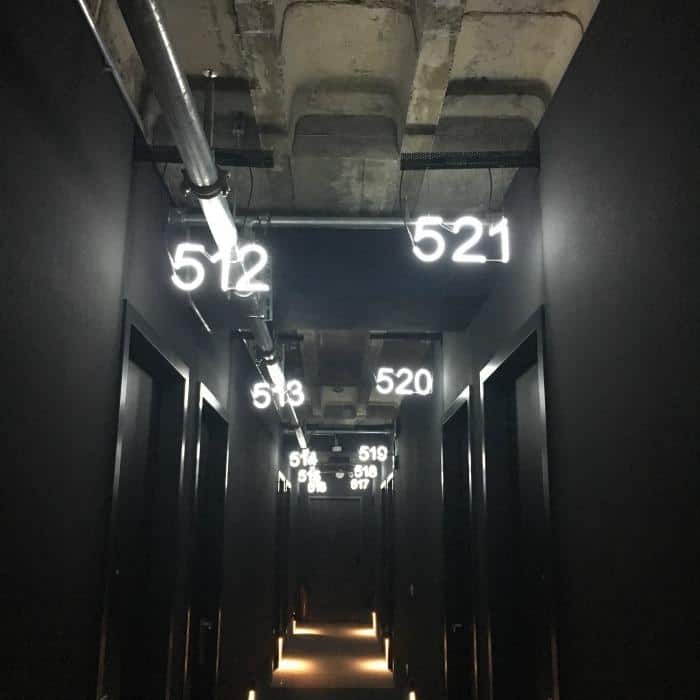 Jungle Hotel Room – 25h Berlin
The black theme of the corridor continued into the jungle hotel room as I passed the toilet and shower area.  Then the hotel room opened out into something more colourful before overlooking the monkey enclosure in Berlin Zoo through a wall of glass.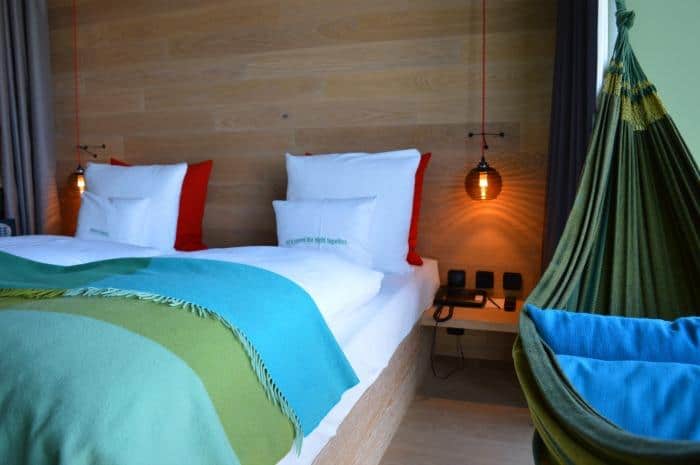 I fell in love with the Bikini Berlin Hotel room immediately and desperately wanted to explore every nook and cranny.  Sadly time was pressing on and I was meeting friends for lunch at ki-NOVA.  I had just enough time to empty the 25hours Bikini Berlin goodie bag on the bed, admire the hammock in the window and freshen up a little before heading out the door.  I was really looking forward to being back at the 25 hours Bikini Berlin later, after all, that bed was particularly inviting.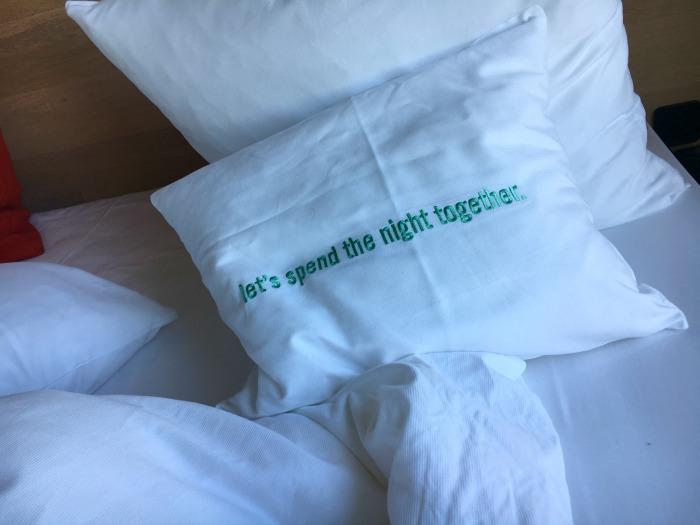 I grabbed a few minutes to explore the Berlin Bikini hotel reception, and enjoyed watching one of the younger hotel guests lounging in one of the hammocks suspended there.  I knew my young girls would love getting in the hammocks, but they might not appreciate that you are meant to stay there a while and relax.
We were going to be busy in Berlin on this short break, and the 25 Hours Berlin hotel was in a great location for getting around. Getting to the 25 hours hotel bikini berlin from the airport by bus was really straight forward, and there are plenty of public transport options nearby.  You simply need to take the bus and get off at the stop marked Zoologischer Garten and the hotel is just a few minutes walk.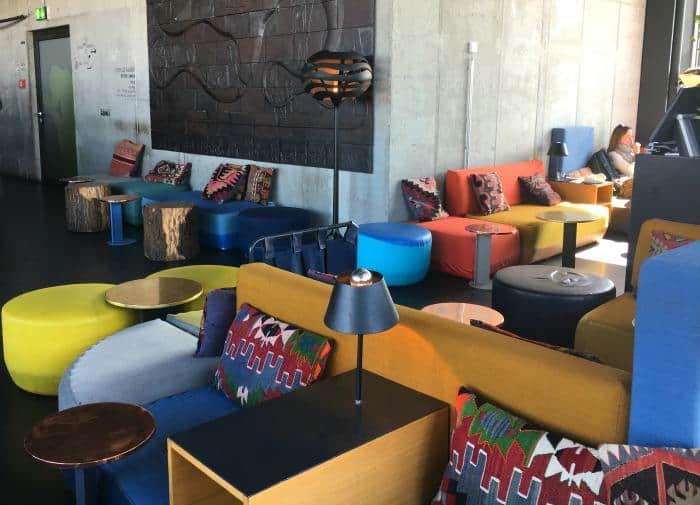 Monkey Bar Bikini Berlin
We took the S-Ban home after a fun night out with the Chamäleon Theatre and decided to enjoy one final night cap in the Monkey Bar.  During the day the Monkey Bar is relaxed with a bohemian style. It sits on the 10th floor of the 25 hours hotel Bikini Berlin, and at night it becomes a very popular spot with both hotel guests and locals with its fun atmosphere and fantastic views over the Berlin skyline.
We only stopped for one drink, as everyone was itching to get back to their hotel rooms.  It turned out the hotel 25 hours berlin had made an impression on everyone on the trip.
I put on the heated floor and enjoyed using the on trend industrial bathroom that looked out towards Berlin Zoo and using the eco friendly toiletries that constantly reminded you to save water.  They worked a treat as I was far more conscious of letting water poor down the drain needlessly as I carried out my evening rituals.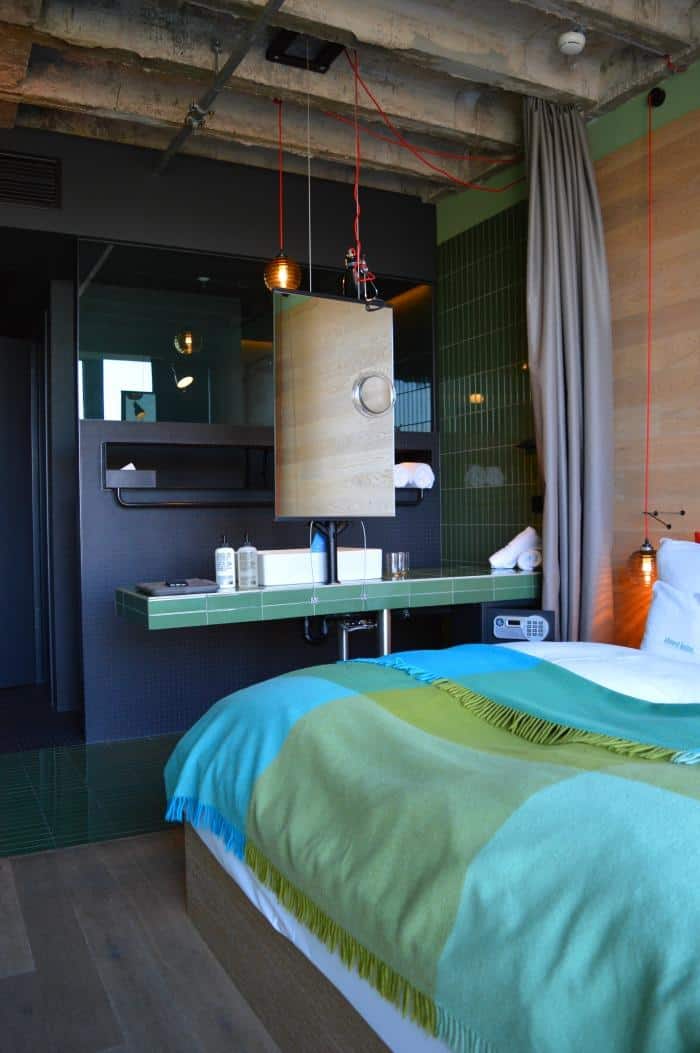 I savoured sinking into the super king sized bed to enjoy a little late night news on the wall mounted flat screen TV.  It was a great bed with crisp linen and a soft duvet that hugged you to sleep.  I slept pretty well, all be it not for as many hours as I would have liked.
25 Hours Hotel Berlin Breakfast
The alarm went off far to early, but I was keen to go and enjoy the hotel breakfast in the Neni restaurant on the 10th floor.  The sun was pouring through the windows and most of the hotel guests were still asleep missing out on the glorious sunshine.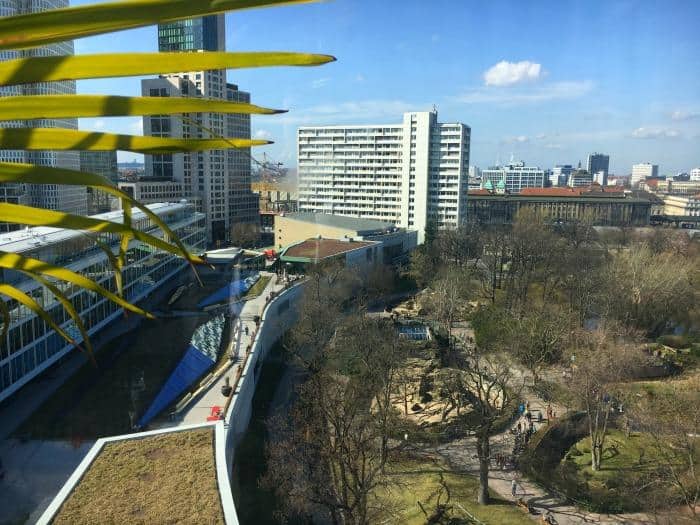 The food complimented the hotel 25 hours berlin perfectly. I enjoyed smoked salmon and scrabbled eggs along side my morning coffee whilst catching up with the other travel bloggers on the trip.  It was a gentle awakening after the busy day we had arriving in Berlin.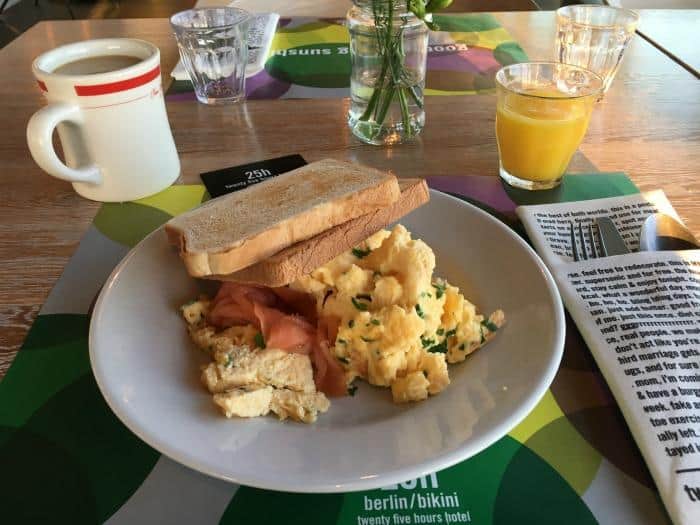 I headed back to my hotel room to pack up my things, feeling sad to be saying goodbye to the 25 hours Berlin so soon.  I would have liked to have stayed until the required check out time, but this was also my first visit to Berlin and I was keen to get in some sightseeing before flying home.  I took the psychedelic lift back to reception and checked out, hoping to be back at 25Hours Hotel Bikini Berlin again one day soon, but hopefully with the family.
We were guests of 25Hours Hotel Bikini Berlin in exchange for this review as apart of our 24 Hours in Berlin experience with Chamäleon Theatre but all thoughts and opinions are my own.