Sometimes you just need a winter holiday.  I had started to feel the turn in the weather, and it wasn't quite as easy to get out and about with the kids.
It had also been playing on my mind how much we were nagging the 3 year old about playing nicely with her little sister.  I know these are things she has to learn, but I was missing just enjoying her being 3.
I wanted to give her a break from negotiating the relationship with her younger sister, and me a break from the refereeing.  It felt like the right time to take a winter holiday.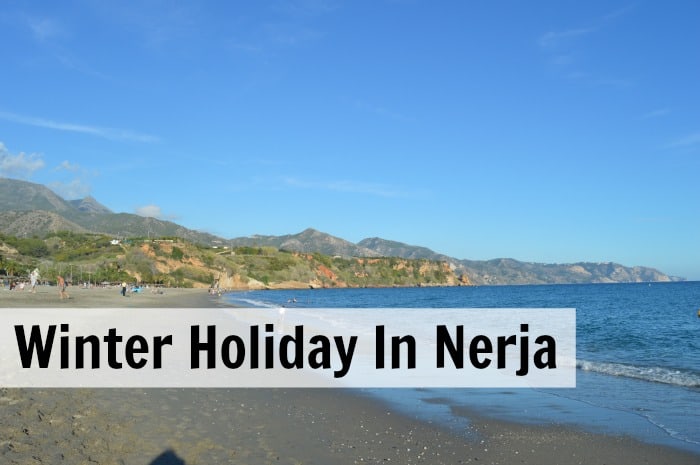 I had been itching to go to Nerja for months.  I have visited practically every year  since 2000, but had had a break in recently with having the girls.  It was time to get my fix of Burriana beach and I wanted to share it with my daughter.  It was going to be just the 2 of us, a real mother and daughter winter getaway.
Winter Holiday In Nerja
I love visiting Nerja in winter.  It's free from the hoards of tourists, but still enjoys warm temperatures and blue sky days.  There might be the odd spell of rain, but it's the Mediterranean, so it's warm rain.  Getting wet isn't quite so bad in Spain somehow.
It's still a huge contrast from the UK where the weather puts you off stepping outside.  In Nerja, we woke up to glorious sunshine and were able to head to the beach straight after breakfast most days.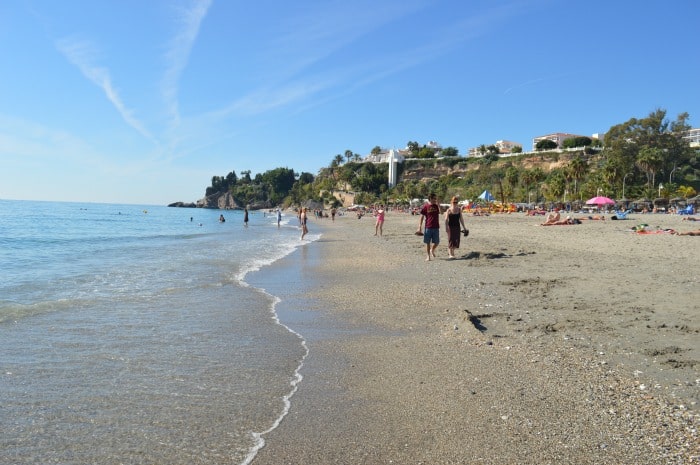 I deliberately didn't hire a car for this visit as it was about slowing down.  I wanted to enjoy not having to be anywhere in a hurry.  I wanted to take it at our own pace.  Being able to be outside is such a treat after the cold wet days in the UK, it really is about making the most of the winter sun.
We purchased the essential bucket and spade and spent hours playing in the sand and paddling in the sea.  I forgot to pack my daughters swimming costume, but she was not about to let this stop play.
She decided the sea was best enjoyed in her birthday suit, despite my pleas to at least keep her underpants on.  She was quite the daredevil too, and wanted to get deeper and deeper into the water.  This is where I do let her down and have to confess that I cannot swim.  I'm up for a paddle, but anything more than that and I am quite the chicken.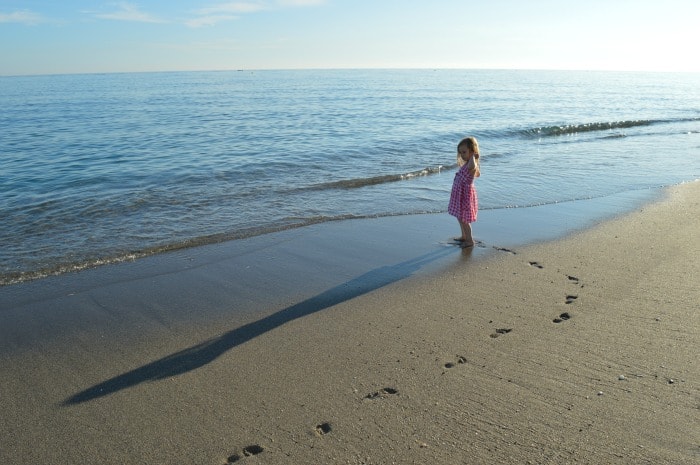 Despite this minor challenge, we loved our time on the beach.  She was able to be free and enjoy her new found playground without being told to be gentle with her sister.  This precious time we had together, in my favourite winter holiday destination bought us closer.  It was wonderful to just be able to focus on her without any distractions.
Going Into Town
After spending the mornings on the beach, we would venture into town for lunch and to enjoy the picturesque streets of the town.    Nerja is built on hills and walking here isn't for the faint hearted.
For that reason I took our pushchair as I knew Princess wouldn't manage being out all day without it.  I hadn't considered whether Mummy would manage pushing her all day!  With some carefully placed rest stops we managed, and after all, we were in no rush.  We could just stop and look out to sea if we wanted.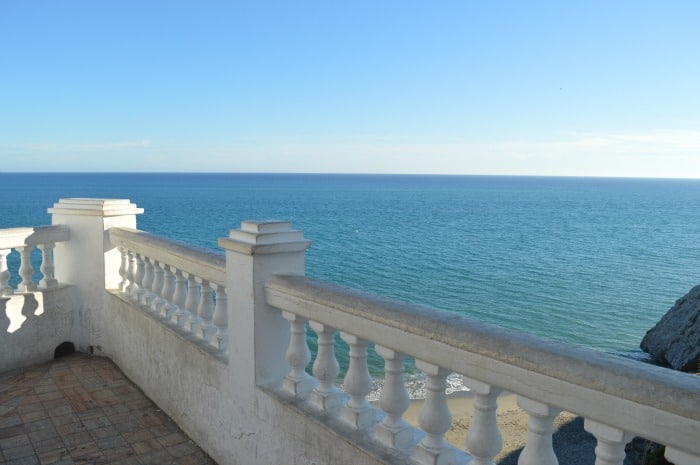 We found a friendly restaurant that became our regular haunt for our winter holiday.  Everything slows down after the high season and it makes for a much better dining experience I think.  I much prefer relaxing in a relatively quiet restaurant than struggling to get a table in the summer.
Pepe Rico served one of the best gambas pil-pil I have ever tasted, and offered a perfect children's menu for my daughter.  I love how in Spain you are able to enjoy a sophisticated meal out with a 3 year old and no one bats an eye lid. It's one of the reasons I have fallen in love with the country, children are everywhere.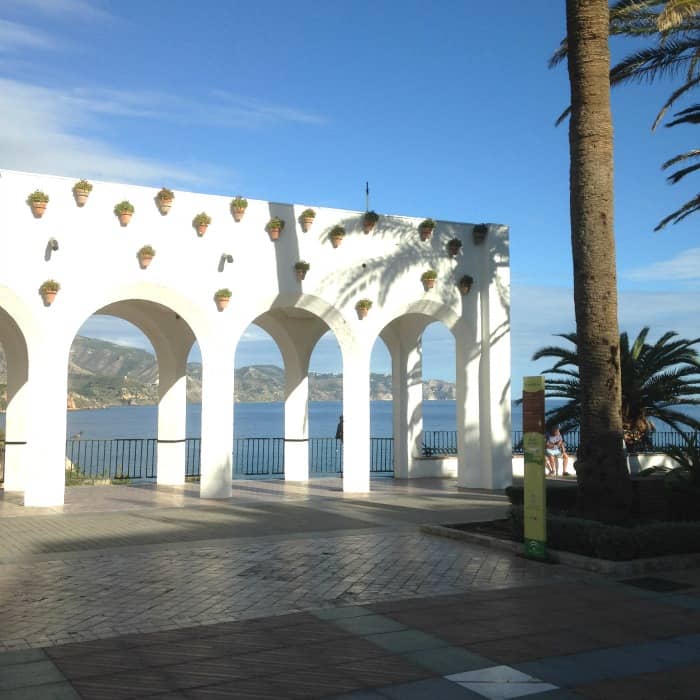 After lunch, we would head to the Balcon De Europa to sample some traditional Spanish ice cream.  This was a big hit with my daughter, and it felt like we were creating a tradition for future visits to Nerja.  The Balcon is a popular destination with visitors to the town, and offers amazing views out over the sea.  It's the best place for ice cream too.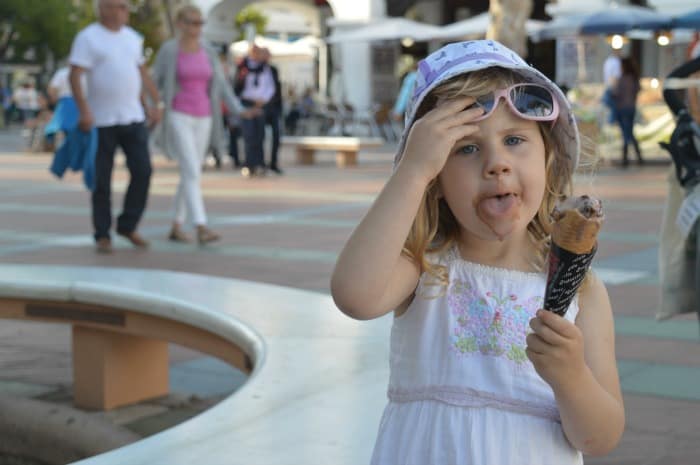 Nerja Caves
During our winter holiday I was determined to introduce Princess to the Nerja Caves.  The caves are one of the most breathtaking natural phenomenon I have ever seen, and really have to be seen to be believed.
They were discovered by local teenagers in the 60's and soon became a major tourist attraction for the area.  They are home to the world's largest stalagmite, a 32 metre high column measuring 13 metres by 7 metres at its base.  The caves spread over 5 kilometres and whilst inside be prepared to climb nearly 500 steps.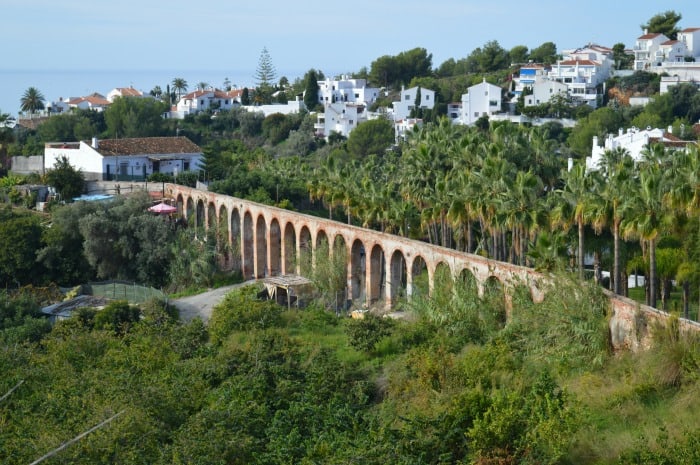 We walked to Maro, or should I say Mummy pushed and Princess reclined in her moving chair to visit the caves.  She definitely got the best deal.  It was a beautiful morning, and I needed the excerise so I really wasn't complaining.
We took the back road through the local farms, which make for a much more interesting walk than along the main road.
My daughter was perhaps a little young to appreciate the natural beauty and significance of Nerja Caves, but I'm sure this will change in years to come.  After navigating the walk from Nerja to Maro, and exploring all that the caves have to offer, I decided it would be easier on both of us if we caught the tourist train back into town for a regular lunch date.
We could then conserve our energy for playing on the beach later.  It was a pretty perfect day really.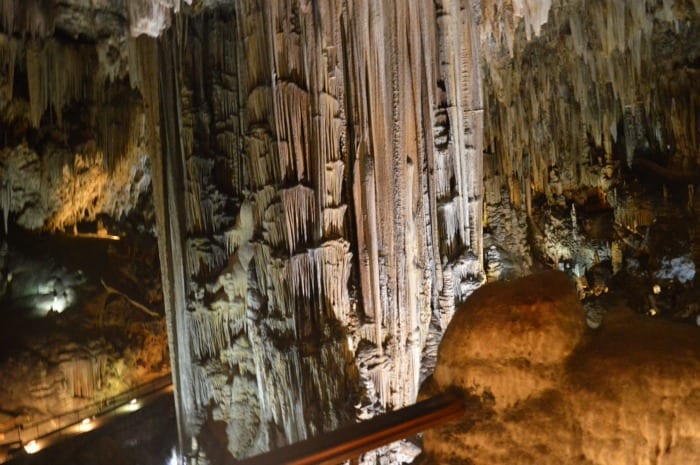 Nerja has been my favourite destination for a winter holiday for so many years, and partly it's due to our familiarity with the town.  It's a friendly destination and I see faces when I visit that I recognise from our first trip in 2000.
It's a beautiful town, so why would people leave.  It's popular with many British and European visitors who enjoy it's unique micro climate during the winter months.  So many people I speak to there have visited for many years, including us.
Perhaps Nerja will be your next winter holiday destination when you've finally had enough of the British weather.  If you need help deciding where to visit to make the most of the winter sunshine, there are some handy tips here to help you out.
I'd love to know where your favourite winter holiday destinations are.  Where would you recommend visiting this winter?