I wanted to write a blog post that covered all the key elements to getting your blog off the ground in one handy place.  The thing with blogging is there is so much to it.  You are always learning and making tweaks to improve your blog, increase your reach and get your content writing out there to as wide an audience as possible.
I do think though, that there are some key elements that provide all blogs with a solid base for success.  Firstly, I'll make know bones about it, it is hard work.  You cannot start a blog and hope for overnight success.  You need to be prepared for putting in some long hours for not only writing great content, but growing your audience.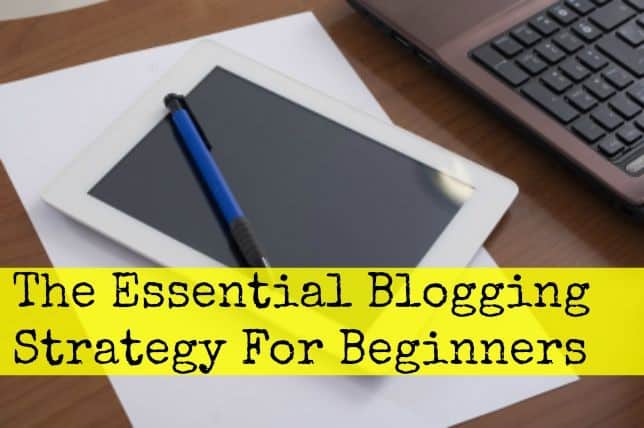 Despite all this hard work you've got to put in, make sure you have fun with it.  Blogging is a social activity and your sharing your story or knowledge with potentially an international audience.  Make sure you enjoy what you do, or your readers are going to see straight through it.  If you're not enjoying it, your writing will suck.  Honestly.  If your writing sucks, your readers will leave your blog in droves.  If your not having fun, or enjoying what you do, take a break and reignite that passion for it.  Your blog will be all the better for it. I promise.
Enough of my wise words though, lets get down to business!
The Essential Blogging Strategy For Beginners
Find Blog Linky's To Join
What is a linky is probably your first question.  There was a time when I had no idea what this was either.  Several bloggers across the web host linky's that other bloggers can join.  For example, I co-host a linky called #MyFavouritePost with Kaz from Ickle Pickle's Life And Travels.
It's held every Tuesday and other bloggers can come and add their favourite blog post, new or old to the linky.  Everyone who joins in will comment on a few blogs so it is a way of increasing your visibility online, attracting new readers and receiving comments on your posts.  It's a great way of getting a foot in the door with the blogging community.
Comment, Comment, Comment!
Following on from the idea of blog linky's I can't stress enough how important commenting is.  Comment on blogs you visit and enjoy, and reply to comments left on your blog.
Blogging is a community effort and is built on mutual reciprocation.  If you visit a blog and leave a comment, more than likely that blogger will come over to your blog and comment on one of your posts too.
I have to confess I am really bad at replying to comments on my own blog, and it is something I constantly strive to improve on.  Why is it so important?  It helps build a sense of community around your blog and it's good manners.
It's also good to respond to all tweets you receive or any comments on social media.  It will increase your visibility online and it says to the commenter, 'hey, thanks for taking time out and commenting on my blog, I really appreciate it!'.  If you do this, they are more likely to come back again and support your blog.
You Need To Build Backlinks In Blogging
Google puts a huge amount of importance on how many backlinks you have.  They figure that if a number of trusted sources are linking back to your blog it must be a trusted source of information on the web. We recommend looking at link outreach case studies to get an understanding of just how important it is for you to implement links such as guest posts and niche edits to your blog.
You can build backlinks by adding your URL to your social media profiles.  Have a look at my twitter profile here for example.  This is a backlink to my blog.  My URL is also on my Facebook page and my G+ page.
When you comment on most blogs, you also create a backlink to your own blog.  For example if you comment on this blog post, I use comment luv, a wordpress plug in that allows you to leave the link to your last blog post.  Voila, a free backlink!
Every time you share a post to social media you create a backlink to your blog.  There are lots of ways to build backlinks, including taking part in tags or even creating one of your own.  Recently I started a tag called 'The Blogger Interview', which generated backlinks for my blog.  It's a big topic, but these tips will get you up and running with building backlinks.
Promote, Promote, Promote!
I think how you choose to promote your blog is personal to you and comes down to how much time you have available, but bear in social media is becoming more and more important in SEO (Search Engine Optimisation).
Before you start promoting  your blog, make sure you have accounts across all the social media channels i.e. twitter, Pinterest, Facebook, Stumbleupon, etc. Even if you don't use them all you'll get a backlink and it's worth grabbing your blog name just incase you want to use the account later on down the line.
Spend some time working out what your branding is going to look like then be consistent across your social media channels with logos, badges and headers.  Picmonkey is a great place to make one yourself if you have some creative skills.  Blog designs vary a lot in price to be honest, so if you want something done professionally shop around and make sure your happy with the designers style to begin with.
Optimise Your Photo's For The Web
Blog readers like photo's and graphics.  They help you tell a story and can make your page visually appealing.  If your blog is a bout food, sharing some stylish photo's of your creations will bring your recipes to life.
Make sure that if you use photos that you have edited them to work with your webpage.  There is nothing worse than reading a blog post and having to wait ages for the images to download because they are too big.  That is a sure fire way to get someone to leave your blog pretty quickly.
I use Picmonkey to resize my images to upload onto my blog, but there are lots of websites and programs that can do it for you.
Also, make at least one of your photo's Pinnable for Pinterest.  This will encourage people to read your post and share it among Pinners.  Edit a photo in Picmonkey and add some nice graphics to it.  Some text is always a good idea, and the blog post title tends to work well.  When you save your edited photo, save it as your blog post title too.  This will then appear as the text under the image in Pinterest so readers know what the post is about.  These are all good blogging habits to get into and will help increase traffic to your blog.
Get Your Own Domain And Use WordPress
When I first started blogging I used Blogger (Google's blogging platform) and didn't have a custom URL.  Within 6 weeks, I had bought my own domain and transferred my blog across to WordPress.
If you are going to be taking your blogging seriously and you want to build it up into a money generating blog, it is worth getting your own domain.  It instantly gives your blog more credibility on the web.
Having transferred to WordPress, I've found it to be a pretty flexible website builder.  It was pretty daunting at first, but once I'd found my feet it was fine.  There are an array of plug in's available that give you lots of different features around things like social sharing, commenting etc. I'd also recommend finding a reputable web hosting company, I've used https://www.hostiserver.com/ before and they were great!
Now I could go on and on about all the things I've learnt over the last 18 months, but I don't want to overwhelm you with blogging jargon.  I remember feeling very overwhelmed at the beginning about everything there was to learn and how fast social media can move, and constantly feeling like I needed to keep up with it all.
If I could go back and talk to myself back then, I say 'take your time and enjoy learning these new skills, just have fun with it'.  If your just starting out, and your learning about the web too, you will get there because there is so much information out there to teach you.  Just focus on nailing one thing at a time, and you'll make great strides towards becoming a great blogger.