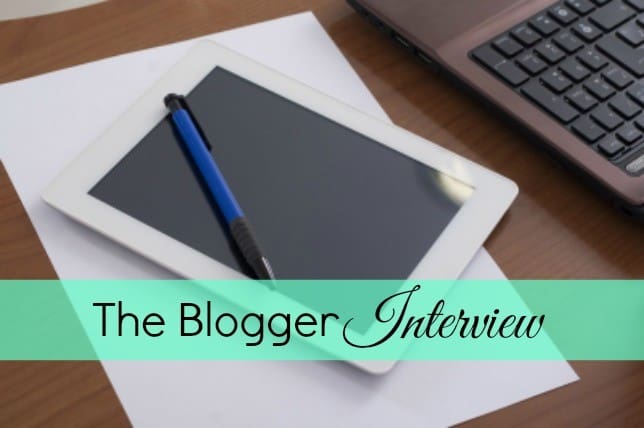 Since I joined the blogging community and became a fully fledged blogger, the one thing I love the most is how interesting and diverse parent bloggers are.  Of course, we have to be different, as it would make for a very boring blogosphere if we weren't.   All our readers would soon get very bored indeed if we were all the same.
We all blog for different reasons, and they are all OK.  Our blogs are personal to us, which is what makes them very special and unique.  We share our adorable families lives and what we get up to in the hope we can help, inspire and motivate others.
Behind each blog is a very special person juggling a busy off line and online life, and they often get forgotten when they are telling you about their latest travels, their children's success's at school or the latest poonami explosion to hit the changing mat.  That's why I came up with 'The Blogger Interview'.  I want to hear the bloggers stories, and get to know more about them and what makes them tick.
To kick off the round of interview's I'm going to put myself under the spotlight, before passing the questions on to other bloggers to take the hot seat.  So here goes….
How did you get into blogging?
It was a complete accident.  I was signed off work during my last pregnancy and my husband suggested I started writing a blog to keep me out of trouble.  I love learning new skills so it really appealed to me.  When I discovered the amazing blogging community I was sold.
For a whole host of reasons, returning to work after my maternity leave was pretty unlikely and I ended up being made redundant.  This gave me the opportunity to take something I enjoyed doing and make it into a career.  It has opened many doors and provided me with some great opportunities.  I really see it to a stepping stone to other great things.
What advice would you give to a blogger just starting out?
Firstly I would say be patient, blogging success doesn't come over night.  Bloggers who have reached the top of their game have been working at their blogs for years.
Start by thinking about what your brand is, making it consistent across all your platforms then write about what you love.  The rest will follow.
How has your blog changed since you started writing it?
My first posts were about food.  I love to eat food, but I soon learned that blogging about it wasn't for me.  It made me rethink my brand completely, and so Zena's Suitcase was born.
It became about what me and my family love and our journey of discovering and sharing new things.
What would be your dream campaign?
I would totally love to be asked to work on a campaign with Walt Disney World, Florida.  It would make my blogging day.  If I was also asked to cover a Walt Disney Cruise Holiday, I would probably be in blogging heaven.
I love that blogging gives us the opportunity to share our successes with our families.  It brings us all so many lovely opportunities.
What advice would you give to PR's wanting to approach you for a campaign?
I find it really helpful if PR's and brands are clear from the outset about what they except from me and what they are offering me to support their campaign.
There can be a lot of emails exchanged sometimes when it isn't clear what is expected which I think is a waste of everyone's time.  Please stick to the point, then I will be able to make a decision about whether I want to work with you quickly.  I'm a very busy lady 🙂
Do you have a plan for your blog?
I do make plans for my blog regularly.  It really helps me to focus on the direction I want to go in, and helps me generate ideas if I take sometime out to think about where I want my blog to go.
I make short term and long term plans in terms of what I want to work on in a particular day, or month.  It could be focus on Facebook more, increase my subscribers that kind of thing.  It might also entail reviewing the kinds of things I want to right about.
What do you think about rankings?
I do find rankings helpful, but try not to get too hung up on them.  As a blogger it's a really useful way of seeing how your doing.  It can be difficult to work it out sometimes.  It's one thing having Google Analytics, but I think it's also helpful to see where you sit against other people.  It helps you to know whether your on the right lines or not.
That being said, there are lost of different charts and they look very different.  I do wonder why that is and which is the best for measuring blog success.
Which bloggers would you love to interview?
I'm going to ask some of my favourite bloggers to answer these questions.  I would love to interview Kaz – Ickle Pickle's Life And Travels, Rebecca – Futures, Jenni – Odd Socks And Lollipops, Rebecca – Dillydrops, Vai – Rambling Through Parenthood, Adventures Of A Novice Mum, Emily  – Twin Mummy and Daddy, Sam – Clicks and Giggles, Nikki – Keeping Strong and Moving Forward, Alex – Lamb and Bear, Leslie – Messy Stains & Growing Pains, Vicky – Lupin Girl, Ruth – Mummy & The Mexicans and finally Alicia. Looking forward to reading all your interviews.
If you get tagged in The Blogger Interview, send me your link as I would love to have a read!