One thing that sporty parents are always keen to do is introduce their kids to sports from a young age. The idea is that if you get them hooked early, they'll grow into athletic children and, later on, fit and healthy teens. But how early can you start teaching sport to your offspring? You might be surprised to know that you can teach kids as young as toddler age some basic sports skills. Here are some great sports to teach your toddler. Don't worry, most of these have some modifications to make them more suitable for little ones.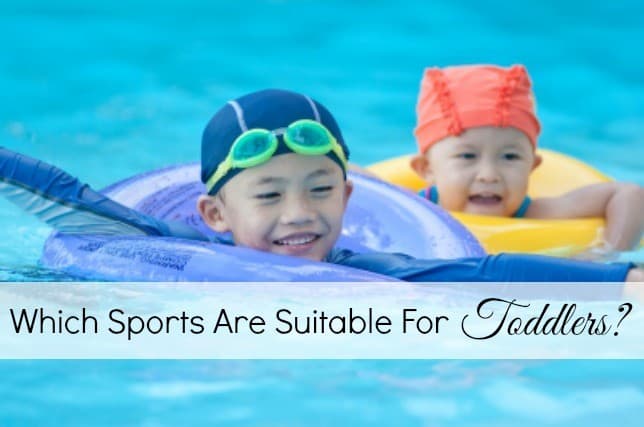 Why get your toddler into sports?
Besides growing your toddler into a sports enthusiast, there are some important reasons why sport is beneficial for a child's early development. Firstly, it teaches valuable lessons about teamwork and improves their social skills as a result. Secondly, it improves motor skills, coordination and muscle tone. For example, children of just two years old are at the stage where they are mastering skills like rolling a ball, pushing and pulling toys along, and picking things up without falling over. Classes for toddlers to improve these skills are highly beneficial to their physical development at a time when all of this crucial growth and learning is going on.
Is there anything I should be careful of?
Keep in mind that each class must be for the specific age group of your toddler – two year olds, for example, don't yet know how to play with other toddlers and are more likely to play alongside each other than interact. They won't understand the concepts of winning and losing. So, any sport-related activities need to be designed with these needs in mind. Choose sports clubs and classes that have fully trained staff and come with good testimonials and reviews. Here are some to try out:
Soccer for tots
Football is a great sport for toddlers and can be a great way to teach things like colours and numbers. It should be taught in a non-pressured environment, so be sure to seek out a class that focuses on fun first. Classes should be split into very close age groups, too – younger toddlers will have very different coordination skills to older toddlers. Little Kickers and Kiddikicks are two organisations in the UK which run football clubs for younger children.
Rugby for little ones
Rugby is one of those sports that every dad wants their kid to get into. With rugby classes that are specially tailored to your toddler, there is no excuse not to start them early on this sport! Rugbytots is a UK company that teaches a toddler version of this sport but don't worry – the classes involve absolutely no physical contact. Yes, rugby is seen as quite a rough sport, but toddler classes remove the risk by making some specific changes to the game. Instead, the classes focus on skills like passing, kicking, running, catching and spatial awareness. Foam balls are used which are a much safer alternative to the traditional rugby ball, and all coaches are trained in paediatric first aid. We bet rugby union fans will love seeing their tiny tots playing their very own toddler version of rugby! And, who knows, they could even grow up to become a future international for the successful England team, who will be hosting the World Cup later this year and are currently in the region of 9/2 odds to win the tournament.
Swimming for toddlers
One sporting activity that is great fun for toddlers is swimming, and enrolling in a swim class for tots is a fantastic way to meet other mums with toddlers. It's also a great way to get them confident in the water from a young age. You'll need to invest in some inflatable arm bands, a rubber ring and some goggles. Lessons should be fun and very basic at first, to get your toddler used to being in the water, getting splashed and getting wet. Teaching some basic swim skills at a young age can also save lives and is a very wise skill to teach your toddler if you go on holidays where there are pools and beaches at your disposal.
Gymnastics
This doesn't refer to the acrobatic kinds of gymnastics but the toddler form of this sport, which is lots of fun for very young children. Gymnastics can help to build muscle strength and develop a good sense of balance. Beams, bars, and very simple tumbles are taught to tots to enhance these skills, using completely safe mats and soft, bouncy equipment. Tumble Tots is one company that has been doing these classes for decades and has a range of different classes for each age group. Classes are taught with fun music and songs to create a light hearted, laughter-filled atmosphere. The result is that toddlers become more confident in their movements, move with more precision and better hand-eye-foot coordination. Because parents participate in the class, too, helping their children to follow basic instructions, it can also act as a great bonding experience.
Image courtesy of freedigitalphotos.net
Collaborative Post