If you are one of my regular readers you'll have gathered by now I am a huge advocate of breastfeeding, and you can catch up with my experiences of feeding my first 2 children in my story of an old cow.  With my daughter, you'll see we didn't get of to the best start and those early weeks were fraught with emotion and anxiety as she wasn't gaining weight and it took us a little while to establish our breastfeeding relationship.  My son took to it like a duck to water, say no more! So, just how is our new arrival getting on after her first week and what have I learnt this time round.  I was a little concerned on Day 1 to say the least.  If you've had chance to read our birth story you'll see that little Tinkerbell was thrust into the world at quite some speed.  She wasn't able to be skin to skin until she had been thoroughly checked over.  Because of the shock she'd experienced her sucking reflex didn't kick in straight away either.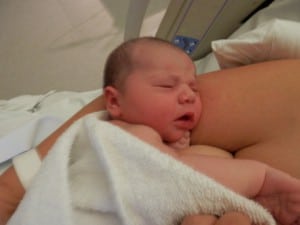 Later that day, after not having much success getting her to feed, I went in search of a Midwife for some assistance.  When I asked her for help, she asked me her birth weight.  She was a healthy 8lb 5oz, so the Midwife told me she wasn't concerned.  I was absolutely taken a back by her response.  I appreciate from a medical point of view she was a good weight and could manage without getting to grips with feeding straight away, but is it not better to get those instincts going sooner rather than later.  I think so, any way.  She did send someone to help me who was much more sympathetic, and could see I just wanted to get things of to a good start.   A couple of things made a huge difference to getting things going in the right direction.  I tried skin to skin to start with by unbuttoning my pj shirt, but it didn't seem to be as effective as I remembered with Princess.  As soon as I removed my shirt completely we had a whole different story.  It made a massive difference to Tinkerbell's latch and we got a 20 minute feed under our belt! Woohoo!  Now we were making progress.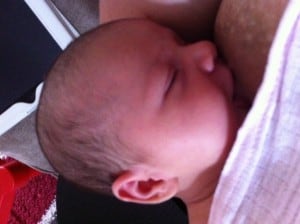 The chairs I had to use were awful for breastfeeding, so the staff changed them so I could be more comfortable and bought me breastfeeding pillows for better support.  Being comfortable made such a difference,    especially as once Tinkbell got the hang of it, she had some catching up to do.  I spent quite some time sat in that chair after that.   So far, I'm not experiencing cracked or sore nipples, but I have been using Lanolin in a preventative capacity.  When she attaches to the left breast, it is a little painful to start with.  It's definitely not our favourite side, but she seems to be able to correct herself so I'm happy she's getting her side of the bargain as we find our feet.   At the 5 day check, I asked the Midwife about her feeding pattern, and how in the day she is very settled and content, feeds well and will nap in her moses basket, but at night she becomes fussy, seems to want to cluster feed, and will not settle in her basket for love nor money.  It turns out it's down to those hormones again, this time it's Prolactin that stimulates milk production.  Apparently it is at it's highest in the middle of the night.  Baby feeds regularly through the night to inform the breasts what's going to be needed for the next day and has a strong desire to be close to you for her own survival i.e. to keep that milk coming.  Some theories suggest it's natures way of preventing SIDS.   Just having this little extra bit of understanding has helped me make some adjustments to cope better with her sleeping and eating patterns.  Everyone tells you to get some sleep when the baby sleeps, and it seems like the impossible task.  I've been trying to get at least an hour in early evening to give myself a fighting chance over night.  I don't want to be so tired I struggle to deal with feeding etc.  We have stopped fighting nature and started safe co-sleeping when she won't settle.  Feeding laying down has really helped too, especially with the side we really don't like so much.   I've really appreciated the support of my family and hubby this week.  If everyone is on the same page with breastfeeding it makes a huge difference.  My husband is hugely supportive of breastfeeding, and knows it takes a lot of time and energy.  I'm not going to make huge claims about his ability to complete household tasks, but what he does do is understand just how much time and energy it takes to breastfeed a newborn and doesn't apply any pressure about anything else.  With the chores, he tries his best, and I work on accepting that his best is good enough.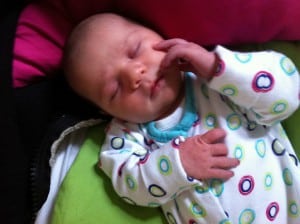 So, how successful has the first week been.  I think hugely successful.  At Tinkerbell's first weigh in on Day 5, she only lost 3% of her birth weight.  I'm really happy with that as a good start to a successful breastfeeding relationship.  It is still very much a work in progress though as there is still along way to go.  We have though made it out of the starting gate, which is fab for everyone.