This week simply cannot pass by without some huge credit going to my teenage boy.  My regular readers may already know he is 16 and is currently in the thick of of GCSE's.  He has worked very hard at school and home over the last few years to ensure he gets the grades he needs to get to Sixth Form and hopefully pursue a career in Software Engineering after University.  He is incredibly focused, but I'm not sure where he gets it from!
So what spanner does Mum throw in the works.  Only a baby, due right in the middle of a significant moment in his school career.  I've heard 'Thanks Mum!' more than enough, but even a teenager can have his tongue firmly in his cheek.
Teen played a significant part in our childcare plan for when I went into labour for looking after little Princess, his 2 year old sister.  He's a great big brother.  He by far knows her the best after Mum and Dad.  Granny was here too, but he completely mucked in when it came to looking after his sibling.
As I was induced, things could be a little more planned around childcare as there was no leaving the house in the middle of the night and making frantic phone calls which made a huge difference to the situation, or more accurately my peace of mind.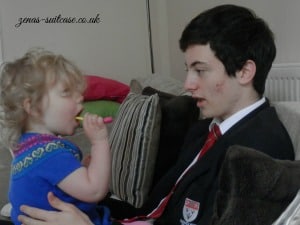 Teen stepped up to the challenge and Granny did nothing but sing his praises when we came home from hospital.  He helped with the nursery runs, getting her out the house etc.  He tucked her in at night, played with her and generally helped to make her feel reassured while Mummy was in hospital having a baby.  All this while ploughing through revision and a stack of exams.  He's been a real trooper.
I'm incredibly proud of my boy and this is my huge thank you for being the best big brother and son.  When we needed him to he dropped the grumpy hormones and showed us the mature young man we know he can be.  A little (or a lot!) of responsibility seemed to do him good that's for sure.