Going to New York with teen, and leaving the rest of the family at home was a big decision for me.  No matter how excited I was about the trip, leaving the girls for what would be 5 days including the travelling, made me feel sad.  Little Pudding is too young to understand and is very much a Daddy's girl at the moment.  Princess, who is nearly 4, needed to know what was going on as she can get quite anxious when I'm not around.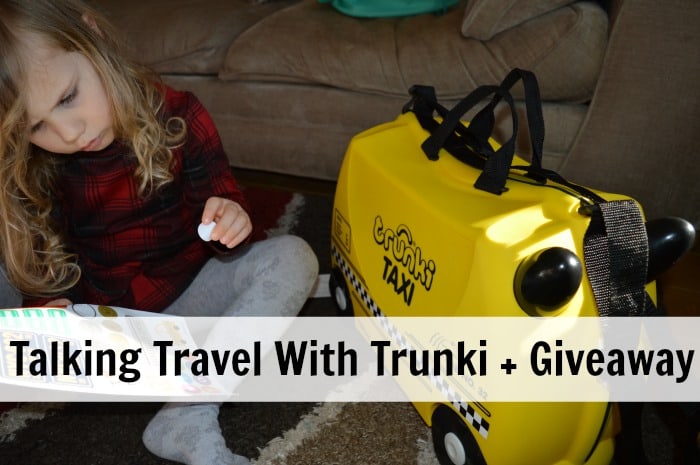 When Trunki found out I was going to be going to New York they had a brilliant idea.  They very kindly offered to send Princess their brand new ride on suitcase, Tony The Taxi. They thought it would be a fantastic way of involving her in planning for the trip and make her feel apart of what was going on.  I had to agree, it was a brilliant idea and I couldn't wait for the New York taxi to arrive!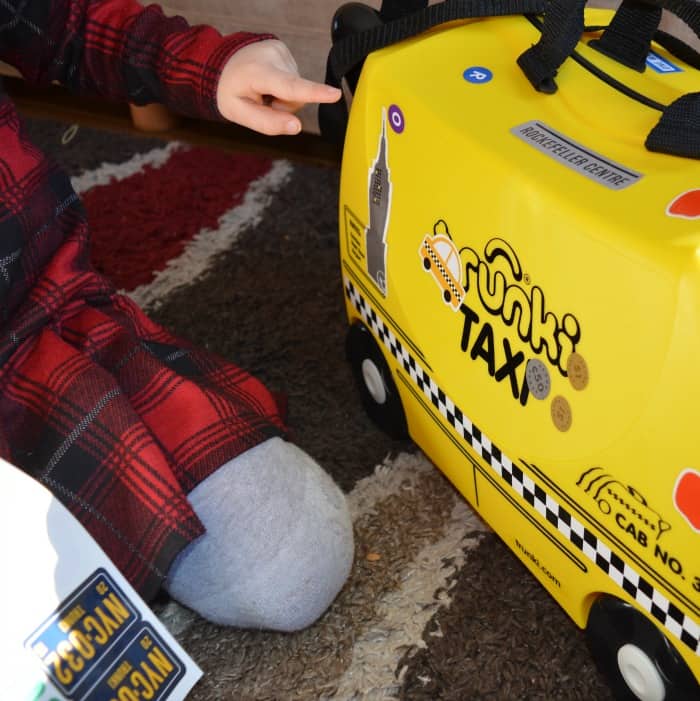 Tony The Taxi immediately fuelled Princess's imagination.  We have an hour a day when her little sister takes a nap and we can do an activity together.  She really enjoys this focused attention from me so I like to make the most of it in our daily schedule.
We talked about where her Mummy and her big brother were going.  We explored the idea of going to another country and how we would get there.  We decided going on Tony The Taxi wasn't a very good option and that perhaps a plane would get us there quicker.
Tony The Taxi comes with some really cool stickers, and this helped us talk about the places Mummy and teen were going to be visiting.  There was a picture of the Statue Of Liberty and the Empire State Building, which were both on our travel itinerary.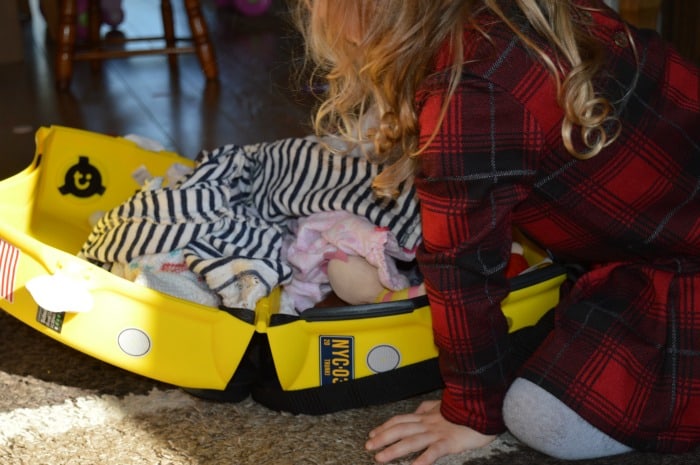 The really fun part for Princess was packing her Trunki ride on suitcase with all the things she would take for a trip to New York.  She searched for all her favourite things to see if they would fit in her suitcase and she came up with this definitive list of what a preschooler needs in New York City.
What A Preschooler Would Pack For New York City
A duck for the bath
Swimming costume even in February
A Torch – because they are useful
Lots of toys
A ball
Some shoes
More toys
A story  – I'll Only Need One
My favourite pyjamas
As no clothes for the daytime have entered the suitcase yet, I offer a little promoting at this point.
Oh Yes, Some Clothes!
Socks are handy too
I might want to wear a cardigan as well
Don't forget some pants
A dress is essential, maybe I'll need 2
Leggings because they are comfy
I asked Princess to have a quick think about what she did in the morning…
This didn't last long before more interesting things were being packed again…
Another ball
Magnetic animals
I won't need any money, as there is some stuck to my taxi already!
A brick
A magnifying glass
A mirror because I like looking at myself
A shoe lace – just in case
Another mirror – I like to look at myself a lot
Some keys
Toy airplane – because we are flying obviously
A tea cup
A purse
A stop-go sign for crossing the road
More bricks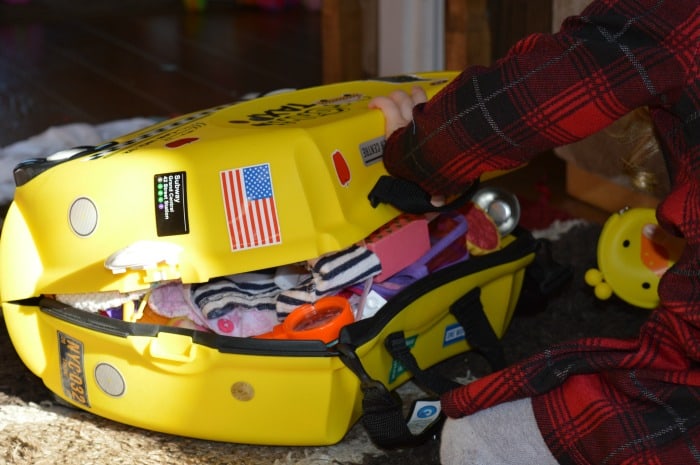 This activity was really fun for the both of us.  It gave me the opportunity to talk to Princess about going away using a fun imaginative game.  This made her feel a lot happier about me being away for a few days.  She had a lot of fun packing her taxi, and she can't wait to take it on her next holiday to Fuengirola with Mummy in March.  I might have to take over the packing though!
We were gifted the Trunki Ride On Suitcase in exchange for this post and this post also contains affiliate links.  Should you wish to purchase a Trunki product I may receive a small commission.