If you caught my first post, Getting To New York, you'll know that we had rather an abrupt introduction to New York City.  It was somewhat amplified by the fact that we started travelling at 9am, and by the time we reached our hotel it was 3am in the morning according to the UK and our body clocks.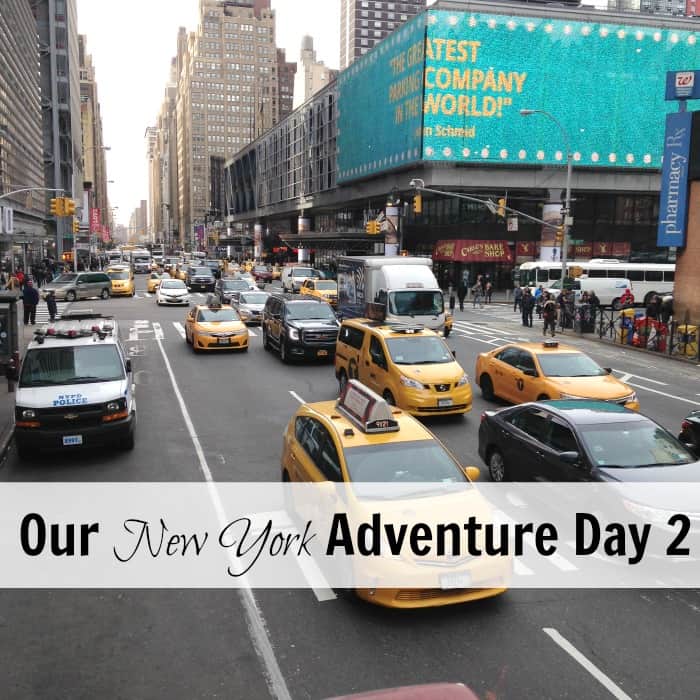 Of course, in New York it was only 10pm and that's what I kept telling myself!  We didn't sleep on the plane, as I thought this would make it easier to sink with New York quicker for our short trip.  This did seem to work, as we did mange to go to sleep easily but waking up at 5am was a little brutal.
Day 2 In New York City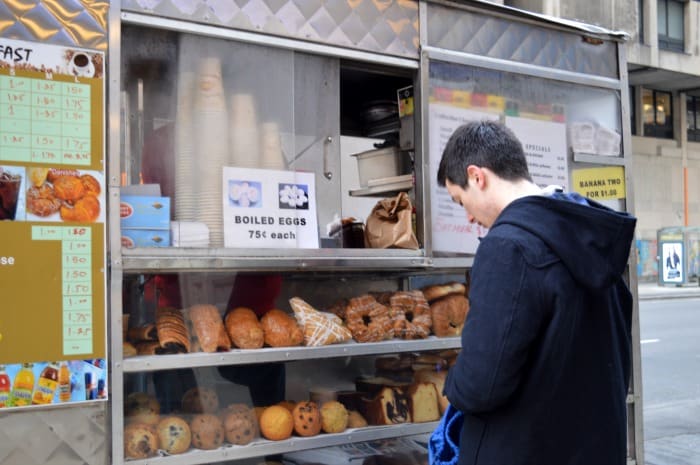 Day 2 in New York looked like it was going down hill very quickly, but for entirely different reasons.  I dragged teen from his pit super early (as I was awake at 5am) so we could get out and enjoy some sightseeing.
I was keen to move on from our initial experiences quickly and turn this into a memorable short break for us.  Teen was a little grumpy about getting up to say the least, but that's nothing new.  We found him some breakfast at a kiosk just round the corner from the Holiday Inn we were staying at near 6th Avenue.  These are great for grabbing a quick coffee and a bite to eat on the go.  His cream cheese bagel seemed to perk him up a bit, for a while anyway.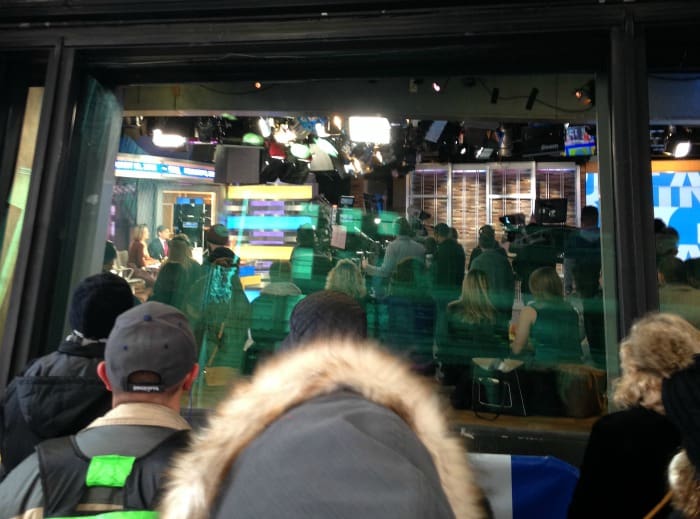 We walked to Times Square which was about 20 minutes or 20 blocks, which is your preferred point of reference.  We caught the filming of Good Morning America in Times Square, which seemed to be a bit of a thing in this town.  There were crowds of people in the street watching the presenters throughs the window and on screens outside.  Even I got a little excited even though I hadn't got a clue who anyone was.  It doesn't take a lot does it?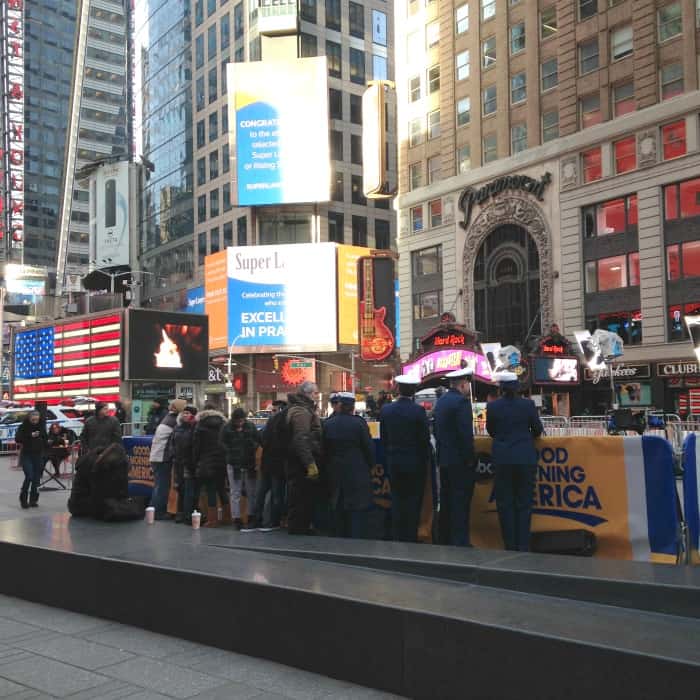 New York Freestyle Pass
We needed to collect our New York Freestyle passes that had been kindly gifted to us by Attraction Tickets Direct and I thought I had the voucher in my bag.  You know where this is going, right?
When we reached the collection point at Madam Tussade's it soon became apparent that the voucher was still in the hotel room.  Teen began to scowl!  We had to walk the 20 blocks back to the hotel to collect the voucher as there was nothing we could do without it.  Just as well we got up nice and early then, hey?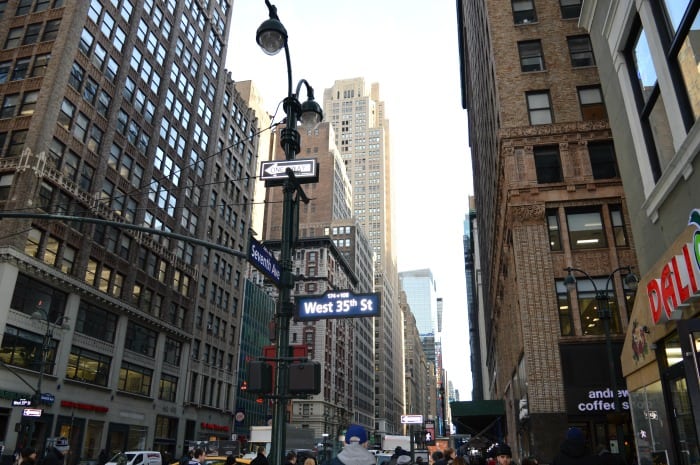 We ventured back to Madame Tussade's and collected our passes with out any issues and the lovely lady explained everything we needed to know.  We jumped on the Gray Line Up Town Loop as we had a brunch date with the lovely Lamia Jacobs who owns a delightful bistro on Amsterdam Avenue on the Upper West Side called Sugar and Plumm, but that deserves a separate post all to itself.
Sugar And Plumm
I thought everything was in hand and we just needed to get off the tour bus on Amsterdam Avenue.  I had forgotten how long an avenue is in New York and should have checked where we needed to get off a bit better.  If I had of checked the map better though we wouldn't have seen this….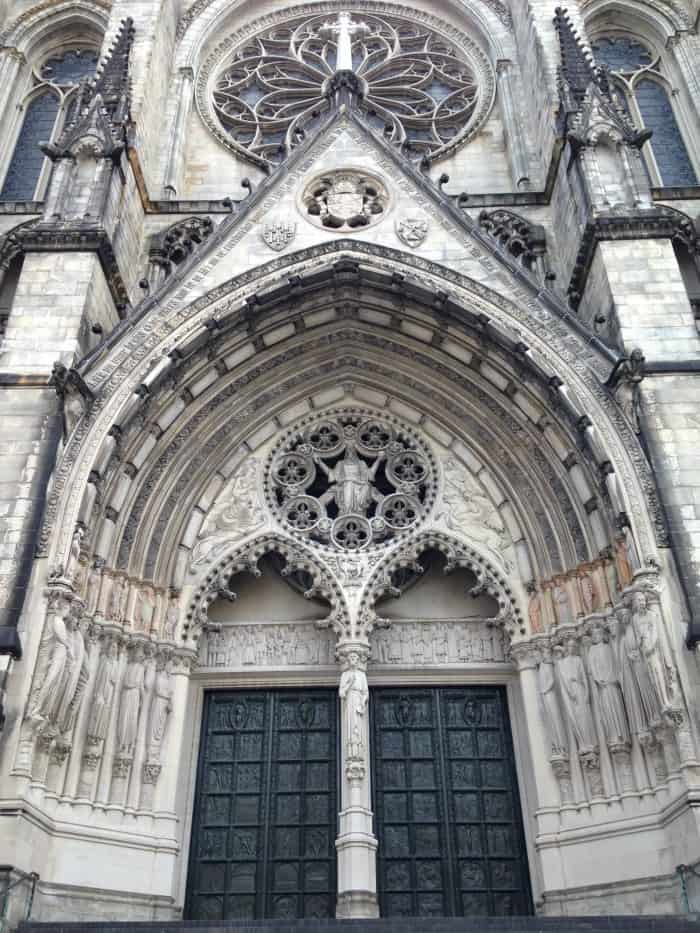 We ended up a good 40 blocks away, which is quite a walk in this town.  It took us about 40 minutes!  But we also got to walk past this, the Peace Fountain that celebrates Good triumphing over evil with quite a spectacular statue.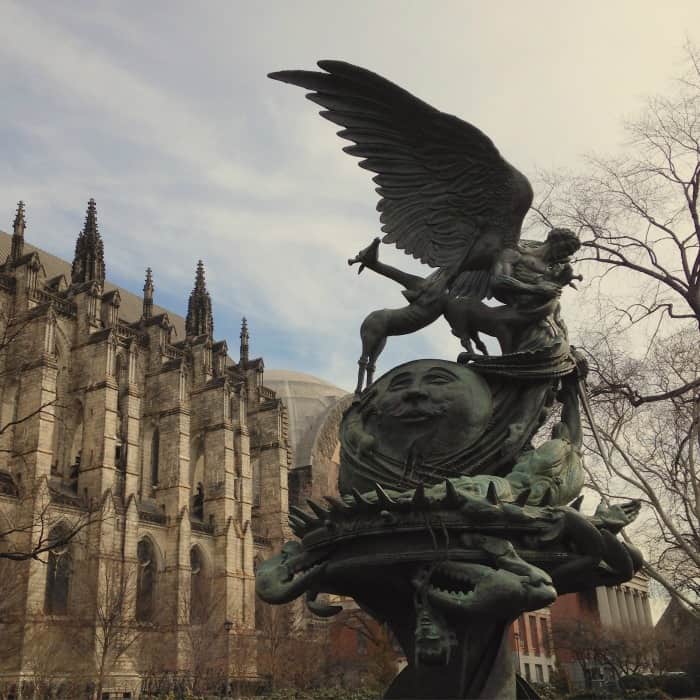 I was still in danger of teen not talking to me for the rest of the day if I didn't pull this back quickly.  Fortunately the Black and White milkshake at Sugar and Plumm saved my bacon!  Here's why…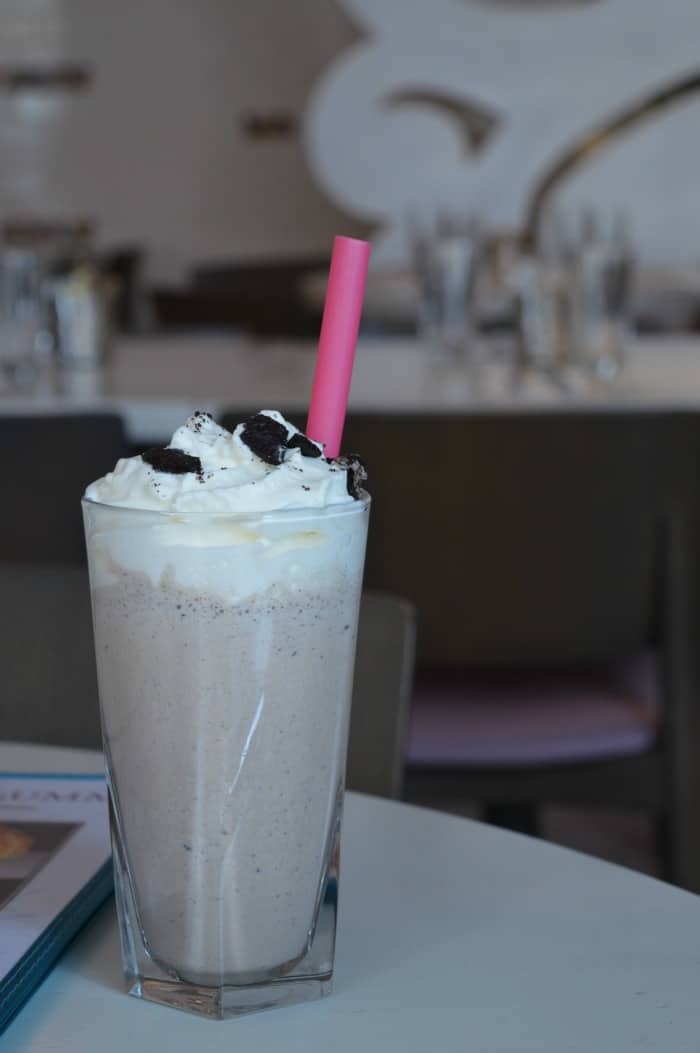 After a beautiful brunch with Lamia, we headed to the American Museum of Natural History.  It's huge and there is a lot too see.  Our feet couldn't cope with the whole experience as we had already covered a lot of ground that morning, but we did really enjoy the animal exhibits and the Tiranousoaurs that is now on display there.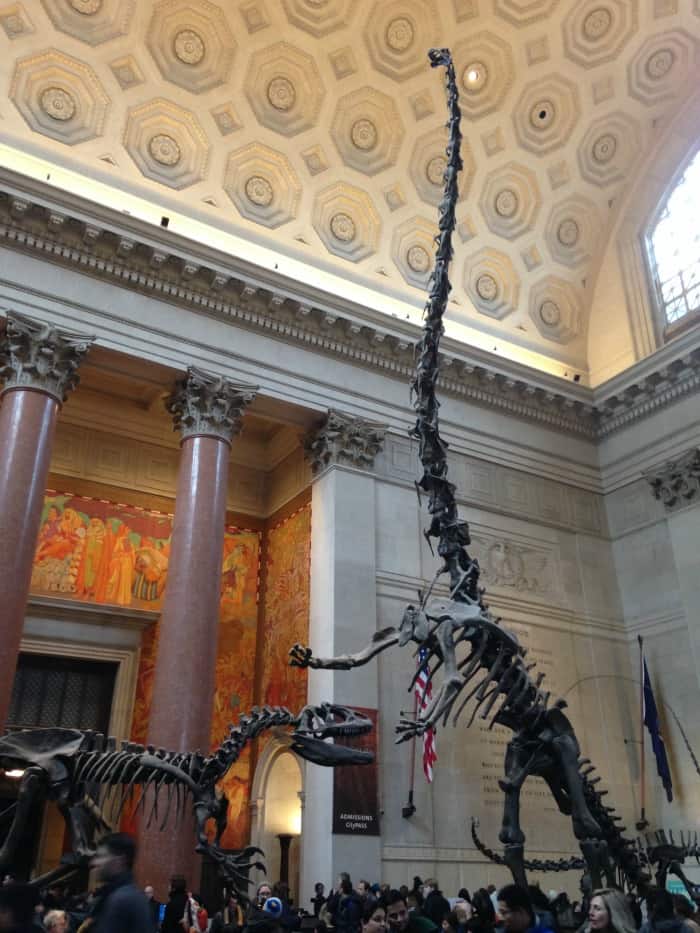 We also visited the Big Bang Theatre which was really cool.  Teen was in a good mood by now after being fed well and a dose of physics to stimulate the brain cells.  Phew!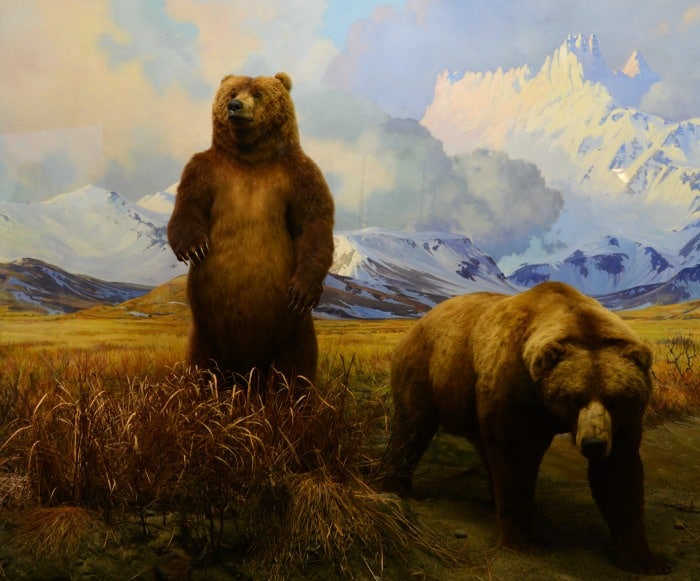 Top Of The Rock Observatory
We picked up the Up Town bus and continued the rest of the tour through Harlem and back round to Central Park.  We hoped off at the nearest stop for the Rockefeller Centre as we were both keen to visit the Top Of The Rock Observatory.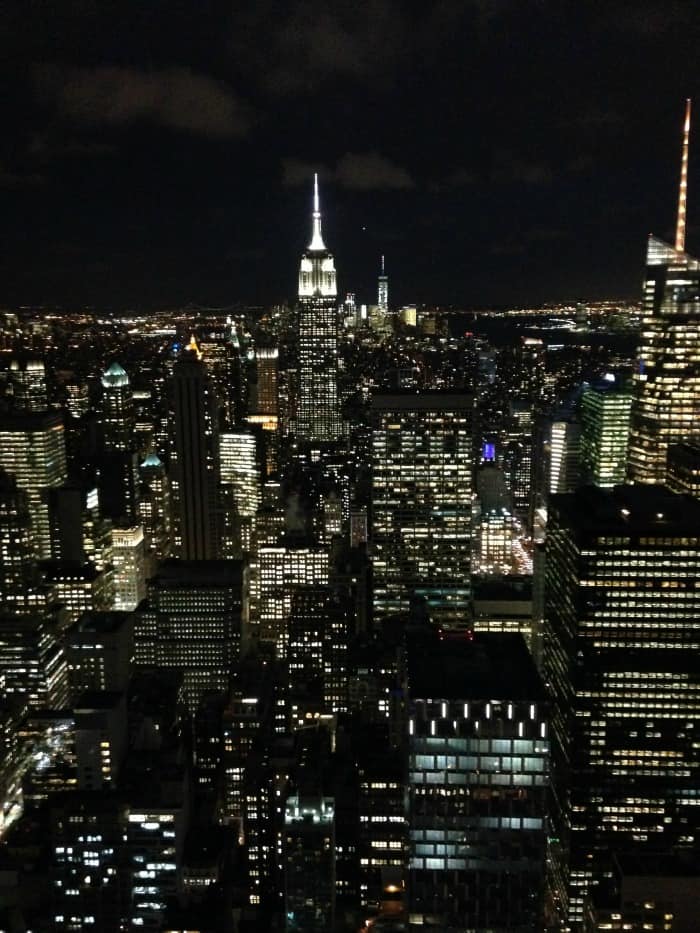 In a word, this was spectacular.  We were just slightly too late for the sunset.  At this time of year you probably need to be getting your time slot about an hour before sunset to catch the sun going down over New York.  We did see nightfall over the city and very much enjoyed the lights across Manhattan and the Empire State Building.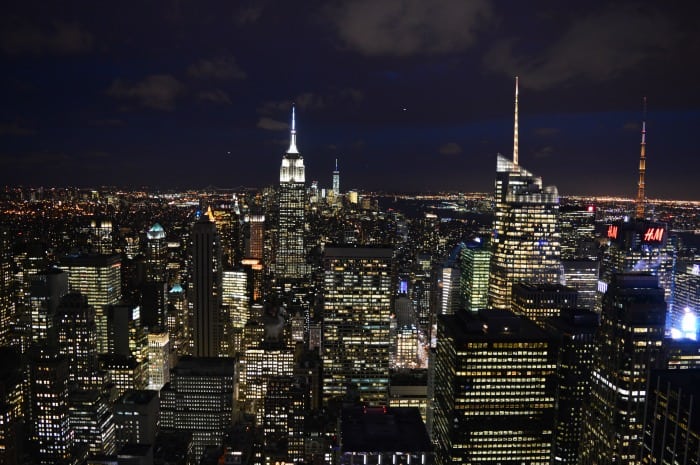 Out next stop was back to Time Square.  We had talked about visiting  the Hershey Store all day, so we had to pop in.  I also realised teen's trainers had seen better days, so we were in the right place to get some new Converse.  Somehow I was also talked into buying some new Basketball boots too.  What a sucker!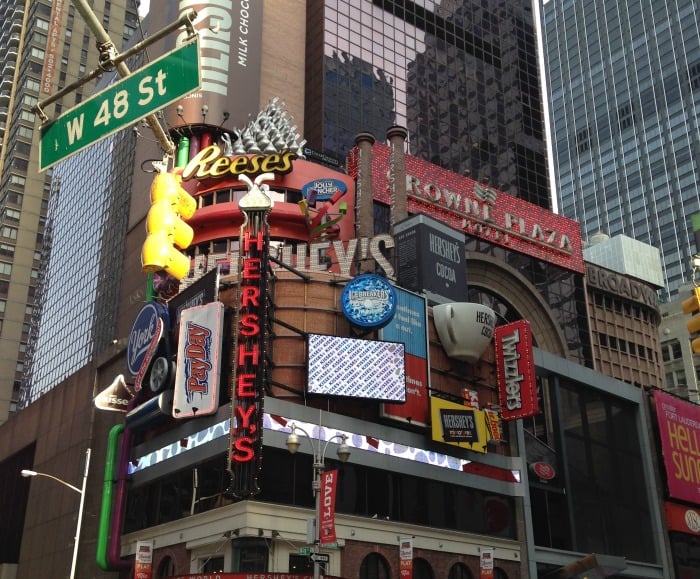 Our feet could take no more, so we hobbled back to the Hotel to watch, wait for it, Basketball!  Teen fell asleep and I caught up on a little social media and made plans for the next day.  Stay tuned to the blog or sign up for updates to get the next instalment of our New York adventure.