We arrived at the Holiday Inn 6th Avenue at around 10.30pm and were feeling a little frazzled to say the least.  You can catch up with our story about getting to New York here to find out why.  We were greeted by Carlos, the hotel concierge, who could see we were affected by our day of travelling.  A friendly face was just what we needed after a very long day and Carlos made us feel very welcome and got us a drink while we waited a few minutes for the hotel receptionist to deal with our check in.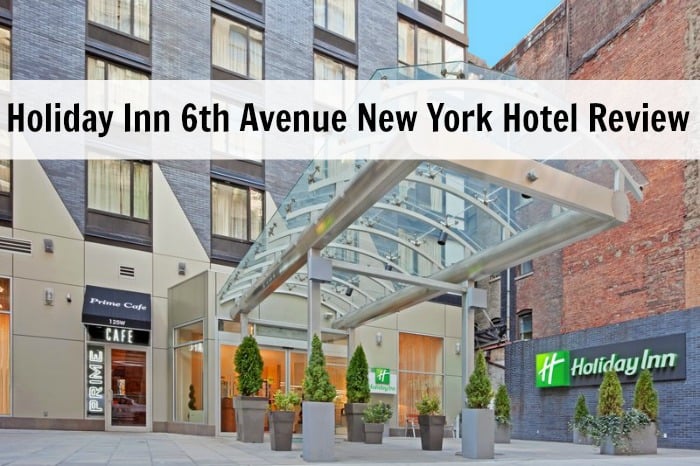 Holiday Inn 6th Avenue New York Hotel Review
We were checked in quickly and easily at the Holiday Inn just on the edge of the Chelsea district of New York.  We headed straight to our room, which was on the 19th floor, to deposit our bags.
The hotel restaurant was just about to close, so we decided to pop out in search of some food.  I really wish I'd have thought ahead and got in touch with the hotel to see if we could have got a bite to eat on arrival, but my planning ahead braincells alluded me on this occasion.  This is something I would definitely do next time when arriving very late at night.
The hotel staff at the Holiday Inn were very friendly and courteous though out the duration of our stay.  They made me and my son feel very welcome during our New York city break.  All our questions were answered and they were very helpful.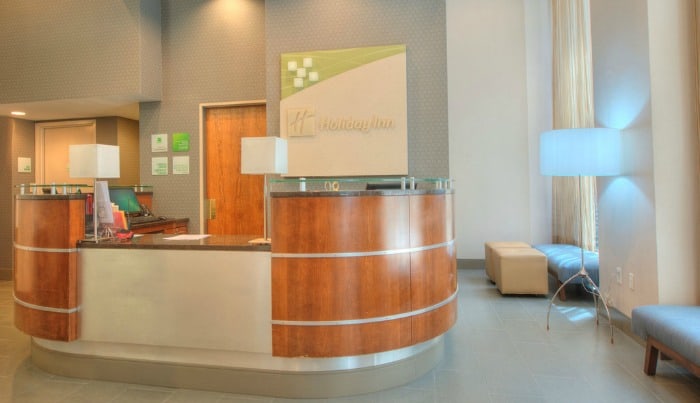 Our Hotel Room
We were staying in a 2 double bed city view room while we were at the Holiday Inn 6th Avenue.  Our first impressions were that it looked very clean and comfortable and it seemed it was going to be perfect for our needs during our stay.
The location of this hotel is perfect for a quiet night's sleep which is most welcome after a very long day travelling from the UK.  We were not disturbed once during our visit.
Teen did find the bed slightly too short for him, but he is 6'1″ tall.  As it was a double bed, he was able to arrange himself so that it wasn't too much of an issue for him and he still got a good nights sleep.
The city view wasn't quite what we had expected but then we weren't in the hotel looking out of the window that much.  Our view was mostly the tops of buildings with their water tanks, so not the prettiest to wake up too.  I should imagine that if you are on a higher floor at the Holiday Inn 6th Avenue you would get a lovely view of the Empire State Building though, but the 19th level just isn't high enough. The hotel is apparently very popular for business travellers as I saw that they offered a special rate for corporate guests if they had a hotel card. I can see why it's so popular the hotel looked very formal (business like), they wouldn't have been bothered about the view from their window unlike us, it's more about location for them and we were definitely in the heart of it all here.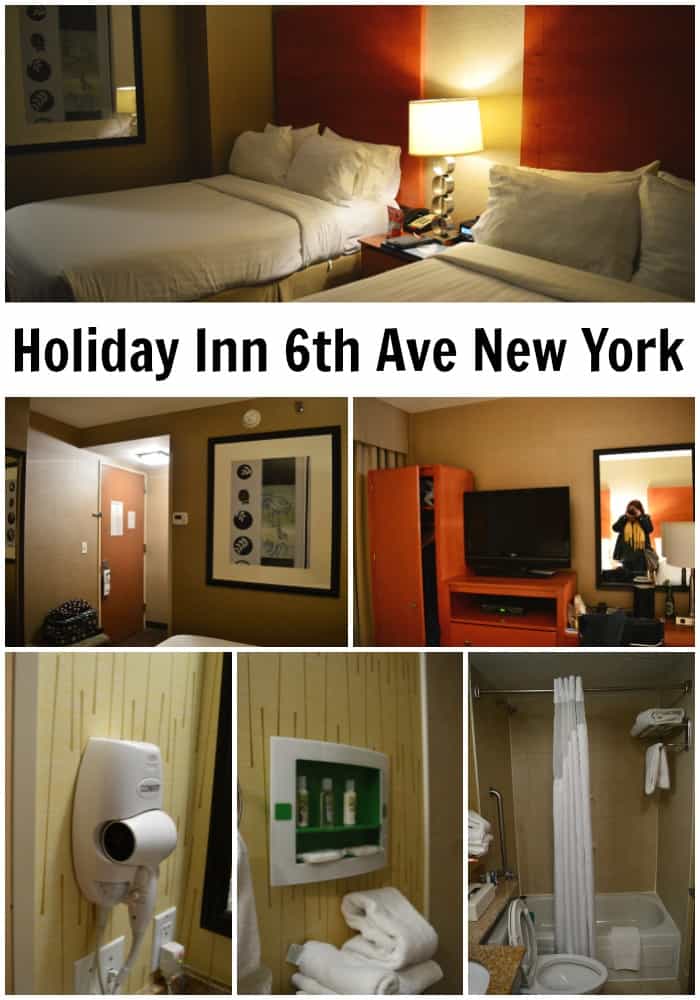 The room contained all the essential facilities including wardrobe space, drawers, an iron with ironing board and some simple coffee making facilities.  No tea though, so if that's your morning beverage I would pack some in your case and grab some cartons of milk while you are on the plane, then you won't go without in the morning. There was also a docking station for an iPhone and alarm clock, black out blinds and air conditioning in the room as standard.
There was only one issue with the room, and that was that the coffee facilities hadn't been refreshed for our stay.  There was a used coffee filter in the machine and the coffee supplies needed a quick update.  It was a small thing, and didn't bother us too much.  My son doesn't drink coffee and I think I only had one cup while we were there.  We had far to much to see to stay in the room and sip coffee!
The room also had a desk, plenty of plug sockets and a good size TV with lots of cable channels.  It would though wouldn't it, it's America after all.  I wouldn't expect anything less.  We caught up on some basketball and Big Bang Theory in the evenings.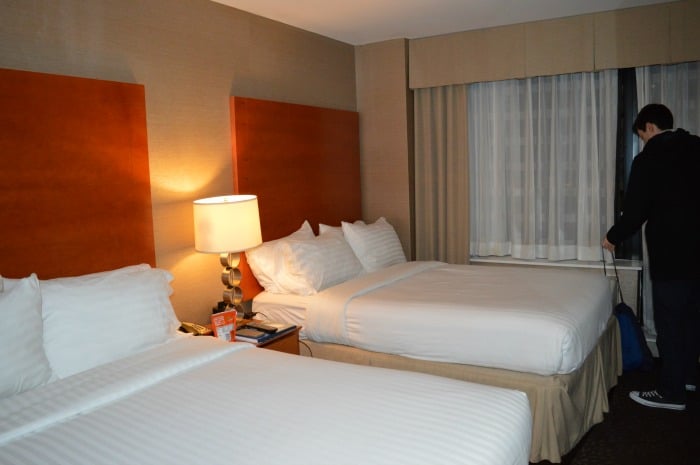 The wifi connection was excellent.  We enjoyed free wifi access for the duration of our stay and were able to connect up to 5 devices.  That was lucky as we had 5 devices with us!  It meant we were able to keep in touch with people back home.  Teen had to provide regular updates about our trip to his girlfriend of course.  I also was able to record what we got up to on my blog which was perfect, and has made life so much easier for getting home and sharing our New York experiences with you.
The bathroom was just what we needed and very clean.  It was well stocked with towels and toiletries and contained a shower over a quite small and shallow bath.  We used the shower, and it was fine for us.  I would have liked the bath towels to have been a little bigger, but that's a personal preference really.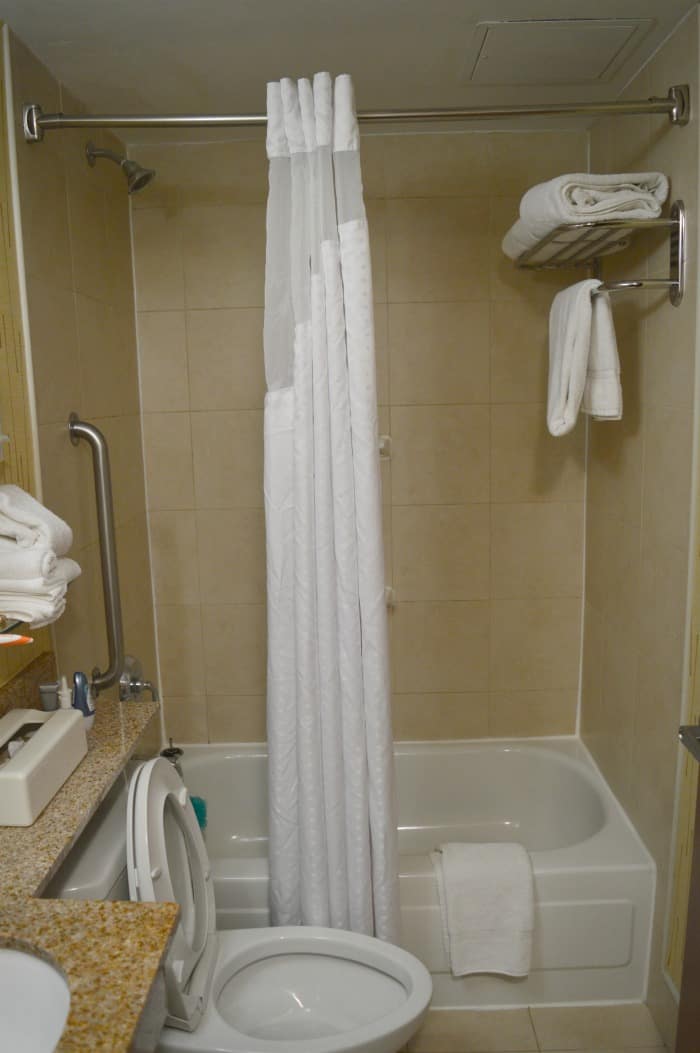 I've read a few reviews about the Holiday Inn 6th Avenue suggesting that it's small.  Our room had enough room for us, but you could say it was compact, but it was comfortable.  I think it is worth bearing in mind that New York is one of the most expensive cities in the world and real estate of any kind is at a premium.
For example and elevator ride in the Empire State Building can set you back $36.  From that perspective, the hotel room is probably huge!  I searched a few New York apartments for sale while I was there and believe me it is staggering what some of them go for.  Any tour guide worth his salt will have lots of property prices to hand to share with you to enlighten you.
Location Of Holiday Inn 6th Avenue
The hotel is actually located on 26th street, between 6th and 7th Avenue.  This is a really quiet street so you can get some sleep in the 'city that never sleeps'.  This is worth thinking about if you are planning busy days or are travelling with children.
Penn Station is a short walk away, probably about 5 blocks.  This would be really handy if you were getting the train from JFK Airport or anywhere else for that matter.
We were about a 20 minute walk away from Times Square.  We headed down 7th Avenue most mornings to begin our sight seeing for the day.  It gave us a real sense of the city getting ready to start the day.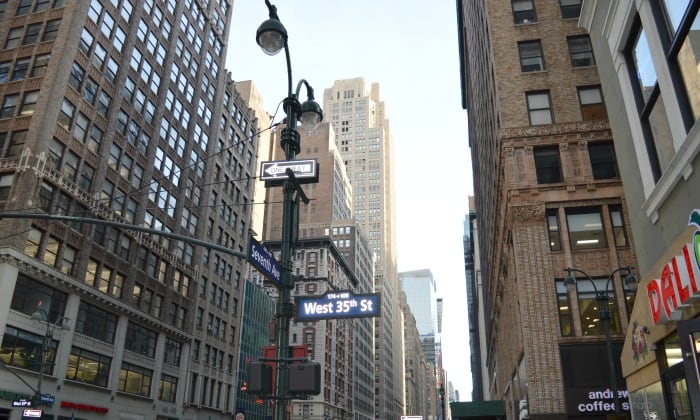 The Holiday Inn 6th Avenue is also in a great location to visit the Rockerfellar Centre and the Empire State Building.  We visited the Top Of The Rock as our last attraction on day 2 of our visit to New York so that we could enjoy the city views at night before retiring for the evening.  They are pretty spectacular, and I think it's worth seeing the Empire State Building at night too.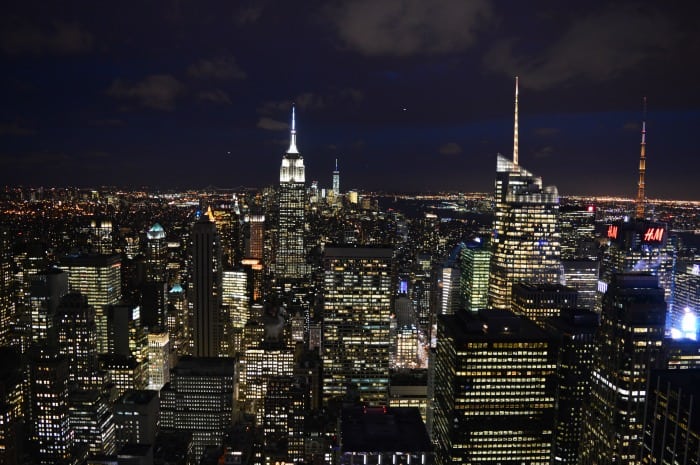 We made the most of how close we were to the Empire State Building by visiting first thing on the Sunday morning before we were due to leave.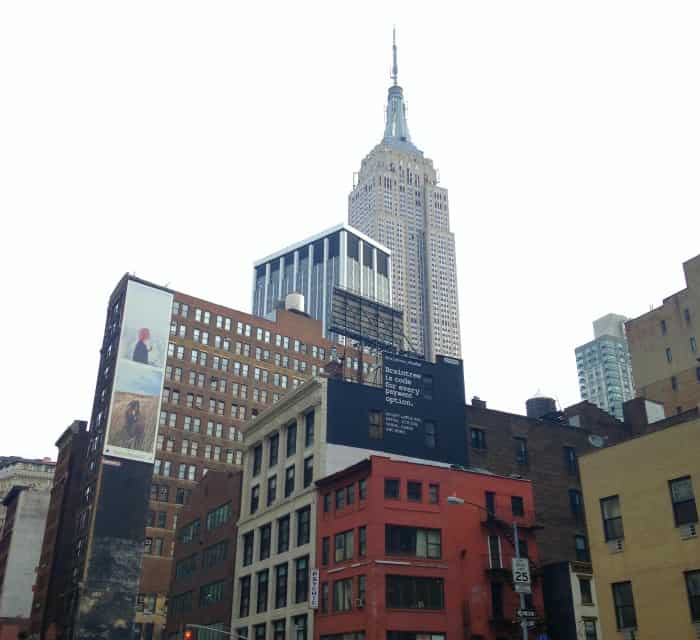 This was perfect for beating the queues and getting a sense of what the city looked like during the day.  I'd strongly recommend going to these attractions at different times of day to make the most of your visits.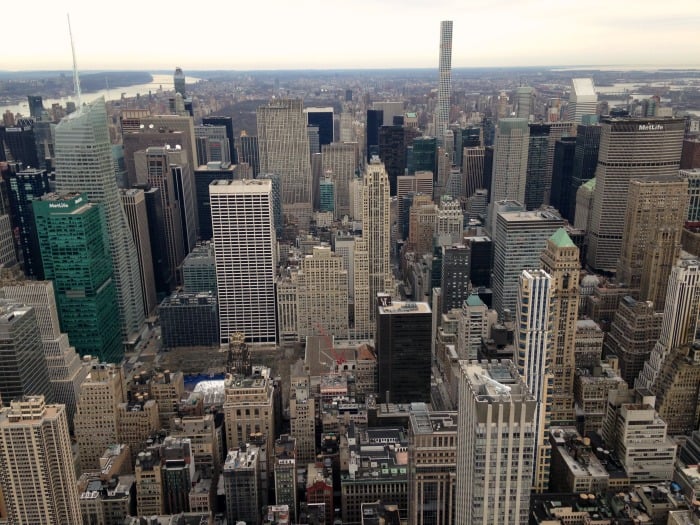 Extra Touches That Make All The Difference
The Holiday Inn offered us a free late check out at 2pm for becoming a Holiday Inn Rewards Member, which meant completing a form and sharing your details with them.  If our flight had of been earlier in the day, we would definitely have used this.
We weren't getting picked up from the hotel until after 6pm, but the Holiday Inn very kindly let us leave our suitcases there until we were due to leave,  This service is available to all Holiday Inn guests who stay at this hotel free of charge.  This made our final day of sight seeing so much easier so thanks so much Holiday Inn for this.  It makes a big difference to travellers like me.
Recommendation
I would have no problem in recommending the Holiday Inn 6th Avenue as a place to stay in New York for a city break.  If all you need is a no frills hotel to put your head down at night this will be perfect for you.
I would definitely consider staying here again should I return to New York City, and I think the biggest selling point is how quiet it is.  We had a very busy itineray and tiredness was an issue for us so a good night's sleep was most welcome.
We stayed at the Holiday Inn 6th Avenue New York for 3 nights in February 2016 and were guest of the hotel for a media rate in return for this post, but all thoughts and opinions are my own.