We woke up to another beautiful morning in the city of New York and the temperature was definitely on the rise.  We walked through the Chelsea District to catch the hop on and off ferry that was included in our New York Freestyle Pass that would take us to the 9/11 Memorial Site.  We were being a different kind of tourist today.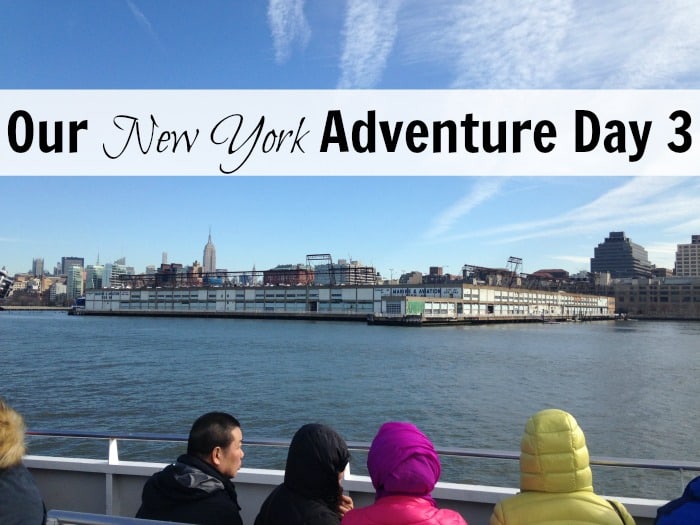 The streets were quiet as we headed towards 12th avenue and we walked through a typical New York housing project.  It was a huge contrast to the tourist areas we were becoming used to in this city.
A soup kitchen was set up in the street, being run by local volunteers.  One thing that is abundantly clear is this city has quite an issue with homelessness, but it was good to see these vulnerable New York residents being offered some practical support for a change.  We exchanged greetings with the locals as everyone seemed in good spirits as a result of the sunshine.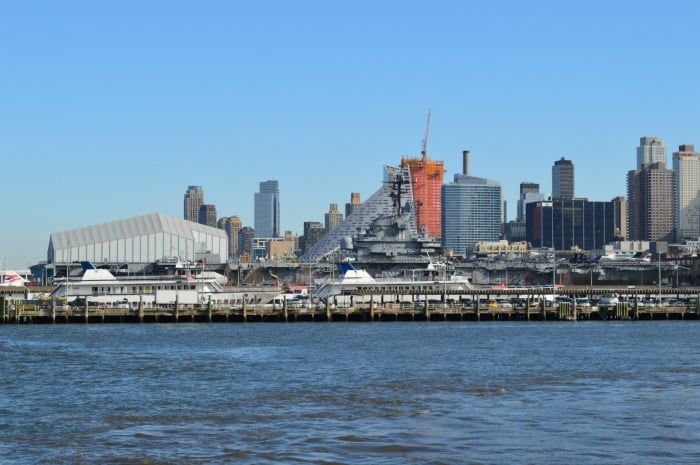 New York Hop On And Off Ferry
The first City Sightseeing ferry departs Pier 78 at 10am and we joined the passengers to go down the famous Hudson River for the morning trip.  It was great to see the city from a different angle and the tour guide pointed out the Intrepid Sea Museum and the ship that had been made from steel from the Twin Towers after the tragic events of 9/11 to commemorate all the Fireman who lost their lives that day.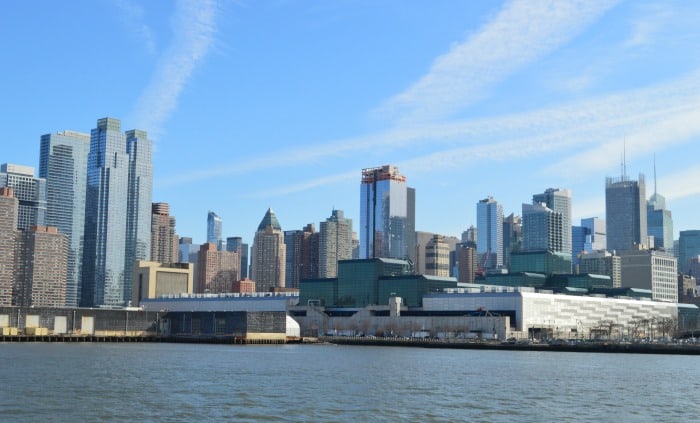 It turns out that teen isn't such a great fan of open water so we got off the ferry at the first stop in the Financial District and headed straight for the 9/11 memorial site.  Visiting here seemed essential during our visit New York.
9/11 Memorial Site
I remember the news breaking of the 9/11 disaster and I wanted to come to the site and pay my respects to all those who lost their lives.  There is a sombre atmosphere at the site as you here snippets of conversations of people discussing their own personally memories of that tragic day.  The impression it left on the world is truly significant, even today.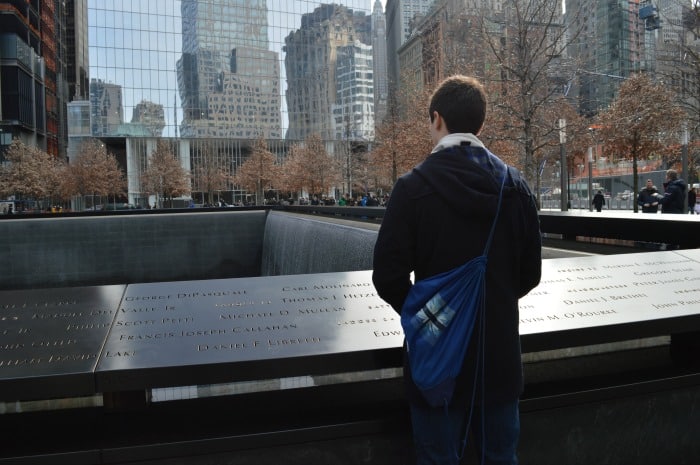 The cascading waterfalls are circled by all the names of every one who died that day, and who shall not ever be forgotten.  We went in to the memorial centre and saw a film of President Bush, former Prime Minister Tony Blair and President Pervez Musharraf of Pakistan talking about the events that took place on 9/11 and how they changed the world.  It was very interesting, balanced and incredibly well made.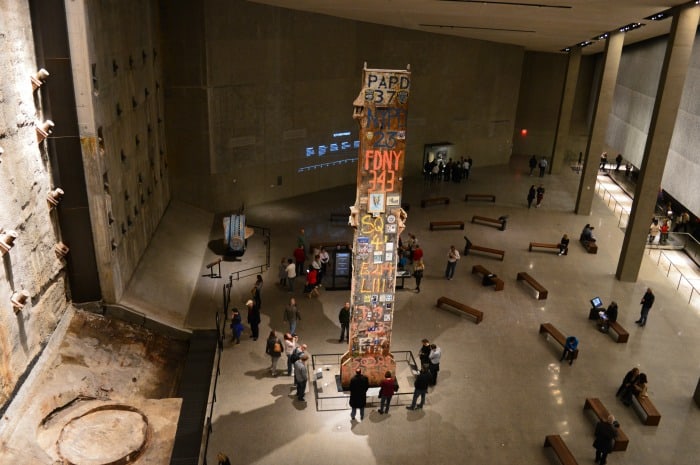 Walking around the memorial site we were played conversations from the victims of 9/11 and their families.  One of the most striking exhibits at the memorial centre is the steel girders that were twisted by the heat from the fires that engulfed the Twin Towers that day.  I think they speak for themselves…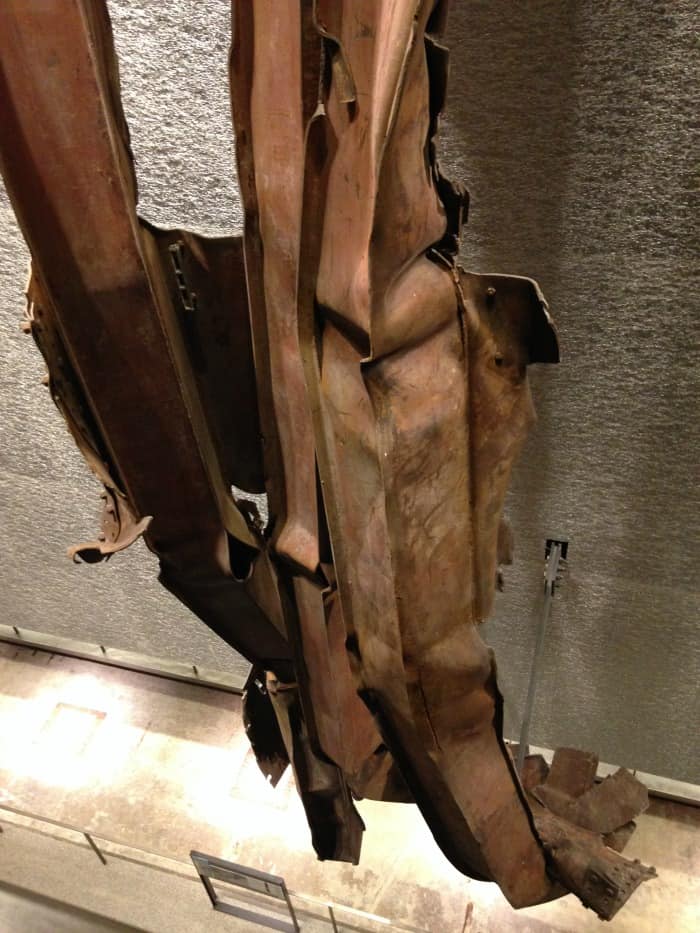 After our visit to the 9/11 memorial site we headed to Bill's Burger Bar for lunch so that we could change gear and digest what we had just seen before heading to the Statue Of Liberty.  Our lunch was included in our New York Freestyle Pass from Attraction Tickets Direct, and made for the perfect pitstop.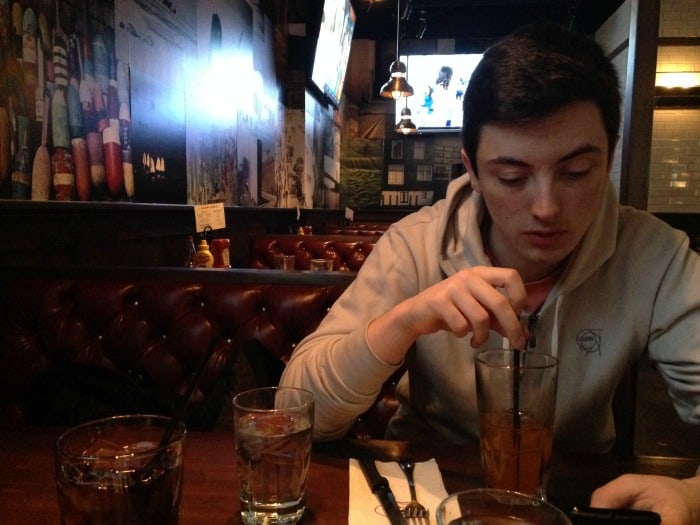 Statue Of Liberty
When visiting the Statue Of Liberty be prepared for airport style security checks!  We joined the queues of tourists and added our bags to the conveyor belts before walking through  the scanners before joining another queue to catch the ferry to the Statue Of Liberty with our CityPASS.  It took us nearly an hour to get through the queues in February so if you are travelling during the main tourist season, be prepared for quite a wait.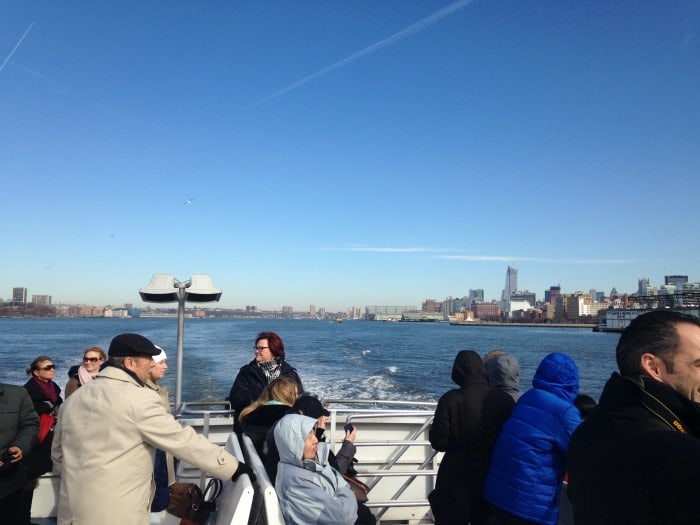 We were back on that open water again! Poor teen. Oh well, The Statue Of Liberty was his first choice tourist destination while we were in New York and there was only one way to get to it.  We just walked around the foot of the statue and got a lot of photos.  With time at a premium it was a short visit before heading back to Manhattan.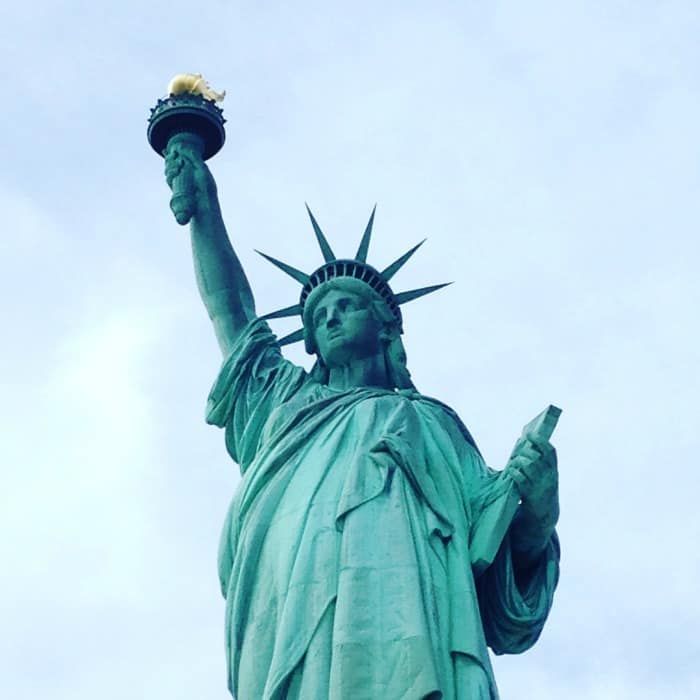 After getting back on dry land we got the Downtown tour bus back towards Time Square and now our mission was to find cheesecake.  The tour guide pointed out Lindy's Famous Cheesecake shop.  In his opinion, this was the best cheesecake in New York City, but he recommended that Junior's had to be tried too.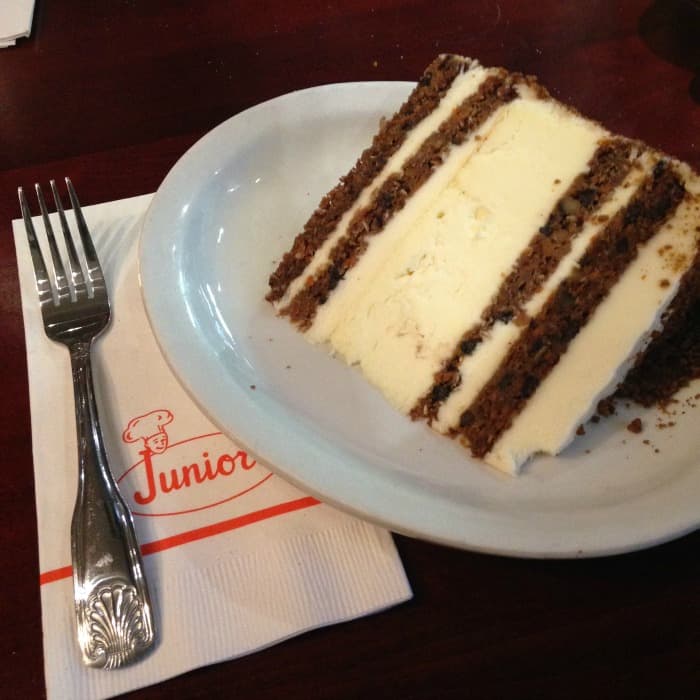 Juniors Cheesecake Shop at Times Square looked pretty busy, I wasn't sure we'd get a seat. Fortunately, as there was just the two of us we were seated straight away.  Having dinner seemed like a good idea until we saw the size of the cheesecake.  They were massive!
I had a grilled cheese and ham sandwich with chips and teen had a chicken sandwich.  Both were OK, but not a patch on Sugar and Plumm when it came to quality.
Then came the cheesecake.  I had carrot cake cheesecake, my ultimate cheesecake combination.  Teen had the red velvet cheesecake.  They were both amazing!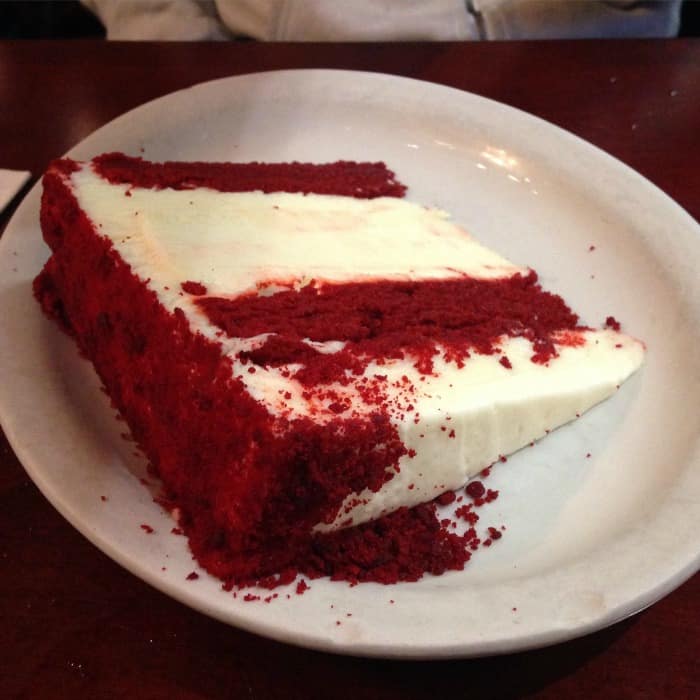 The cheesecake clearly went to my head and somehow I was suckered into going into Footlocker and buying teen some new shoes.  Well partly I had realised that teens Converse were about to walk of their own accord if I didn't intervene quickly and I also got talked into buying a new pair of basketball boots.  He did have a valid point that he was due some new ones, and New York seemed like the right place to buy them.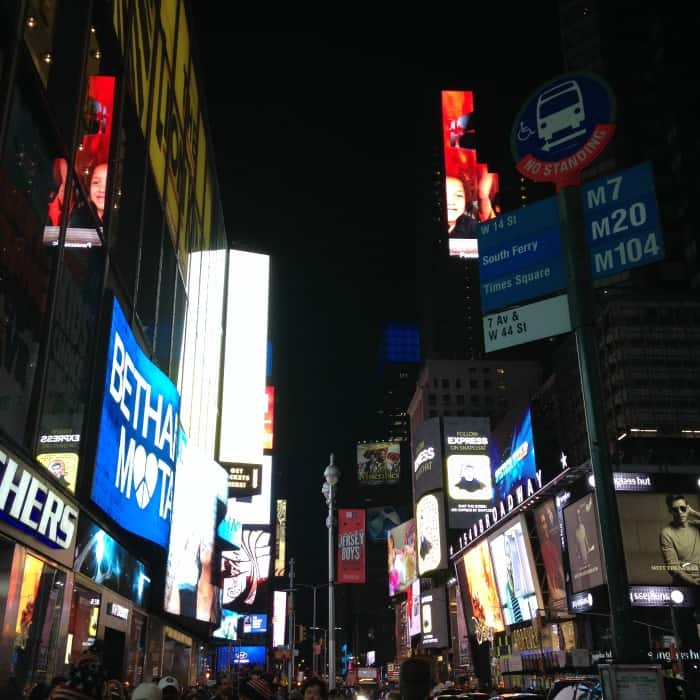 Teen was keen to go back to the hotel and watch some basketball, so after another busy day on our feet we headed back down 7th avenue to the hotel to put our feet up. I had blisters by this point so I didn't take much persuading.
You can catch up with how we got to New York and Day 2 in these posts.
We were provided with complimentary CityPASS & New York Freestyle Pass