Mauritius is a beautiful island of tranquil paradise found in the Indian Ocean and anyone visiting will be keen to make the most of their time there.  These tips and tricks will provide you with the best advice for where to stay in Mauritius including the must see landmarks and top advice about where to go. Big tip,   Mauritian food is also not to be missed!
So where is Mauritius?  For those who don't know it is situated about 2000 miles from the south east coast of Africa and flight time from the UK is around 12 hours. It's a stunning island shaped by volcanic terrain and the warm Indian Ocean that surrounds it.  If you asked me which were the best beaches in Mauritius, I would be tempted to say all of them!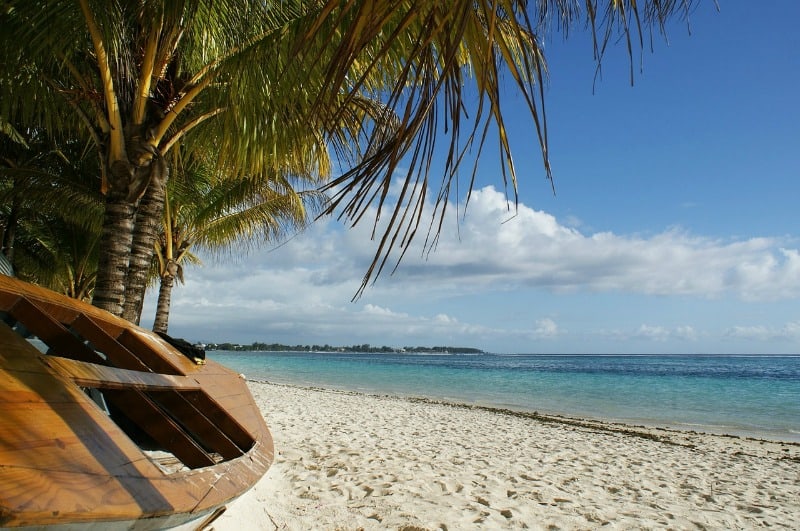 The coral reef around the island creates the calmest of seas perfect for swimming in or taking part in a wide range of water sports activities. It's become a popular destination for a variety of travellers, including couples looking for the perfect Mauritius honeymoon package.  Mauritius family holidays have also become popular because of the welcoming atmosphere, beautiful beaches and list of extensive activities available around the island.
One of the most enticing things about visiting Mauritius is the friendly locals and diverse culture.  People have settled in Mauritius from Britain, France, India and China making for a very rich and diverse island community.  The inhabitants of the island have preserved their own customs whilst embracing living with a mixture of cultural and religious backgrounds which creates a sense of harmony throughout the entire country.
Where to Stay in Mauritius
When it comes to deciding where to stay in Mauritius, having some local knowledge to guide you is going to be incredibly valuable.  If you are looking for a relaxing holiday with your family that you can enjoy at your own pace, then Mauritius Villa rental finder is a great place to start to book Mauritius holidays direct.
They offer a range of villas around the island and will help you find the most suitable place to stay for your holiday.  Having confidence in booking the right accommodation for your stay is paramount and Mauritius Villa Finder's travel consultants inspect the villas regularly to ensure they meet the required standard for an enjoyable stay.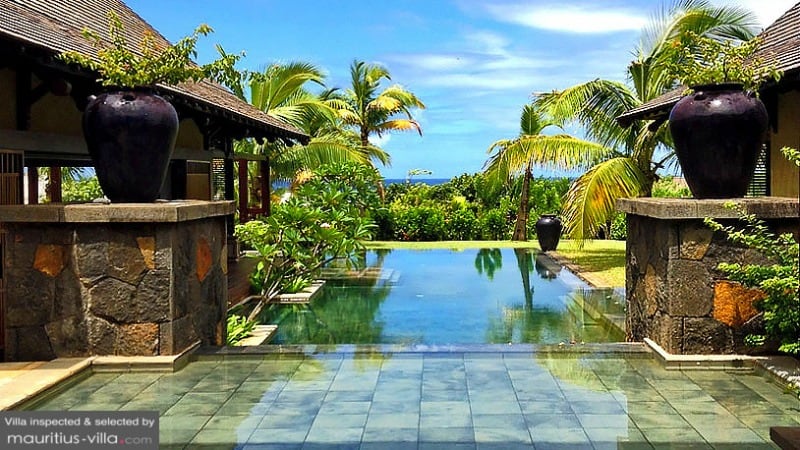 Knowing you're in safe hands is apparent from the start of your booking, and your travel consultant will contact you to find out what you need for a successful holiday in Mauritius.  They will talk to you about the age of your children, the equipment you need when you arrive and what type of experience you are looking for from your visit to Mauritius.  It doesn't matter whether your planning a holiday next summer or you are looking for last minute holidays to Mauritius, the attention detail will be the same.
A popular choice with families and multi generational holidays are the villas in the north of Mauritius near to Trou aux Biches and Grand Baie.  If you want a beach front setting with access to the sea and breakfast included, then Villa Beach could be the perfect choice. It has 4 bedrooms with a modern fresh look throughout the property along side outstanding outdoor seating and patio areas.  I think I could quite happily spend a few days here, how about you?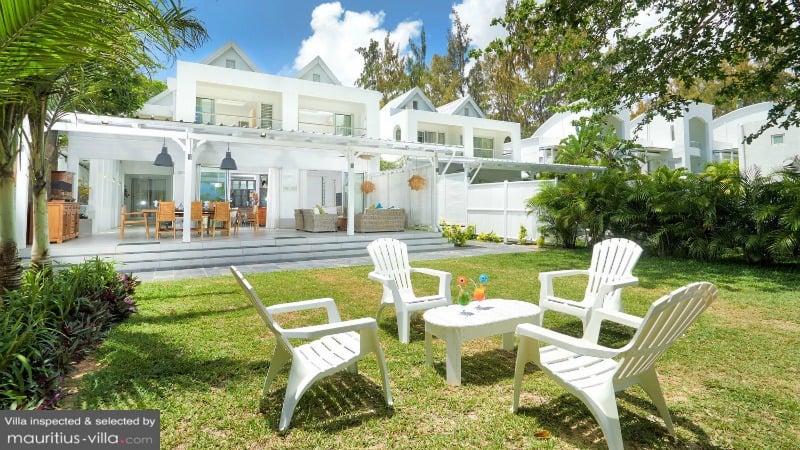 By booking your accommodation with Mauritius Villa you will be able to speak to your travel consultant about the right villa for your holiday.  They provide a completely personal service and want your holiday to be perfect.  This isn't something you can always guarantee on by looking at a website and clicking 'book now'.  Their service is perfect if this is your first time in Mauritius or your third, as they make it their business to understand what you are looking for and to make every experience unique.
Villa Finder not only care about their guests, but they also care about the environmental impact and for every booking made with them they will plant a tree in Sumatra, Indonesia.  So far Villa Finder has helped to plant 1,888 trees and this has helped create 7,552 months of oxygen and 1,888 hours of employment.
Best Beaches in Mauritius
It is pretty much a given that you will spend some of your holiday in Mauritius visiting at least one of it's gorgeous beaches, but how do you pick the right one for you?  Picking the perfect beach for your stay is almost as important as picking the right villa. Speaking to the locals will most definitely give you some insider tips, but to help with your beach planning before you go here's some things to consider.
Grand Baie is a beautiful beach to visit for bars and restaurants and is also popular with those looking to take part in water sports.  If you want to swim in the sea, this probably isn't the place as there are too many boats but relaxing on the sand and enjoying the view is still a great pastime.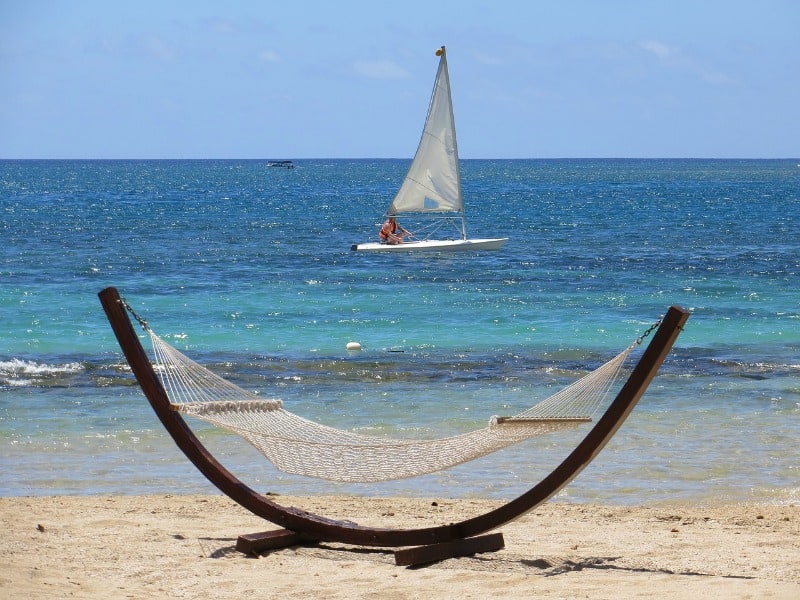 For the most beautiful white sand beach on the island Belle Mare Plage is a very popular choice.  This 10km beach is popular with all visitors to the island, but before you pick your spot, take note of the water sports available as this beach can get noisy in parts.
Trou aux Biches is particularly popular with families because of it's shallow waters and mild currents.  The coral reef is also close to the shore making it perfect for snorkelling and diving activities.
Honeymooners enjoy visiting Île aux Cerfs, but it's also popular with families.  It can get very crowded at weekends, so pick when you plan to visit if you are looking for some quieter beach time.  The beach is reached by ferry from Trou d'Eau Douce that runs every half hour between 8am and 5pm.
Once you've selected the beach you would like to spend the most time on, you can speak to your Mauritius Villa travel consult to see if there is any accommodation near by suitable for your holiday as location is always important isn't it.
Things to do in Mauritius
Mauritius Villa also want to help you experience the island to it's full potential and can help you plan your itinerary during your stay regardless of how much or how little you want to do.
You might have an idea of the places you would like to visit, but the Guest Relations team are also available to help you arrange everything from your airport transfer, a special dinner in a local restaurant or visits to the must see sights on the island.  The team help you make the arrangements, but you pay the company directly who provides the service.   Here's a few things you could speak to Guest Relations about organising:
Boat trips are popular with people visiting Mauritius and you can arrange fishing trips or something more memorable like swimming with dolphins.
A visit to the Botanical Gardens in Pamplemousse, near Port Louis is a must see attraction in Mauritius. To help you make the most of your visit, a travel guide can be arranged at very little cost.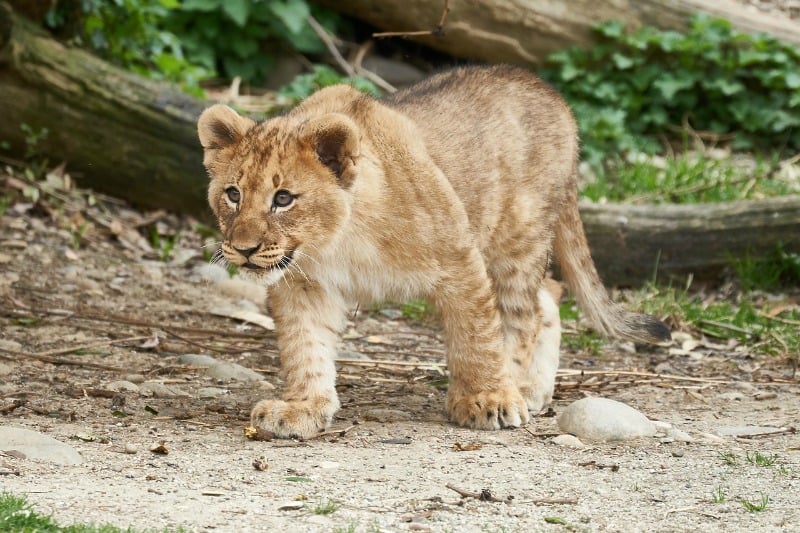 A visit to Mauritius Casela Park is a popular choice with families offering both nature experiences and adventure park rides.  If you really want to walk on the wild side, you can talk to Guest Relations about booking a 'Walk with Lions' experience during your visit too, but it's not for the feint hearted.
The Valley of Severn Colours is a very popular landmark amongst first time visitors to Mauritius and is also a family friendly attraction.  Guest Relations would be happy to help arrange your visit to enjoy these unusual and colourful lava formations.  You will also find an adventure playground here as well as giant tortoises, which everyone in the family will enjoy seeing.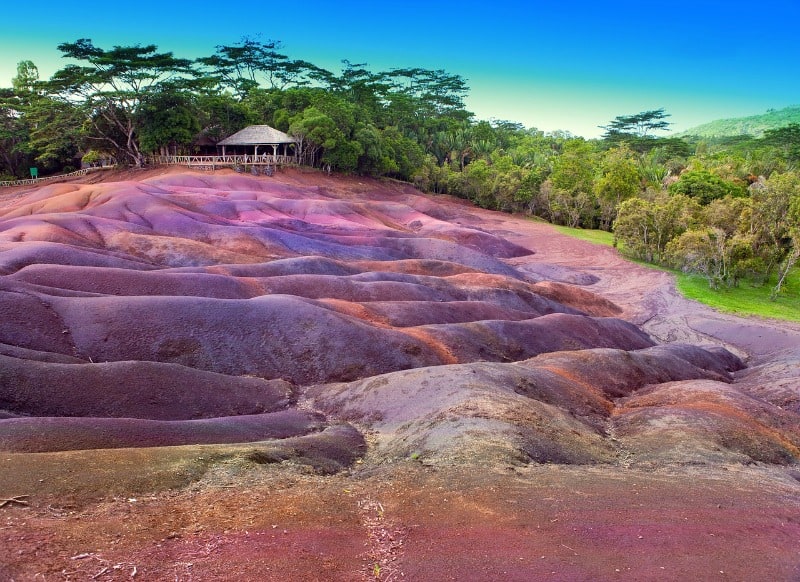 Mauritius tourism offers it's visitors a huge variety of activities also, but finding them on the internet can be time consuming.  If you want to arrange horse riding, quad biking, water skiing or anything else on offer, Guest Relations will get everything in place for you before your trip.
When to Visit Mauritius
Mauritius is renowned for being an all year round destination, so it's perfect for a winter getaway.  There are some things worth bearing in mind about the weather in Mauritius and the best time for planning your trip though.  January to March can be wet and this is the period also known as the cyclone season.
The east of the island is prone to strong winds and is best avoided between July and August.  Summer is between November and April and it can be incredibly hot and humid.  Winter is between May to December, but you can still expect sunshine and dry weather so is a great time for families to visit.
I hope you enjoyed my top tips and they come in handy for any Mauritius family holidays you might have in the pipeline. All that's left to do is to wish you an amazing trip and don't for get to pin this post so you can come back to is later!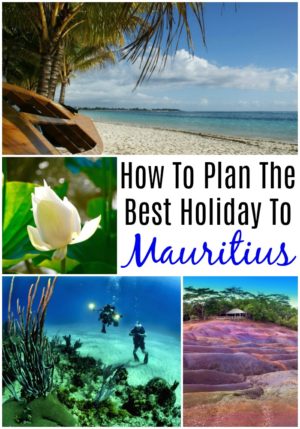 Know someone who would enjoy this post?  Please do share it with your friends and followers, as it would literally make my day.  
For the latest blog posts, offers and giveaways don't forget to subscribe to Zena's Suitcase.  You can also follow the latest updates 
This post was written in collaboration with Mauritius Villa