Al Fresco Holidays was a new concept to us, but as a family with young children who enjoy travelling we were keen to give it a go.  Can you believe our visit to Tamarit Park was our first holiday together as a family this year considering how much I talk about family travel?
That's the problem with having a big age gap family, getting us all on the same trip can be a challenge.  Daddy was definitely ready for a break and the kids are always up for some sea and sand action.  There was still one missing though, as teen had to stay at home to get ready for his exams.  Sadly I am resigned to thinking that family holidays are a thing of the past for him.
About Al Fresco Holidays
Al Fresco Holidays are about providing families with flexible holiday options to suit their needs.  They offer family mobile home holidays across 72 of the best holiday parks in 5 European countries.  They have hand picked family friendly sites in Croatia, France, Italy, Holland and Spain to give families the perfect outdoor holiday experience and help them create lasting memories.
The holiday parks contain a mixture of camping, caravanning and mobile home options and Al Fresco Holidays provides a number of mobile homes on the various parks.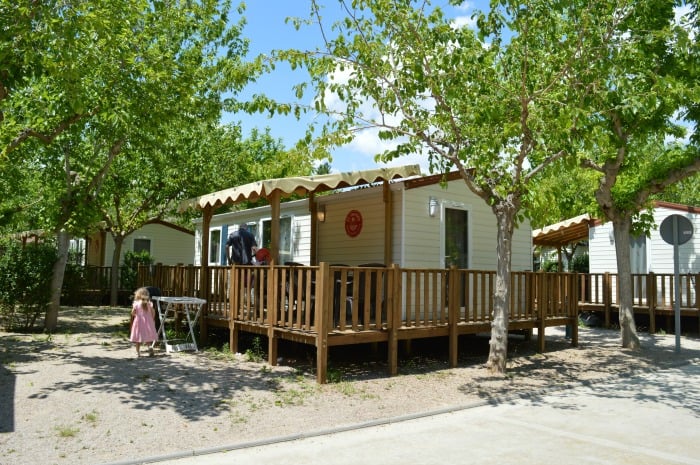 You will have access to a very helpful English speaking rep, and all the holiday park facilities.  Some may include an extra charge so check out the holiday park you are interested in for more information.
The holiday parks vary in size, so if you want fun and lively or small and intimate there will be something that will suit your holiday requirements. What ever you opt for you are bound to find a friendly holiday vibe with Al Fresco Holidays.
Our Holiday At Tamarit Park
While the kids are small I am all in favour of a simple approach to a holiday.  They want to be able to play on the beach when they want, dip in the pool and eat when hunger strikes.  If a holiday can tick all three of those boxes, then it's onto a winner as far as I'm concerned.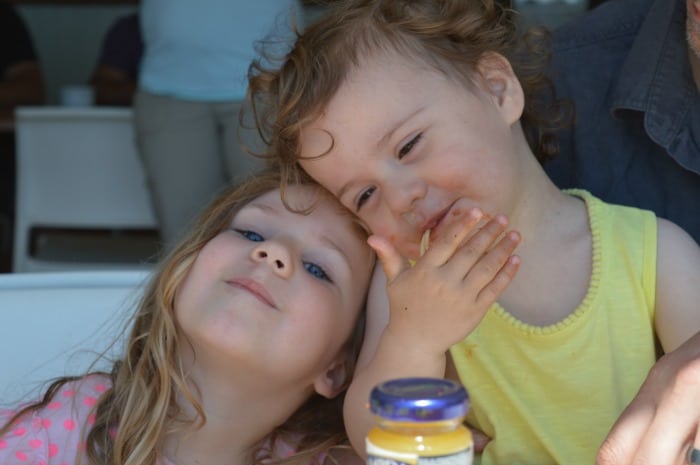 We arrived a little early at Tamarit Park Resort, but our friendly rep, John, let us pop our suitcases in our mobile holiday home and then we headed off for something to eat and a much needed drink.
Our first stop was the cafe bar on the beach.  When I saw the location I knew we would be spending a lot of time there.  Tamarit Castle overlooks the beach, and it is stunning.  You can sit outside and watch the kids play in the sand and enjoy a coffee, or brandy, or beer or all three if you like.  What ever takes your fancy really.  Happy days!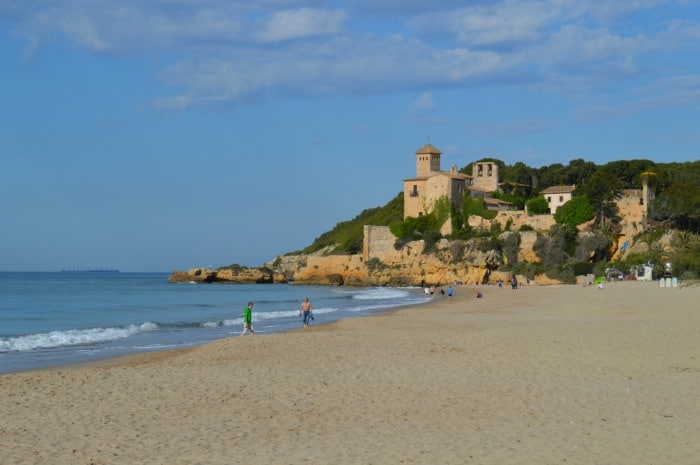 Al Fresco Holidays Mobile Homes 
After we had refuelled, we headed back to our accommodation to see where we would be staying for the week.  Over all, the mobile holiday home was clean and well presented.  I was delighted to see it included a dishwasher.  We are not a family that enjoys washing up, and I had visions of this being a bone of contention during our holiday.  When I saw my favourite domestic friend, I breathed a huge sigh of relief.
We were in a 2 bedroomed Rossini Riviera Suite that sleeps 6.  Each bedroom had it's own en suite shower and there was a separate toilet.  Outside we had a table and chairs on our own private decking where we could enjoy some al fresco dining.  There was also lots of space for the girls to play safely around the mobile holiday home when we weren't on the beach or at the park.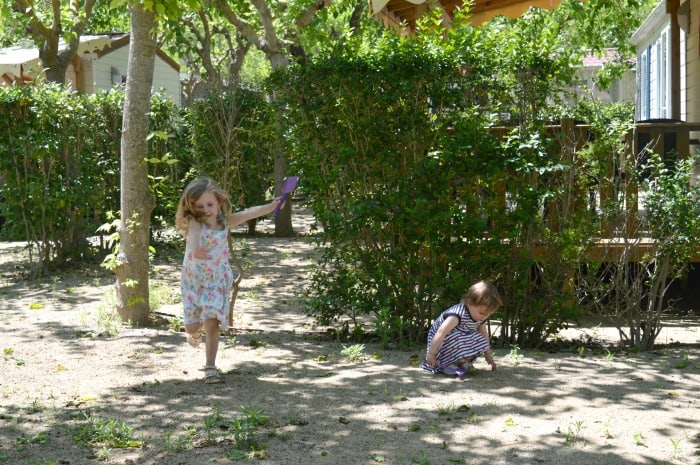 My only criticism of our accommodation was the amount of weeds surrounding our pitch.  It didn't create a very good first impression and it definitely looked like the gardener needed to have a quick whip round to tidy things up.  I guess it's the time of year when there is a lot of sun and rain and things just take off, but it did look a little untidy.
Tamarit Park Facilites 
There is a lot going on at Tamarit Park and I can see this site appealing to lots of families.  We spent our time between the beach, the pool and the children's play areas.  There are kids clubs available that are free to access, but we didn't use them.  My daughter wanted to be with us, which is fair enough.  Holidays are about quality time together after all.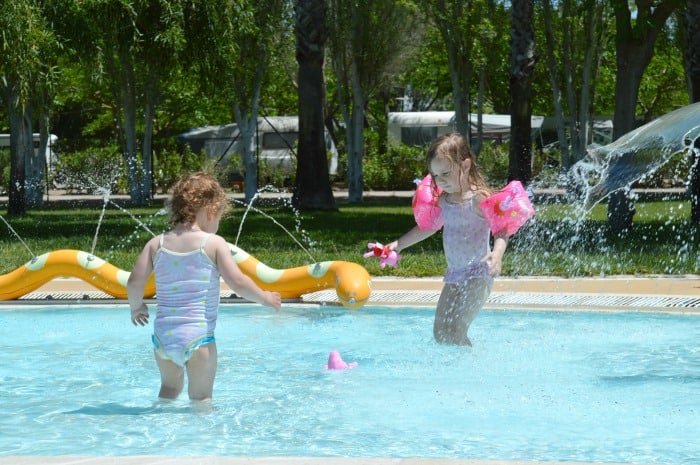 It's also worth mentioning that the holiday makers at Tamarit Park were mostly Spanish.  There were some English families there, and they will increase in numbers as the season continues, but are always likely to be a minority.
I enjoy the Spanish culture and I found that most people were friendly and helpful.  I try my best to speak a little Spanish and I find that goes a long way.  I want my children to experience different languages and foods, and this was a great destination to expose them to a more Spanish kind of holiday.
The Spanish and other European holiday makers on the site dominated a lot of the activities, which might make it harder for some children to integrate into the kids clubs and activities.  If kids clubs are a major feature in your holidays this might be worth thinking about.
For the adults there were aerobics classes every day and there was a gym as well as sports courts available.
The access to the beach provides great options for water sports, and we watched paddle boarding and kayaking out at sea.  If the girls were older, we would have given it a go but we've got a few years before we get into that kind of thing.
Beautiful Walks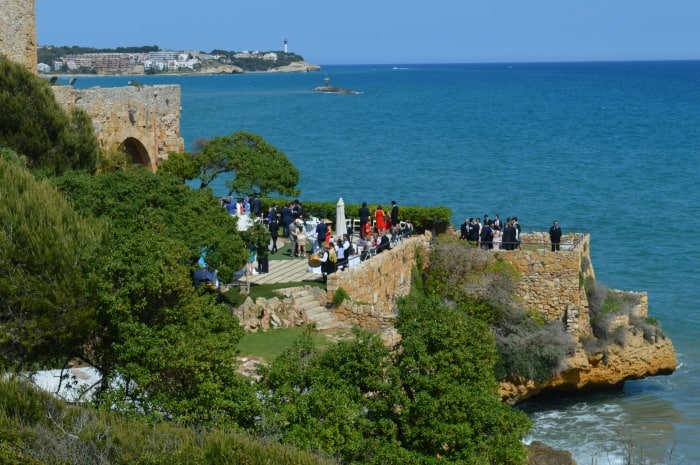 I snuck away from the family one afternoon to explore some of the walking around Tamarit Castle.  There are a few routes you can take from Tamarit Holiday Park that are good for walking but I was conscious not to venture too far.  Our girls can be a bit of a handful and Daddy can get a little stressed sometimes.
I walked up around the castle, but there is another route that takes you to a bay and another beach.  There were some spectacular views, all enjoyed under the shade of the trees, so the midday sun wasn't an issue.
I passed several people enjoying the views over the castle and the Mediterranean.  It was peaceful and rejuvenating.  If my girls had of been a little older, I would have taken them also as it was a perfect place for exploring.
A Visit To Tarragona
Our rep, John bought us lots of information about possible days out.  You can access a lot from Tamarit Holiday Park including Salou or Barcelona.  We opted for a day out to the nearby town of Tarragona.
The train station is easily accessed by walking along the beach and taking a left at the boat club.  With the girls in tow it took us about half an hour, but if you are childless you could half that time.
We bought tickets for the tourist train at Tamarit Park Resort so that we didn't have to go and find the ticket office when we got there.  We headed to the Rambla first to get some lunch.  There are steps up to this part of town, and where you need to get stop 1 for the tour.  Be aware, there are a lot of steps, it's not for the faint hearted or a husband who is a tiny bit scared of heights.
Tarragona is a beautiful town.  The Roman amphitheatre is stunning and is still used today for performances and shows.  The Rambla reminded me very much of Barcelona, with plenty of cafes and eateries to tempt you as you stroll along.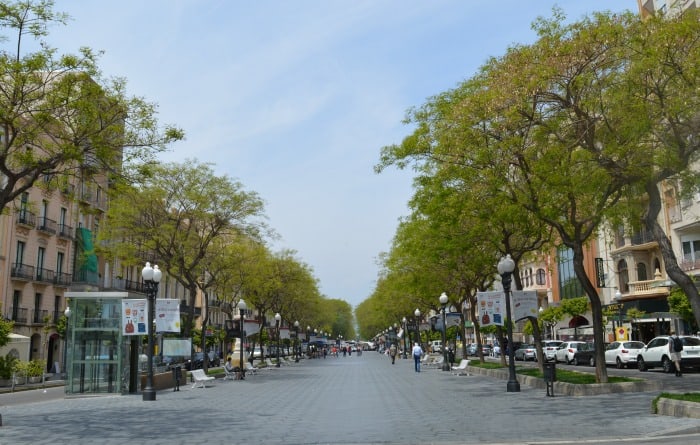 The tourist train takes you to all the main tourist attractions and you can hop on and off if there is something you would like to see more off.  We really wish we could have spent more time looking around, but a 2 year old and 4 year old aren't that keen on sight seeing when there is playing in the sand at stake.
Why Book An Al Fresco Holiday
I came away from our holiday at Tamarit Park Resort thinking that Al Fresco Holidays were a good option for families who enjoy exploring Europe.
We had a good amount of space, inside and out of our accommodation for our family.  The storage was great too, there was plenty of room for clothes, food and all the other things that come with kids on holiday.
We really appreciated the flexibility of it also.  Our children enjoy their routine, they like to eat at certain times and sleep at certain times (well sort off!).  With this holiday we could keep to their routine, instead of trying to fit in with a schedule imposed on us by a hotel.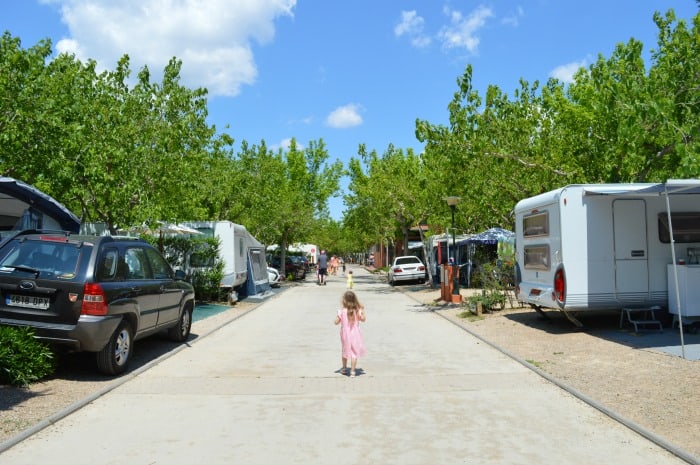 In Spain they do eat later than we do normally and we have been on some holidays where the meal times are just a little out of sink for us.  Most of the time this isn't a big deal, but when kids are small it can end in tears and tantrums.
I really appreciated that the holiday park was all flat.  This made it so much easier having small children.  They didn't struggle walking to the beach or the pool.  They always take a little encouragement, but it was easy to get around the park and access everything.
The pool was fab, the kids had a great time playing in the baby pool and also the bigger pool.  We also found a great bathroom just for kids at the poolside.  It had showers, small toilets and great baby changing facilities so the kids could get cleaned up after being on the beach or having a swim.
There were plenty of options for food also, and everything was child friendly.  They weren't the cheapest, but they did hit the spot.  We ate at the beach and at the restaurant.  There is also a takeaway where you can get pizza's, pasta or chicken and there is a well stocked mini supermarket.  We ate out and cooked at home during our stay.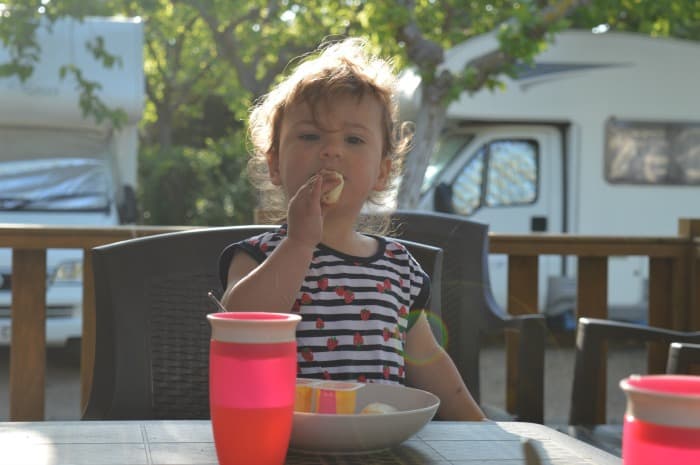 The beach is stunning.  We all loved it.  The castle made for a beautiful view and the sea was perfect for a good paddle.  We spent a lot of time there.
The children's play areas were great, and a big hit with the kids.  One was perfectly placed next to the mini supermarket making our shopping trips a whole lot easier.
If you like walking, cycling or water sports Al Fresco Holidays is a great option for families.    There are a lot of things to do or you can just relax and take it easy.  You really can set your own agenda.
Al Fresco Holidays would be a great place for families who are thinking of holidaying together to visit, or if you are thinking about going away with your extended family.  It would give you the flexibility to come together when you wanted, but enjoy your own space and activities at the same time so you didn't get on top of one another.
What we really enjoyed about the holiday was being able to put the kids to bed after a busy day and still relax on the decking and enjoy the glorious weather.  I could catch up on some work as the wifi was brilliant and we could even enjoy a drop of San Miguel knowing the kids we sound asleep right next to us.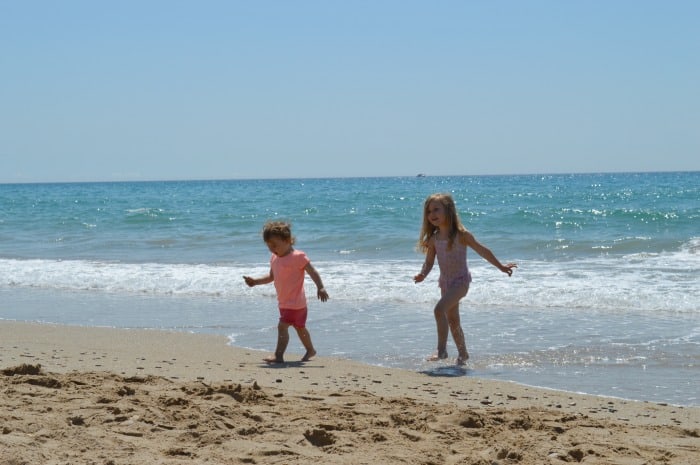 Things To Consider About Al Fresco Holidays
Taking or hiring a car would be beneficial and give you more flexibility if you wanted to explore the area.
Holiday parks will often be aimed at local tourists, so you might find that entertainment is not in English and that a lot of the people you are holidaying with are from the country you are in.  This might be a consideration if you want to use the kids clubs or evening entertainment is important to you.
Al Fresco Holidays are aimed at car drivers who can provide a lot of their own equipment.  If you fly, you might need to hire some additional equipment like bed linen or baby equipment.  Air conditioning is available also at an extra fee, which is currently £28 per week, and might be worth investing in during the summer months.
If there are things that you simply cannot be without from home like your favourite cup of tea or coffee, slip them in your suitcase along with some dishwasher tablets, a toilet roll and some anti bacterial wipes to keep on top of the cleaning.
Recommendation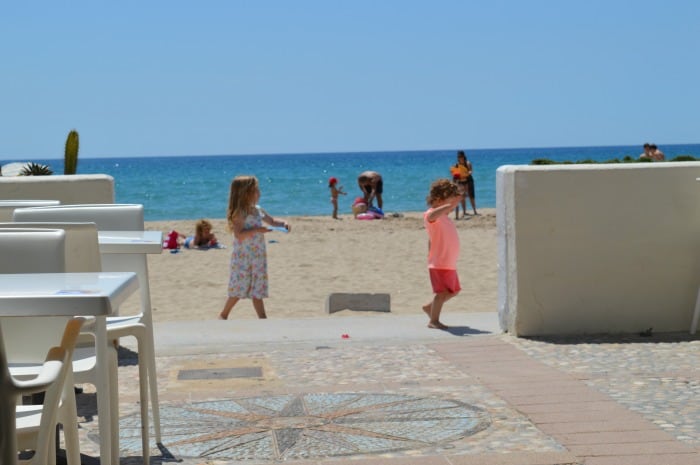 I would have no problem recommending Al Fresco Holidays to active families who enjoyed camping or caravan holidays and liked spending time in Europe.
If you want a relaxed experience that you can take at your own place I would also take a look at what Al Fresco has to offer.  You really can set your own agenda and do as much or as little as you like.
The holiday park we stayed on was friendly, safe and well equipped.  Our children had a great time, and Daddy just had to cope with the amount of sand they were covered in.
Our rep was fantastic, and answered any questions we had and solved any issues that cropped up.
I would definitely consider  Al Fresco Holidays again, and would look at Italy or Croatia as these are two countries I haven't been to yet.
We received an Al Fresco Holiday at a reduced rate in exchange for an honest review.  All thoughts and opinions are our own.  If you would like to consider an Al Fresco Holiday after reading about our experience, this post contains affiliate links therefore I could receive a small commission for recommending them to you.