I've heard a lot about cuddledry towels online from various bloggers, and have been really keen to try one out for myself for a while.  When they agreed that we could test one out during our recent holiday to Spain it fitted in perfectly for us.  We knew we were going to be spending a lot of time in the pool and on the beach, so the cuddledry poncho towel was going to be well used.  With a glorious week of weather ahead of us, it was a guarantee that we were going to spend some time getting wet.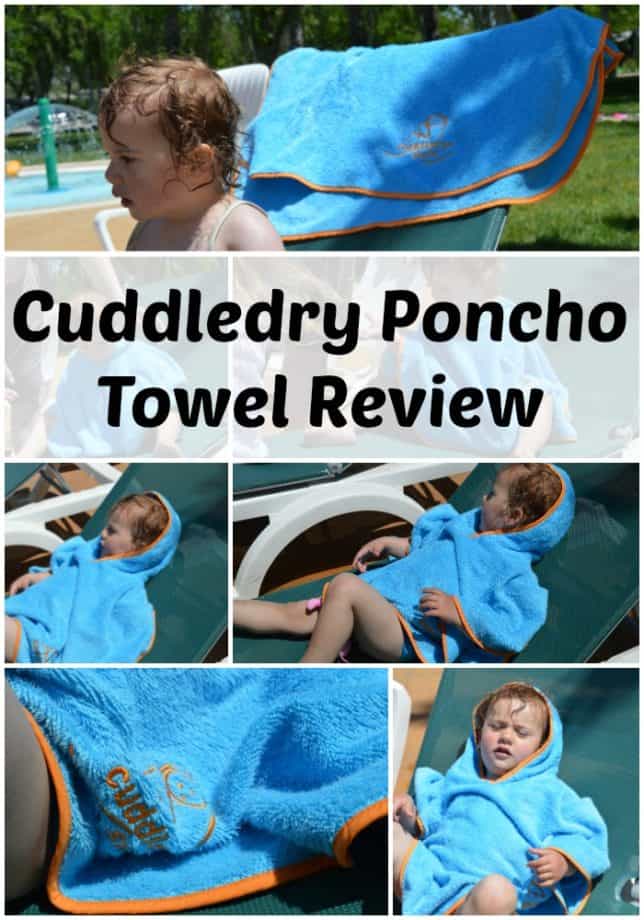 Perfect Weather For Playing In The Pool
Sure enough, the weather was perfect was splashing around in the pool.  It was brilliant sunshine for the whole week, but as we were away in May, the pool wasn't quite as warm as it could of been.  That doesn't stop kids getting in the pool though does it?  Daddy was a little bit hesitant, but he couldn't let the girls down.  I was in charge of the camera, so I had the perfect excuse to stay dry 😉
Little Pudding is still gaining her confidence in the water.  She likes to play, but doesn't do a lot of moving around.  It takes her a while to get going shall we say.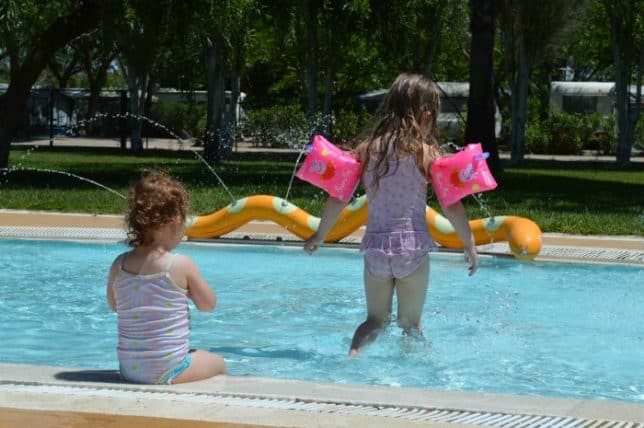 When the water is a little on the nippy side, the best thing to do is to keep moving to keep warm.  Her big sister has got the hang of this concept and is much more confident in the water than our toddler.
Because she doesn't move quite as much we really have to keep an eye on her to make sure she isn't getting to cold when she is in the pool.  As soon as there are signs of her getting too cold, we encourage her to get out and get dry.  This isn't often met with the warmest of welcomes, but it is necessary to stop her shaking with cold and to stop her lips from turning completely blue.
Getting Dry With The Cuddledry Poncho Towel
The cuddledry poncho towel was perfect to get her wrapped up in when she got out of the water.  It is super soft, and extra absorbent so quickly draws the cold water away from the skin.  She looked happy as larry in her little hooded towel while we got ourselves organised and tried to get her sister dry as well.  This is a great towel to have when you've got a couple of children to deal with.  You can get the cuddledry towel to work on one while you get the other one sorted out after their swim.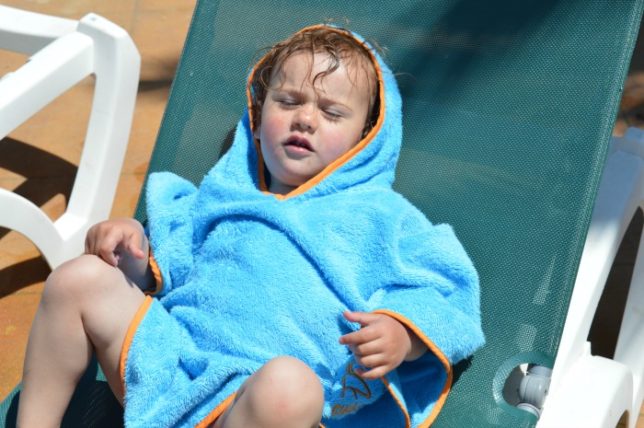 Little Pudding was soon dry and dressed in her clothes after her splash in the pool.  The towel really did get her warm very quickly and the colour was soon back in her lips.
The cuddledry poncho towel is the perfect swimming accessory for going to the pool or the beach with.  It's lightweight and the perfect size for a toddler to use after their paddle.  It's made from bamboo and cotton which gives it it's lovely soft feel and super efficient absorbency.  The best bit though is that they add a super cuteness to a wet and soggy toddler, making them even more cuddly than normal.
We were provided with the cuddledry poncho towel in exchange for this review, but all thoughts and opinions are my own.  The cuddledry towel is available online for £26.99