There are so many options for places to stay in London that you really can find the perfect place to suit your needs. London has everything from budget hotels, b & b's, luxury hotels to gorgeous serviced apartments.
Kaz from Ickle Pickle's Life And Travels and myself were heading to London for the weekend to go to Britmums Live and it was the perfect opportunity for us to catch up without our families in tow.  So that we could make a weekend of it, Kaz found us the perfect place to stay with FG Properties.  I have never stayed in a serviced apartment in London before, so I was really interested in finding out what the experience was all about. FG properties provide vetted apartments for short breaks and holidays in London and Europe for a home away from home experience.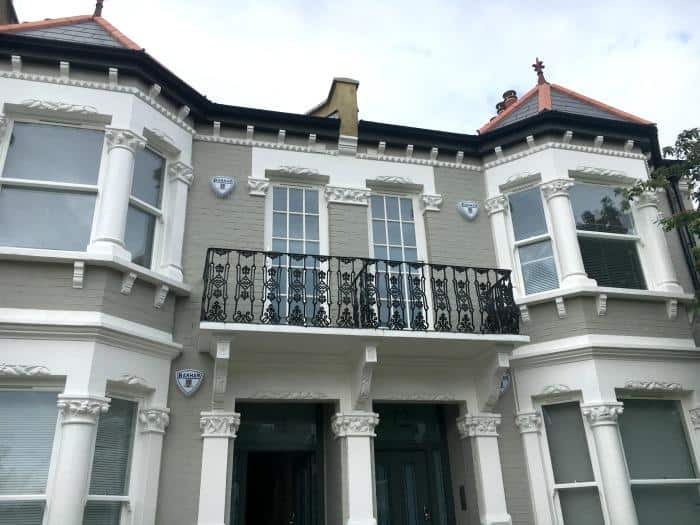 We loved our stay in the 2 bedroomed apartment in South West London. We were on the first floor in the front of the property so we had a beautiful bay window and Julian balcony in this gorgeous converted Victorian property.  It felt luxurious and was very comfortable, but a few little details needed improvement.
Great Location
The location was great. We were around the corner from Baron's Court Tube Station and could get on the Piccadilly or District line within minutes. It might be worth mentioning there are no lifts at this tube station incase accessibility is an issue for you.
We were able to get to central London via tube in about 15 minutes. It was about 20 minutes to London St Pancras direct and also there was good access for Paddington Station.  This suited Kaz and I perfectly for getting to and from London.
The property looked beautiful both inside and out. The decor was light and modern whilst still maintaining some original features.  The renovation on this property had been done to an incredibly high standard.  Sound proofing had also been thought about as we heard very little noise from the guests in neighbouring apartments.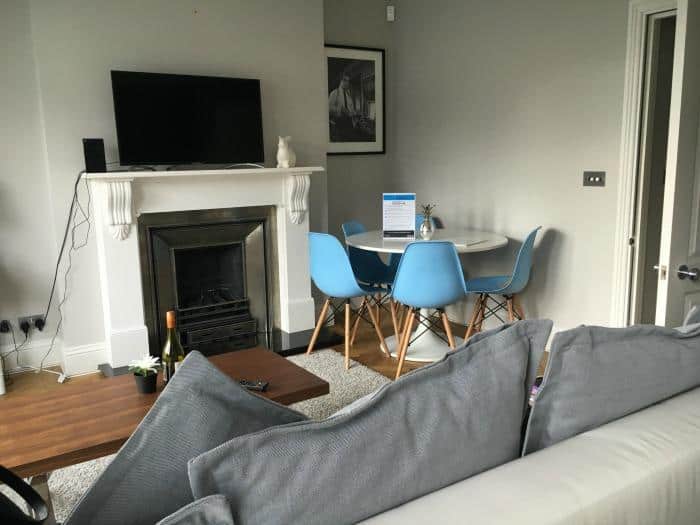 For two people looking for a place to stay in London, who do not want to share a hotel room, this apartment would make a great option for a place to stay. It would also work really well for 2 or 3 couples who wanted to stay together while visiting the city.
What Was The Apartment Like
The two bedrooms were a very reasonable size, and the beds were really comfortable. Each room had plenty of wardrobe space and were super clean. For a mum coming from a house full of toys, the minimalist feel was   a complete delight. To be clutter free, if only for a few days, was very good for the soul indeed.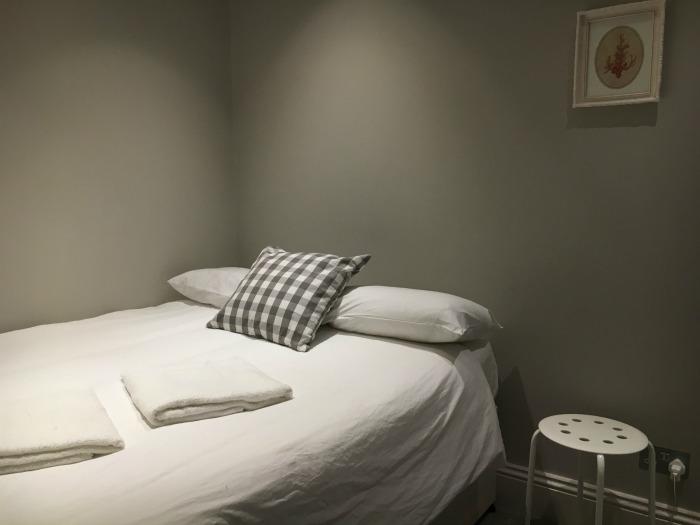 The bathroom looked very stylish but was let down slightly by the smell. As an internal bathroom with no windows, it was just a little on the fusty side. If an air freshener could be popped in here it would make all the difference. Smelly bathrooms are just not pleasant.
There was a shower over quite a narrow bathtub, a sink and a toilet in the bathroom. The bathroom would also benefit from a small waste bin and a non slip mat in the bath.  Getting in and out of the shower proved a little on the slippy side. Perhaps it's just my age, but the thought of coming a cropper on a fully tiled floor after a shower doesn't fill me with a great deal of joy.  Towels and toiletries were provided for us also, so you don't have to bring your own.
The living room was very well presented and the space available was well used. The kitchen area was well equipped with a fridge freezer, dishwasher, kettle, toaster, cooker and microwave.  There was a washing machine in the utility cupboard down the corridor too. Kitchen equipment, plates and cutlery were also provided.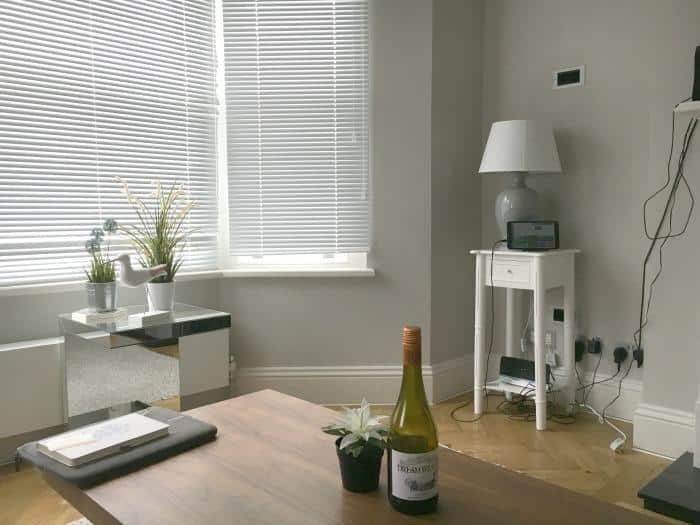 There was a large sofa, which also turns into a bed to allow the apartment to sleep 6. The sofa was more than comfortable for the two of us to relax on after a busy day, but I couldn't see 6 people sitting on it any time soon. If there were more people staying in the apartment some people might end up using the dining chairs to sit on.
The serviced apartment in Baron's Court had wifi available and a TV with English channels only.  There was no BBC One though, which I thought was a little odd.  It's something we noticed as we were interested in the news after the EU Referendum result had been announced.
For the two of us, the living space was very comfortable. After a busy day travelling or at Britmums Live it was the perfect place to unwind and relax before getting a good nights sleep.  The property was on a really quiet street in the thick of London's suburbia, which was great for leaving all the hustle and bustle of the capital behind.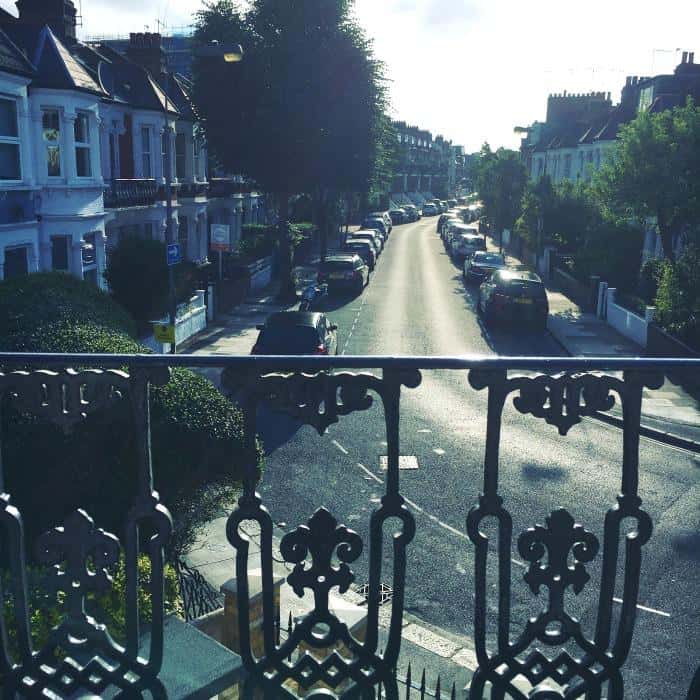 I really enjoyed our weekend in this apartment and would happily stay with FG Properties again on a short break in London with friends. With a few minor tweaks this apartment would have been the perfect accommodation for a short London break.  I also think that it would make a great option for a short family break to the city, but I would perhaps look for a slightly different location where the nearby tube had lift access and there was a ground floor property available.  If your children are older than mine, then this probably wouldn't be an issue.
Pin For Later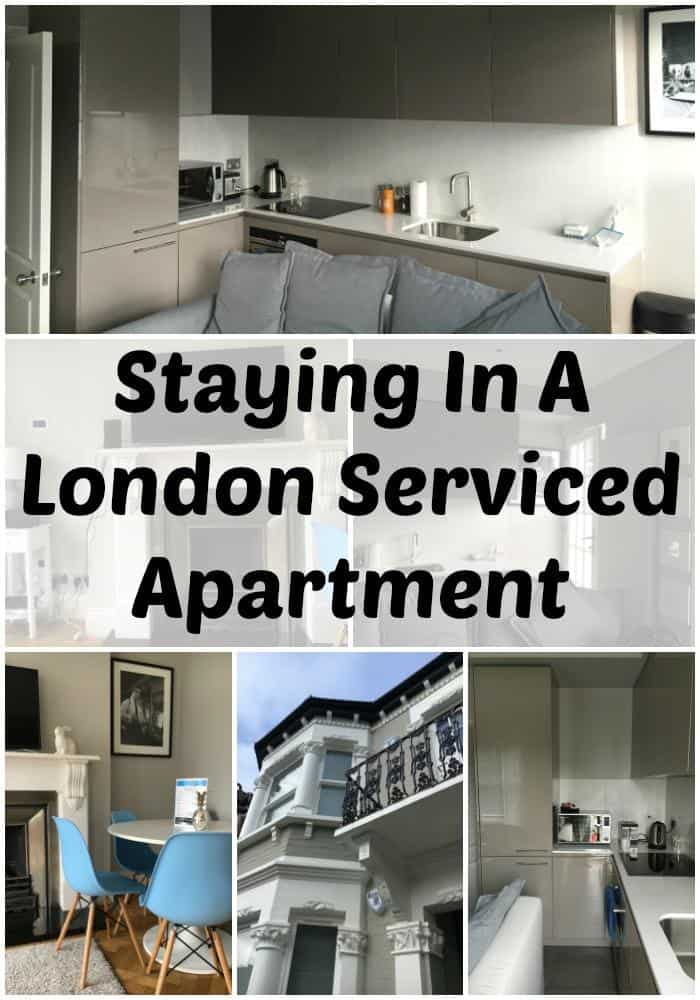 We were provided with a 2 night complimentary stay with FG Properties in return for our honest review, but all thoughts and opinions are our own.