Lands' End UK are very much a new brand to me, but they have made a very big impression.  I recently attended their headquarters in Oakham with a group of bloggers to find out more about them, and I really liked what I learned.  Lands' End UK are certainly going to be featuring in my family's wardrobe for many years to come.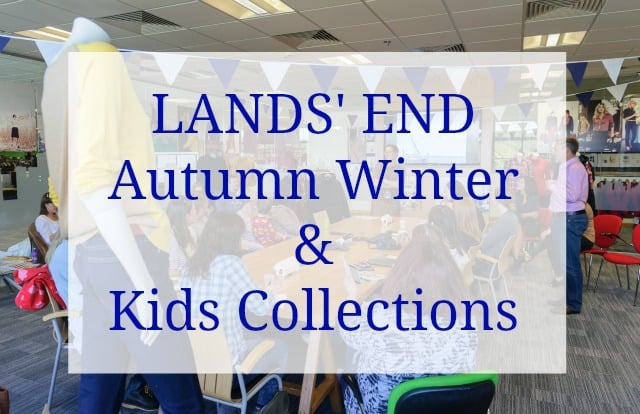 My daughter and I arrived a little bit early for the event so we took the opportunity to take a look around the Lands' End Outlet Shop.  Immediately my daughter was impressed with what she saw and was choosing dresses and shoes for her wardrobe wish list.  I could see why, the products are lovely, and excellent quality.  I could have quite easily kitted her out in a new wardrobe from the ranges on offer.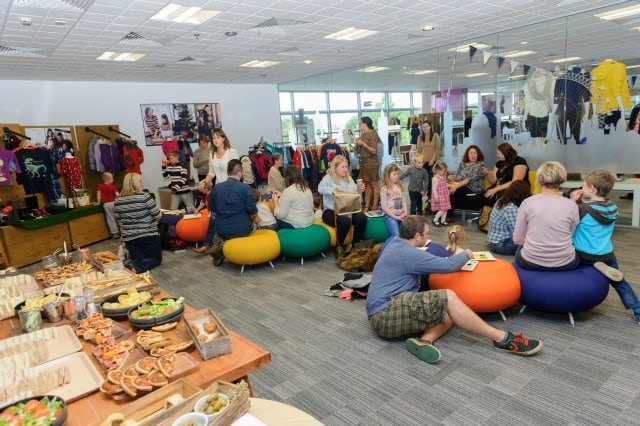 Lands' End gave us an amazing welcome when the event started.  We were escorted into their head office and told to make ourselves comfortable.  We got to know lots of the Lands' End UK team, and couldn't wait to find out about their Autumn/Winter and Kids collections.
There were cakes, lots of cakes and they were very good cakes indeed.  You'll always make a good impression on a blogger with cakes, my daughter was pretty impressed too and had to try all of them!  Not all these of course!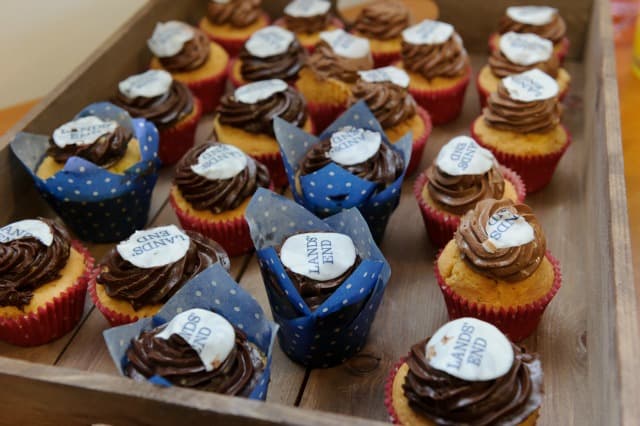 When everyone had arrived it was time for lunch, just what was needed to wash down all that cake.  We got to relax and chat with our friends and the Lands' End Team before getting to know more about the brand and what was coming this season.
After refuelling the children were all invited to go to the party room that Lands' End had provided for them.  This was fun central, and the kids got to do face painting, watch films, play Connect 4, Jenga and the Wii.
There were more balloons than you could shake a stick at and it was a huge hit.  My daughter settled herself down at the craft table to make some pictures for me while I went to find out more about the clothes.  She had a great time with the other children and the Lands' End Team, while we were getting an over view of the brand.
Brief History Of Lands' End
Lands' End was started in the US back in 1963 by it's founder Gary Comer, and they have a history of making great quality clothing that lasts.
They have no connection to our own Lands' End in Cornwall sadly, but originated out of the founder's love of sailing and a desire to create high quality wet weather gear that was accessible to all it's customers.
They are a global brand with a presence in the US, UK, Japan, Germany, France and Canada but also despatch their ranges internationally.
Customers buy their clothes again and again because they know they last, and they know what they are getting with Lands' End.  I loved the quote the Marketing Director shared with me about the Lands' End coats.  She told me they are called 'the 5 child coat' in America because they are literally handed down through an entire family.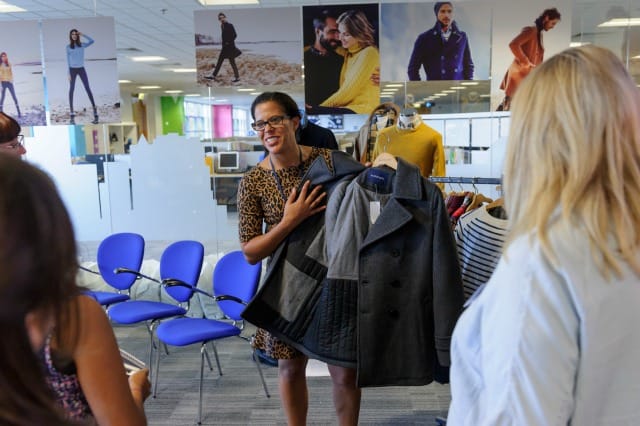 They were the first UK company to offer their customers a free 0800 number to contact them and they provide a life time guarantee on all of their ranges. If you are not happy at any time, you can simply return it.
Lands' End Autumn/Winter Collection
The thing that hit me about Lands' End was I could find something here for my teen, my husband and myself as well as the kids.  Lands' End offer customers a very classic style and comfort that will suit everyone.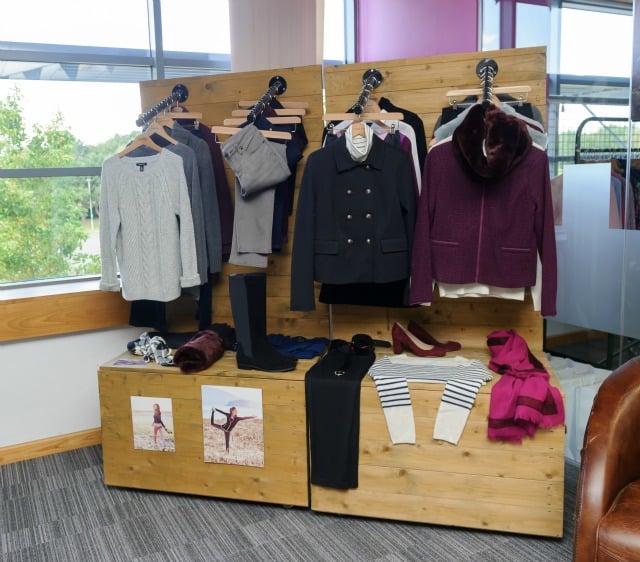 The knitwear was such lovely quality and beautiful designs.  I'm still deciding which I will be adding to my winter wardrobe, I can see me picking a few designs out to be honest.  The looks you can create with Lands' End are perfect for all sort's of occasions but certainly won't look out of place on the school run or at the park.
Lands' End is most certainly the way to keep warm this winter too.  Their outerwear is not only comfortable, stylish and lightweight but it's also designed to withstand significantly low temperatures.  There is a temperature rating given to all the jackets and coats and they have been tested in temperatures between -15c to -40c.  That's going to keep you toasty warm in January isn't it?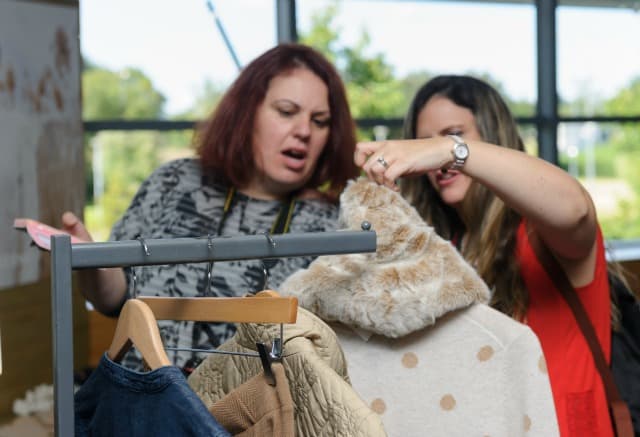 Land's End Kids Collection
We loved everything about the kids collection.  My daughter had her eye on a gorgeous red cardigan and the long sleeved tops were gorgeous, with just the right amount of sparkle to keep her happy.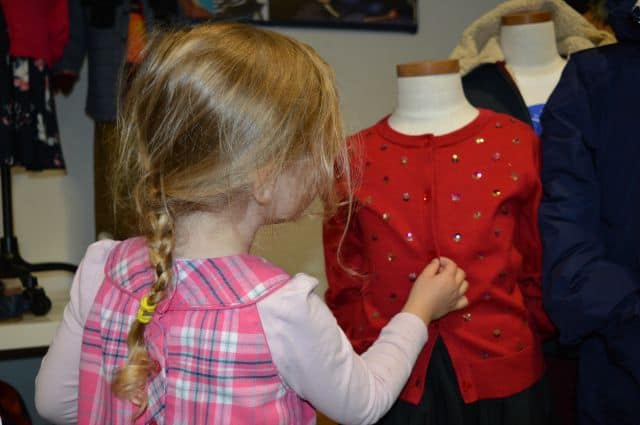 They have thought about the kids that will be wearing these clothes and appreciate that they love different things and have different personalities.  I loved the 'space girl' top, as well as the insulated packable jacket in velvet plum.
The range is perfect for kids who love the outdoors and go out walking or on park adventures with the family, whilst also looking amazing.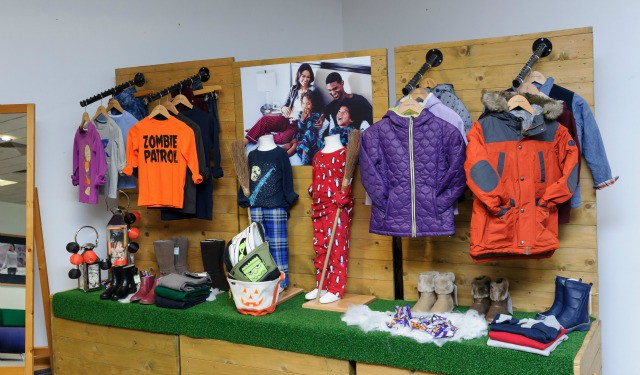 We were given the new Waterproof Squall Jacket in Raspberry Sorbet to bring home and my daughter put it on immediately.  It's super cosy, and has these cool snow guard sleeves you can tuck your hands in to keep them warm in the cold weather.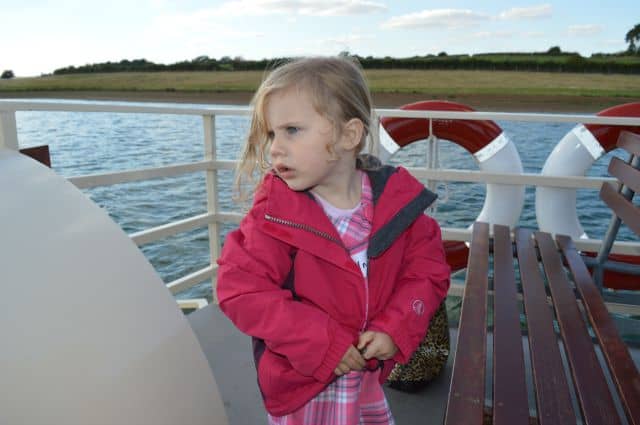 They are described as the water-wind-cold and playground proof coat that keep the wet stuff out and the kids warm.  They also have this great grow sleeve feature, so that if there is a bit of a growth spurt you can simply unpick some stitching in the sleeve and you've got yourself some extra wear out of it.  That's definitely a coat that is built to last.
Lands' End are fast becoming my 'go to' range for kiting out the kids in coats, tops, pyjamas and winter boots.
Trip To Rutland Water
I didn't think it was possible to have anymore fun, we'd already had an amazing afternoon and then we were told we were joining a coach to be taken to the beautiful Rutland Water for a courtesy boat trip.  Most apt for Lands' End's sailing roots.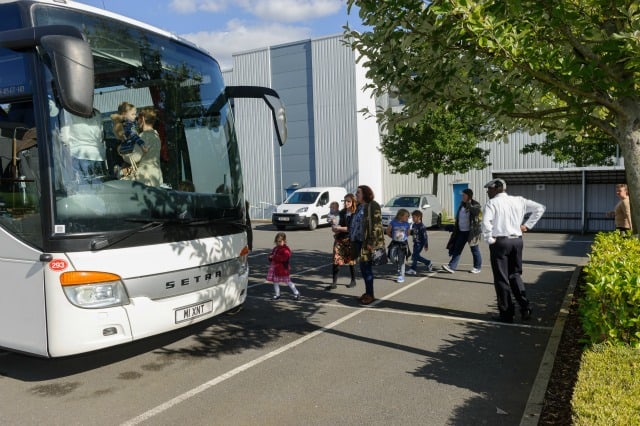 The kids were really excited and we were very lucky to get such a lovely warm afternoon in September to go out on the lake.  I have never been to Rutland Water before, so it was a lovely experience.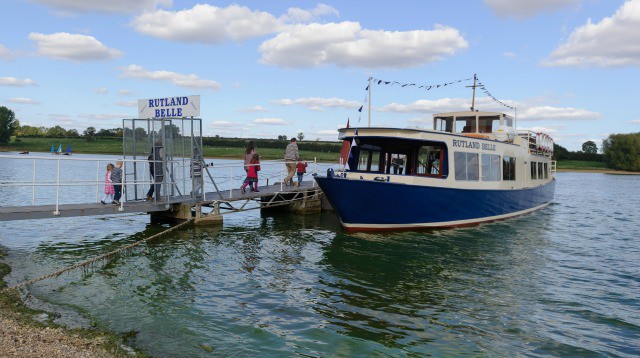 Princess had made friends with Harrison, Rachel's little boy from Parenthood Highs and Lows and they walked hand in hand onto the boat.  It was the cutest thing.  They wanted to sit next to each other for the trip too, and had a lovely time together.  It's great how these events bring these children together, and I so enjoy watching them have fun and sharing with them experiences they wouldn't have otherwise.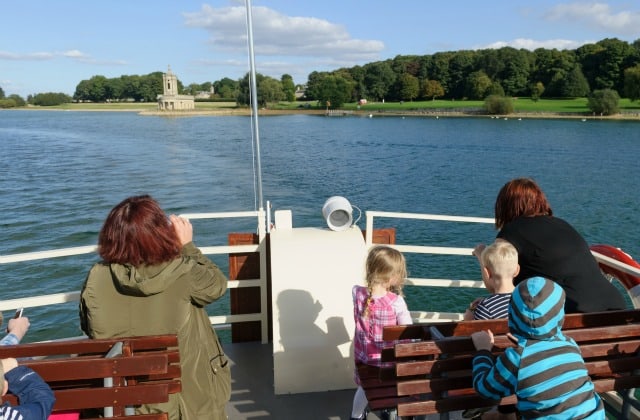 It was a beautiful afternoon and Rutland Water was the perfect place to spend it.  We all had an amazing time and even the Mummy's got to catch to catch up with their blogger friends too.
We had an amazing afternoon thanks to Lands' End and thoroughly enjoyed find out more about them.  We were gifted items during the event, but I have no regrets about sharing this brand with my readers whatsoever.  I'd love to hear from you if you have bought clothes or gifts from Lands' End and what you think of them.  I'd love to get to know what people recommend from their collections, as I am fast becoming a big fan of theirs.
Lands' End Discount Code
Not only did the lovely people at Lands' Ends provide us with an amazing afternoon, they have also provided me with an exclusive 30% discount code for my readers to enjoy before 31st October 2015.
Simply enter the discount code LESTYLE in the 'Enter Promotion Code' field on the 'shopping bag' and click 'apply'.
The offer applies to Lands' End products only.
Orders must be placed before 23.59 on Saturday 31st October 2015.
Discount will be applied where the code LESTYLE is entered correctly.
Not to be used with any other offer.
Cannot be exchanged for cash, used to purchase gift vouchers, concession items or other Lands' End services.
Cannot be redeemed against any items previously ordered or purchased from Lands' End.
 Some of the pictures have been provided by Lands' End