Halloween is fast approaching and I was just wondering how your preparations were going? Have you bought a pumpkin yet? Have you stocked up on sweets and are your decorations ready?
One of the most fun parts of Halloween is dressing up and if you haven't got the costumes sorted yet I have a great idea for helping you to design your own.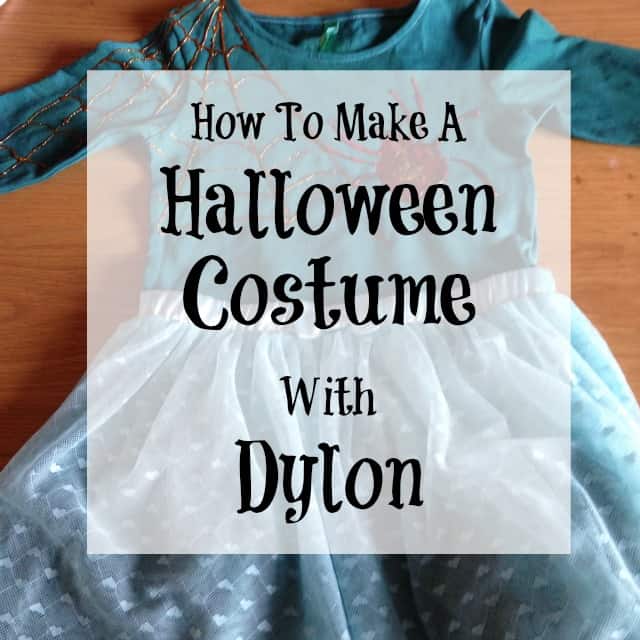 Dylon have a great range of Halloween colours perfect for designing your very own unique Halloween costume.  All you need is an old dress, maybe something from your's or your child's wardrobe or pop down to the local charity shop to see if they have anything suitable for transforming.  An old wedding or bridesmaid dress would make the perfect Halloween costume.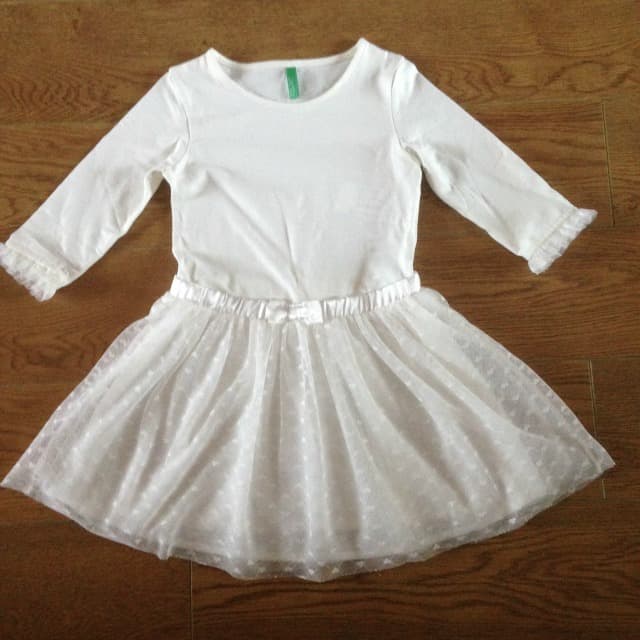 Choose The Perfect Halloween Colour
Next choose your favourite Halloween colour from the Dylon range to transform your old piece of clothing.  If you need some inspiration, take a look at one of these Halloween colours that Dylon think are perfect for this spooky night.
Emerald Green to make Wicked Ladies From Oz
Intense Violet For Spooky Witches
Velvet Black For Mysterious Cats
Tulip Red For Splattered Blood
Goldfish Orange For Perfect Pumpkins
Sunflower Yellow and Ocean Blue For Little Minions
Tropical Greens For Terrifying Frankenstiens
We chose the Emerald Green to hand dye my daughters dress.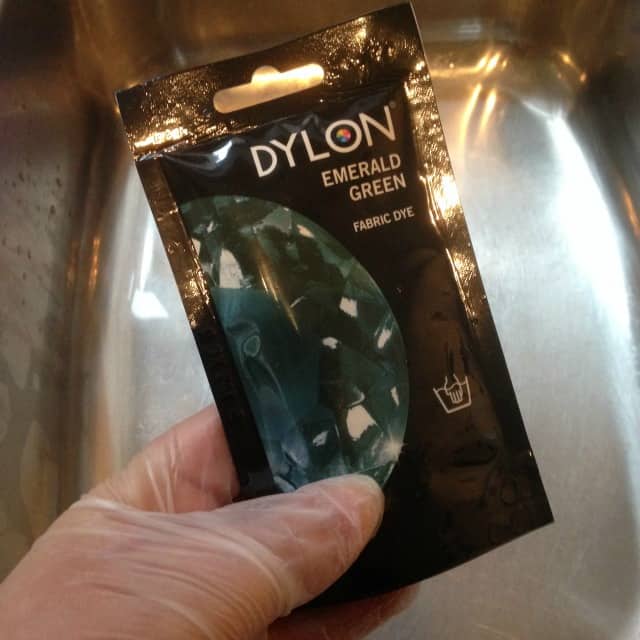 How To Hand Dye A Dress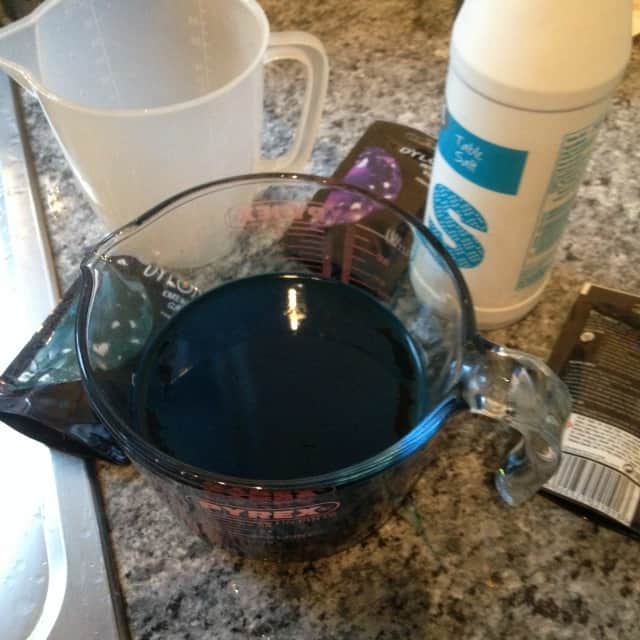 Hand dying the dress was really easy, even for me. I dissolved the dye in a jug with some warm water first.
In the stainless steel sink I added 6 litres of warm water and dissolved 10 tablespoons of salt into it.  I then mixed in the dye solution.
Then I added the dress to dye.  Simple so far, right?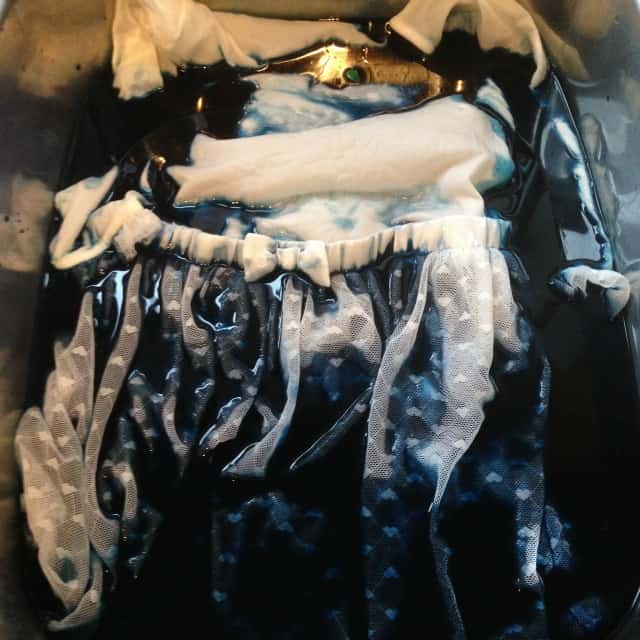 I was wearing rubber gloves for the whole process, and it really wasn't as messy as I thought it was going to be.  I mixed the dress into the solution with my hands, and it needs mixing round regularly whilst your dyeing the fabric.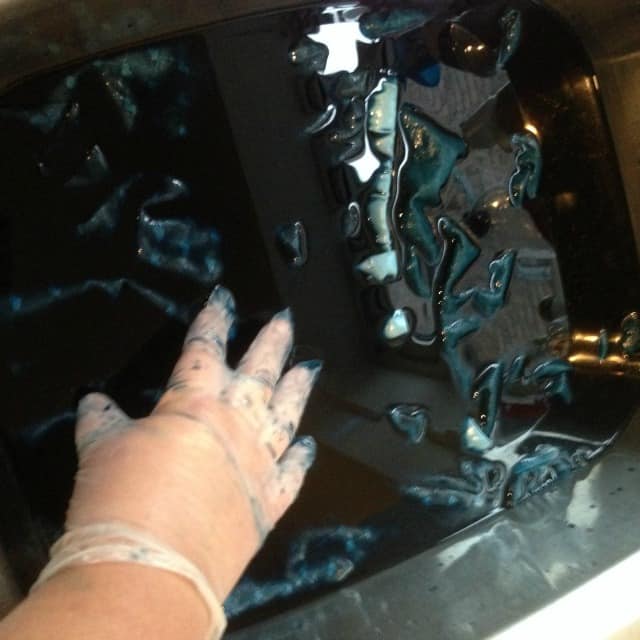 The whole process took an hour before rinsing the colour out. I then left the halloween costume to dry.
Then it was a case of adding my design with the Dylon 3D glitter pens. I used red and gold to add a spiders web and spider design.  These pens were really easy to use, even with my limited artistic talent!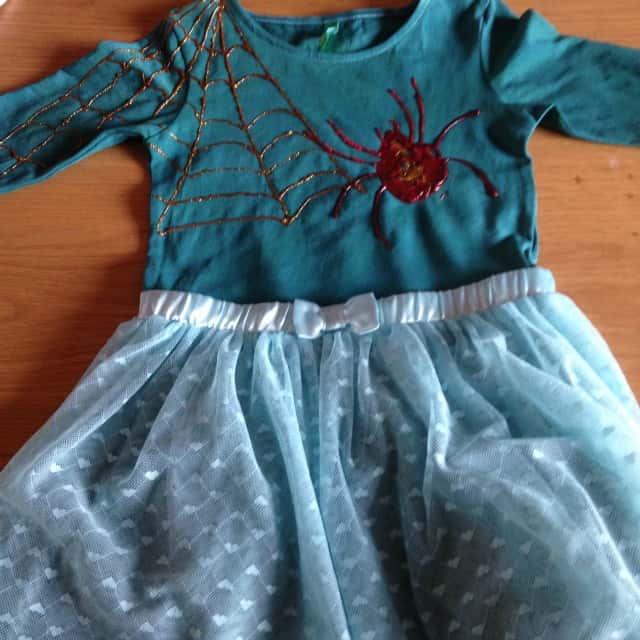 The glitter definitely needs to dry over night. If you use quite a bit of the glitter in your design I'd give it a couple of days to dry properly and keep it away from little hands.  I found this out the hard way.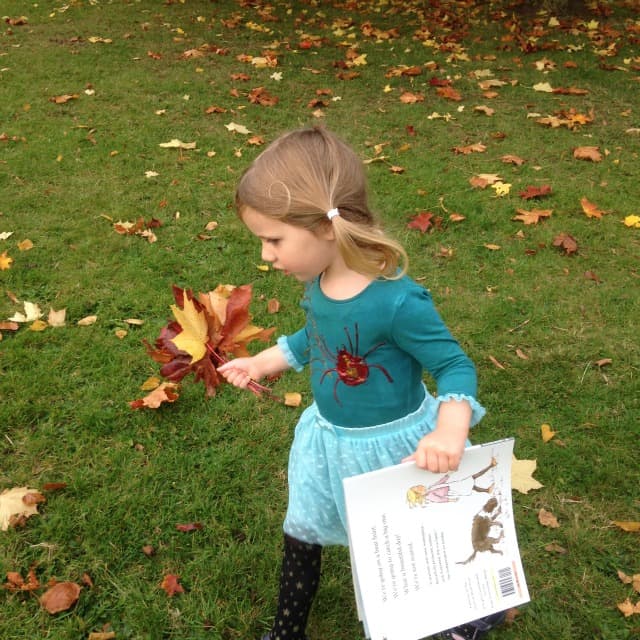 Making this Halloween costume for a girl was really easy to do and was great for recycling an old outfit. My daughter loves her new Halloween costume and cannot wait to wear it to her Halloween party.  It's much more comfortable for her to wear than a shop bought halloween costume, and she loves that Mummy made it for her.
We were provided with the materials to make this Halloween costume from Dylon in exchange for this post, but we genuinely had a lot of fun making and wearing it.