Witches Cauldrons are so closely associated with Halloween I just had to feature a children's craft for how to make one on Zena's Suitcase.  Here's last year's easy toddler witches cauldron if you want to take a peek.  This year it's all about the paper plates, as they are the perfect shape for adapting into this spooky halloween cooking pot.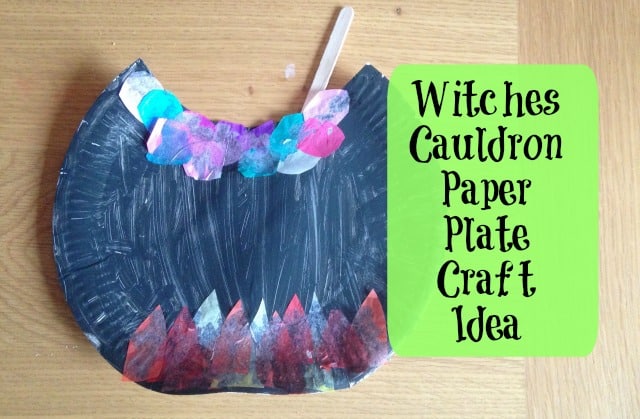 What You Will Need To Make A Witches Cauldron
A Paper Plate
Black Paint
Tissue paper
A wooden stick
Some PVA glue
Sellotape
How To Make A Witches Cauldron
First of all cut a half moon shape from the paper plate.  This will make the top of the witches cauldron.
Next, get the tissue paper shapes ready.  Cut some red, orange and yellow tissue paper into flame shapes.
Get some different colour, perhaps green, purple or similar and cut them into circle shapes.  This will be the magic potion bubbling out of the witches cauldron.
Then your child can paint the paper plate black, to make it look more like a witches cauldron.  You can get black paper plates if that's easier to manage, but I think children really enjoy painting as a craft activity.
When the paper plate has dried, it's time to add the stick used to mix the magic potion. Stick the wooden stick to the back of the paper plate so that it looks like it is coming out of the witches cauldron.
Paint a small amount of glue on the bottom of the plate where it hasn't been cut out.  Now add the tissue paper flames.
Paint some more glue around the top of the witches cauldron and stick the different coloured tissue paper circles to make the magic potion.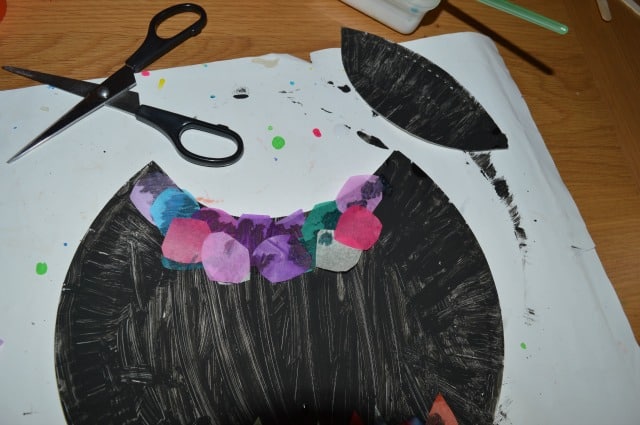 When it's all dried you will have a witches cauldron halloween decoration to add to the wall or mantlepiece in time for October 31st.  Have you entered my Nick Jr. Pumpkin Party Toy Bundle giveaway yet?  Follow the link for a chance to win this amazing prize.
Other Halloween Crafts On Zena's Suitcase:
Easy Halloween Pumpkin Lantern