Halloween is a great time to get crafty with children.  There are more opportunities to sit down and make things together, and Halloween certainly offers up lots of inspiration.  As promised in my last post about how to make easy Halloween ghost bunting I've got some more craft ideas for children suitable for this time of year.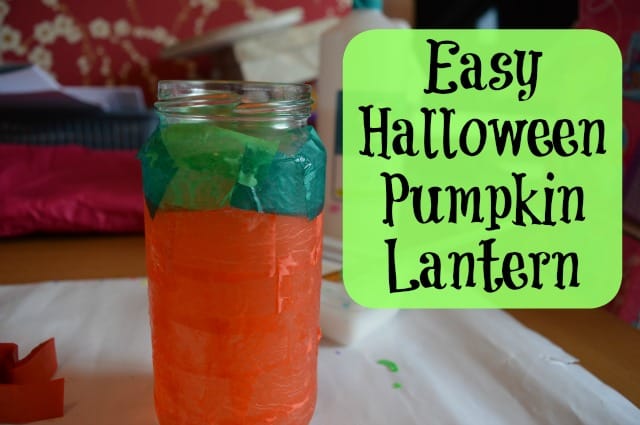 We've been making some really simple pumpkin lanterns and you'll only need a few things to get this activity under way.  It's also perfect for preschoolers and children.
What You Need To Make A Halloween Pumpkin Lantern
A Glass Jar
Orange/Green/Black tissue paper
Scissors
Black Marker Pen (optional)
PVA glue
Water
Small bowl and paint brush
How To Make A Halloween Pumpkin Lantern
Get an empty glass jar and clean it, and removing any labels from it.
In the small bowl add some PVA glue.
Add the same amount of water to the PVA glue and mix with the paint brush.
Paint the outside of the glass jar with some of the PVA/water mixture.  It just needs to be lightly covered.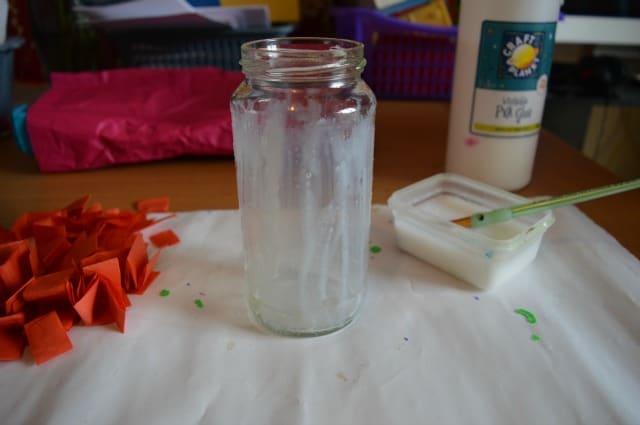 You can now stick the pieces of tissue paper to the jar.  Start at the bottom and cover with the orange tissue paper first.  Cove the jar with orange paper leaving space around the top for the green tissue paper.
When the glass jar is about 2/3's covered with orange tissue paper, start sticking the green tissue paper around the top so that the whole jar is covered.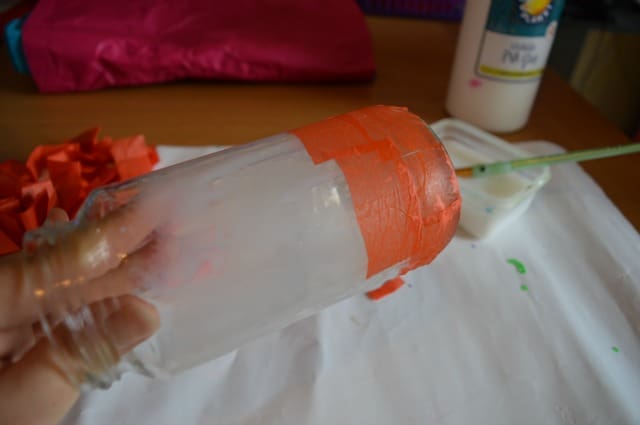 If you want to, add some black pieces of tissue paper for eyes and a mouth.  We found it easier to draw the eyes and mouth on after the glass jar had dried as tissue paper id very delicate when it gets wet.
You may need to use a bit of the PVA/water mixture to help stick the tissue paper down as you go.
Leave the decorated glass jar to dry, over night if you can.
If you haven't added your eyes and nose decorations yet, do it with a black marker or black tissue paper with a little more of the PVA solution when the jar has dried.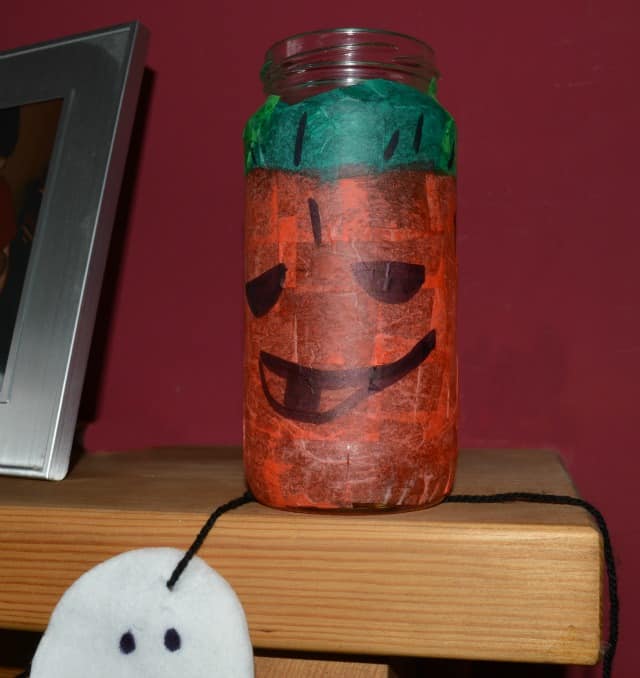 And there you have it, a super easy Halloween Pumpkin Lantern that you can use to decorate your home with for October 31st.  Add a tee light to your Halloween Pumpkin Lantern for a lovely spooky orange glow during your Pumpkin Party Celebrations.