Female facial hair is something I have inherited.  When I was a child I used to watch my Grandma pluck hair from her chin with a pair of tweezers.  I can remember watching her with that childlike curiosity you have when your young and thinking, 'I hope I don't have to do that when I grow up'.  Well, you can guess what happened next can't you…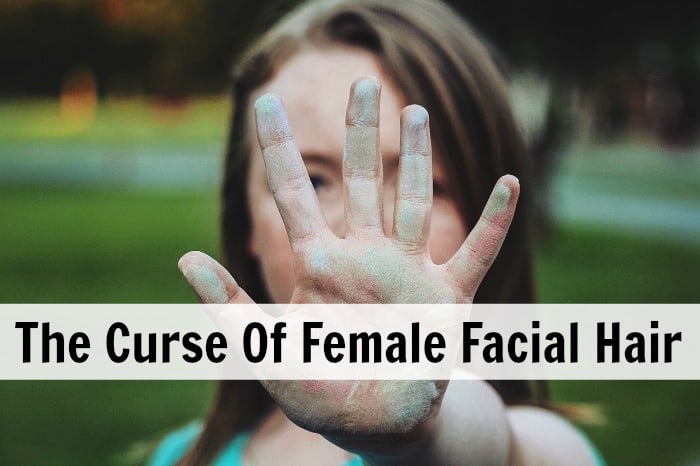 As soon as puberty hit I started to experience facial hair growing on my chin and top lip.  I also had very think eyebrows and they joined in the middle.  When I was younger I can remember people saying that if your eyebrows meet in the middle it's a sign of evil.  Of course, this is a load of rubbish but when you are young these things leave an impression on you.
My hair is really dark naturally, so the hair that grows on my face is dark too.  It's practically black so it is really noticeable.  I personally don't like it and don't feel comfortable with it, even though I wouldn't really call myself a vain person.  I don't wear make up regularly and I'm not always at the beauty counter, but my facial hair does make me really self-conscious.
From being a teenager I've tried nearly everything to try and remove my facial hair.  Some things work, and somethings really don't work.
Never Shave Female Facial Hair.
Shaving female facial hair is a real no-no.  It might seem like a quick solution but it creates a bigger problem in the long run.  Because of the way the hair has been cut and how it grows out of the skin it leaves you with dark spots as the hair is breaking through the skin. It also makes the hair thicker and darker over time.   No matter how tempting it is, female facial hair must never be shaved off.
Dyeing Female Facial Hair.
I have tried dyeing my facial hair in the past, but I don't think it works so well on olive toned skin.  My facial hair is quite think, especially on my chin and I always found that if I dyed it, it showed up almost as much as if I had left it dark.  I think that was down to my skin tone.  If my skin was lighter it might have blended in more, but for me it didn't really work.
Plucking Female Facial Hair.
I tend to pluck the hairs I get on my chin and the unwanted hair in between my eyebrows.  I also use tweezers to shape my eyebrows too.  I think a lot of women use this technique because it's accurate, safe and can be easily done at home.
As a busy Mum, I do find it rather time consuming though and fitting it into my routine can sometimes be a challenge.  The problem with using tweezers to remove facial hair is that they can grow back at all different times.  Some people find they have to use the tweezers every day to remove their facial hair.
Waxing Techniques.
I wax the hair off from my top lip as I find this is the best way to achieve a hair free smooth look.  I wax my top lip every couple of weeks and I have found that over time the hairs have become finer and less noticeable.  It's still not a perfect solution though.
Will Laser Treatment End The Curse Of Facial Hair For Good?
The reason why I dislike having facial hair so much is because it completely changes how my face looks.  When my facial hair grows the whole shape of my face seems to change.  I don't feel I look like me anymore.
When my eyebrows are shaped and my chin and top lip hair are removed I feel like I look like me again.  I don't feel more confident and happier in my own skin.
I have thought a lot over the years about using a permanent hair removal solution to deal with my facial hair and I'm giving it more and more serious consideration.  Not only will it save me a lot of time as a busy Mum, but I feel the difference it will make to me psychologically will be significant.
I think I need to get my skates on too, as these days I'm plucking or waxing more and more grey hairs from my face.  If there is anything more depressing than having grey hairs on your head, it's having them appear in your eyebrows or on your chin.  They seem to stick out like a sore thumb!
I hadn't realised until now that some colours of hair do not respond well to laser treatment.  Did you know that?  I've also just been on holiday, so I would have to wait at least 6 weeks before starting laser hair removal.  Quite a lot of grey hair can appear in 6 weeks!
I'd love to hear if you have ever tried laser hair removal and how you got on with it?  Did you find it made a difference to how you felt about yourself as well as how you looked?