Princess was recently sent the My Little Baby Born Bathing Fun Doll from Zapf to take a look at. She is a huge fan of baby dolls and gets a great deal of pleasure out of playing with them.  She has never had a Baby Born before, so I was really excited to see what she made of her.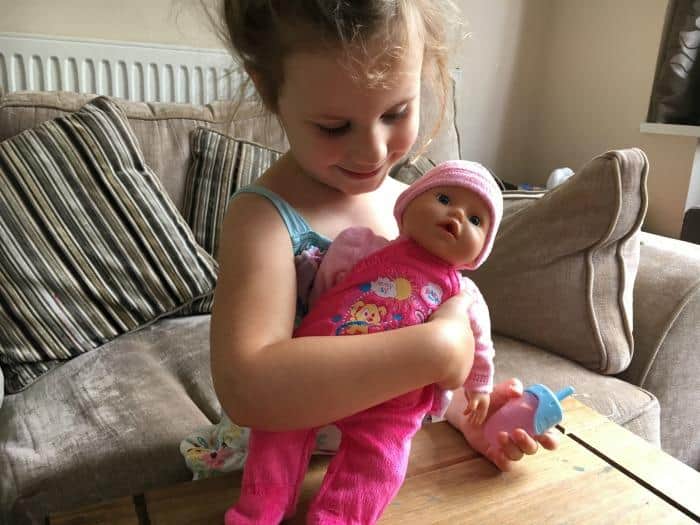 As you can see in the video the Baby Born Bathing Fun Doll was very well received by my 4 year old. She has very quickly become a favourite, and was the toy of choice at bedtime tonight.
The Baby Born Bathing Fun Doll is the perfect size for a little girl to play with, and she is flexible too which makes her feel more life like when holding and cuddling her.
We loved that you could give her actual water to drink and change her nappy. Unfortunately this did catch us slightly off guard as Princess was of course keen to give her a drink.  What we didn't realise was that Baby Born didn't come already wearing a nappy.  She didn't come with any either which was a real shame and left me feeling a little disappointed in the toy.  I would like to see the Baby Born come with at least one nappy or diaper for a child to use straight away as it's one of the key features of the doll.
Princess gave her Baby Born a drink and she literally leaked everywhere.  It wasn't the end of the world and was actually quite a good demonstration of how life like the baby doll was.  As she is the Bathing Fun Doll she could handle a bit of water and soon dried off.
My Little Baby Born Bathing Fun Doll Review
If you'd like to see how Princess got on with her My Little Baby Born Bathing Fun Doll take a peak at the video below.  She was definitely a big hit with her.
From a parent point of view, I would say this is a lovely doll, with some cute features and easy for a child to play with.  I'd like to see this doll supplied with some nappies so that a child can get her out of the box and play with her straight away.  We haven't tried her in the bath yet, but I can see Princess wanting to take her in for a splash with her very soon.
We were sent the My Little Baby Born Bathing Fun Doll for the purposes of this review but all thoughts and opinions are our own. 
Pin For Later