The summer holidays are now in full swing and keeping the kids busy is probably the easiest way to keep everyone in the family happy over the summer.  Having just come back from our holiday it's now about finding day to day activities that will keep my girls happy.  I think that anyone that has siblings who are close together in age will probably experience some challenges through the summer holidays.  My daughters clash regularly and if I'm honest, I find it really difficult as a parent to deal with.
I've found it's about having strategies in place and getting the girls outdoors as much as possible seems to diffuse most situations.  They enjoy running around and playing games together, and it's also great exercise for them.  They have so much energy to burn that playing games and sport outdoors is definitely the best way stop emotions running high.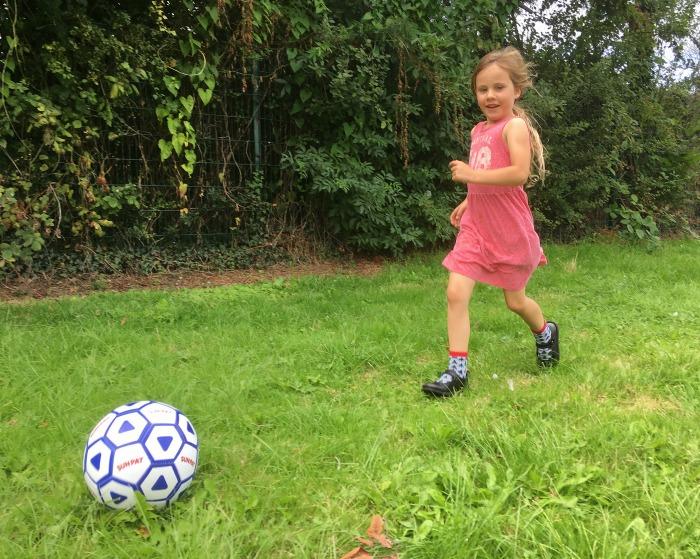 Sun-Pat know how important it is to us parents to keep the kids busy over the summer.  Being active and having fun is so good for their health and well being, and it's also a great way for a family to enjoy quality time together.  Sun-Pat sent us a sports kit to help us out this holiday, and it's been a great way to get the girls to have fun together and enjoy being outdoors even more.
We were having one of those mornings, where Mum had a few chores to do and the kids just didn't seem to be getting on in the house.  I became a referee of the wrong kind, if you know what I mean.  As soon as we could, we all got in the car and took our Sun-Pat sports kit with us.  It was time to channel all that energy the girls were bottling up in the house.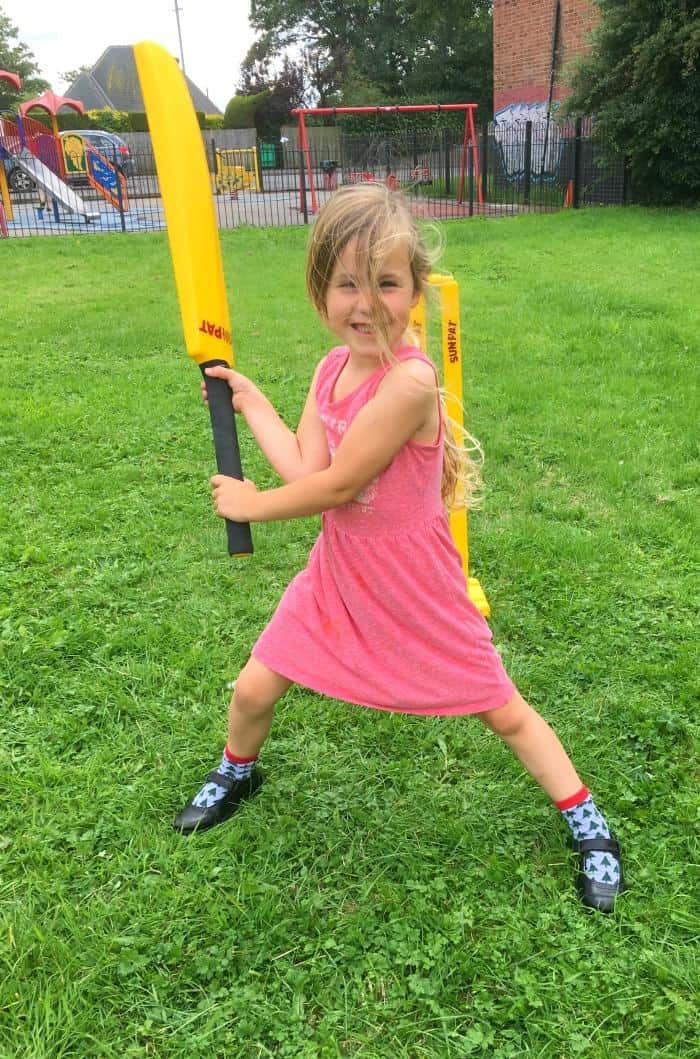 We have a lovely playing field next to our local park so we set up camp there for the afternoon.  The girls haven't really played cricket before, so they were really interested to learn how to play.  They really got the hang of hitting the ball, and loved trying to hit the wickets.
Playing football really appeals to them as they can both run run super fast.  This is a skill they have developed stealing toys from one another and getting away as fast as possible, so it was nice to finally see it being put to good use.  I think we might have some keen football players in the making here.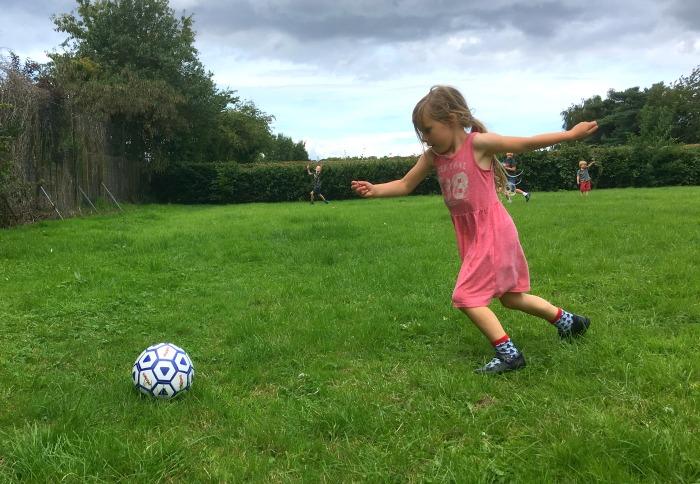 After a really active session chasing balls and hitting wickets, they wanted to go and play in the park.  We kept with the theme of learning new skills and I taught them how to play hopscotch.  Part of their competitive nature seems to be about having mine or Daddy's attention.  I'm sure a lot of parents can relate to this in some way or another.  Playing games like cricket or football, or showing them how to play something like hopscotch is away of making sure everyone receives the same amount of attention in a constructive and positive way.  It definitely helps keep these girls happy anyway.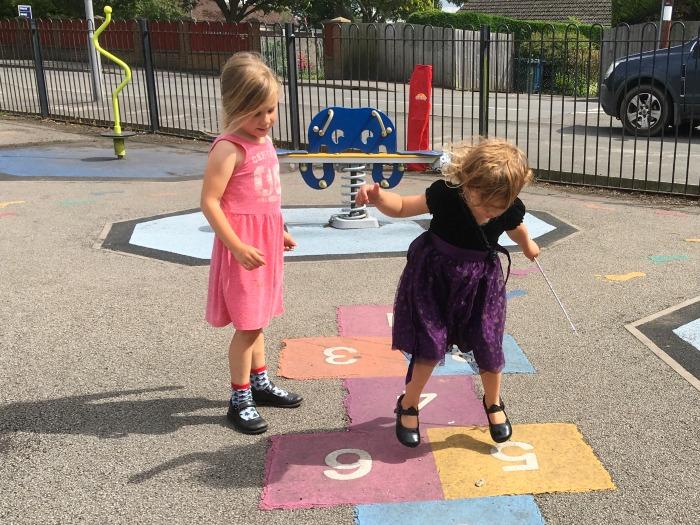 If you need a hand keeping your children busy this school holidays then Sun-Pat Fuelling Families could be just the thing you need to help you out.  First off, head over to the website and download the Sun-Pat Fuelling Families guide that is packed full of active and creative ideas to keep everyone busy this summer.  There are 42 cheap or free ideas to help you out, one for each day of the school holidays!
Sun-Pat are also giving families the chance to win one of 420 sports kits to help keep the kids active and healthy this summer.  Each sports kit contains a football, skipping rope and a cricket set all sorted inside a handy carry bag.  All you need to do is enter via the website or visit the Facebook page for a chance to win.
How do you keep the children busy in the summer holidays?  Please share your ideas in the comments below to help other parents looking for inspiration this summer.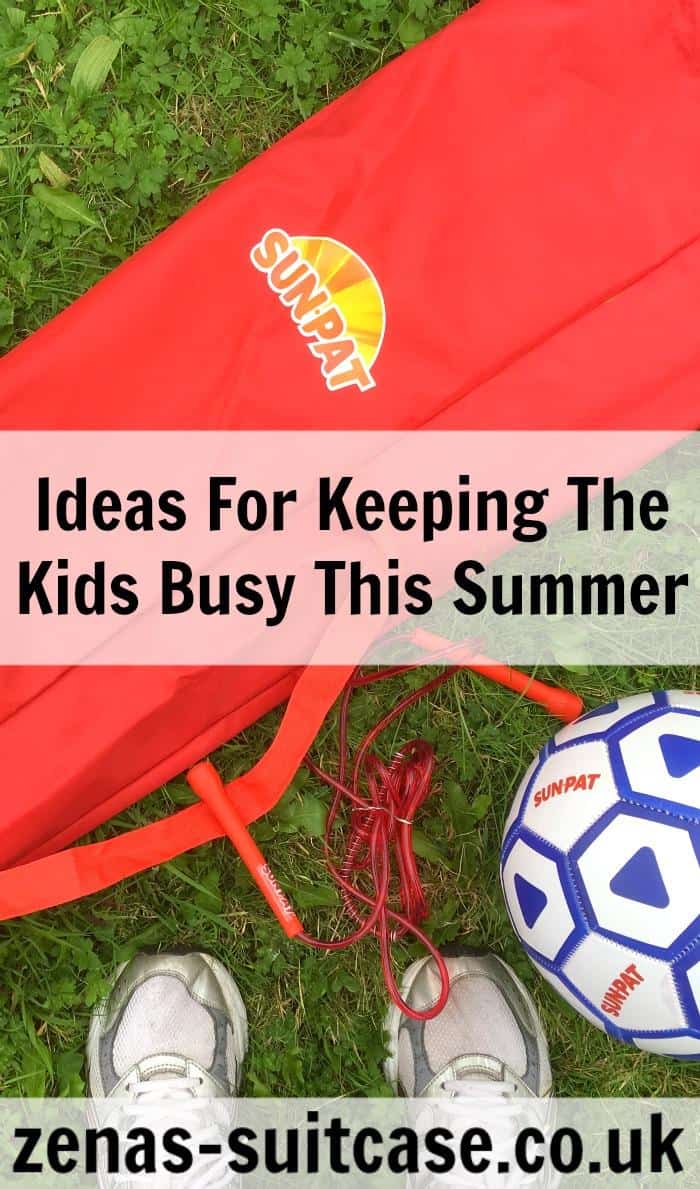 This post was written in collaboration with Sun-Pat Fuelling Families