This week I became 37 weeks pregnant.  Woohoo! Doing the Full Term Pregnancy Shuffle right now!  There have been times when I have really worried about getting this far.  I've had a tough time unfortunately, which has robbed me in part of being able to feel happy and relaxed about this pregnancy.  Physically, my body has struggled, suffering from pelvic girdle pain from 14 weeks and feeling like death in the early months.  I also experienced a great deal of stress that I was just too sensitive to cope with being a hormonal pregnant lady.  How all this came about is another story entirely which I won't go into here, but trust me when I say I am not in a very forgiving mood.
Anyway, enough of that!  I'm here, 37 weeks pregnant, and instinctively I feel that things are going to be OK.  We're full term, that's such a huge deal.  The lungs are developed, baby should be healthy born from this point on, so little lady, please feel free to make your appearance any time from now! Right now! Yes, NOW! Oh OK, on with the post then….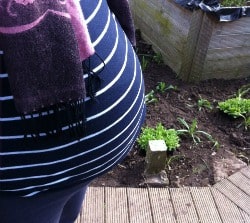 Despite the hard journey I've had this time round, I can look back now and say I have been lucky enough to experience some great care from Nottingham City Hospital, my Community Midwife Team in Rushcliffe and my Doctor.  Without it I think I would have been very poorly indeed, and who know's what effect that would have had on the baby, me and my family.
The issues I experienced resulted in bouts of pre-natal depression with excessive crying, low mood, lack of sleep to name but a few of the symptoms.  This is such a difficult thing to admit, as I'm sure some of you out there will agree.  It knocked my sideways to be honest and I struggle to admit it even now.  I've been left feeling like a shadow of my former self and the issues that have come with it that have not only impacted on me, but my family too.
My midwife knew something was up and after a routine appointment she insisted I did not leave the surgery until I'd seen the Doctor.  I was seen within 20 minutes.  The Doctor was great.  He listened to what had been happening and began monitoring me from there on in.  We decided against anti-depressants which I'm hugely grateful for, but my well being needed to be monitored regularly.
After discussing with him the Pelvic Girdle Pain I was experiencing, which was getting worse, he urged me to go back to my Midwife.  I didn't think a lot could be done about it, but I thought I'd best give it a go. If I didn't try and help myself, who else was going to be able to help me?  This resulted in a referral to the Physiotherapy Dept and access to an Antenatal Exercise Class designed for women experiencing pain in pregnancy.  I can't tell you how much this helped manage my symptoms.  It was great knowing you were in safe hands doing exercises that took your specific needs into account.  I've only just stopped going as it's a bit too much now, but it really did help.
My Doctor and Midwife have kept in contact when needed so that my care is consistent.  My Midwife increased our routine appointments to keep an eye on things which has also helped.  I've been in touch with the Community Midwife Team from time to time to get telephone support and everyone has been so helpful and given great advice.
I've had another Glucose Tolerance Test this week.  I know many of you out there are like me and don't enjoy this one.  I'd have rather gone into labour than go to hospital for it.  It has to be done though, and it seems that I'm still OK, so that's a relief.  Better be safe than sorry at the end of the day.
There have been times when not all my care has been quite perfect, but it's not been the end of the world by any stretch of the imagination.  I understand the strain NHS Maternity Services are under and it's nothing that has been detrimental to my well being at the end of the day.  The positive impact they have had, far out weighs the odd thing that didn't go quite right.
The Midwives, Doctor and Hospital have helped me a lot when it comes to the issues I've experienced this time round.  I don't know what would have happened if they hadn't of been there to help me along this difficult journey.  So this is by way of thanks, I'm hugely grateful for the care I've received and it's really made a huge difference to me and my baby.  Good Maternity care and well trained consistent Midwives make such a difference to the pregnancy experience especially when things aren't going so well.  If your reading this and your suffering with any of the issues I've described above, talk to your Midwife or Doctor, it could make a huge difference. #MyPostivePregancy #TeamMama