This year I have to be organised, baby is due on May 20th so we are likely to be really busy around  Father's Day, and possibly a little bit tired.  What do you reckon?  My teen will be in the middle of his GCSE's and as Father's Day looms closer, and we'll have less and less time to think about it.
As I'm 37 weeks pregnant, walking round the shops is as about as achievable as climbing Mount Everest, so I am relying on some handy on-line bargain hunting to cover all our Father's Day gift requirements.  I've set a budget of £20, and I'm determined that there won't be a No.1 Dad sock in sight!
My Husband is a particular difficult fish to buy for as well.   Some men just are, aren't they?  He's not sporty, doesn't like fashion and his main hobby is his love of computers.  He's one of those men that if he needs something he'll just go and buy it without a thought for whether there is a birthday or occasion coming up so he could ask for it as a gift.  He's just not the fussy type.  If you have a man like this, this could be just the list you need.  All these Father's Day gift idea's are under £20 but are ideal for any self respecting Geek Dad with a sense of humour!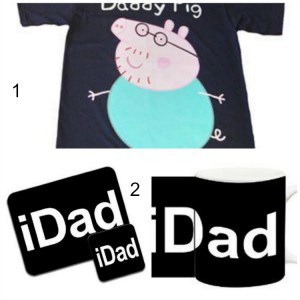 1. Daddy Pig T Shirt from Peppa Pig World £16.99
2. I love these iDad Mouse Mat and Coaster for only £5.99, and if you get the iDad Mug to match for £5.95 it's still less than £20!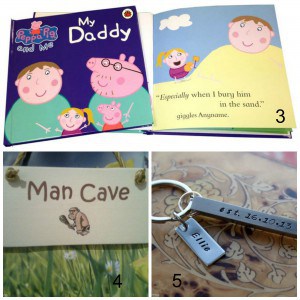 3. I had to include the My Daddy Peppa Pig personalised book from Penwizard at £14.99.  We bought this for Princess's Birthday, but it would make equally as good Father's Day gift.  All Dad's will melt getting this from their little Princess.
4. If you've read my tips for Understanding Your Husband you'll get the Man Cave plaque.  This is on Ebay with a starting bid of £0.99!  Get in early for this fab little fun gift.  Your Caveman Dad will love it.
5.  This has to be my favourite.  I love this no fuss key ring which any Dad would be proud of.  From £13.49 I think it would make a great gift.  I'm going to wait for No. 2 daughter to arrive and then place my order.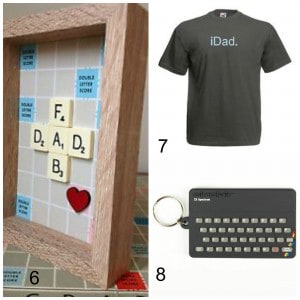 6.  This cute reclaimed scrabble plaque caught my eye.  There's a range of them for everyone in the family and starting from £5.00 who could go wrong!
7.  I had to include the iDad T-shirt, but will confess we already have one as well as an iBrother T-Shirt for the Teen.  They go down really well and only cost £10.99.
8.  If your Daddy remembers the Sinclair ZX Spectrum this key ring is a great little gift at only £2.99 with free p&p too!
I like the idea of having a few small gifts, so this year we'll be making up a little parcel of a few of these items, and hopefully we will have a very happy Daddy indeed.  If you have any great gift ideas please share them in the comments below.
If you follow a link and the auction has ended, do contact the seller as the item is likely to still be available.
I have received no compensation for writing this post.