My 16 year old teen has a Samsung Galaxy S3 Mini on contract which I treated him to for his birthday.  He is never far from his phone, it's definitely one of his most prized possessions after his desktop. You know what teens are like though, those hormones can make them a bit dreamy, and he lost the headphones for the phone in a record 24 hours! I was not a happy Mummy I can tell you!
When MobileMadhouse contacted me asking if I would review a case for them, it seemed perfect for us as Teen doesn't have a cover for his phone and having a bit more protection would make me feel a little easier about this phone lasting him a while.  They don't mean to break things, but they can just get a bit thoughtless from time to time can't they!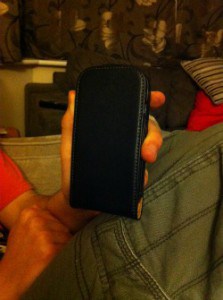 Teen picked the Samsung Galaxy S3 Mini Black Real Leather Flip Case which you can see in the picture above.  He's not really into branding so the simple design really suited him.  I liked it as it provided the phone with full protection so we agreed this is what we would pick.
The phone fitted into the case a treat.  The quality of the case is excellent with the stitching being exceptionally well done.  He's been using the cover for a few weeks now and there are no signs yet of wear and tear.  He has used the case constantly since it arrived.
He likes that it opens really easily as it has a magnetic catch and he can prop the phone up to watch videos over breakfast!  Not it's intended use, but he appreciates this a lot.  It's not allowed at dinner time though.  The case has good access for the charger and his headphones too.  Call me a mug but I bought him another pair for his Christmas stocking.
Overall we are really happy with the phone case from MobileMadhouse.  I received the phone case in exchange for this post, but I have no regrets about providing this review because of the design and quality of the product.  It's also reasonably priced to at £9.95 with free UK delivery.