Hasn't it been a funny old summer.  The weather seems to have a complete mind of it's own leaving us confused about what to wear and how to spend our free time.  The sunny days are even more precious than normal as you don't know when the heavens are going to open again.  Despite the unpredictable weather, I really hope you are all making the most of the holiday season and enjoying many family memories together.
There have been lots of new products come my way this summer, and I wanted to share with you the things I have been enjoying this August.  Some are new to the market, and some are tried and tested favourites that I use every year.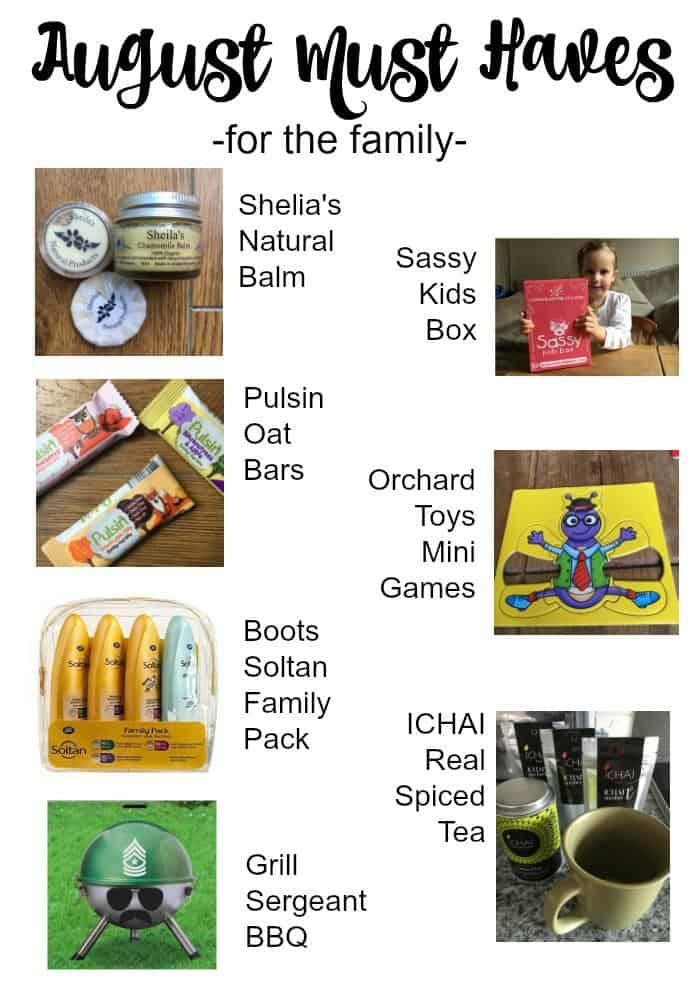 Grill Seargent BBQ
We love the Grill Sergeant BBQ from Paladone.  It's a portable fun BBQ perfect for days out, camping  and festivals.  We really enjoy summer BBQ's when the weather allows. This is perfect for being able to grab those precious moments of sunshine and enjoy a burger and a beer whilst enjoying the garden or the outdoors.  I love that it is on a stand and doesn't burn the grass if you are using it in a field or in the garden.
The Grill Seargent BBQ is available from Amazon priced £23.99.
Boots Soltan Family Pack
Boots Soltan Family Pack is a product that's been around a few years now, and it's one of my favourite sun cream sets for taking on holiday as it has everything we need.  The pack contains a kids 50+ lotion, a 30 and 15 protect & moisturise sun care lotion and an aftersun cream for when Daddy gets burnt.
Boots Soltan range provide the best coverage against UVA rays, that are responsible for deeper down skin damage and sun ageing.  So as well as an SPF rating, their products also carry a 5* rating for UVA protection, for extra peace of mind.
Boots Soltan Family Pack is available online or in store priced £14.00.
Sassy Kids Box
Princess received a Sassy Kids Box to take a look at.  This is a monthly subscription service for 3-8 year olds and is perfect for rainy day activities.  The box had a sports theme, perfect for Olympics season.  We had a lot of fun with the games and activities, and really enjoyed the way they incorporated popcorn into the box.  It's something I would never have thought of using, and has given us lots of inspiration.
The Sassy Kids Box Subscription is available online and the first box is is half price.  All subsequent boxes are £3.99 + pp delivered fortnightly.
Pulsin Oat Bars
Pulsin Oat Bars are a new handy snack that fit perfectly into a handbag or school bag.  I'm always on the look out for a healthy snack alternative that will satisfy my kids sweet tooth, but isn't a chocolate bar.  Pulsin Oat Bars come in a variety of flavours including Blackcurrant & Apple, Strawberry or Orange Choc Chip.
They are gluten, dairy and soya free so perfect if your little ones suffer with any allergies or food intolerances.  They also don't contain any genetically modified ingredients, which I always find really comforting to read.  They are a tasty little snack that provide a nice little every boost at just the right point in the day when hunger strikes and kids get a little grumpy.
Pulsin Oat Bars are available from selected leading retailers for £2.99 for a box of 6
ICHAI Real Spiced Tea
I have been really late to the Chai tea party if I'm honest, as I don't usually drink black tea.  ICHAI have introduced me to a whole new experience in tea drinking, and I'm now a complete convert.   These loose leaf teas are a perfect daytime beverage, packed with gorgeous natural flavours.
They are warming and comforting, with their special blend of ingredients like cinnamon, cardamon, ginger or cloves.  ICHAI Real Spiced Tea is available in 8 different blends which have been expertly made for maximum flavour and aroma.  If you are a fan of chai tea, I think you will love ICHAI Real Spiced Tea.
ICHAI tea is available in 25g and 125g pouches from ICHAITea.com with half the range also available in beautifully presented 75g caddies making the ideal gift.
Sheila's Natural Products
I've also been trying out a few samples from Sheila's Natural Products.  Sheila's Chamomile Balm is one of those all round wonder creams that solves a whole manor of irritating dry skin problems and can even be used on children and babies.
This is a permanent feature in my handbag now and is great for dry and sore lips or skin.  The face cream and barrier bar for hands are also worth trying out.  These natural products don't contain any chemicals or preservatives, but get right to the job in hand.
Sheila's Natural Products are available from Janiro and prices start from £9.50.
Orchard Toys Mini Games
Orchard Toys have bought out a range of mini games perfect for travelling and family holidays.  We've been playing Build a Beetle which is a fun game for small children.  Playing games are great for helping children develop social skills like sharing and taking turns.  Playing games is also a great way to spend quality time together a family and make for a perfect holiday activity for quiet time.
The mini games are fun and small, making them perfect for packing into a suitcase or back pack.
Orchard Toys Mini Games are priced £4.99 and are available online or in good toy shops.
We were provided with the samples of the products shown above.