Can you visit Disneyland Paris in one day?  Well we certainly think so and we're here to show you how to do it with this awesome Disneyland Paris one day itinerary which is perfect for young children.  I have wanted to visit Disneyland Paris since it first opened and was called Euro Disney.  I was delighted when I got the chance to visit the park with my family recently as I'd waited a long time for this magical experience.
I was planning our Disneyland Paris day trip for weeks before we flew to France.  We were going to be guests at Holiday Inn Paris – Marne Le Vallee and flying with Air France.  If you are looking for cheap Disneyland Paris packages it's a good idea to stay outside of the park like we did for big savings on your trip.  Access to Disneyland from Paris is excellent by train, which gives you lots of hotel and accommodation options for a trip like this.
If you are taking young children to Disneyland Paris for the first time, my biggest tip is to keep your trip to the Disney park a secret for as long as you can.  We told our daughters, who are 5 and 3 years old, they were going to be visiting Disneyland for a day trip just before we got on the train to the park, and this really helped to manage their excitement levels!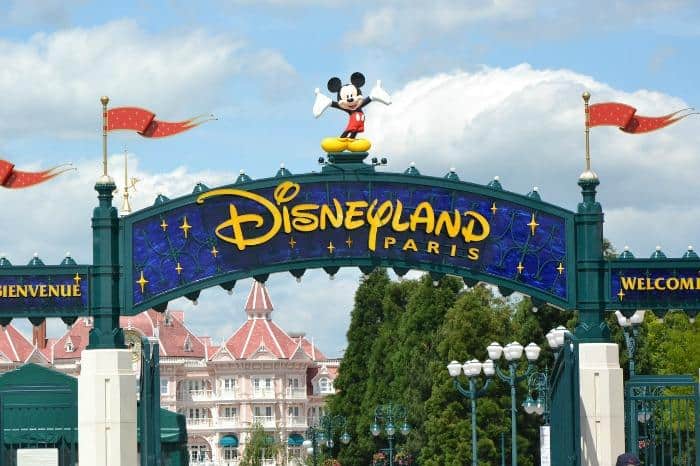 How To Get To Disneyland Paris by Train
You will need the RER A route that goes from central Paris, Charles de Gaulle Etoile station to Marne-la-Vallée — Chessy station at Disneyland Paris. To travel the entire route takes around 45 mins and trains depart approximately every 15 minutes. The adult fare is €7.60  and a child's ticket is €3.80. Trains run from around 5.30am to midnight.
One of our tips for planning your trip to Disneyland Paris is to look at a hotel like Holiday Inn Paris – Marne Le Vallee where we stayed. This is an excellent hotel to access Disneyland Paris and the city of Paris by train as the station for this route is straight across the road from the hotel.
We found it really easy to take the Disneyland Paris train with the kids and would recommend using it as a way of getting to the park if you are staying here. The hotel is about halfway between Paris and Disneyland Paris which is another reason it's a great choice for families.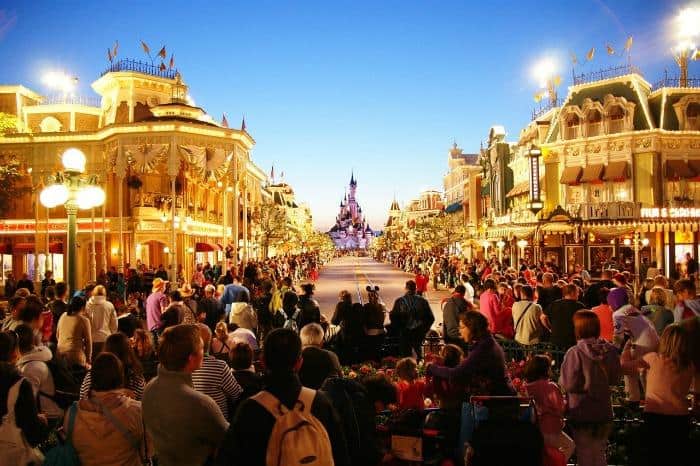 Disneyland Paris One Day Itinerary
My next big tip is to use the Disneyland Paris app to help plan your Disneyland Paris day trip.  It's a great Disney Land Paris guide packed with useful information like a map of the park, wait times for rides and information on the different dining options.  All really useful information to have for visiting Disneyland Paris with toddlers.
The plan I put together to visit Disneyland Paris for our 3 and 5 year old daughters was based on their favourite Disney characters.  I also considered how long the kids would be happy to wait for the rides.  The other important factor was that we only had in Disneyland Paris for the day.
We were also able to check which rides were open on the day we were visiting Disneyland Paris so that we weren't going to be disappointed.  We also took into account the location of the rides so that we were not wasting time wondering all over the Disney park with two small children.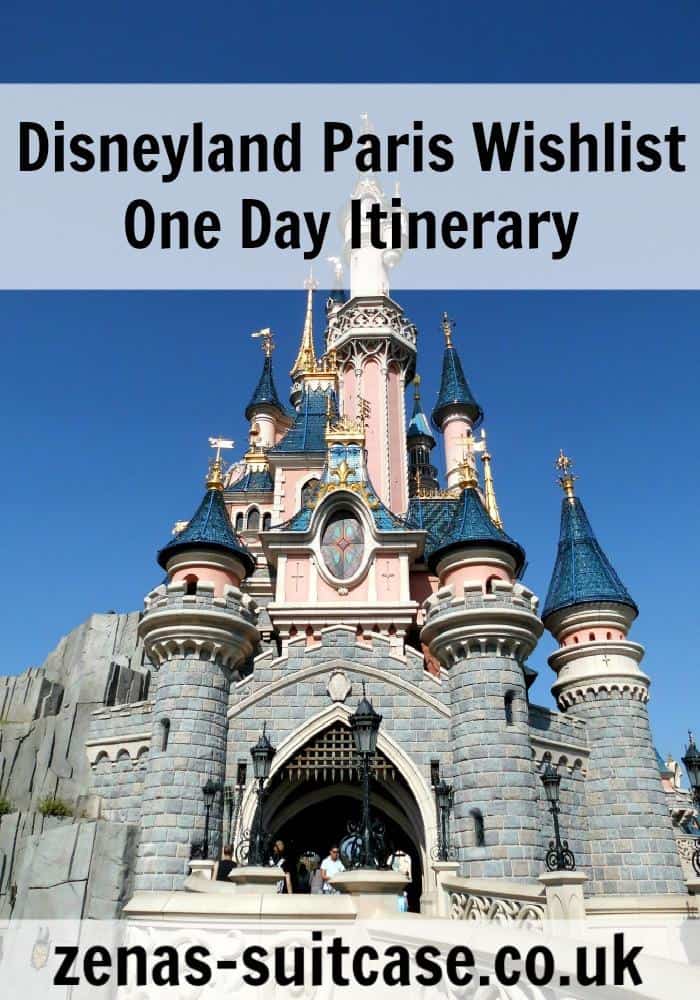 Disneyland Paris One Day Guide
For our day trip to Disneyland Paris this is the exact itinerary we followed which we feat worked well with our children.  We spent a lot of time in Fantasyland as this area of the park had the best rides for young children and toddlers.  Do bear in mind there are lots of Disneyland Paris Attractions perfect for all age groups, but you might find yourself drawn to a different area of the park during your visit.
When you arrive at Disneyland Paris head to Main St USA to explore the Discovery and Liberty Arcades
Next head to Discoveryland and check out Autopia (ride) –  If you have a Star Wars fan in your group, this is there chance to visit those attractions
Love it or hate it, you haven't been to Disneyland Paris until you've been on 'It's a small world' (ride) in Fantasyland
Another big hit with young children is the Casey Jr. – le Petit Train du Cirque (ride)  in Fantasyland. The queue times can be quite short too.
Your next stop is Le Pays des Contes de Fées (ride) also in Fantasyland
Alice in Wonderland fans will also insist on a visit to the Mad Hatter's Tea Cups (ride) in Fantasyland
Aim to go for lunch at Disneyland Paris at 11.45am to beat the queues as wait times can escalate quickly
You will not want to miss Mickey Presents "Happy Anniversary Disneyland Paris – Fantasyland – check show times via the app to fit this into your itinerary
Alice's Curious Labyrinth (activity) – Fantasyland
Dumbo the Flying Elephant  (ride) – Fantasyland
Little girls, and even boys will love the Disney Princesses: a Royal Invitation show (check show times via the Disneyland Paris app) – Princess Pavilon, Fantasyland
Le Carrousel de Lancelot (ride) – Fantasyland
Explore Sleeping Beauty Castle (activity) – Fantasyland
Disney Stars on Parade (time 5.30pm)
This Disneyland Paris one day itinerary is particularly suited to toddlers and younger children, due to the short wait times on rides and because they are child friendly.  If you have older children, you may want to be a bit more ambitious with your choice of rides.
Where To Eat at Disneyland Paris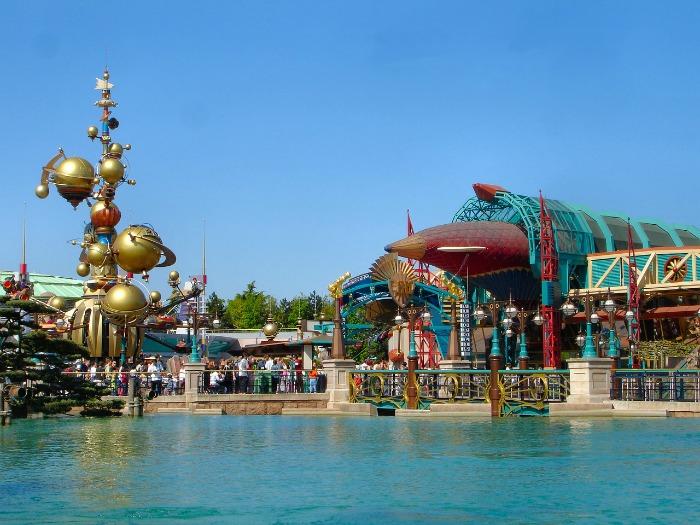 I've also thought about the different dining options available at Disneyland Paris, and have a list of places that I think are worth keeping in mind if you are only visiting the Disney park for a day.
Market House Deli, Main St USA –  £, Quick Service, Snacks
Au Chalet de la Marionnette, Fantasyland – £, Quick Service
Victoria's Home-Style Restaurant, Main Street USA – £, Quick Service, Snacks
Cable Car Bake Shop, Main St USA – £, Quick Service, Snacks
Cafe Hyperion, Discoveryland – £, Quick Service
For lots more ideas and inspiration for planning your visit to Disneyland Paris, check out these top tips from Our Bucket List Lives blog.
It's with huge thanks to Holiday Inn and Air France that we are able to share with you our experience of  visiting Disneyland Paris in one day with our children.