It's pretty safe to say that I've done a lot of packing recently.  I'm in charge of packing the suitcases for the whole family so I have to think about what Daddy and I are taking, as well as what the kids need for a happy and healthy trip.  With lots of experience of travelling with kids under my belt, I'm pretty sure I have the definitive list of what to pack for young children for your next holiday.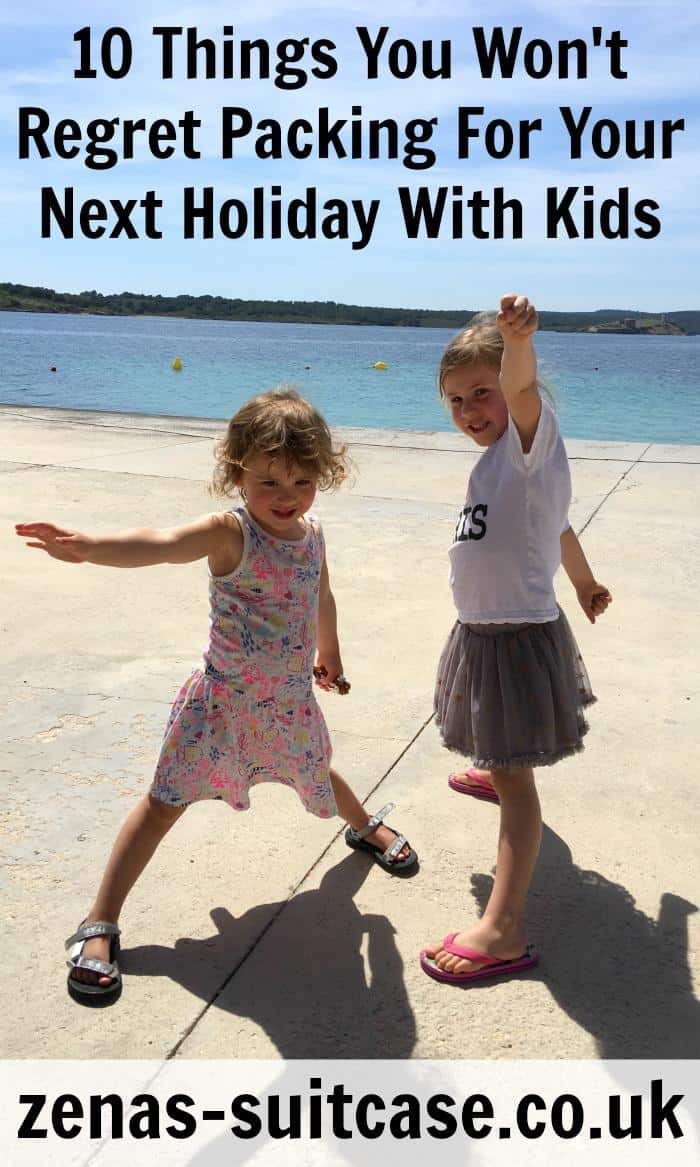 I'm not talking about the swimsuit and how many pairs of pants you need.  I'm thinking more about those travel essentials for kids that are going to make a big difference to how much they enjoy their holiday. These are the little things you might forget when your busy getting everything sorted for your trip.  With so much to think about like booking excursions, hiring the car and processing your online check in information this kids packing list is where you should come to just to tick off those little extras that can easily get forgotten.
Water Resistant Sun Cream
If your kids are anything like mine they love to be in the pool when they are on holiday.  Make sure that you are stocked up with a good, easy to apply, water resistant sun cream with a high SPF rating. You might want to have a special packet of sweets that you can use as a treat when they have applied it fully, as in my experience kids can be a little resistant to applying sun cream.  If it comes down to it though you have to be tough and no sun cream means  no pool/beach/waterpark (delete as appropriate).
Jungle Formula For Kids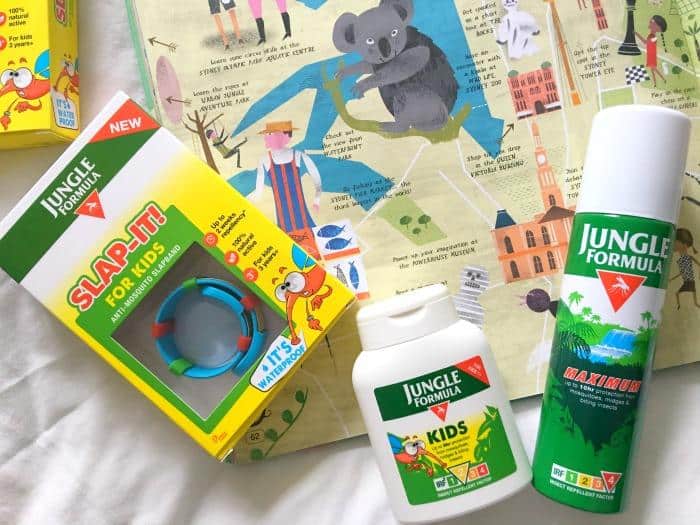 How many of you pack Jungle Formula for kids insect repellent in your suitcase?  In turns out that quite a few of us don't, with 38%* admitting to forgetting to pack insect repellent for our holidays and days out.  It's quite surprising as I know that my children get really upset when they are bitten by insects.
We hadn't taken any Jungle Formula to a summer festival we went to and our daughter got bit, but we didn't see what by.  She was quite distressed and we ended up at the first aid tent asking for some assistance. It could all have been so easily avoided if we had of used insect repellent. In a recent survey carried out by Jungle Formula 38% of kids who had been on holiday had been bitten by a mosquito and 71% of those children were clearly irritated by it.  We know as adults how horrible insect bites can be, so it's definitely something worth protecting our children from.
Drink Bottles
I've lost count of the amount of times we've gone on a trip and I've realised that I've forgotten to pack the kids regular drink cups or bottles.  I've done it enough times now to know better, as in warmer weather kids drink a lot and need to keep hydrated.  Having refillable bottles helps no end and I also find those small concentrated squash products really helpful, especially in countries that don't sell squash.
Notebook and Colouring Pens
When we are going on holiday I buy the kids a new notebook and some felt tip pens.  They go in their travel back packs and they go everywhere with us.  They use them on the plane, when we are at dinner and if they are having some downtime in the holiday accommodation.  You really don't need iPads and tablets everywhere you go and having these 2 simple things will help them with their creativity, drawing and writing.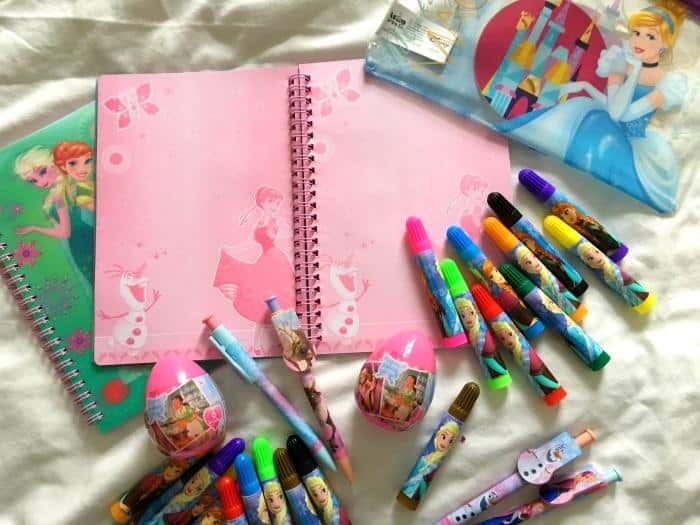 Kids Magazine with a Toy
Another treat I save for going on holiday with kids is a new magazine with a toy on the cover.  These magazines are great for travelling as they contain activities, puzzles, colouring and even stories that can be read at bedtime.  The toy always seems to be a big hit too, but as it all only costs a few pounds it doesn't matter so much if it gets lost or damaged.
Hat
We can also be guilty of forgetting to pack the sun hat, but it's another essential item kids need to help protect them from the sun.  It's worth taking them shopping and letting them choose a hat they would like so they are more likely to wear it.
Sunglasses
Should children wear sunglasses?  The answer is most definitely yes as UV exposure can damage the eyes as well as the skin.  We encourage our children to wear sunglasses as well as a hat on very bright days.  It helps to remind them that we wear our sunglasses to help keep our eyes safe too.  Sunglasses for kids is very much a travel essential.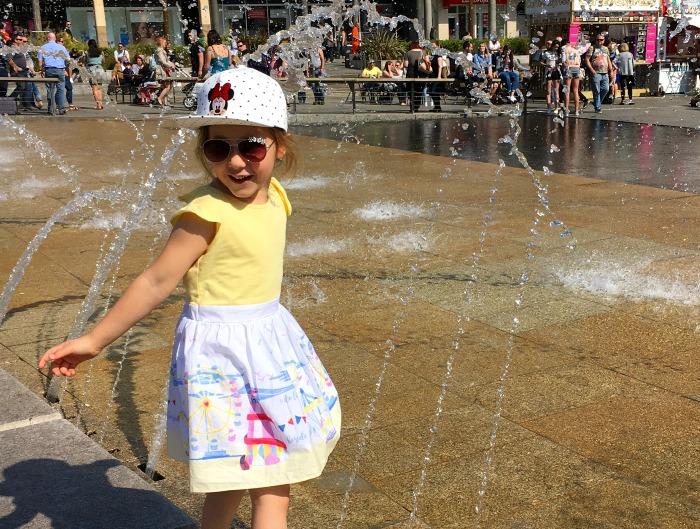 Travel Wash
No matter how many items of clothing you pack for your kids it is always worth stashing a bottle of travel wash in your suitcase.  We've experienced a couple of problems with our daughters where having this has come in handy.  Our youngest daughter was drinking so much on holiday to keep hydrated, that at the end of the day, when she was tired, she was prone to the odd toilet accident so we went through clothes quicker than we would have liked.  Our other daughter wanted to wear her favourite dress, everyday, despite it being coloured with various flavours of ice cream.
Favourite Bedtime Toy
And last but not least, don't forget to pack your child's favourite bedtime toy.  Kids appreciate familiar things, even with the excitement of being on holiday.  If they have a toy they take to bed, pop it in their travel bag as it could save you a lot of headaches at bedtime.
This post was written in collaboration with Jungle Formula 
*Based on a survey of 500 UK parents of children aged 1-11 inclusive