Morzine is a beautiful little town nestled high in the French Alps and is the perfect destination for families looking for ski holidays.  I was lucky enough to visit the area recently to find out more about going on holiday here with TGSki.
Excitement was running high as myself and a group of travel bloggers arrived at Geneva airport in Switzerland.  We were greeted by our TGSki driver and began our 60 minute journey to the French Alps.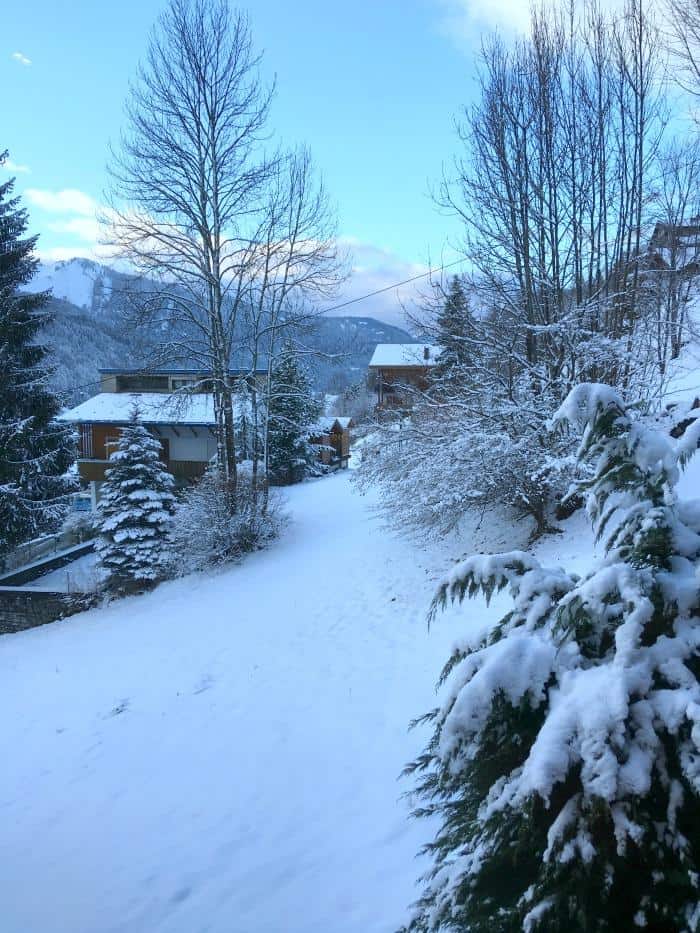 Nothing could have prepared us for the magical winter wonderland that awaited us as we left Geneva.  I was feeling pretty uninspired by our surroundings as we left Geneva but gradually the snow thickened as the road began to wind it's way up between the mountains.  As we climbed, the trees became unimaginably tall and the most wonderful Christmas card scene began to unfold before us.
The welcoming faces of the TGSki staff at Chalet Les Pierrys greeted us on arrival and we were invited inside to explore our Morzine ski chalet while the driver sorted out our bags.  After a flurry of activity to chose our rooms, which were gorgeous by the way, we settled down to enjoy the afternoon tea that had been prepared for us by our chef.
It didn't take long to feel cosy amongst the leather sofas and fur pillows.  The wooden walls gave the decor the ski lodge feel we all crave on this kind of holiday, while the slate brought a touch of modern styling to the luxurious surroundings.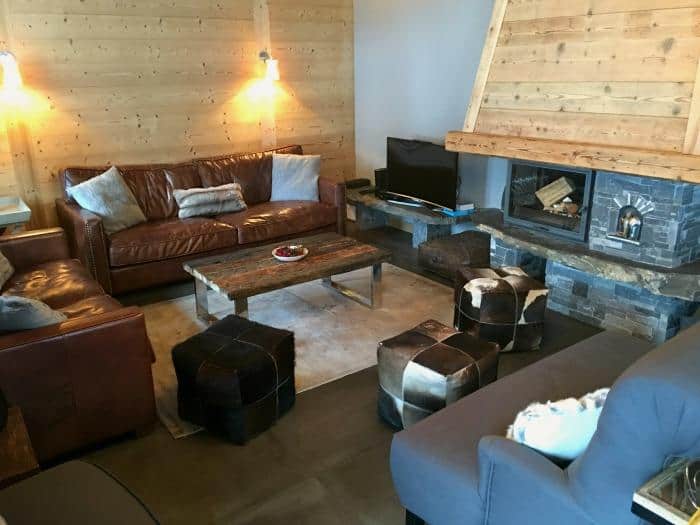 High Quality Food at TGSki Catered Chalets
With a schedule of cocktails, champagne and canapés plus a three course meal ahead of us, there was no need to think about where to eat that night, or any other for that matter.
We talked about how the children would make pizzas with the chef earlier in the evening so they could eat at a more family friendly time.  If they had spent most of their time on the slopes that day, they would have no trouble getting to sleep in the comfortable beds provided in the adjoining family rooms.
Whilst the children are tucked up in bed, the adults get to enjoy a hosted evening with Michelin quality food and wines paired with every course, without even having to step outside in the snow.
Our chef, Pierre, was clearly very passionate about food and enjoyed sharing his talents with us.  Not one dish across the duration of our stay disappointed, and I would even struggle to find a stand out favourite, but the profiteroles with raspberry cream, raspberry coulis and popcorn ice cream will be a fond memory for quite some time.
If you would like to get an idea of the food you will experience in a Summit Collection chalet with TGSki, check out my Instagram post to see all the dishes we were served.

After an indulgent evening of food and wine and a late night dip in the hot tub, what could be better than being bought a wake up coffee to your bed?  Follow this by joining the rest of the chalet guests for a wonderful cooked and continental breakfast and you have the perfect start to the day in my book.
Entertainment in the Summit Chalet
Our Summit Chalet certainly felt like a home from home and beyond.  The hot tub on the balcony was a particular highlight and was the place to hang out both day and night.  It was THE spot to enjoy the snow covered mountains or just relax and unwind after a busy day on the slopes.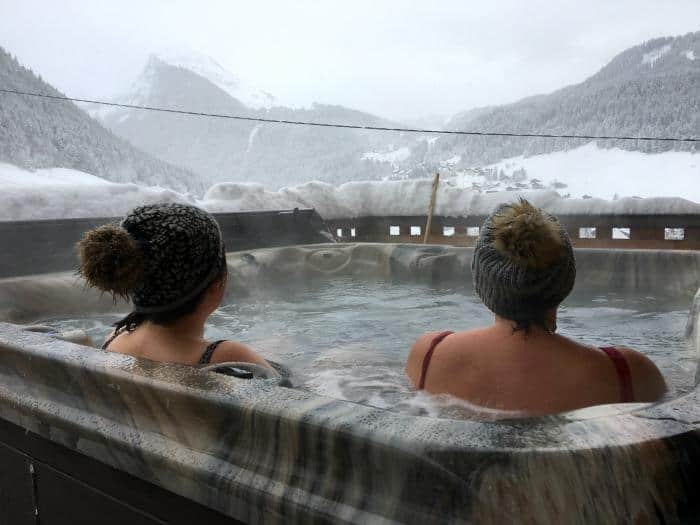 Chalet Les Pierrys also comes with a Bose sound system, Apple and satellite TV and Wii Motion Plus with games.  We made full use of the music system but during our visit but the Apple TV and games console didn't really feature.  If you were staying at the chalet with children, I can imagine everyone would appreciate these family friendly features.
Things to do in Morzine for Non-Skiers
I was in the unusual position of visiting Morzine as a non-skier, so I bet you are wondering if I enjoyed my holiday or not.  Well the answer is very much yes, I did.  The town of Morzine and the surrounding area is very picturesque and the views we were greeted with each day were beyond breath taking.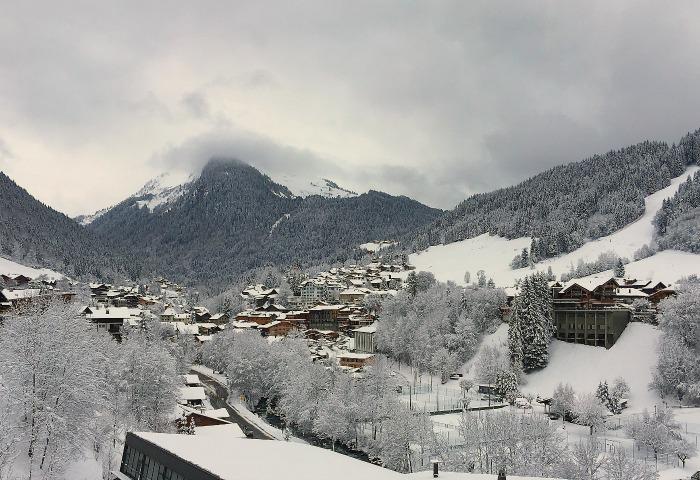 The town of Morzine is also lovely, and is so much more than a ski resort.  The town is full of shops, boutiques, cafes and restaurants and is great for exploring.
Even if you don't ski, there is nothing to stop you from getting in a cable car and going up the mountain to enjoy the views.  You might also want to enjoy a hot chocolate with whipped cream when you get there, just to finish off the expereince.
The restaurants in Morzine have a reputation all of there own, and we enjoyed the local delicacy, tartiflette at L'Etale, which I can strongly recommend.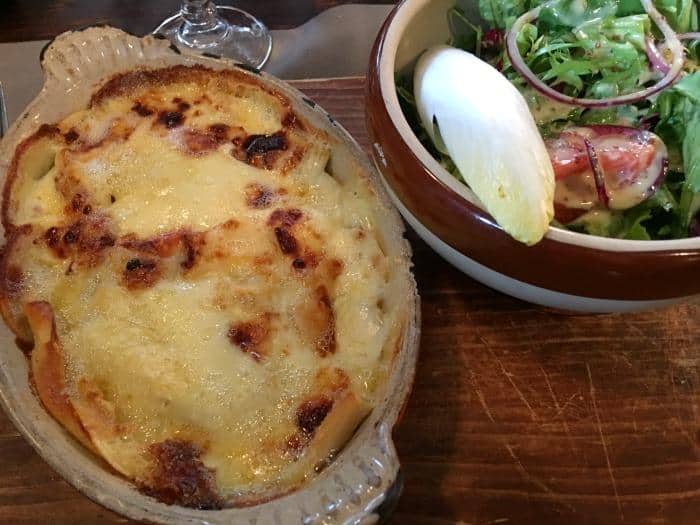 Morzine is also packed with leisure activities that families can enjoy together if they want a break from skiing.  The carousel in the town would certainly keep the younger children entertained and the outdoor ice rink is a perfect stop for a christmas family activity.
The town is also brimming with health spa's and the local swimming pool is an excellent facility, with a great children's water play area.
Other things to do in Morzine for non-skiers include snow shoeing and skidooing.  As it was quite early in the season, we sadly didn't get chance to try out these activities, however they would both be at the top of my list if I had the chance to go back to Morzine someday.
Service at TGSki Morzine Ski Chalets
In some respects I'm very much saving the best until last, but I wanted to give a very special mention to the TGSki staff who made our stay at Chalet Les Pierrys such a wonderful expereince.
Pierre, Emily and Ross were such a lovely team and couldn't do enough to make sure we had a great winter holiday.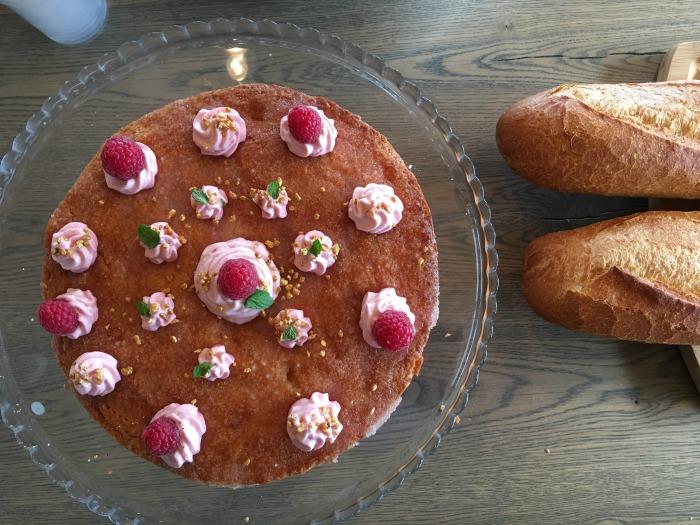 Pierre was not only our chef, and excellent at it as well, but he was also the executive chef who oversaw the team of chefs across the rest of the TGSki Morzine Ski Chalets.  Emily, our host, was well versed in making everything come together like a very well oiled machine despite us being the first guests of the ski season.
She bought us wake up drinks, turned down our rooms every day and made sure breakfast and dinner was served eloquently.  Ross was chief cocktail maker and turned out a mean Swiss Wall, amongst other drinks.  Ross was also part of the private driver team, which is available when you book a chalet from the Summit collection.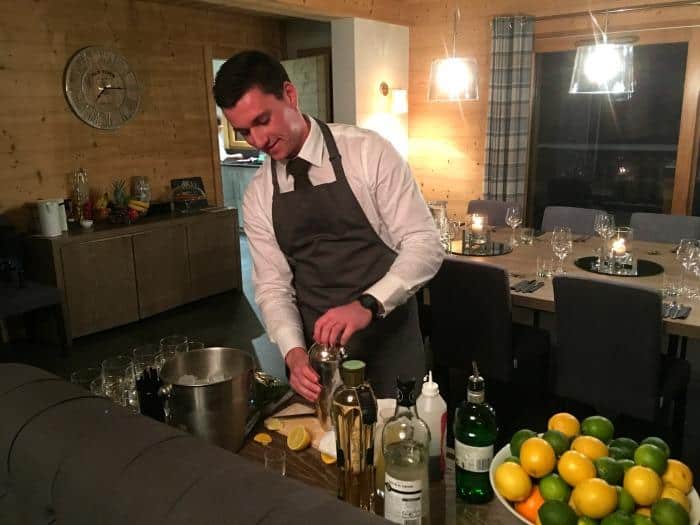 On arrival at our chalet, we were given the number of the private driver service and were able to get lifts into town, to the slopes or any other activity we were attending that day.  When we were ready to leave, a quick call to the driver had our lift back to the chalet arranged in no time.  This service was invaluable and would make such a difference if you were on a ski holiday with the children.
Final Thoughts on TGSki Morzine Ski Holidays
This was my first experience of Morzine ski holidays, and I was really impressed.  Our room was really comfortable and a good size for 2 sharing.  The ensuite bathroom was modern and clean with towels, robes and toiletries provided.  Add to this the spacious living and dining area with views over  the ski run and I think you have the perfect recipe for a great winter holiday.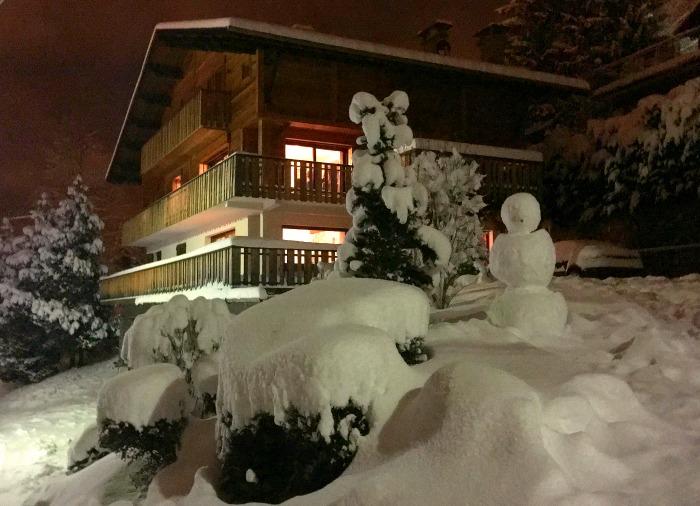 The service was simply impeccable from the moment we arrived until the moment we left because TGSki care about the experience you are having during your stay.  Once your holiday is booked, the concierge service contacts you to discuss your family's needs from dietary requirements, children's favourite foods and any additional services you require like lift passes and ski equipment hire.
If I was going to book a Morzine ski holiday for my family, TGSki would be my first point of call because I have absolute faith they would make sure everything ran smoothly for us.  My husband has skied in the past, and I suspect that both my daughters would love it, so maybe we will be back in Morzine in the not to distant future.
Family Friendly Features at TGSki Morzine Ski Chalets
Excellent family rooms with ensuite
Child friendly meal times
Ski fitting service at chalet available
Private driver service
Family friendly locations
Tailored service from the point of booking
TV, music and games console provided
Excellent customer service
You can take a little peek behind the scenes of this press trip in this YouTube video:
Want to know more?  Check out these posts too:
How Not To Ski In Morzine by Pure Wander
What To Pack For Your First Ski Trip
Day In The Life Of A Luxury Ski Chalet by Parentshaped
The Perfect Family Holiday With TGSki by Ickle Pickle's Life & Travels
We were guests at Chalet Les Pierrys with TGSki for this press trip in return for this ski holiday review but all thoughts are our own. 
Pin for later