9+ Easy Family Meal Ideas is an ad feature written in collaboration with Hello Fresh.  
I've been on the hunt for easy family meals ideas as I've felt stuck in a rut at dinner times.  During the recent lockdowns and school closures it's been tricky to keep family dinners varied and interesting.  I need some more recipes that we can enjoy together.  I've found loads of easy family meals on Hello Fresh that have really helped me out.  They have tons of inspiration for tasty meals that are quick and easy to prepare.  Perfect!
We are a busy family too, so quick and easy meals are a must.  Some days have been stressful as well, so having some lazy go to recipes to hand has also helped.  I know we won't be the only family struggling with recipe inspiration, so I hope you find this list of family meal ideas useful!
Easy Family Meal Ideas
Jacket Potatoes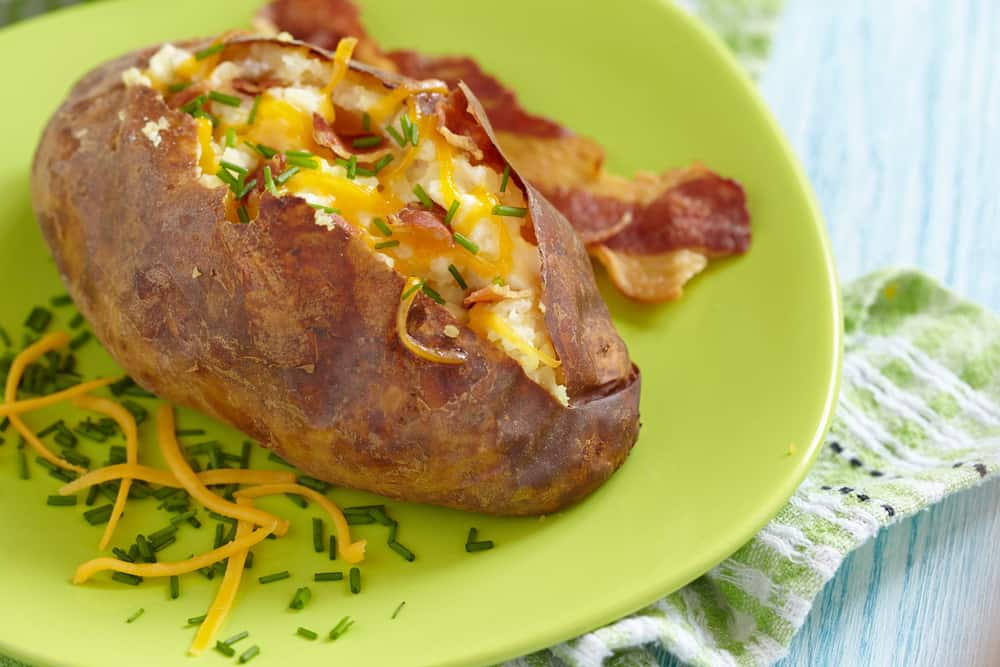 Jacket or baked potatoes can make for a really simple family dinner.  I recently learned that you can cook jacket potatoes in the air fryer or the slow cooker. This is so much more efficient than using an oven.  They make for a great side or a fabulous meal on their own.  If you need inspiration for what to fill them with check out these 60 easy jacket potato filling ideas I found!
Rotisserie Chicken
When we are pushed for time, rotisserie chicken solves all our family meal problems. We love it served with potato salad, greens, in wraps, anything really! It goes with so many things we all ready have in our cupboard!
Homemade Pizza
It wouldn't surprise me if pizza wasn't already on your list of easy family meals, but I want you to change things up a bit.  Forget pre-made pizzas as there are a few easy ways to create your own.  You could use a pizza dough recipe, a 'just add water' pizza dough mix, pre-made pizza bases or even tortillas or bagels.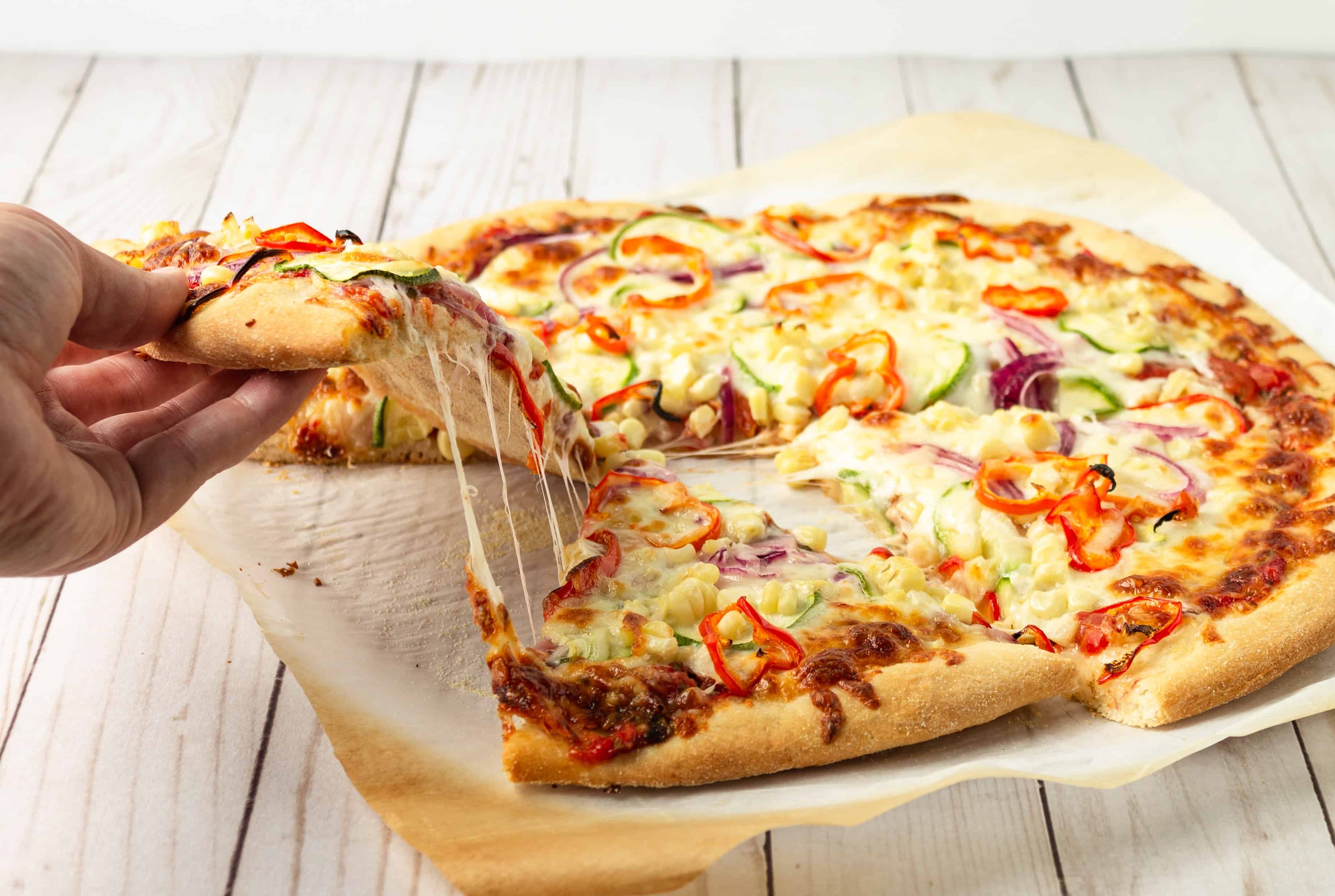 We use a 'stir in' pasta sauce on the base.  The kids love to fill their pizza with their favourite toppings.  Finish off with mozzarella and cook for 10 to 14 mins.  It's one of those fun dinners for kids the whole family will love.
Easy Frittata
Frittata is one of those versatile family recipe ideas that is great for using leftovers. It can also be added to packed lunches! Mix up 5/6 eggs and milk if you wish.  In a pan,  add cooked pasta or potato with your favourite ingredients or leftovers.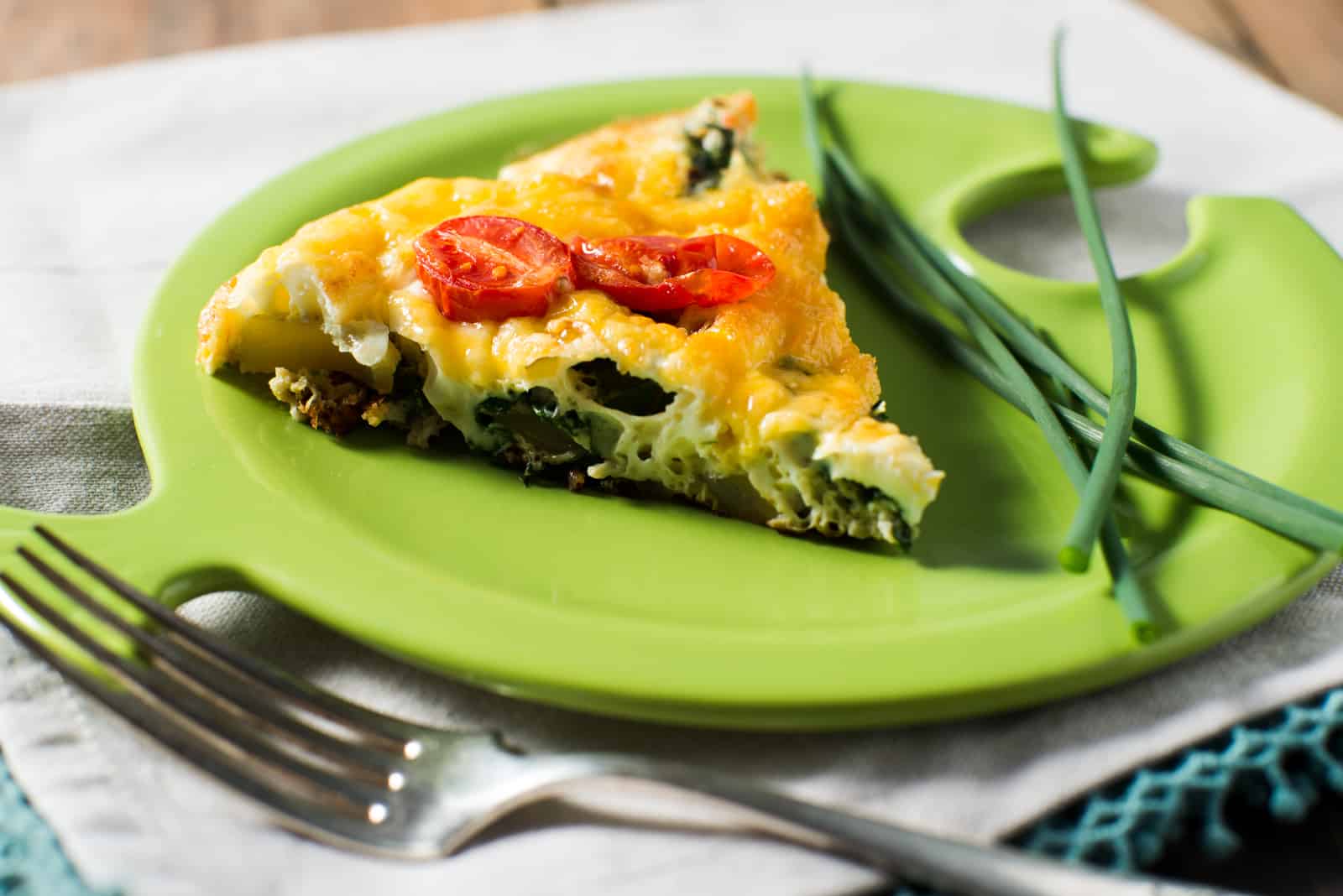 You can use things like frozen peas, broccoli, cheese, meat, sausage – anything goes! Add your whisked egg mixture to the frying pan and cook over the heat.  Finish under the grill and serve!  If there's any leftover – pop it in the fridge for the lunch boxes!
Chicken Curry
I asked the kids what their favourite meals at school were the other day – and too my surprise they both enjoyed chicken curry.  I tested out a chicken korma on them and it was a hit!  I would struggle to make this from scratch so I used the best sauce I could find and followed the instructions.  Served with rice and garden peas it's become one of our favourite simple family meals.
Pasta and Sauce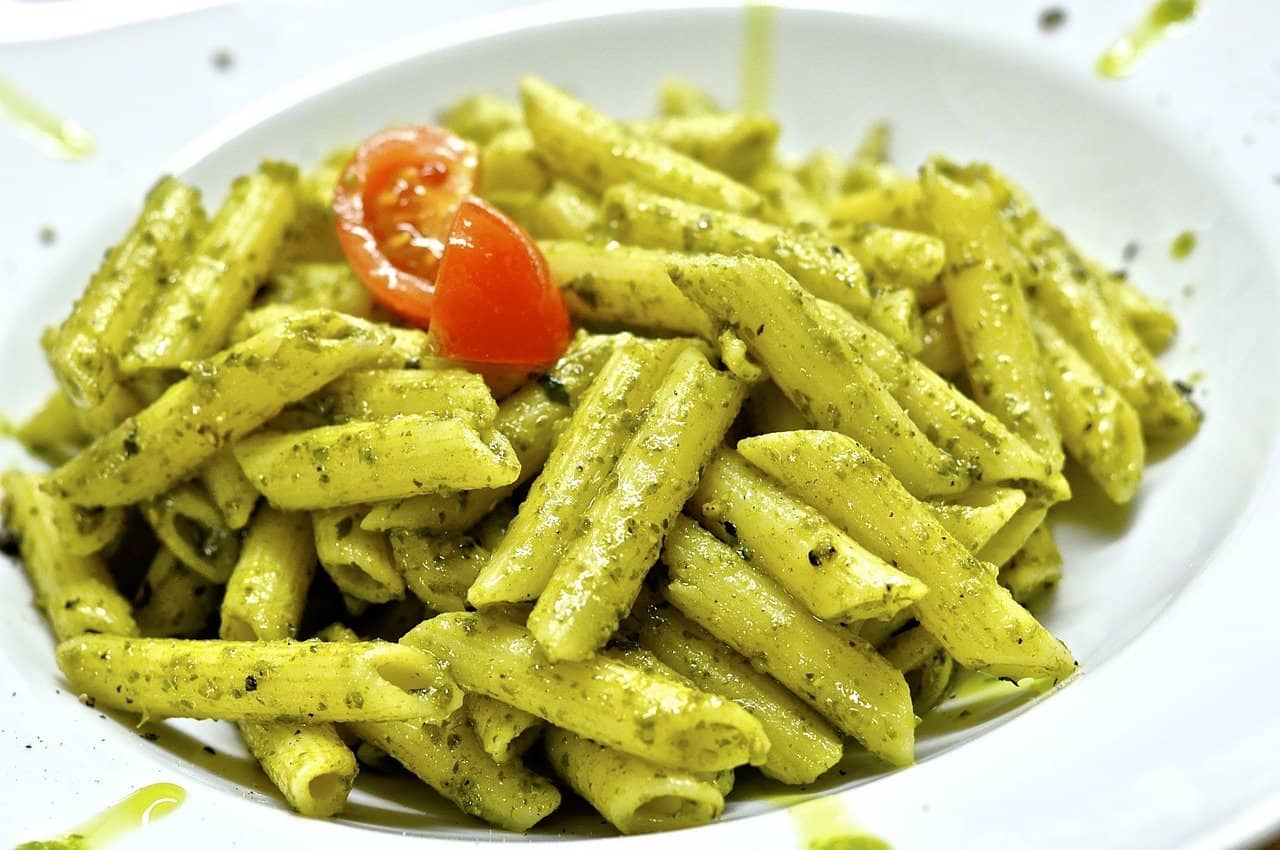 Hands up if you always have spaghetti bolognese?  We are exactly the same!  It's a family favourite after all.  It's really easy to change things up though.  Try using a different variety of pasta for example.  Tuna or bacon can work well in a quick family meal too.
It doesn't always have to be tomato sauce either.  Cheese and pasta is a super quick meal or try chicken and pasta with cream of mushroom soup as a sauce.  It's always worth having a jar of pesto in the cupboard too!
Chinese Noodles
Noodles make the perfect quick and easy family meal.  There's so much you can do with them too.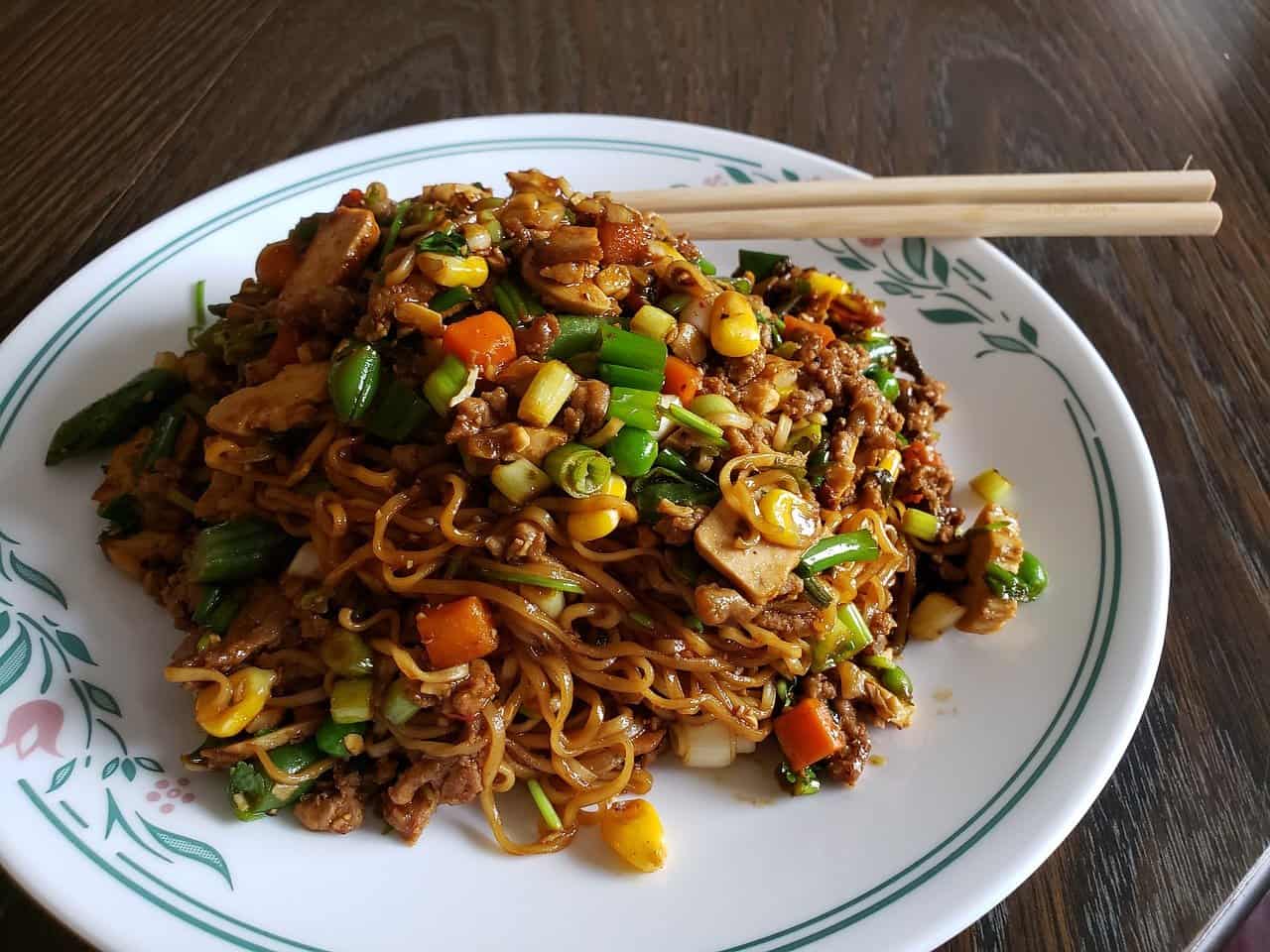 Simply cook your favourite meat in the stir fry.  Add a bunch of vegetables and 2/3 cloves of chopped garlic – if you're really pushed for time there are plenty of packets of stir fry vegetables out there you can use.
Cook your noodles and add to your meat and vegetables along with 4 tablespoons of soy sauce and 4 tablespoons of sweet chilli sauce.  Add a few tablespoons of water until your noodles are coated in the sauce and enjoy.
Lazy Lasagne
This is one of my favourite easy meal ideas for the family.  It's literally genius!  All you need is ravioli, your favourite pasta sauce and cheese, perhaps mozzarella and parmesan. Starting with the tomato sauce on the bottom, add a layer of ravioli, then cheese and keep going until you've filled the baking tray.  Pop some extra cheese on top.  Bake in the over for 25 mins or until cooked. Easy peasy!
Quesadillas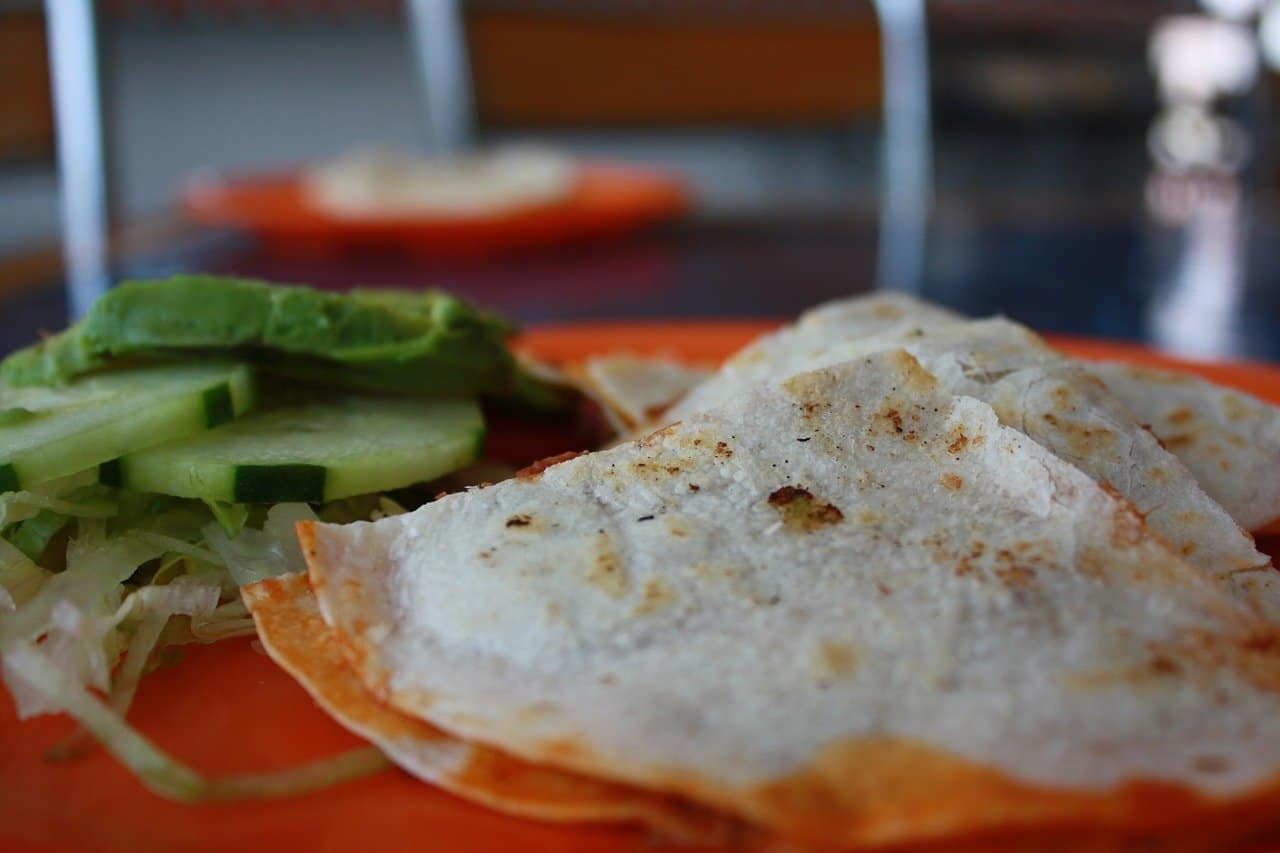 These super tasty tortilla treats are perfect for an easy family dinner recipe.  Just heat your frying pan with a little oil.  Take a wrap and cover it with your favourite filling.  It could be chilli, beans and cheese, tuna, tomato or ham.  Just pick your favourite!
Place another tortilla wrap on top and place in the pan.  Cook on both sides for 3 mins.  Remove from the pan, cut into quarters and serve with your favourite garnish.  The kids will love them and so easy to make too!
If you want to expand your repertoire of quick family meals even further, there's more popular recipes here.  Following a recipe, and even having the ingredients delivered to your door, can take a lot of the stress out of family meal planning.  If you are not confident in the kitchen or just need more family meal ideas, I hope I have inspired you to try out something new!
If you enjoyed our 9+ easy family meal ideas, don't forget to pin it to your favourite board or share it with your friends and followers on your favourite social media platform! We really do appreciate it!