North Macedonia is a bit of the Balkans and the Mediterranean. It has been shaped by many battles and conquerors. This part of the country offers so much, such as natural beauty, lakes, mountains, fascinating ancient Roman ruins, medieval monasteries, beautiful cities, adventures full of delicious food and wine, and hospitable culture.
Compared to other countries in Eastern Europe, it's a remote location, making it a great place for those who crave adventures that aren't often visited by tourists. If you are one of these tourists, read on to find out more!
Skopje
It has a long history, rich in customs and traditions. Archaeological evidence shows that the civilization prospered as early as 7000 BC. If you are a history lover, that means you simply love Skopje's Dardanian and Roman ruins, Byzantine churches, and monasteries.
There are several reasons why you should visit Skopje as soon as possible: as said, its rich history and tradition, it is one of the cheapest cities in Europe, and it has many natural spectacles and locations. If you love any of these things, you should check out this Skopje travel guide, and you will enjoy the sunny days listening to fascinating stories and eating good meals. Part of this city is Stara Carsija, the Old Town, which is full of mosques, Turkish baths, churches, fortresses, local markets, and much more. 
Lake Ohrid
Lake Ohrid offers stunning mountain views with clear water, beaches, and promenades. There are many boat tours at very reasonable prices. You can board a submarine as well. The old town, fortresses, and many temples on the shores of the lake offer breathtaking views.
A visit to Ohrid, with its narrow cobbled streets and medieval architecture, seems to go back in time. Ohrid is a vacationer's paradise with sparkling beaches, spectacular views, an abundance of Mediterranean and Turkish cuisine, and all within budget.
Mavrovo
When you imagine Mavrovo, the first thing that comes to mind is a beautiful lake that looks carved between the mountains. Surrounded by stunning views of grassy plateaus and snowy mountains, it's perfect for postcards. The water is clear and calm, and you can swim, kayak, boat, fish, and sunbathe.
The highlight of the lake that immediately attracts attention is the semi-submerged church of St. Nicholas. The church is reasonably well-preserved and fully accessible when the water falls back.
Mavrovo is the largest national park in North Macedonia and arguably the most beautiful one. It is full of canyons, pine forests, fields, and waterfalls, the perfect place to interrupt your journey between Lake Ohrid and Skopje.
St. Naum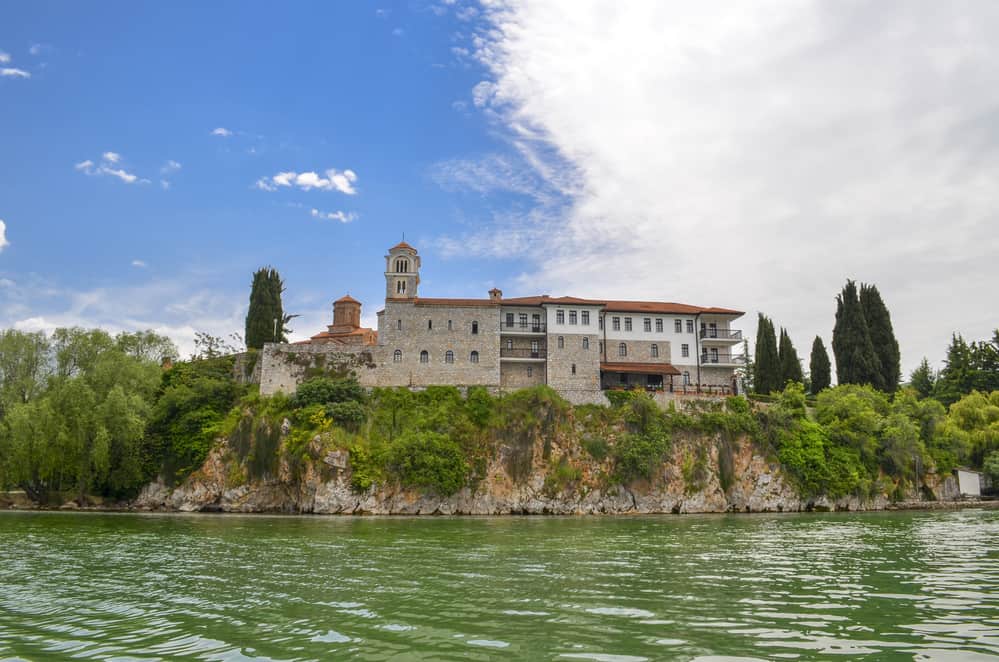 The Monastery of St. Naum is a magnificent and huge complex located 29 km south of Ohrid on the plateau near the Albanian border. It is arguably one of the most attractive tourist destinations in Macedonia. Surrounded by a beautiful environment, the Monastery of St. Naum is a popular day trip where you can enjoy both natural and religious heritage.
Bitola
Bitola is a mix of ancient ruins and awesome cafés. Siroc Sokaku Road is a long pedestrian road that runs through the center of the city. This rarely quiet street is lined with cafés and restaurants, and if you are into good coffee and food, it seems to be a gathering place for every visitor. You should take a seat, have a coffee, watch people, and carpe diem!
Matka Canyon
A kayaking trip through the impressive Matoka Canyon is a highlight of your visit to North Macedonia. As seen from the water level, the cliffs are even more impressive. The canyon's fantastic landscape changes all day as the sun slides across its face and the shadows dance across the stones.
The canyon is within 16 km of downtown Skopje. Only kayaks can be used here. Depart by renting a kayak right in front of the Canyon Matka Hotel. Kayaking and returning to the cave takes about 2 hours, but take the time to explore the cave, with a series of dim paths and wooden stairs leading to a series of underground lakes.
Stobi
Stobi is a great place to visit in North Macedonia in mid-spring and early summer. If you like the great outdoors, summer is a great time to explore and enjoy the outdoors, so it's a good idea to plan your visit a little later.
It is a great tourist attraction, and it will make you go back in time twenty centuries ago. This place is a great representation of the Archaic period. For instance, an important monument is a Roman amphitheater. If you are in love with history and archaic places, Stobi is definitely worth visiting.
North Macedonia is a place where you can explore different places. There is no doubt you will enjoy it. The food is great and the people are welcoming, kind, and friendly to guide you. The best part is that North Macedonia is one of the countries with a ridiculously low cost of living, where you can enjoy a royal vacation or stay longer than usual.