Toys play a huge part in our children's lives helping them to learn and grow.  As parents, we want to get the toys we give our children right, giving them something to play with that will create lasting memories.  Think back to when you were a child.  What was your most memorable Christmas toy?  There might be a few on the list if you cast your mind back.  Perhaps you had a train track that Santa left for you that you have fond memories of.  Maybe it was a particular doll or game you received one year.  I remember being over the moon when I received 'Go For Broke', and made everyone in my house play it with me A LOT!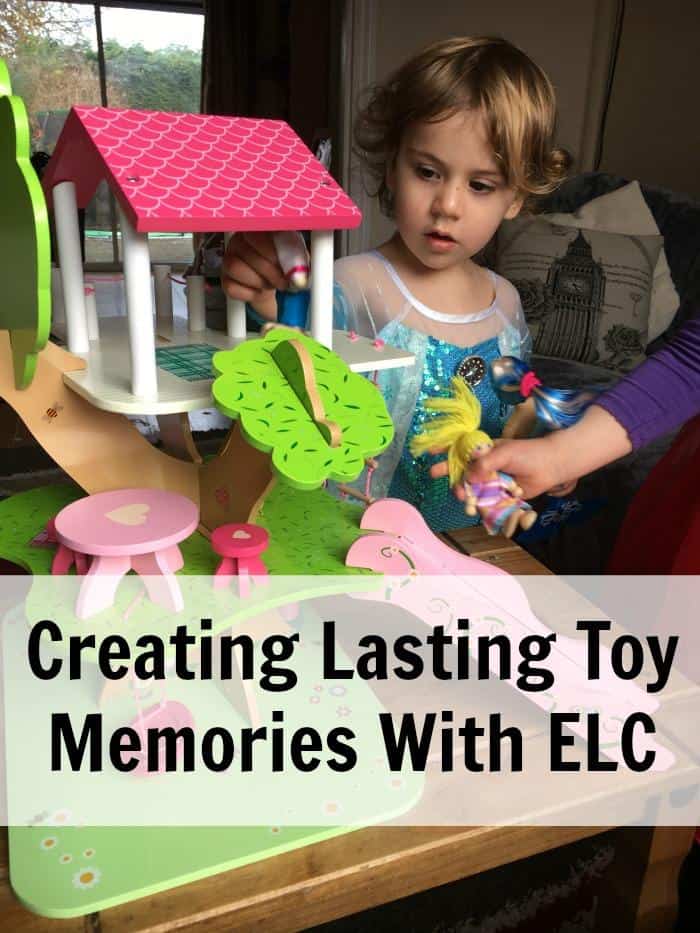 One of my favourite Christmas toys was the Tree Tots Family Tree House.  Do you remember it?  I have to admit, I still wish I had that toy now, as I think my daughters would love it just as much as I did.  I remember playing with it for hours, losing myself in my own imagination thinking up what the Tree Tots family would be doing next.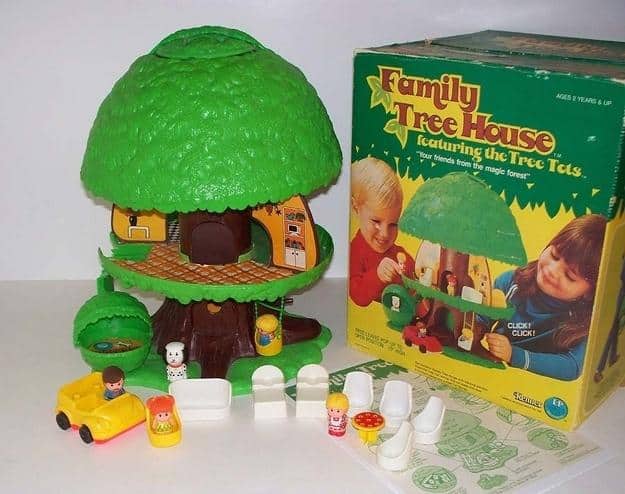 I loved all the details, like that they had their own dog, and he had his very own bush kennel in the garden.  The Tree Tots children would play on the swing, and sometimes in the dog kennel too!  They would also jump in the car with Mum and Dad and venture out for the day.  When they got home I would tuck them up in bed, and shut the Tree House for the night ready to play with the next day.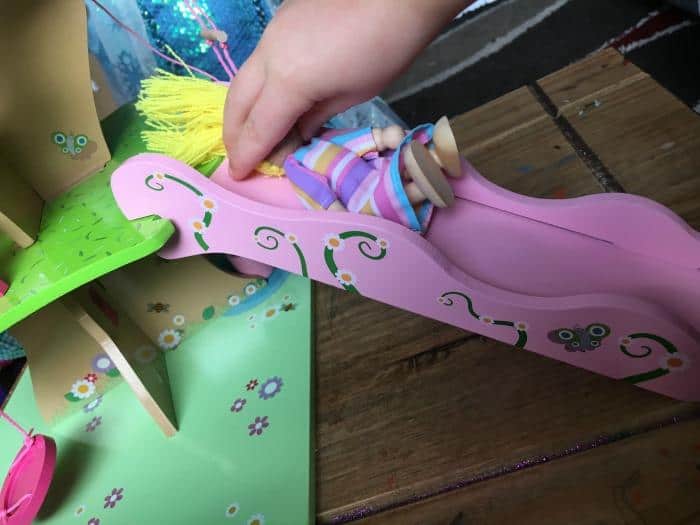 I want my daughters to have toys they remember like this too, but sadly the Tree Tots Family Tree House isn't made anymore and it's a fortune to buy on Ebay.  Fortunately, the Early Learning Centre sent a Rosebud Village Tree House for children to play with that is probably even better than the plastic version I had all those years ago. I literally couldn't wait to share it with my daughters.  When they saw the box, they got very excited indeed, and there was a little child in me that was very excited to start playing with the Rosebud Village Tree House too.
The girls were keen to see it in action, and struggled to wait while Mummy put this together.  I wish I'd have made it before they saw the box, as they were just bursting with excitement.  Once we had everything in place, the girls started to play with the tree house, and I was immediately transported to happy memories from my own childhood.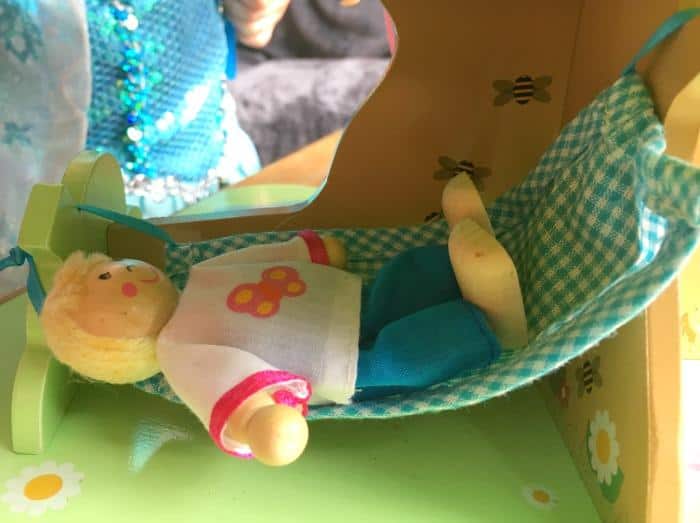 I loved watching them explore the tree house with the Rosebud Doll.  They popped her on the swing and she had a little nap on the hammock afterwards, as she was tired.  It was quite a short nap though, as she was soon climbing the rope ladder and getting to know the rest of her new home.  I remembered putting my own tree house dolls in the tree lift, and how happy playing with my own toy had made me.  Now my daughters have a similar toy to help fuel their own imaginations, and I can enjoy watching them play with it too.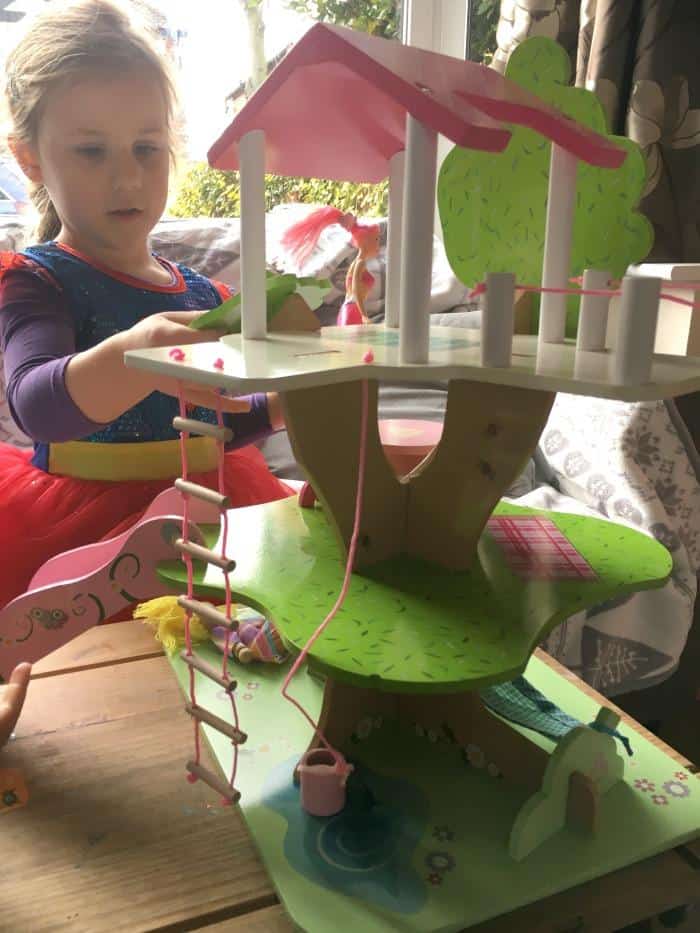 With the Rosebud Village Tree house they've got a toy that will help create happy memories for them, and that is going to be featuring in the  endless games that they play together.  It's a special thing to have a toy you can look back on, and for my daughters it will be even more special that it was a toy they shared together.  Maybe it will even be one we keep for their own children, so I can share it those happy memories with my grandchildren too.
We were provided with the Rosebud Village Tree House in exchange for this post, but all thoughts, opinions and memories are our own.