Mornings in our house aren't the happiest time, unless it's the weekend.  I'm very, very pregnant (DD 20th May) so my usual morning tactics are in short supply.  At times like this you need a secret weapon.  My secret weapon is Princess, without her, no-one would leave the house with a smile on their face!
Dad's grumpy, Teen's grumpy and even Mum's a bit grumpy at the minute.  The only one who isn't grumpy is Princess, she always wakes up with a smile on her face and makes sure everyone gets cuddles before they leave the house.  She doesn't do grumpy, and isn't happy until she has spread her magic and lifted its dark curse.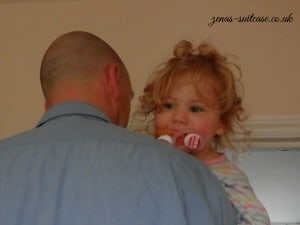 Everything revolves around Princess until the grumpy curse has gone.  If you haven't had enough cuddles she will let you know as you will not escape her magical powers of happiness.  Look at the twinkle in those little eyes and tell me it wouldn't brighten up your morning!
Teen is the first to make an appearance.  He's taken a shine to the new Fruit & Fibre BelVita biscuits, no one else has got a look in.  It takes a lot to keep all 6 1/2 foot of him full till lunch, and adding these to his breakfast routine have made a huge difference.  He watches You Tube until Princess arrives.  He snaps out of his solitude and greets her with a huge smile beaming 'Hello Princess!'  She launches at him for one of her famous hugs and his grumpy curse is lifted.  School bags can now be packed with a little happiness.
Mummy takes a little while to get into first gear at the moment.  Despite a sleepless, uncomfortable night, endless trips to the loo, a hug from princess to the cry of 'Hello Mummy' makes all this pale into insignificance.  Not having to dash out to work at the moment makes it all a bit easier too!
Then Daddy comes down from his shower.  Princess detects high levels of grumpiness in Daddy and demands she is picked up immediately to work her magic.  As he only has one hand free all he can do is grab the BelVita Milk & Cereals and wash them down with Coffee.  This allows Princess all the time she needs to break Daddy's grumpy curse.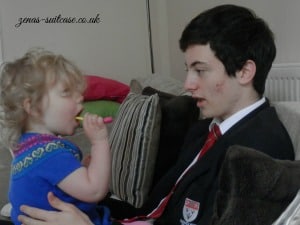 Princess detects some grumpiness left in teen.  He's got a lot of exams at the minute, and needs a little extra Princess magic.  She loves it when her big brother helps her clean her teeth, and Teen likes teaching her things too.  She squeezes in a sneaky cuddle and she's happy he can now face that chemistry exam with a smile on his face.
Now the curse has been lifted the castle door can be opened releasing everyone into the world a little less grumpy and a little more full thanks to belVita.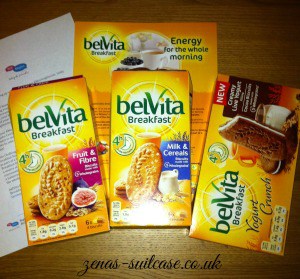 Mummy takes in the peace and quiet over a latte and a Chocolate  belVita, forgetting all about the grumpy curse and thinking where she will hide those Creamy Live Yoghurt Cocoa biscuits so they live to see another day.
 "This post is an entry for #MorningStories Linky Challenge sponsored by belVita Breakfast. Learn more at www.facebook.com/belVitaUK."