It was such a lovely day that Mummy decided that we were all going on an adventure.  It was somewhere called Sundown Adventure Land.  I'd not heard of it before, but it sounded very exciting.  It sounded like we were going to have lots of fun.  Mummy and Daddy took me in the carriage, we passed lots of fields and houses.  I couldn't possibly sleep as there was so much to look at.
When the carriage came to a stop, I knew we had to be there.  It didn't look very exciting to start with.  All I could see were a lot of other carriages lined up side by side.  'Where's the fun?' I thought, 'Mummy said we were going on an adventure!'  We walked up to the big gates and Daddy had to give the guard some gold coins before we could get through.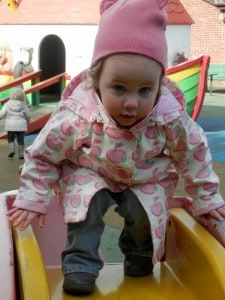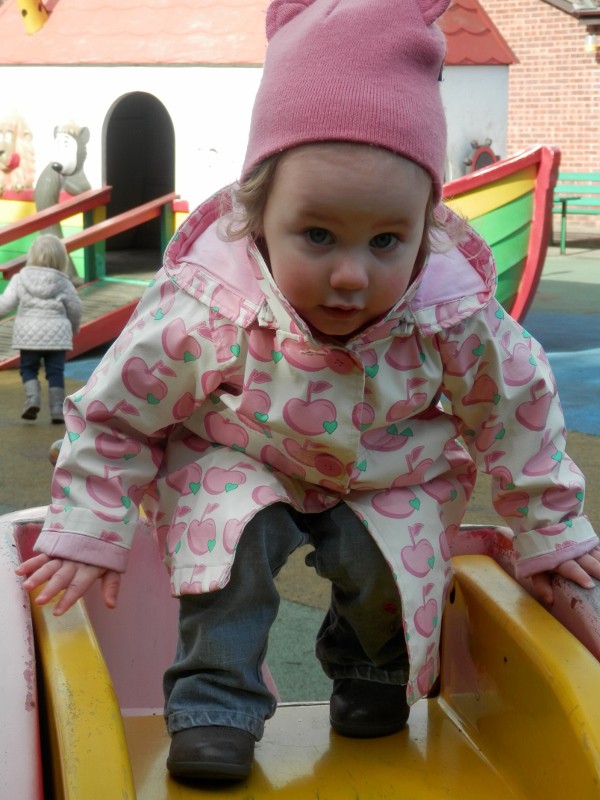 When we got through the gates, I could hardly believe what I saw.  There were Snail slides, Crocodile slides and there was even a Noah's Ark slide.  I love slides, they are my favourite!  There were of course other things, like Monkey swings, but I wanted to go on the slides, every single one!
I got to play while Mummy and Daddy exchanged more gold coins for coffee.  They do seem to drink a lot of coffee!  Nevermind, I've got sliding to do!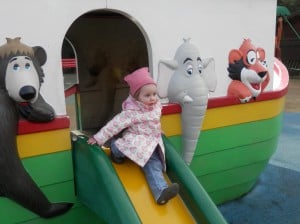 Mummy said we had to go.  'We'd only just got here' I thought!  Where could we possibly be going.  Apparently I was a bit smelly so Mummy and Daddy had to sort me out. That's no good for sliding is it!
Mummy said there was more to see, I didn't know what could possibly be more exciting than all these slides. She said there was a Pirates ship.  Now really Mummy, do I look like I was born  nearly two years ago!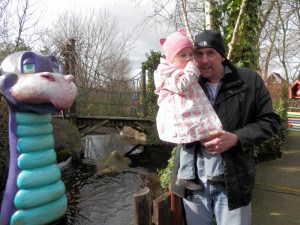 Well blow me down with a feather, she was right!  There were bridges, and dragons, and treasure chests and so many Pirates!  They had this big ship we could climb too.
It was a little bit scary as you didn't know what was round the corner, but it was lots of fun!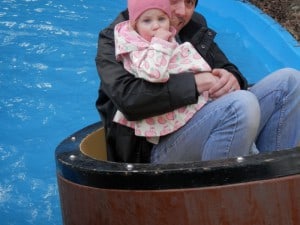 Daddy took me on the Boozy Barrel Boat Ride.  I think he had a little bit more fun that me.  We got a little bit wet, so I'm really glad I had my raincoat on.
I loved it at Sundown because there wasn't any ride that was to big for me, and I'm not even two yet.  Mummy was right, this was an adventure, the best adventure I've ever had.  Ahoy there Captain Daddy!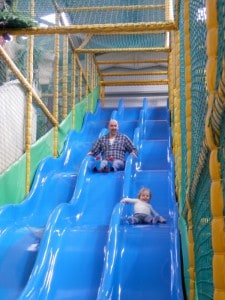 Mummy and Daddy needed a rest, they can't take all this fun like me.  They said it was lunchtime,  but to be honest I wasn't convinced.  There was cowboys, and witches and even more dragons to see.  Mummy and Daddy said I needed to have something to eat though.  Life just gets in the way, doesn't it.
When we got inside I saw the biggest slide I have ever seen.  How do I get to the top Daddy?  Come on, lets go!  There was a lot of climbing to be done.  I made it through all the nooks and crannies before Daddy and I slid the fastest, by a mile.
Daddy said he bumped his bottom on the way down.  Thank goodness for nappies, hey!  I got about 10 slides in before lunch.  My Daddy had fun too.  Weeeeeeee!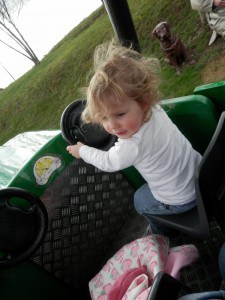 We saw Lollipoppet Castle, Toy Town and singing chickens.  We went on Rocky Mountain Train Ride and the Robin Hood Adventure.  My favourite bit (after the slide of course) was driving my Mummy and Daddy round the farm in the Big Green Tractor, looking at all the animals with the wind blowing through my hair.  I was very careful, I didn't let go of the wheel once, and I made sure we didn't go to fast as Mummy has a baby in her tummy.
I loved my Big Adventure!  I thought this kind of magic only happened in the story books.  My Mummy and Daddy said they would take me back there soon.  I couldn't see everything because my legs ran out of battery and I don't like to sit in the pushchair.
I can't wait to see what adventures I have there next time!  I think they made this place just for me!