Mummy and Daddy took me to see CBeebies Live at Capital FM Arena in Nottingham.  I love it when we do things together, but this was really new, I've never seen so many seats.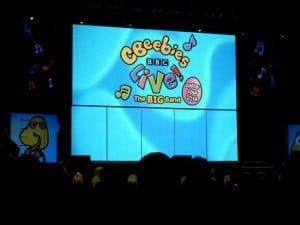 Everyone at the Arena was really helpful.  They offered to help Mummy down the stairs because she has a baby in her tummy and they showed us to our seats.
There were a lot of people there, which is a lot to take in when your only 2.  I think everyone in the whole world must have been there!  I recognised the music and the stage, but I wasn't at home in front of the telly, so I was a bit confused at first.  I sucked my thumb a lot, more than normal for after nap time.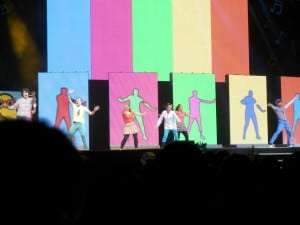 I knew the people on the stage, there was Andy, Nina, Justin and lots more.  They were just like they are on the telly.  I liked watching them sing and dance, I think Mummy did too.
There was lots of music Mummy seemed to know, she talked about Robbie Williams and Hairspray.  They aren't usually on CBeebies, so they must be really old!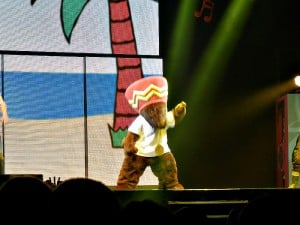 It was really funny when Rastamouse came out.  He said he'd heard 'banging tunes coming from [the] stage'.  Even Daddy laughed!
All the children got to help out with the show too, playing the drums, painting with Mr Maker and dancing too.  Lots of children went up to the front to dance, but I felt a bit nervous so I stayed in my chair with Mummy and Daddy.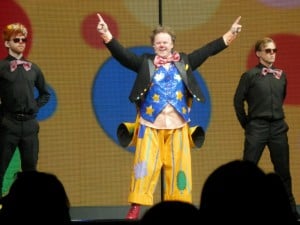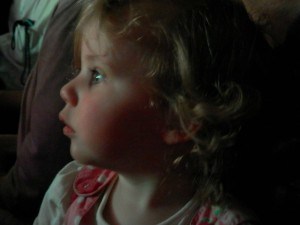 I enjoyed it when Mr Tumble made his Big Band entrance.  I love Mr Tumble.  I watch 'Something Special' all the time, and I love to learn signs with Justin.  This was definitely my favourite bit of the whole show.  I loved the Mr Tumble instrument, I've never seen anything like that before but I won't spoil the surprise for the other children.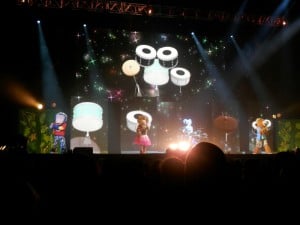 Everyone enjoyed it when the Zingzillas turned up.  They walked through the Arena which was an extra special treat.  They were great on the stage too.  I wish they could have stayed a bit longer, I enjoyed their music.  I was much better than seeing them on the telly.
It was a good show, but Mummy and Daddy bought our tickets and they didn't think it was very good value for money.  I think if I'd been a little bit older, I would have enjoyed it a lot more so I really hope we get to go and see it again next year.  Perhaps just Mummy and I will go, as Daddy isn't to keen on lots of singing.