Mum's have such a hard time.  Their little bundle of joy arrives, with quite a bang, and then goes and forgets the instruction manual.  Oh dear, what can possibly go wrong.  Everyday is a minefield trying to decipher whether they need a nappy change or they are hungry, or in desperate need of a nap.  I still haven't figured out to this day why a tired baby won't just nap, sleep is a great activity.
We all have got this long journey ahead and none of us know what's going to happen until we reach the final destination, aka adulthood.  We all enter the dark tunnel of the teenage years hoping that we will emerge the other side with a balanced, well rounded grown up but it really is hold on to your hats time and hope for the best.
We have so many choices as a parent, starting with how we feed them, how we approach weaning, how to instil discipline and how much TV they are allowed to watch to name but a few.  There's a book to help them sleep better, there's one to make them confident and every other parenting concern you care to mention.  Some people swear by them and other's wouldn't touch them with a barge pole.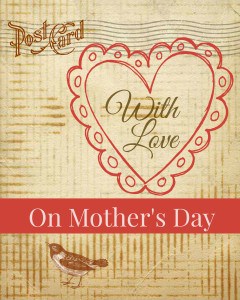 As Mother's, we all approach our parenting journey different to the next Mother. There may be views we share, and there will always be views we don't, but each approach is honest and unique.  Without a diverse and creative approach to Motherhood, we wouldn't have unique and special children.  This makes them our children and no one else's.
Mother's Day is a special day not only for other's to celebrate how important we are to them, but for all Mother's to celebrate the diverse and colorful nature of Motherhood. Whether you make sure lunch is at 12.30 everyday or you let them nap when they want one thing we all have is a love for our children that keeps us with them until they reach their destination.
So let's celebrate our journey this Mother's Day, that we made it through another sleepless night, that we got them settled in at school, we made it through their first visit to the dentist all the other stops along the way.
If you like the image, you can download your Free Mother's Day Gift Tags right here
I've written this post to celebrate Mum's in association with Little Dish