My friend recently had to hire a Virginia car accident lawyer after she had a car crash and it made me think about my driving. I'm a good driver but I want to know how to improve it. From the moment our AA Car Genie arrived I genuinely thought 'this is a great concept, and it's going to make a big difference to how we feel about driving as a family'. As you might already have guessed we rely heavily on our car for lots of reasons. We use our car day to day for getting to work, taking the kids to their different activities and for family days out.
We also rely on our car for travelling further a field, whether it's to get us to the airport at 4am or to go on one of our road trips in the UK. Our car plays a huge part in our lifestyle and feeling confident that it will get us around all the time is really important to us. That is why at all times you should be protecting your car even when it is on the driveway, which includes using things like Waterproof car covers and putting it in a garage or carport during all weathers, if possible.
We've had the Car Genie from The AA for a few weeks now and it's really helped improve our peace of mind for driving as a family. The last thing you want when you have young children is to be on the side of the road with a broken car. This situation could be caused by anything from car battery issues to fuel leaks. The Car Genie is great because it can prevent up to 1/3 of breakdowns by alerting you that your car has an issue that needs to be fixed.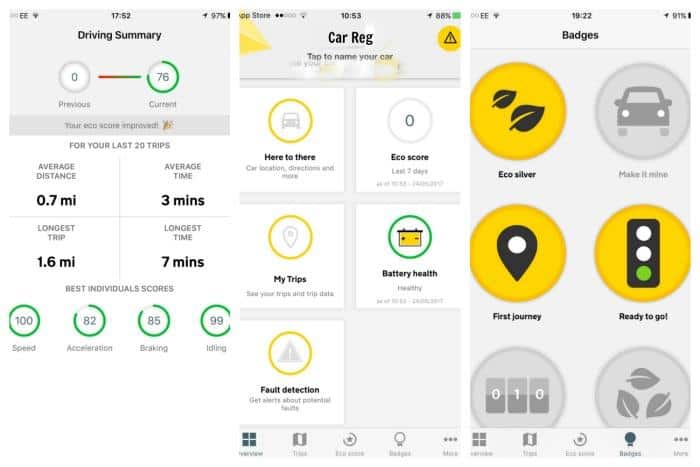 The Car Genie took literally a few seconds to install into the car. I popped the app on my phone and added our AA Membership and car details. The dongle in the car started talking to my phone immediately letting me know the battery was in good health and that there were no immediate faults. This was so reassuring as we were just about to travel to Birmingham Airport for our recent holiday to France. It is so important to make sure your car is running the way it should, it can be pretty overwhelming to see the dashboard light up with another thing that needs to be checked, replaced, fixed, etc. but it is worth it. It is also vital to make sure that you have a backup plan in place in case your car does break down for an unseen circumstance, take the car battery, for instance, it may be okay now (yay) but as you are driving something may randomly happen to it, that is why it is important to know where the nearest roadside battery replacement assistance service is and how they can get to you in enough time so you are not falling behind! It is always important to be prepared… and have that backup plan.
The other feature I love about the Car Genie is the 'Eco-Score' which helps you to reduce your fuel consumption and ultimately save money. It looks at your driving technique and measures things like braking, acceleration and cornering.
It gives you a score across each area to show you how you are doing. It's really easy to understand and you can quickly see if there is an area of your driving that can be modified to help you reduce fuel consumption. The app also contains some great driving tips that will help you save money. It gets you a little competitive too as you always want to beat your last score!
Features of the AA Car Genie
Gives control and peace of mind to drivers
Prevents up to 1/3 breakdowns
Notifies AA Members of car faults
Updates the Car Genie app in real time
Crash detection feature that notifies The AA incase you require assistance
Assesses driving style and provides 'eco-score' and tips to improve fuel efficiency
Records drivers routes
Easy to use
The Car Genie is available to Members of The AA for £29 per year and is available from The AA Shop here: https://shop.theaa.com/
Have you read the Ultimate Guide to Making Family Travel Easier yet? It's awesome!
We were provided with the AA Car Genie and AA Membership in exchange for this post. We were also compensated for our time but all thoughts and opinions are our own.