What do you look for in a family holiday? Is quality accommodation at the top of your list? Do you like to be surrounded by natural beauty? Does the family insist on visiting a resort with an excellent swimming pool? Perhaps your holiday isn't perfect without a beautiful beach to build sandcastles on? If all of these things are important to you then I think you are going to love this post about our family holiday with Yelloh! Village Les Grands Pins.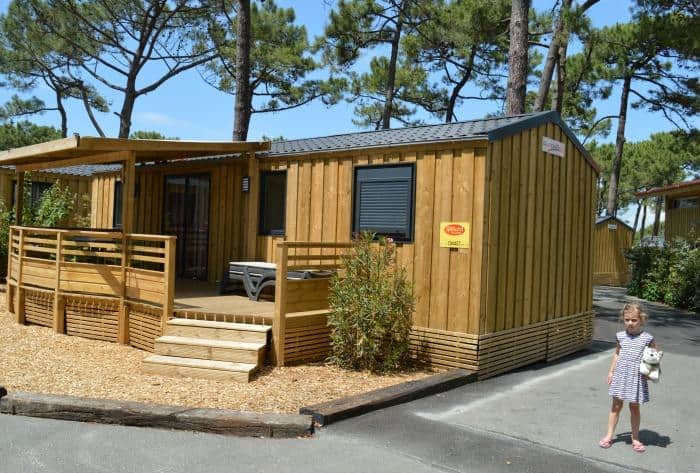 During May half term we flew to Bordeaux in France before making the journey to Lacanau Ocean where you can find Yelloh! Village Les Grands Pins. If you were following us on Instagram you might have noticed that we took a little detour. This was entirely my fault for not putting the correct details into Google Maps when setting off in our hire car from the airport. Just for your information, it's really important to tell Google Maps you want to go to Yelloh! Village Les Grands Pins, as you might end up at another camp site. Fortunately we were only an hour out of our way, so it wasn't a complete disaster, but we were definitely relieved when we reached Yelloh! Village.
Check in was really quick and we received a super friendly welcome from guest services who even escorted us to our holiday cottage by golf buggy so that we didn't get lost. I think they might have been trying to tell me something! We were actually staying in a 'no car zone' but we were allowed to unpack our car, and if we went shopping, we could also take it up to our accommodation. It's nice that they have rules to restrict cars, but are also sensible with it. Lots of holiday providers have rules that are meant to be helpful, but enforce them to the point that they actually become annoying, which can be quite frustrating especially for families.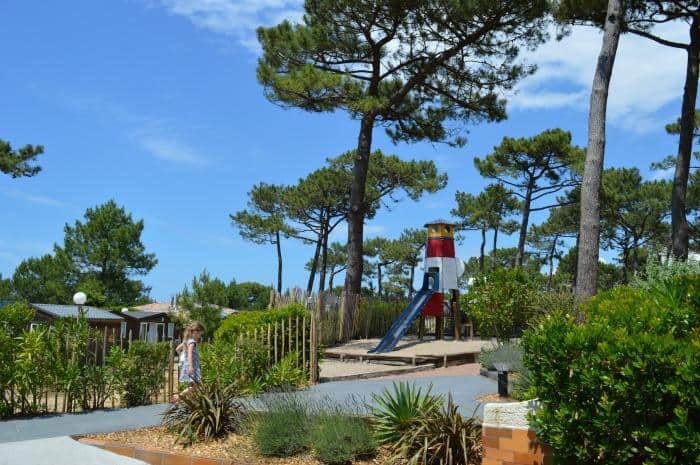 Once we had unloaded the car, we were finally able to appreciate our new surroundings. It was lovely to have the privacy of our own four walls for the week, in a detached holiday cottage with it's own decking and outdoor space. We had neighbours close by, but we were able to enjoy our own self contained space to relax in. We were surrounded my the biggest pine trees I have ever seen, so the resort most definitely lives up to it's name. The cottage was made of wood so it blended in with the natural environment but inside it was modern and well presented. It was also well insulated and very well sound proofed, which was great as we can be quite a noisy family.
Swimming Pool
The part of the holiday that made the biggest impact on us was the swimming pool, and it was clear to us that all the families really enjoyed this facility. Now, I can't swim as you may have heard me confess on the blog before, but I enjoyed the pool and all it's features as much as anyone else who was there. First of all, it's heated and the average temperature was 30C, which was perfect. There was a 'water tree' and paddling pool for younger children to enjoy, and they could even play here independently as long as you were sat nearby keeping an eye on them.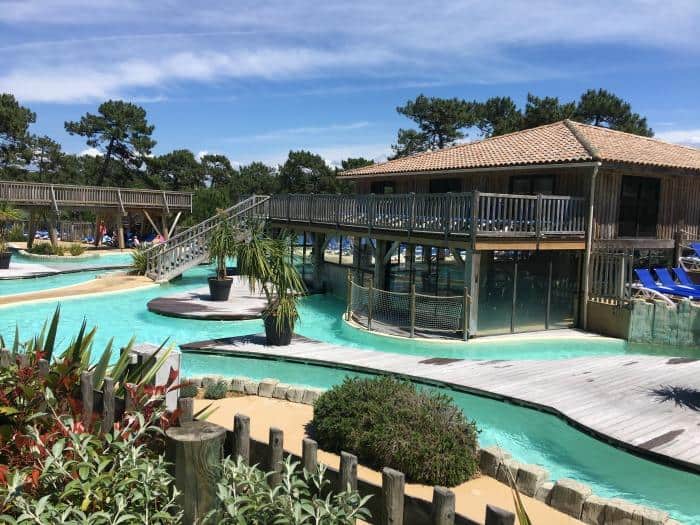 The main pool had so many features. There was a lagoon, or lazy river if you like, that you could swim around. The kids loved going piggy back with us and chasing each other round until we reached the undercover pool. This area of the pool was, to all intents and purposes, indoors and even had a separate jacuzzi which we all loved.
If that wasn't enough there were also several water slides which were an endless source of entertainment for us all. They were very family friendly and our five year old was quite happy to fly down each one of them without an adult. Our 3 year old preferred to sit on someone's knee, but she loved them just as much. I lost count of how many times we went up and down those slides, but one things for sure it was brilliant family fun and we all enjoyed every minute of it.
Beach
Another favourite feature of ours for the duration of our holiday at Yelloh! Village Les Grands Pins
was the beach. The resort is perfectly situated for direct access to the beach and the Atlantic Ocean. You walk through a forest of beautiful pine trees before it opens out onto protected sand dunes. Walk a little further and you are looking at miles of glorious sand covered beach and lapping waves.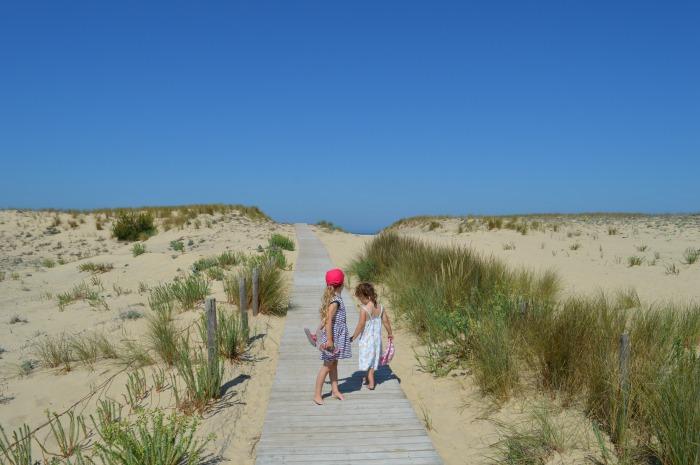 I would take the girls down to the beach everyday to build sand castles and jump the waves. If it was a morning visit we would watch the students at surf school take on the waves that day. Sadly, all we could do was watch as children have to be 8 years old to join, but that didn't stop my daughter asking over and over again if she could have a surf board. I would definitely consider taking her back here when she was old enough to have a go at surfing as the kids in the school were making great progress.
While we were playing on the beach, Daddy would take the opportunity to pop down to the Zen pool, which was a more tranquil setting for over 18's who wanted to swim and relax without children. He's not a fan of sand, so this worked well for him.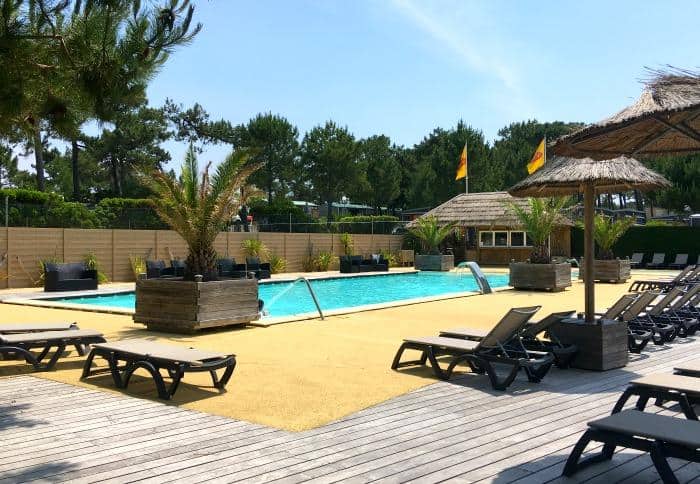 Eating at Yelloh! Village Les Grands Pins
A holiday at Yelloh! Village Les Grands Pins is the perfect place to enjoy several types of catering arrangements that work well for families. We did self catering for some meals, we enjoyed eating out both at the "Les Fils à Maman" restaurant and in the nearby town and we also had take away during our stay.
The great thing about this resort is the number of family friendly eating options it provides. There is a supermarket onsite where you can pick up all of your essential daily items. There is also a boulangerie that opens every morning selling fresh bread, croissants and other gorgeous French pastries. A holiday in France just isn't French until you've had a fresh baguette or two!
There is a snack bar where you can get sandwiches and ice-cream throughout the day, but in the evening you can also get freshly made pizzas to order and cooked chicken from the Rotisserie to take away. We became huge fans of the pizzas very quickly as they were reasonably priced and also made with good quality ingredients. We would pick them up after an afternoon trip to the pool and sit on our decking enjoying the rest of the sunshine the day had to offer. It was a great way to end the day together before the kids bedtime.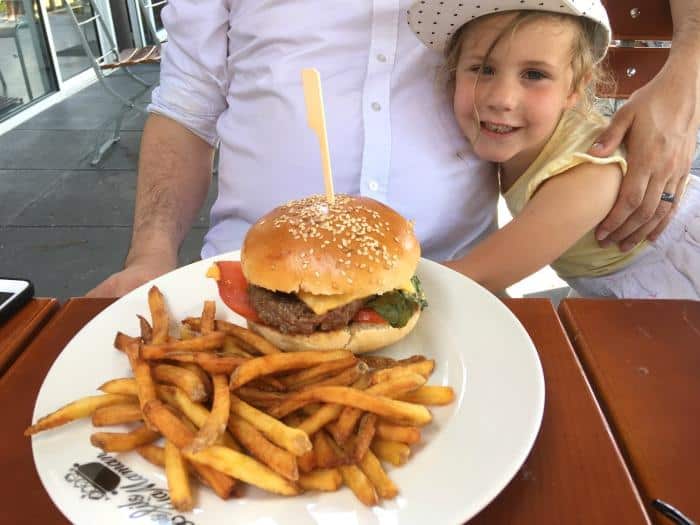 We also popped to "Les Fils à Maman" restaurant for lunch are were totally impressed with their burgers, again at a very reasonable price. There was a choice of beef, chicken or vegetarian burgers which you were able to customise too. We were all very impressed with not only the burgers but also the french fries! The restaurant over looks one of the children's play areas which is great for families. The lighthouse was a great pitstop for the kids when they had finished eating and gave us a moment to relax whilst still keeping a watchful eye on them.
Other Facilities at Yelloh! Village Les Grands Pins
The focus of our holiday was to relax and enjoy some downtime with the children in what was a stunningly beautiful setting, but the truth is you can have any kind of holiday you want at Yelloh! Village Les Grands Pins. They provide lots of facilities that allow you to make the most of your family break and here's a few things you might like to choose from
Bike Hire
Surf equipment hire
Surf lessons
Kids clubs
Laundrettes
Indoor play area
Outdoor play areas
Games room
Wellness and spa centre
Outdoor gymnasium
Sports pitches
Skateboard park
Evening entertainment program
During the course of the week we enjoyed using the majority of the family friendly facilities at Yelloh! Villages and were very impressed with what was included in our holiday for us to enjoy.
We had a fun and active holiday during our stay at Yelloh! Village Les Grands Pins. The kids had such a great holiday and we were genuinely impressed with all the facilities especially the pool and the wonderful beach that was right on our doorstep. We would have no problem recommending a family holiday to Yelloh! Village Les Grands Pins and would happily return ourselves one day either to this site or one of the other Yelloh! Village resorts across Europe.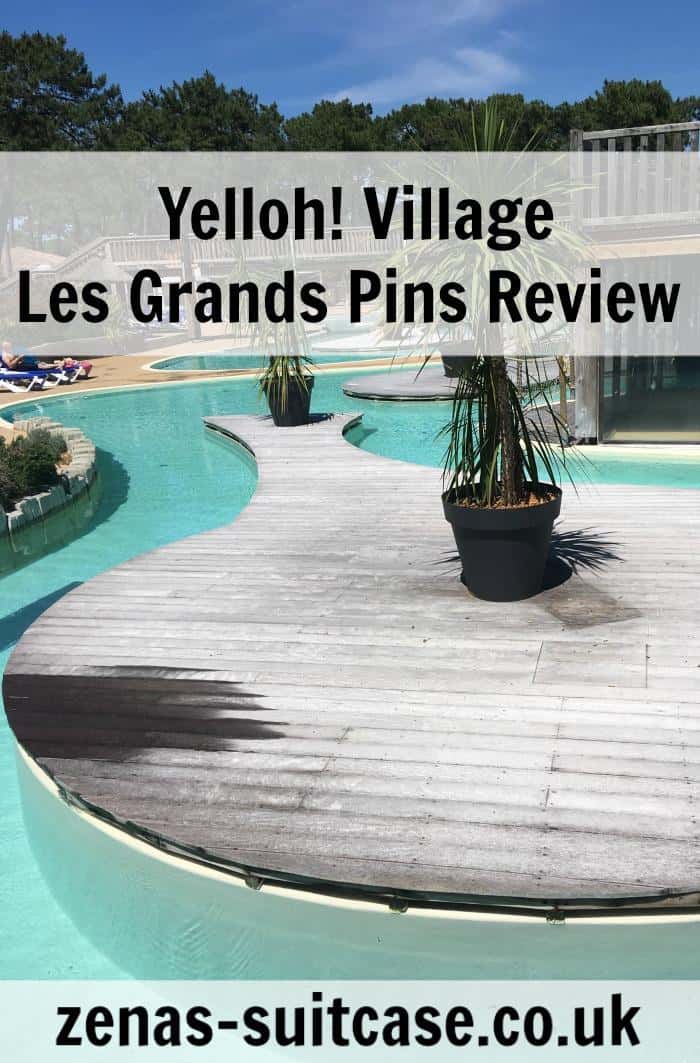 We were provided with a complimentary stay at Yelloh! Village Les Grands Pins in exchange for this post but all thoughts and opinions are our own. We were also compensated for our time.