On our recent visit to South Devon, we decided to go to Dartmoor Zoo, or Dartmoor Zoological Park as it's officially known.  Brook loves animals so it made perfect sense to add a visit to the zoo to our holiday.
During our visit to the zoo, we were also booked to have a private 'Reptile and Bug Experience', which we were so excited about.  As well as animals, Brook has become obsessed with insects, and snails in particular, so I had everything crossed that she would be able to meet one of the more exotic ones that live at Dartmoor Zoo.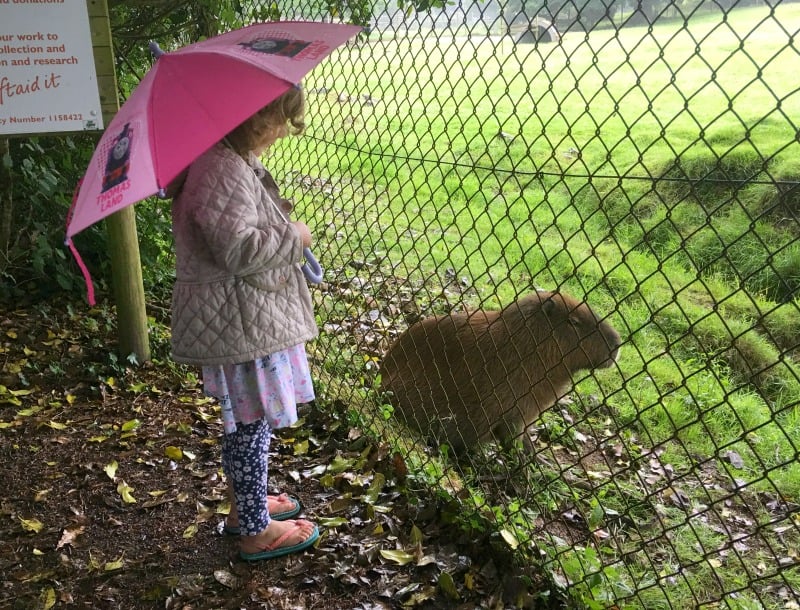 We Bought a Zoo – True Story
Before we visited Dartmoor Zoo, we did a little bit of research online about what to expect from our day out.  After a few clicks it soon became apparent there was more to Dartmoor Zoo than we had initially realised.  Of course, I had heard of the Hollywood film, We Bought a Zoo (2012) staring Matt Damon and Scarlett Johansson, and I vaguely remembered that it was based on a true story, but I hadn't twigged that it was the story of Benjamin Mee buying Dartmoor Zoo in 2006.
As Brook and I walked up the hill towards the main zoo, stopping by the tapirs and the capybara to say a quick hello along the way, I was very much aware that we were walking into a family's story as well as a zoo.  Ben Mee was a freelance journalist in his life before becoming the Director of a zoo, and the story about how this all changed is a very inspiring one.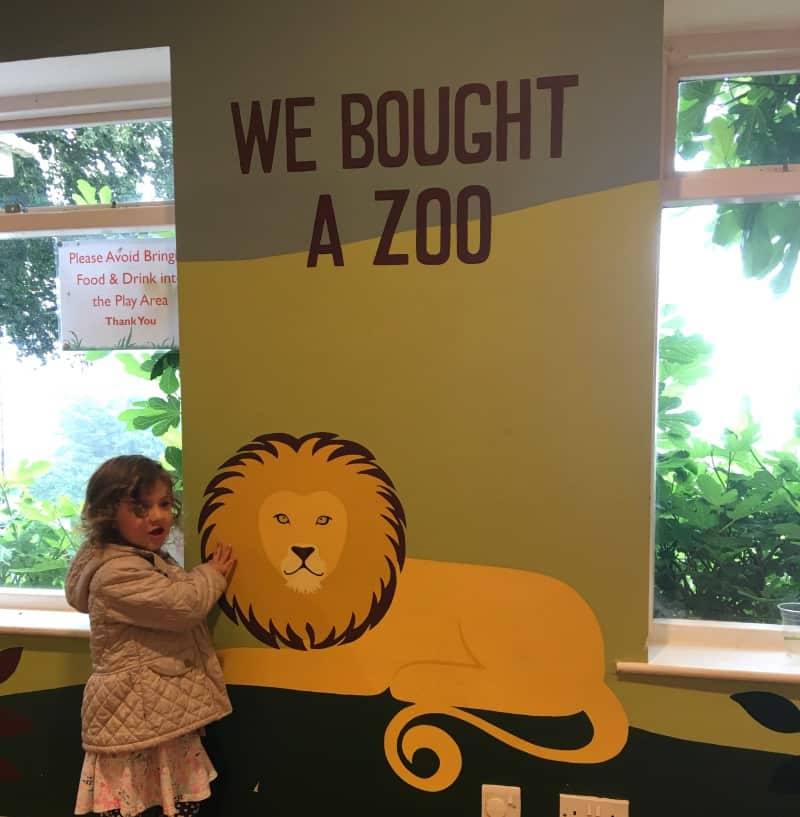 Mee and his family became aware that Dartmoor Zoo was on the market, and after a somewhat challenging acquisition they completed the purchase in 2006 for £1.1 million.  During the process the saddest thing imaginable happened to the Mee family, and Katherine, Ben's wife and mother of their 3 children, was diagnosed with a brain tumour.  Despite receiving two rounds of chemotherapy, Katherine died 6 month's after the purchase of the zoo.
Ben had lost his wife, and the children had lost their mother, but life could not stand still as the future of the zoo and the animals that lived there was at stake.  The zoo had had it's licence revoked by the local council and there was a long list of repairs to contend with to make it not only safe for the public to visit, but also safe for the animals to continue to live there.  Given the situation, it's clear to me that Benjamin Mee threw himself into bringing Dartmoor Zoo back to life and into dramatically improving it's reputation not only with the public but also in the fields of animal education, welfare and conservation.
If you would like to know more about the fascinating story behind Dartmoor Zoo, check out the following affiliate links here:
We Bought a Zoo book by Benjamin Mee is available on Amazon.
We bought a Zoo DVD staring Matt Damon and Scarlett Johansson  is available here.
Animals at Dartmoor Zoo
Before we were due to meet the reptiles and insects, Brook and I went for a walk around the zoo by ourselves.  In parts, I'd describe the zoo as rustic, but there's no denying that they have a wonderful collection of animals to showcase.
I'm always fascinated by big cats so we headed straight for the Siberian (aka Amur) tigers first.  I know that some of you reading this may have some strong views about animals being kept in captivity, but when there are around 500 Siberian tigers left in the wild, zoo's play an important role in their conservation.  You will also be able to see lions and cheetahs at Dartmoor Zoo to name but a few.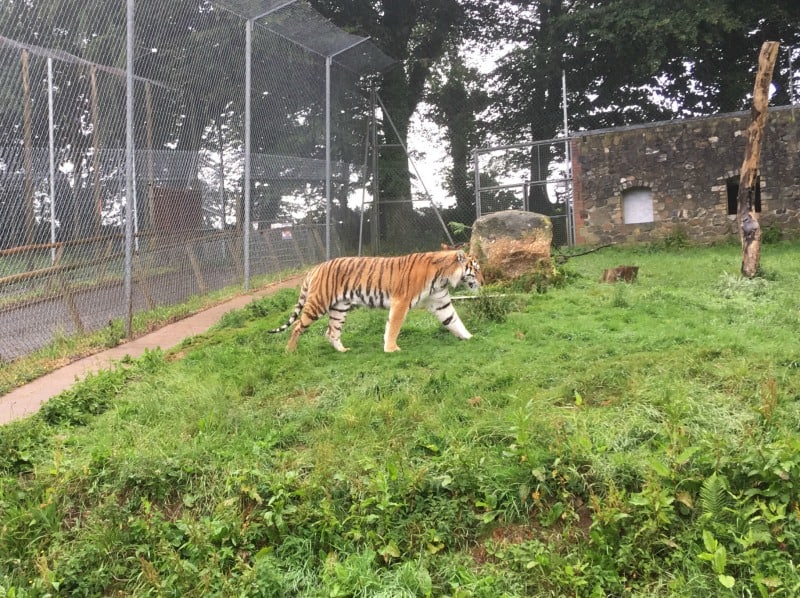 As we were walking round I spotted the wolves enclosure and immediately we had to go and investigate.  I could see two of the zoo's volunteers cleaning the wolves area, and I was convinced the wolves were in their with them.  I had to be mistaken, I thought.  As Brook and I ventured closer the wolves moved to the back of their enclosure as the keepers carried on the clean up.
I mentioned to them my surprise at seeing them in with the wolves, and they explained to us that the wolves considered them apart of their pack.  They had known them since they were very young, and being now 12 years old (apparently that's quite old in wolf years) they were less playful and a little slower than they used to be.
As we chatted with the keepers, one by one the wolves came down to investigate who was so interested in them.  It seemed like they realised that the keepers were happy to interact with us, so they decided that we must be OK.  We really enjoyed being able to get a closer look at them, and almost felt like they accepted us as well.  It was interesting to see the wolves behaviour play out this way.
Reptiles and Insects Experience
After we had learnt a little more about the wolves, we headed back to the Jaguar Restaurant to meet Emma, who was going to be looking after us for the Reptile and Bug Experience we had planned.  It was clear from the outset that Emma was very passionate about Dartmoor Zoo and all the animals that lived there.
We followed her to Dartmoor Zoo's Education Centre, and along the way we spotted Hayley the European Brown Bear at the gate of her enclosure.  She was literally gorgeous, and if she hadn't of been the creature that she was I would happily have gone over to her and squigded her cheeks.  She looked like she could have been a relation of Paddington Bear, but of course, I did know better than that.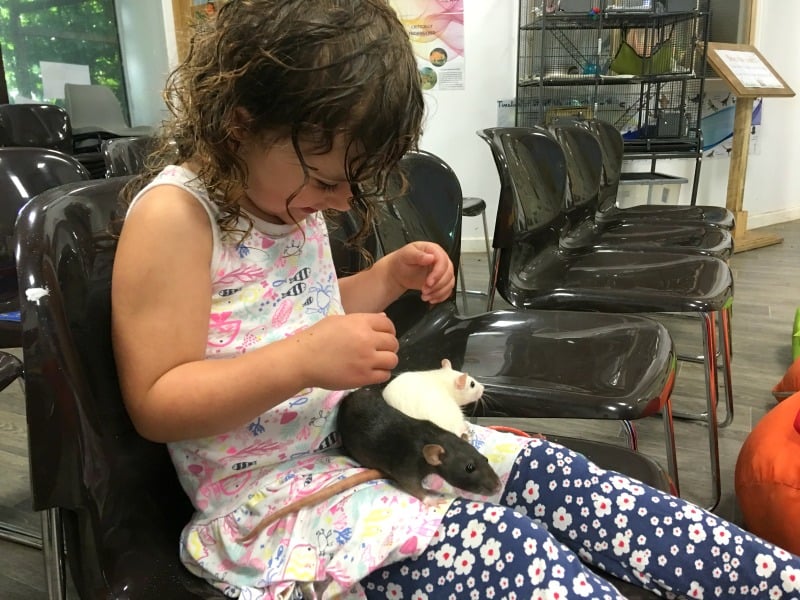 In the Education Centre Brook got to meet Dartmoor Zoo's incredibly friendly rats, and these lovely creatures were perfect for her to get used the idea of handling the animals.  All the animals at Dartmoor Zoo receive enrichment programs so that they are stimulated and happy.  This was so apparent in the rats because they were clearly really used to being handled by people and seemed to really enjoy meeting Brook as much as she enjoyed meeting them.
We also got to meet the Black and White Tegu, Alianna, which was so exciting.  You don't get to see these kind of reptiles everyday and I was delighted that Brook got to have this experience.  Meeting  animals and reptiles like this helps children to feel connected to them, and if we want to nurture a generation that cares about animals and conservation then having the opportunity to meet some of the affected animals in person is hopefully going to build a better environment for them to live in in the future.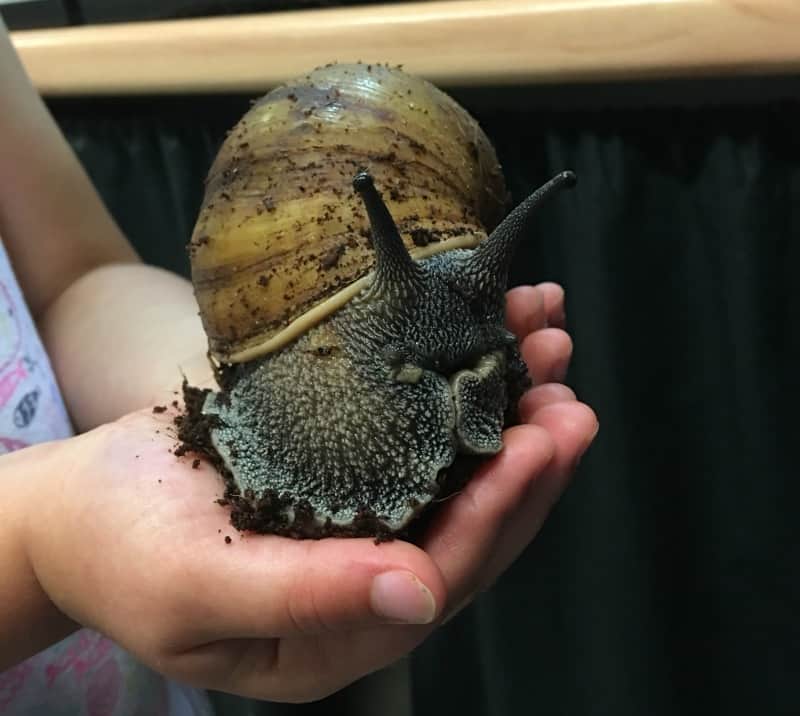 Our next stop was the reptile and insect house, and this proved to be a real treat for Brook.  Emma had already heard about Brook's love of snails and had a big surprise for her.  We got to meet the Tiger Land Snails from Ghana and they are so big! Brook's eye's nearly popped out of her head.  After she had sanitised and wet her hands she was able to hold one herself, and she absolutely loved it.
Emma also introduced us to one of her favourite residents of the zoo, a Panther Chameleon called Pascal.  He had once been very poorly, and Emma had been the one to visit him every day and give him the medical care he needed and it was clear that she was very fond of him.  She gave us a few tips about how we should hold him, and Brook got the opportunity to handle him herself which was incredible.  If you watch our video from the experience, when she giggles while Pascal is walking onto her hands is one of my favourite moments by far.
During our experience we also got to see the Blue Tongued Skink (looks like a cross between a snake and a lizard), Spur Thighed Tortoise, Bearded Dragon, and an Electric Blue Geko.  Having Emma with us to talk  about the different species and learn a bit more about Dartmoor Zoo was invaluable and really added to our experience.  On the day of our visit, the weather wasn't great, but our Reptile and Bug Experience turned a rainy day out in Devon into a brilliant one so something like this is well worth considering if you are visiting with the family.
If you are interested in the different experiences available at Dartmoor Zoo, here's what's available:
Meet the Tigers – £149 (Two for One!)
Keeper for a Day – £199 (Two for One!)
Junior Keeper for a Day – £199 (Two for One!)
Big Cat Keeper for a Day – £449 (Two for One!)
Feed the Meerkats – £30 including Zoo admission
Reptile and Bug Experience – £40 for a group of up to 4
Snake Phobia Course – £100 per person
Wolf Encounter and Howl – £50 per person including Zoo entry
Wolf Encounter – £35 per person including Zoo entry
The VIP 'We Bought a Zoo' Tour – £495 (For Two People)
DZP Rangers – £150 (OR £275 for 2)
Reindeer Experience – £30 per person
Rangers Academy – £250 (OR £400 for 2)
Dartmoor Zoo is a fairly small zoo, but it has around 200 animals for you to see during your visit.  They also have a timetable of feeding times and talks to make the day interesting and interactive.  We loved our visit, and can wholeheartedly recommend Dartmoor Zoo as a day out in Devon that Zena's Suitcase readers should be looking into.
Useful Information About Dartmoor Zoo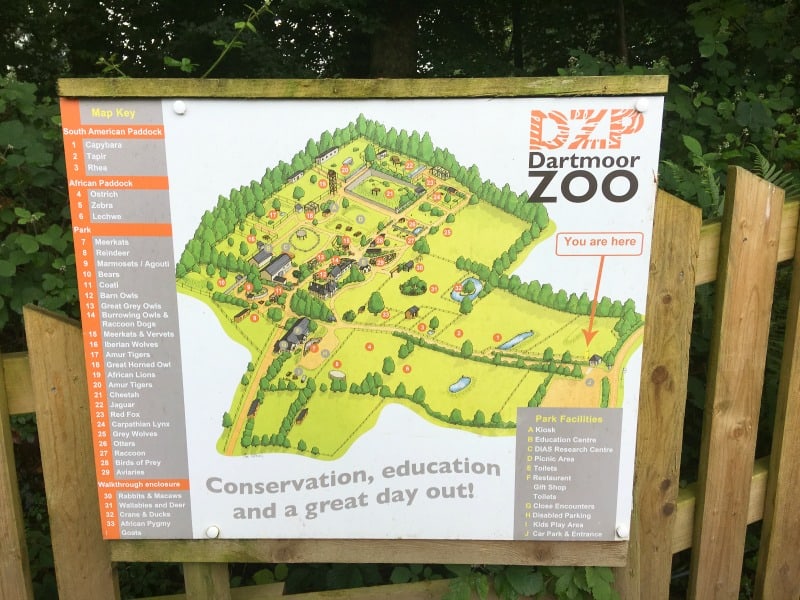 If you are using Sat Nav, the Postcode for Dartmoor Zoo is PL7 5DG
Dartmoor Zoo main office: 01752 837645
Email: [email protected]
Address: Dartmoor Zoological Park, Sparkwell, Plymouth, Devon, PL7 5DG
Opening Times:  10am-6pm (summer) 10am-4pm (winter)
Ticket Prices
Family (4 persons, max 2 adults) – £42.00
Adult – £13.95
Child (4 to 15yrs) – £9.85
3 and under go free!
The Jaguar Restaurant serves food daily and is very reasonably priced. They also have a toy corner for small children to use.
There are picnic and play areas outdoors.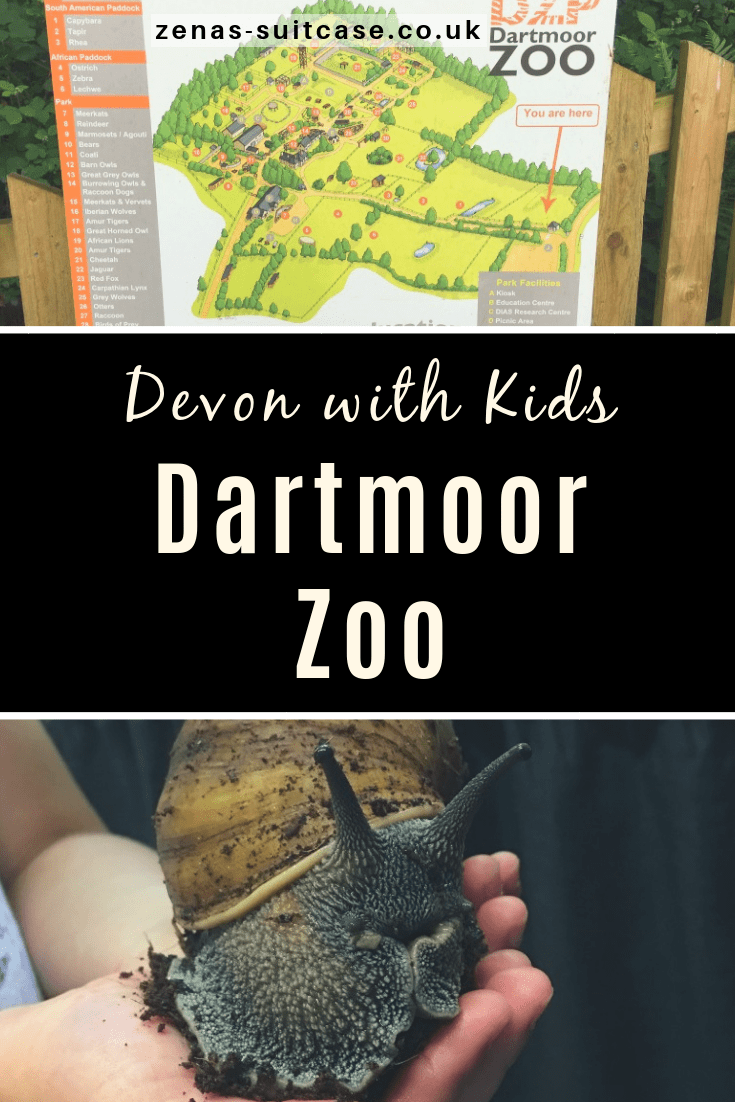 For tips and advice on places to stay, things to do, events, festivals and attractions in South Devon, go to www.visitsouthdevon.co.uk
We were provided with complimentary entry to Dartmoor Zoo and the Reptiles and Bug Experience in exchange for this post, but all thoughts and opinions are our own.