We have been wanting to try out the LeapPad Ultimate for a while now, and we were delighted when LeapFrog sent one over for us to take a look at after we took up our new role as one of their Play Panelists.  We really like the idea of having a tablet for kids that helps them to develop their learning skills in a fun and interactive way.
As you may already know if you read Zena's Suitcase regularly, Brook has had some issues with her speech after having glue ear.  We were keen to know if using the LeapPad Ultimate was going to help her with developing her use of words and sounds in particular.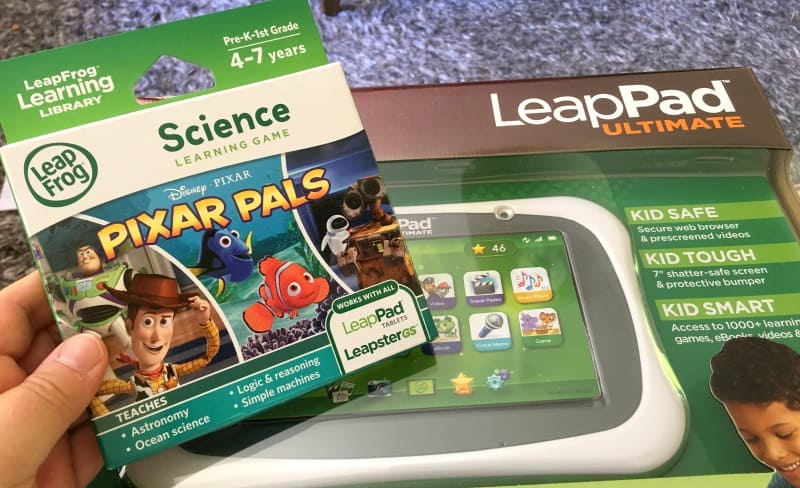 What is the LeapPad Ultimate?
The LeapPad Ultimate is very much like a real tablet, but it's designed especially for children between the ages of 3 and 9 to use.  It's really tough as it comes in a very robust bumper case and has a 7″ shatter safe screen.  It can be connected to your wifi, and is safe for children to use online as it has a secure web browser that only allows child friendly content to be shown.  As well as learning games and apps, this kids tablet also comes with features you would find on any other tablet like a camera, calculator, calendar and much more. Here's a summary of the key features:
secure web browser
7″ shatter safe screen
protective bumper
access to 1000+ learning games
can be connected to wifi
6 hours battery life
compatible with LeapFrog learning library
stylus connected to tablet
For us, this list of child friendly features makes this the best LeapFrog tablet for kids available at the moment.  Brook has had no trouble learning how to use it at all and we've found all the apps and games she has been able to access appropriate for her age and ability.
Is the LeapPad Ultimate Easy To Set Up?
Before I handed the LeapFrog tablet over to Brook I made sure it was set up for her and ready to use.  As soon as I plugged it in to begin charging it, I could switch it on get the set up completed.
I followed a really easy to use set up wizard which walked me through connecting the tablet to the wifi, selecting our country etc.  I created a parent account on the LeapPad Ultimate which allows me to control Brook's tablet use and what she can see.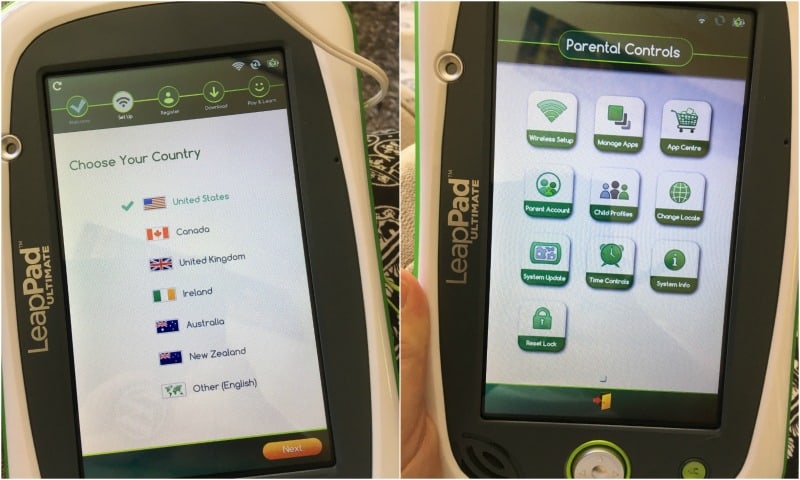 I then went onto create Brook's account, but there is also an option to add other children to the tablet if it is going to be used by a few of your kids. The whole process was really easy and took less that 5 minutes.  Even if you are not very confident with technology, I don't think you will have a problem as you just follow the simple instructions on the screen.
Learning at Home and on the Road with LeapPad Ultimate
Brook has loved having the newest tablet from LeapFrog to try and there are loads of features that seem to make her enjoy using it.  The frog character that appears in all the apps and games is so cute and I think his consistent appearance on the tablet has helped her with wanting to learn how to use it quickly.
All the apps and games featured on the tablet are learning focused, whether it's to help with maths and reading, or other important skills like problem solving and understanding.  We have found the preinstalled flash card game the most helpful for Brook with developing her speech and sounds, and it's fun to play too.
As well as learning based apps, there are also features that develop creativity and design skills with photos and drawing so every base is covered.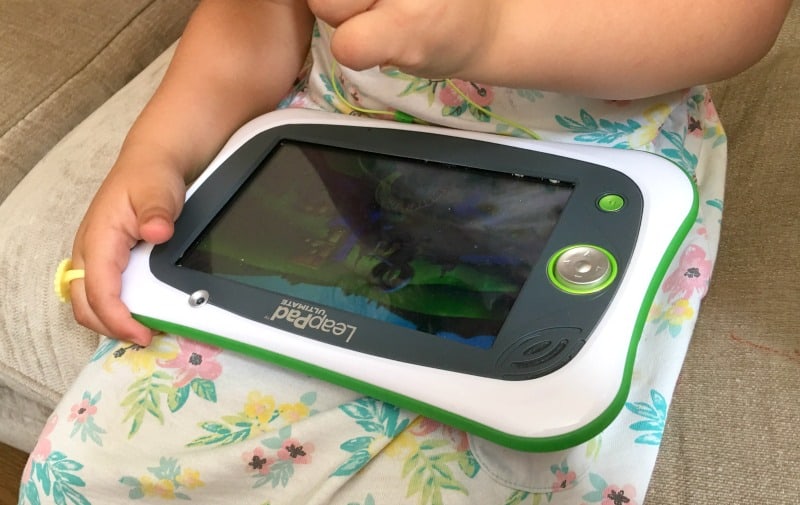 It's also really easy to add new games and apps to the tablet either through the App Centre feature or you can buy LeafFrog games like Pixar Pals which you simply plug into the cartridge slot.
This tablet is great for home use, but also for taking on road trips or holidays when kids need some entertainment to keep them occupied.  As well as an inbuilt speaker, the tablet has a headphone slot so that they can use the games and apps without disturbing other people they are travelling with.
Our Final Thoughts: LeadPad Ultimate Review
This kids tablet is really sturdy and safe for kids to use.  It's also easy and fun, which means that Brook has loved using it without even realising that she's learning along the way.  The size means it can easily be kept in a child's rucksack or handbag for when you are out and about, but also it can easily be stored when it's not at use at home.
The tablet is pretty responsive to use, which means that Brook doesn't become bored or frustrated when playing with it.  We love that you can buy the Ultimate LeapPad in green or pink, as it's nice to be able to have a choice. For parents peace of mind there's is also a 1 year manufacturers warranty.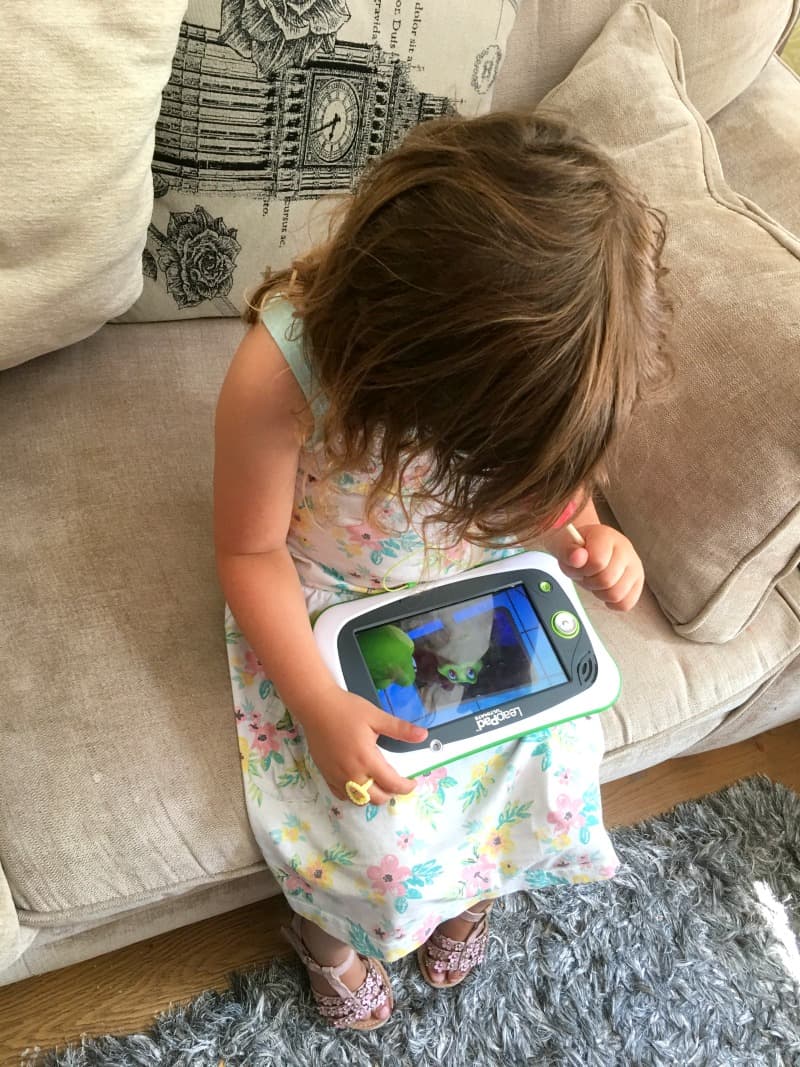 The LeapPad Ultimate costs around £99.99, which is a reasonable price for a kids tablet compared to others that are currently on the market and it's available from LeafFrog or other major toy stores.
We were provided with a complimentary LeapPad Ultimate in exchange for this post, but all thoughts and opinions are our own.